DIVING DEPICTED
DU TEMPLE, Louis.
Du Scaphandre, et de son emploi a bord des navires … accompagné de 2 planches.
Paris, widow Bouchard-Huzard for Arthus Bertrand, Librairie Maritime et Scientifique, [c. 1861].
8vo, pp. 30, [2], with 2 plates (one folding, one double-page lithograph); an excellent copy, a few minor spots, otherwise very clean; uncut in publishers printed green wrappers with wood-engraving (printed on the verso of the wrapper of Du Temple's Cours des machines à vapeur).
£750

Approximately:
US $906
€865
Added to your basket:
Du Scaphandre, et de son emploi a bord des navires … accompagné de 2 planches.
First and only edition of this work on the diving-suit, with an attractive early depiction of its use. The text addresses the recently patented diving-suit of Joseph-Martin Cabirol, providing a detailed description of the suit and its constituent parts, advice to divers (including what to wear under the suit and a series of signals given by tugging the cord), and arguments for the uses to which the suit could be put – among them repairing damage to ships below sea-level, finding routes for beached boats, and recovering lost anchors.

The illustrations show a diver underwater from both sides, a diagram of the helmet and airpump, and (on the upper wrapper) a pair of divers recovering cannon from the sea-bed.

The author is described as lieutenant de vaisseau and Professor of Steam Engines at the port of Brest; his more substantial work, Cours de machines à vapeur fait à Brest aux mécaniciens de la marine impériale, was published in 1860 in two volumes with a separate atlas, the wrapper of which is here reused.
You may also be interested in...
FIRST BOOK ABOUT HORSES PRINTED IN MARYLAND MARKHAM, 'J.' [Gervase], G. JEFFERIES, 'and Discreet INDIANS', [and John MILLIS (editor)].
The Citizen and Countryman's experienced Farrier, containing: I. the most best approved Method of Ordering, Dieting, Exercising, Purginng, Scowring, and Cleansing of Horses, also choice Restoratives to chear the Heart, procure an Appetite, and to clear the Lungs and Pipes, so as to strengthen Wind, and give large Breath to the Running or Race-Horse; II. a certain sure Method to know the true State of any Horse's Body, as to Sickness or Health; III. the true Shape of a Horse explained, with choice directions for Buying; IV. an experienced and approved Method for Raising of Horses, as to Ordering, Keeping, &c., also Mares, Colts, and Stallions; V. a sure and certain Rule to know the Age of any Horse, from one Year to ten, with good Observations as he further advances in Years; VI. The best and experienced Way of Keeping the common Hackney, or Hunting Horse, so as to keep him lively, cheerful, free from Colds, Strains, Windgalls, and gross Humours; VII. an approved Method of Purging, Bleeding, and Feeding Cattle, with choice approved Receipts for the Diseases they are incident to, with Signs to know the Disease, and Directions for the Use of Medicines; to all which is added a valuable and fine Collection of the surest and best Receipts in the known World for the Cure of all Maladies and Distempers that are incident to Horses of what Kind soever, with Directions to know what is the ailment, or Diseases.
First Baltimore (second American) edition, revised from Markham's works for use in the United States. When first published in colonial-era Delaware, at Wilmington in 1764, the text was the first book on the selection, care, and racing of horse to be printed in America; this second edition is the first since the Revolutionary War, and the first book on horses printed in Maryland. Though derived from Markham's treatises of the late sixteenth and early seventeenth centuries, the text is much augmented by its editor, John Millis, with information from George Jefferies, a farrier in Bradford Township, and advice suitable for frontier conditions in America.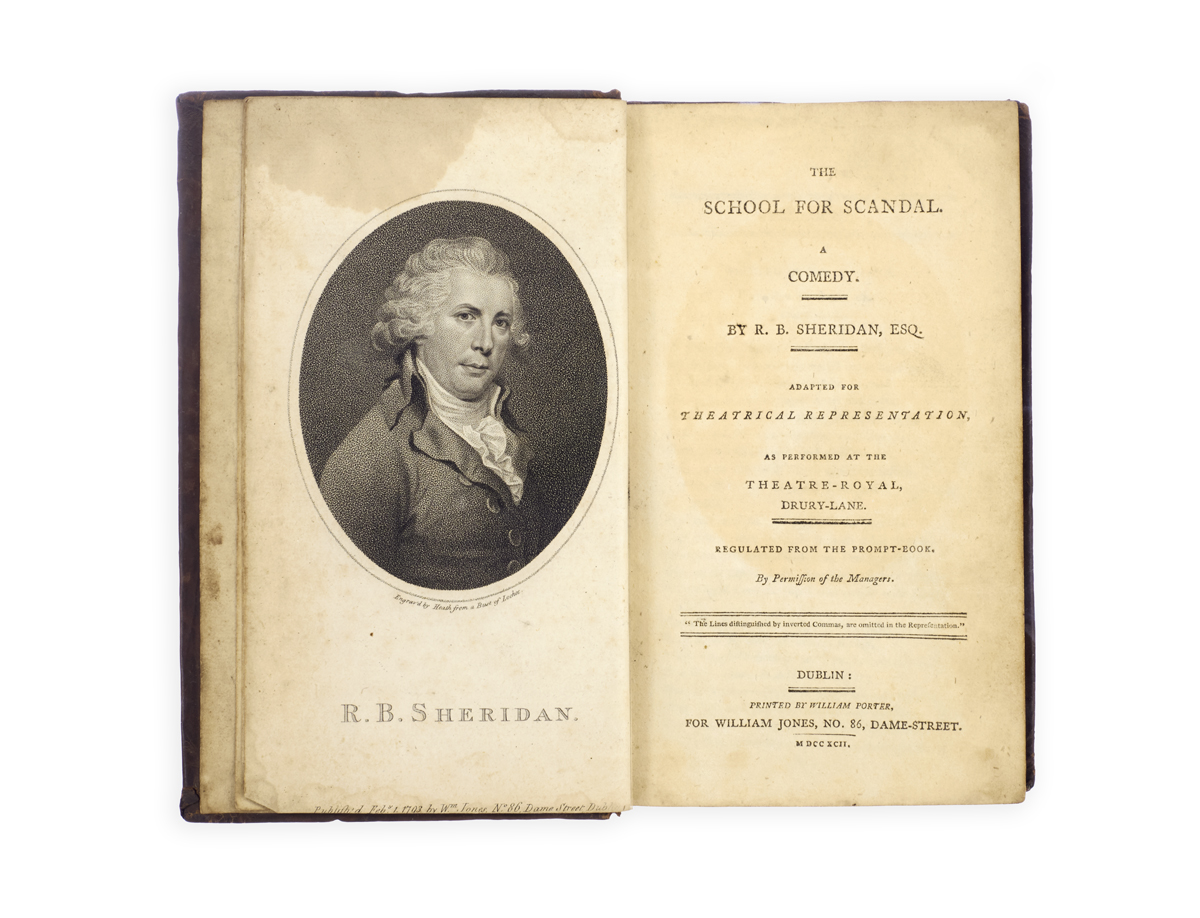 SHERIDAN, Richard Brinsley. 
The School for Scandal, a Comedy [– The Critic …; – The Rivals …; – A Trip to Scarborough …] … adapted for theatrical Representation, as performed at the Theatre-Royal, Drury Lane … 
The first attempt to publish a collected edition of Sheridan's dramatic works, forming the fifth volume of The British Theatre, an assembly of pirated plays by the Dublin bookseller William Jones.