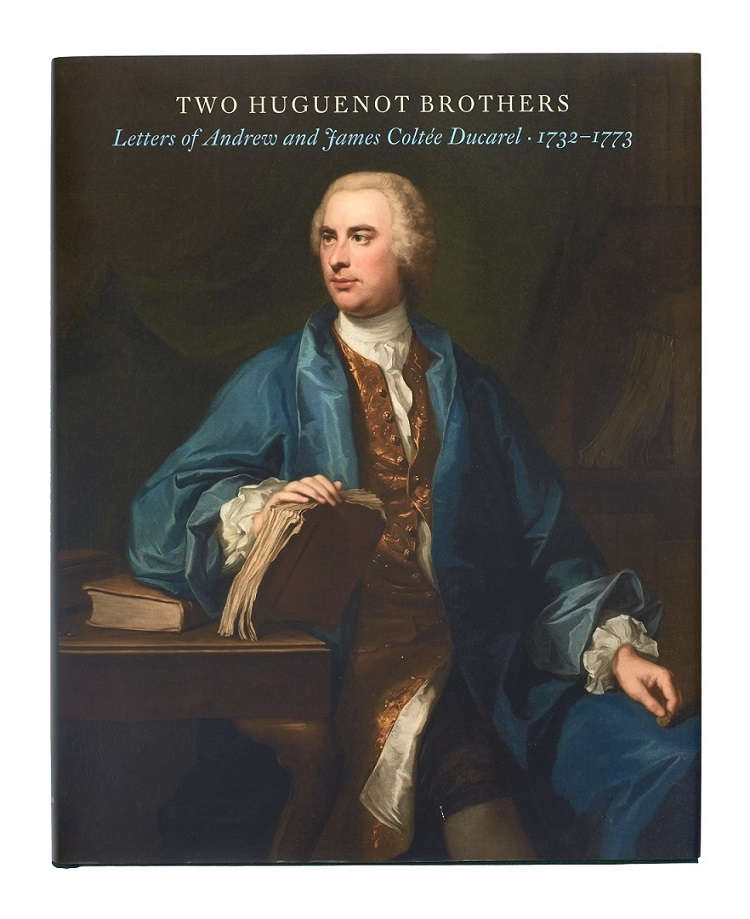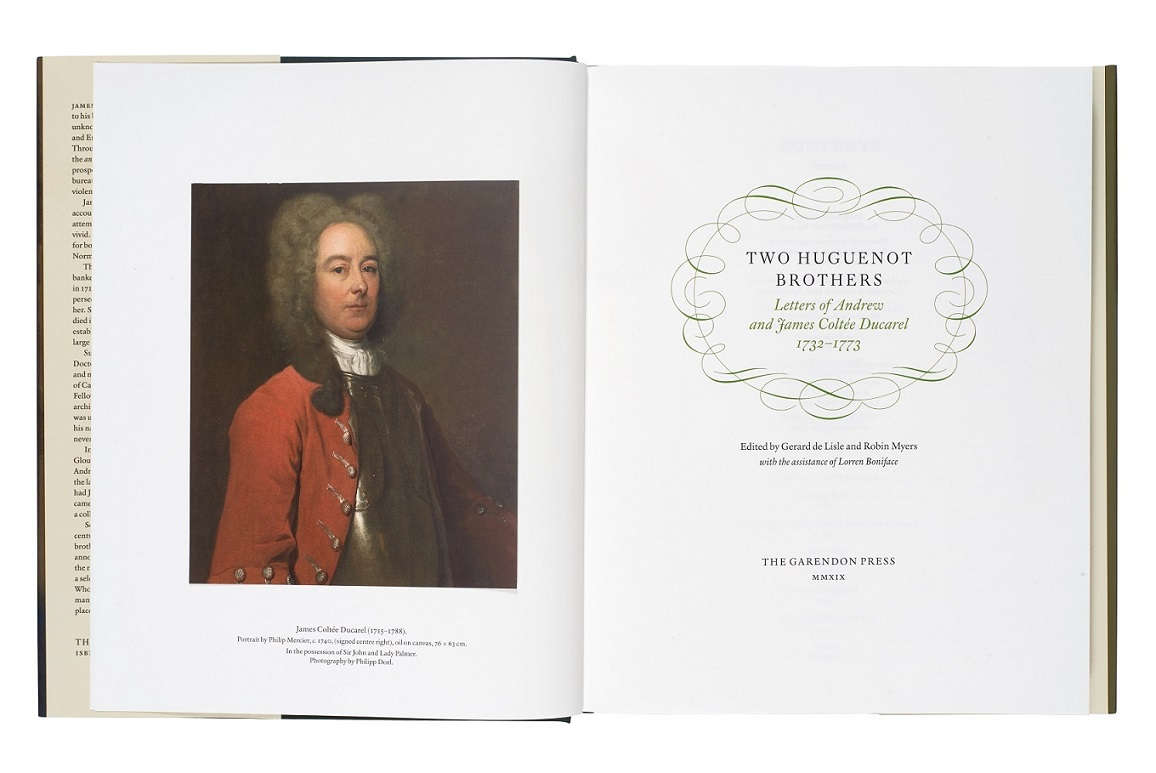 DUCAREL, Andrew & James Coltée, and Gerard DE LISLE & Robin MYERS, eds.
Two Huguenot Brothers: Letters of Andrew and James Coltée Ducarel 1732-1773.
Leicester, The Garendon Press, 2019.
4to, (310 x 250 mm), pp. 240, and 21 colour plates; green cloth, pictorial dust-jacket.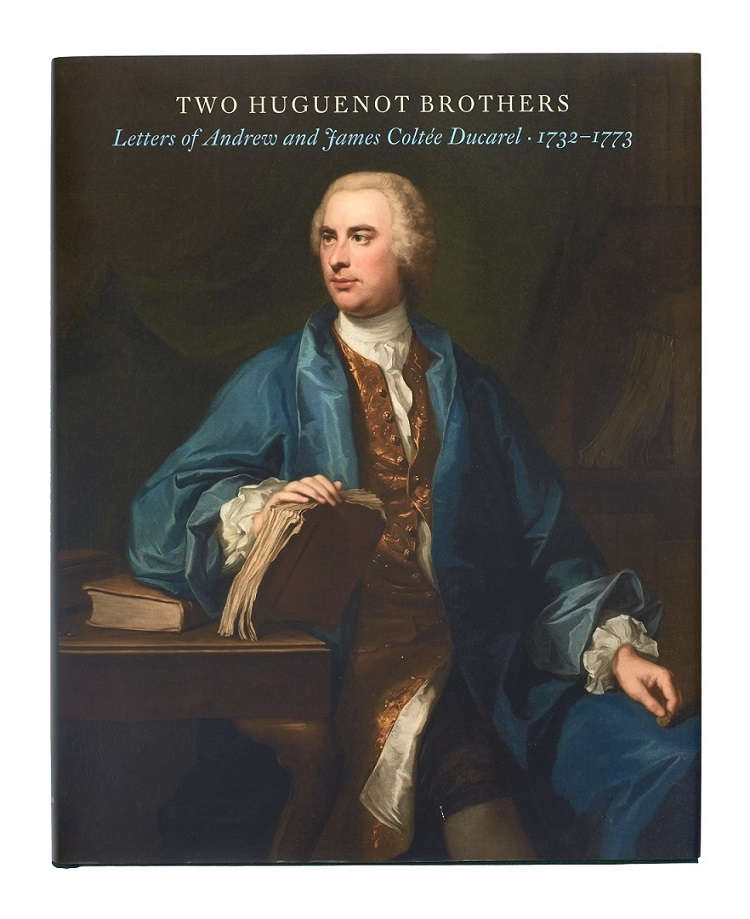 Added to your basket:
Two Huguenot Brothers: Letters of Andrew and James Coltée Ducarel 1732-1773.
James Coltée Ducarel's letters sent from France to his elder brother Andrew in London are a hitherto unknown resource for the study of the Enlightenment and the French Huguenots in the mid-eighteenth century.

Andrew kept James's letters and had them bound. 216 years later they came into the possession of Gerard de Lisle, a collateral descendent. The letters paint a picture of the last years of the ancien régime with its cumbersome bureaucracy, growing anticlericalism and increasing violence underlying surface prosperity – all ominous signs of approaching revolution. James's lively, gossipy style, his accounts of hazardous travels through France as he attempts to recover the family patrimony, his hunt for books, prints and drawings for his brother and the Archbishop of Canterbury and his visits to abbeys and cathedrals on Andrew's behalf are vivid and engaging.

Scholarly essays, by Randolph Vigne on the Huguenots in eighteenth century France and by Robin Myers on the life and times of the brothers precede the fully annotated transcript of the letters. An appendix includes family trees tracing the ramifications of the extended Ducarel family and a select bibliography. A special feature is the Who's Who compiled by Lorren Boniface giving details of the host of names mentioned, many not to be found elsewhere. There is a full name, place and subject index.

Two Huguenot Brothers is illustrated with fine colour portraits and miniatures from oil paintings in the possession of the family, a map of old Normandy and facsimile pages of a few of the letters. The volume is designed by Robert Dalrymple and printed by Albe De Coker, Antwerp.

Published in a limited edition of 200 numbered copies.

ISBN 978-1-5272-3722-3

You may also be interested in...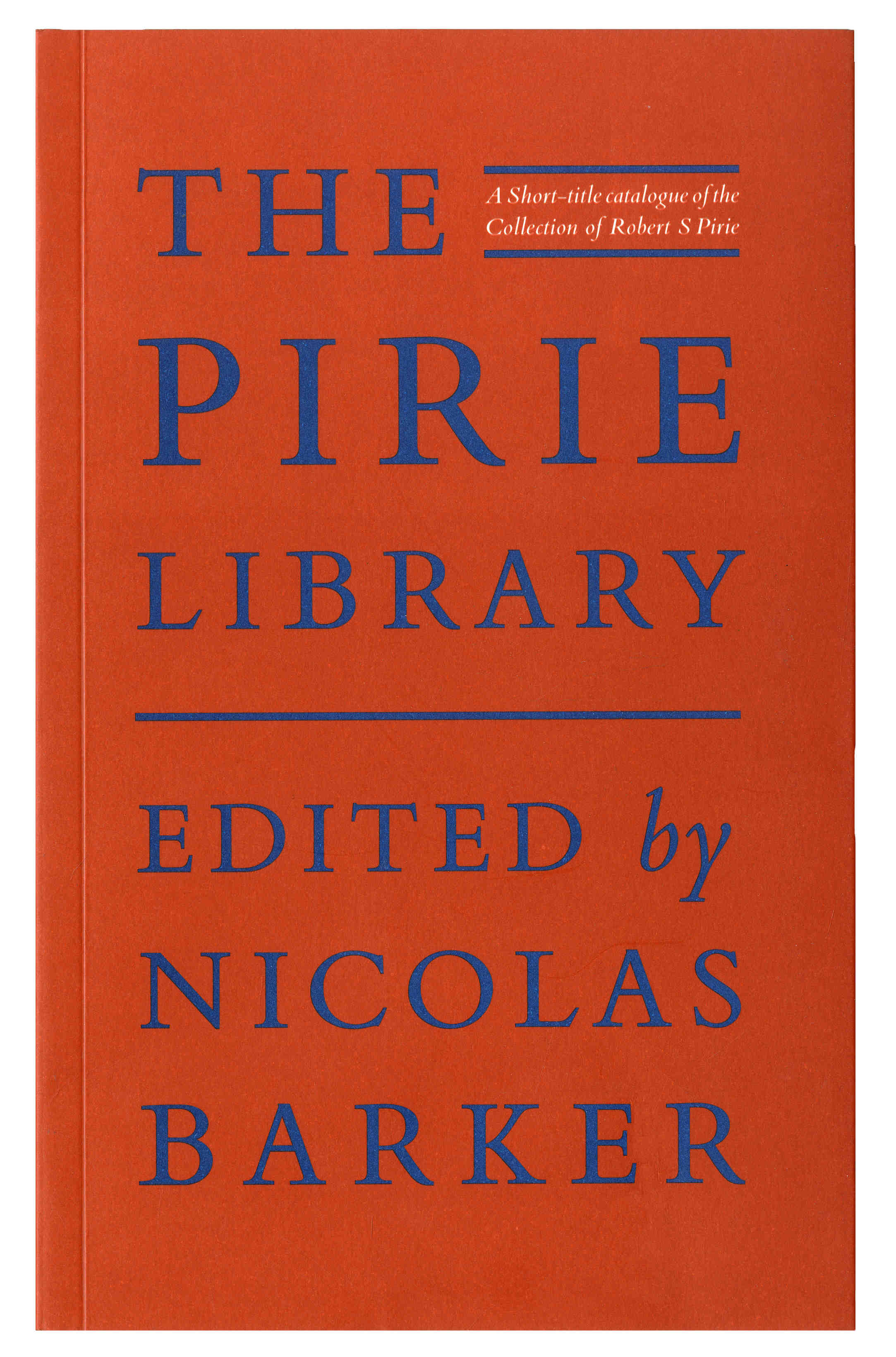 BARKER, Nicolas, ed.
The Pirie Library. A Short-Title Catalogue of the Collection of Robert S Pirie.
The library of Robert S Pirie, 'one of the finest private libraries of English literature, not just of our time but of all time' (James Stourton), was sold at Sotheby's New York on 2-4 December 2015. This account is based on Sotheby's catalogue of the sale, and augmented by Mr Pirie's acquisition cards and information supplied by Irene Adams. It contains indexes of provenances, sources, bindings, armorials and devices, & a list of prices, along with a preface and memoir by Nicolas Barker, and recollections by Nicholas Poole-Wilson.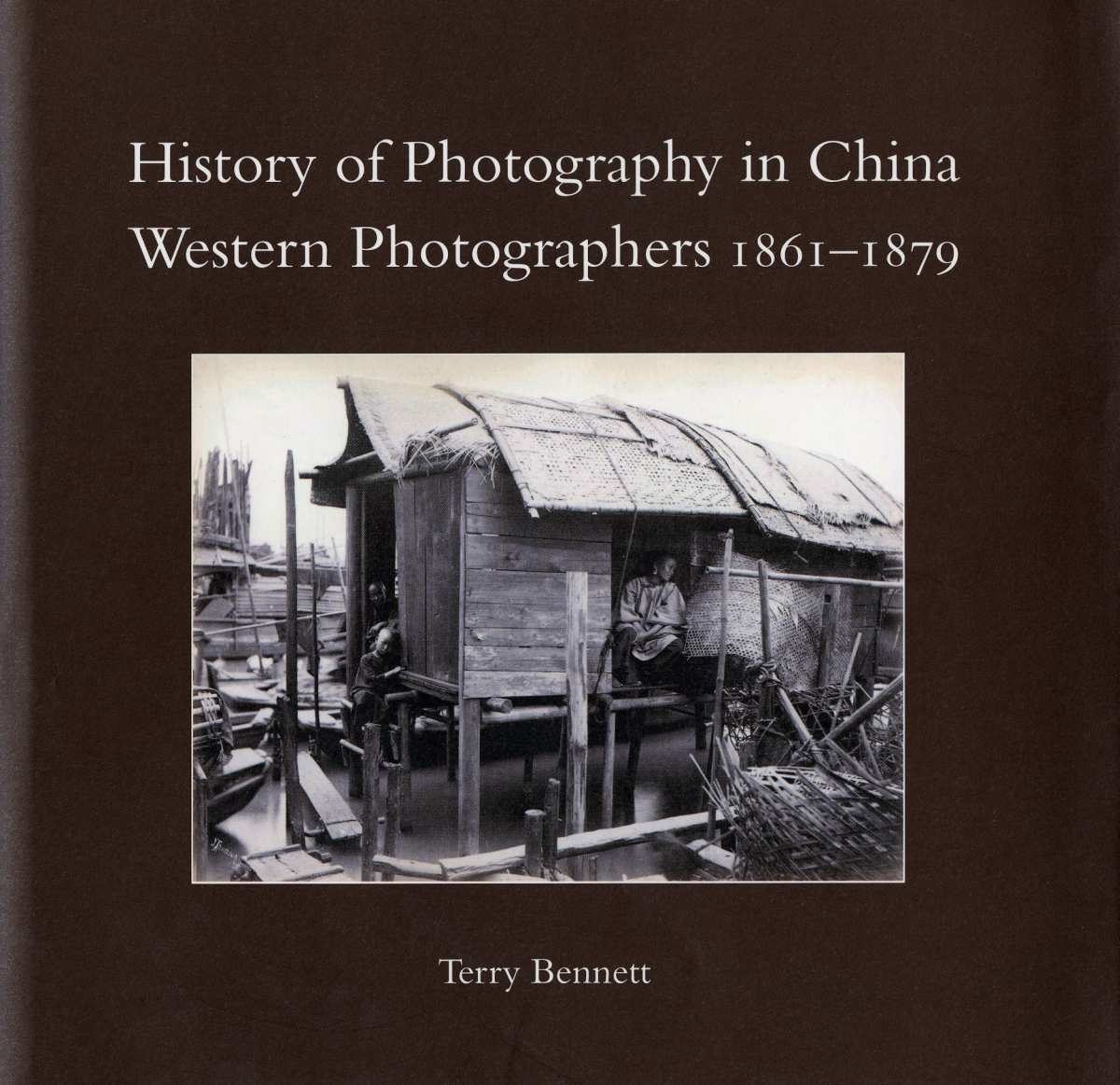 BENNETT, Terry.
History of Photography in China: Western Photographers 1861-1879.
The second volume in our series on the history of photography in China, this is the most extensive general survey of Western photographers working in China in the 1860s and 1870s. Over eighty different photographers are discussed – from well-known professionals to little-known amateurs – with previously unpublished biographical information. The book also includes documentary appendices of the photographers' published works, a bibliography, chronologies and a biographical index.