OFF TO COLLEGE
ERLENBACH, Jean Jacques.
Compliment de Congé en rimes francaises, a monsieur Ziegert, sur son depart pour Halle à l'université (le 24 d'Avril 1754).
Breslau, Charles Guillaume Grass, [1754].
4to, pp. [4]; woodcut head- and tailpieces; clean, fresh, and unbound as issued with marbled paper backstrip.
£150

Approximately:
US $200
€177
Added to your basket:
Compliment de Congé en rimes francaises, a monsieur Ziegert, sur son depart pour Halle à l'université (le 24 d'Avril 1754).
Charming and apparently unrecorded poem written on the occasion of the departure for the University of Halle of an unidentified Mr Ziegert by his disgruntled friend Johan Jakob Erlenbach (who, according to a footnote, did not expect his poem to be printed).

The poem concludes:

'Va, reviens plus savant, mais encore plus ami:
Je serai ton Damon, tu seras mon Tircis'.

Not in OCLC or KvK.
You may also be interested in...
JESUIT LOGIC AND PHYSICS [LALANDE, Fr.]
[Philosophy course.]
Fair manuscript copy of a course of philosophy for the use of clerical students offering a systematic treatment of Aristotelian Logic and Physics. The initial inscription states that this course was given by a Jesuit, Fr. Lalande, to Jacques Becheau of Périgord in 1681. The course is articulated in the disputationes dealing in depth with logics and metaphysics at first, then physics and astrology in the second part. A fair example of Jesuit Aristotelianism with significant departures from Aquinas's interpretation, this manuscripts offers an insight into the Jesuit order's agility in adapting the received 'calculations' of syllogism and deduction to early-modern challenges coming from the emergence of experimental science in the age of Galileo.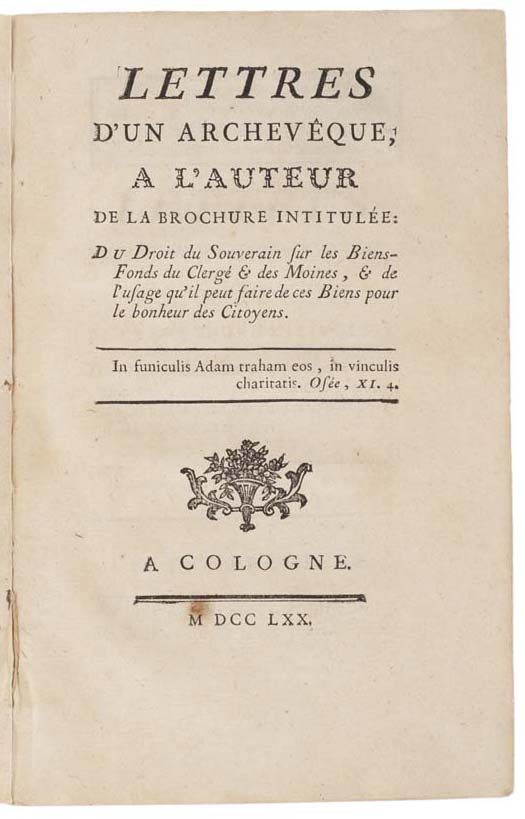 [RICHARD, Charles-Louis.]
Lettres d'un archevêque, a l'auteur de la brochure intitulée: Du droit du souverain sur les biens-fonds du clergé & des Moines, & de l'usage qu'il peut faire de ces biens pour le bonheur des citoyens.
First edition, uncommon, of this response to an anticlerical essay by the Chevalier de Cerfvol by the Dominican theologian and anti-philosophe Charles-Louis Richard (1711–1794). De Cherfvol had argued against the wealth of the clergy, and in particular of the religious orders, and proposed a means in which this could be better put to use for the wider population. Richard, who also wrote against Voltaire and met his end thanks to a Jacobin bullet, goes through de Cherfvol's essay, questioning his claims that the clergy had contributed little to the cultural and intellectual life of France, emphasising the ways in which the Church had provided a moral grounding for the country, and explaining the proper role of religion in society, and the appropriateness of financial (and other) donations to the Church, both from individuals and the state, and of the maintenance of the status of both secular and religious clergy.