MASQUERADES, MORALITY AND PUBLIC BROTHELS
ESSAY UPON MODERN GALLANTRY (AN).
Address'd to Men of Honour, Men of Pleasure, and Men of Sense. With a seasonable Admonition to the young Ladies of Great Britain … The Second Edition.
London: Printed for A. More … 1726.
4to., pp. 45, [1]; cut a little close, shaving last line of title-page (price) and some headlines and pagination, some wear at inner margin, a little dusty, but a good copy, disbound.
£1000

Approximately:
US $1256
€1177
Added to your basket:
Address'd to Men of Honour, Men of Pleasure, and Men of Sense. With a seasonable Admonition to the young Ladies of Great Britain … The Second Edition.
Second edition, unrecorded, published in the same year as the first – apparently from the same setting of type with the title-page altered to add the edition statement.

An Essay is a savage reprehension of adultery and whoring, with a long satirical dedication, dated 'Bloomsbury, Feb. 21. 1726', to J[ohn] J[ames] H[eidegge]r, the 'strange bird from Switzerland' (Pope) who, as manager of the Opera House in the Haymarket, promoted operas with Handel and at the same time scandalous masquerades or ridotti that became the rage of the town. There were sermons against the masquerades, grand jury presentments, even a royal proclamation (which apparently did not stop the king from attending). The dedication here takes the form of a mock defence of these assemblies against charges that they promote 'Vice, Lewdness, and Debauchery ... encourage Intriguing, and endanger the Honour of Families'.

The main text, defining 'Gallantry' as 'a constant Application to the good Works of Adultery and Fornication; or the prevailing Art of debauching, by any Methods, the Wives of Daughters of any Men whatsoever, especially those of our dearest Friends', exposes the actions of rakes who seduce and then despise; the character of faithless women (who 'break out in extravagant Dress, frequent Gaddings abroad' etc); and the specious arguments of whore-masters.

The author does though admit he is arguing against human nature, and that 'there always were and always will be, to the End of the World, Whores and Whore-masters of all Sorts', so rather than debauching wives and virgins, the author refers the libertine 'for a Remedy to the common Stews and publick Sinks of Leudness, which I think much preferable to his adding Villany to Lasciviousness'.

Not in ESTC, which only lists the first edition.
You may also be interested in...
THE MIRACLES OF THE BLESSED ELISABETTA PICENARDI [BIANCHI, Isidoro.]
Compendio della vita e miracoli della B. Elisabetta Picenardi del Terz'Ordine de' Servi di M.V. E del culto pubblico ecclesiastico da immemorabil tempo da lei goduto, e che ultimamente è stato approvato dalla S. Sede con la concessione dell' offizio, e messa, come risulta dal decreto, che si dà in fine di questo compendio. Seconda edizione dopo la Romana.
Second edition (first Rome 1804) of this account of the life and miracles of Elisabetta Picenardi (1428–1468) of the Servite Order, who was beatified in November 1804 after Pope Pius VII issued confirmation of her local cultus. The work is attributed to the Camaldolese monk Isidoro Bianchi (1731–1808). Another edition was published in Picenardi's home town of Mantua in the same year.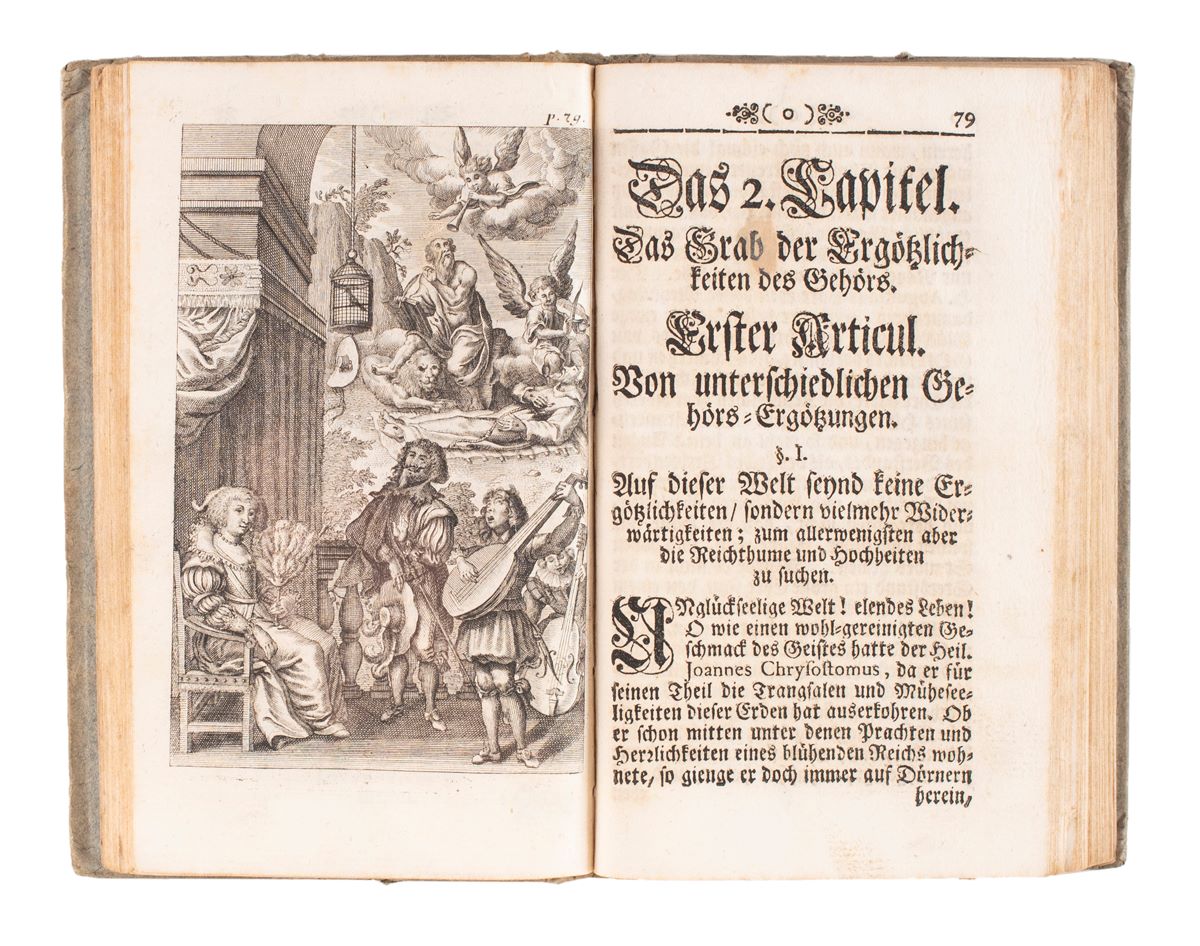 THE BURIAL OF EARTHLY PLEASURES LA SERRE, Jean-Puget de.
Grab-Statt der weltlichen Ergötzlichkeiten, einstens in Französischer Sprache zubereitet … anjetzt zu Nutzen derer in die weltl. Freuden allzusehr verliebt- und der Französischen Sprache nicht kundigen Seelen in die Teutsche übersetzt durch Gaudentium Glæser.
First edition in German of Tombeau des délices du monde, by the French dramatist and historian Jean-Puget de la Serre (1594–1665).