[EXCHANGE.]
Cours de change & d'arbitrage fait par moi Baronne Lara (?) de Narbonne a Montpellier au Pensionnat des peres des Ecoles chretiennes. Le dixhuitieme Mai mil sept cent quatre vingt trois
[Montpellier, 1783].
Manuscript on paper, 8vo, pp. [i], [iii] blank, 202, [1] blank, [1] notes, [2] blank, [8] notes; in ink in an elegant legible hand, decorative border on title-page; numerous tables and calculations; aside from some offsetting from title-page, clean and crisp throughout; attractively bound in contemporary calf, gilt borders, spine in compartments tooled in gilt, with gilt-lettered morocco label; all edges with red lines; some light wear to corners and extremities, but still a very appealing volume.
£775

Approximately:
US $940
€895
Added to your basket:
Cours de change & d'arbitrage fait par moi Baronne Lara (?) de Narbonne a Montpellier au Pensionnat des peres des Ecoles chretiennes. Le dixhuitieme Mai mil sept cent quatre vingt trois
A lovely manuscript course of exchange and arbitrage, produced for a school run by the Lasalians in Montpellier by an alas unidentified baroness (possibly Françoise de Chaslus (1734–1821), wife of Jean-François, duc de Narbonne-Lara, and lady-in-waiting to Princess Marie Adélaide, although this attribution feels unlikely).

After a brief introduction to the principles underlying exchange, chapters follow on exchange in France, England, Hamburg, Geneva, and elsewhere, as well as on arbitrage. Throughout, we are offered instructions in how to calculate various exchanges, followed in each case by a number of questions, fully worked out examples, and a series of remarks on any complications that might arise. Appendices, in a different contemporary hand, give local tariffs and specific equivalences for local units of measurement throughout the south-west of France.

'Le change est un commerce d'argent qui se fait de place en place par le moyen des lettres de change… Mon but est simplement de faire connaitre les operations que ces Lettres produisent dans le commerce … pour etre instruit a fond sur les lettres de changes à un Livre pour titre Instruction pour les Negociants' (pp.1-3).

There is no evidence that this course was ever published.
You may also be interested in...
AULD ALLIANCE [MONCRIEFF, Thomas].
Memoirs concerning the ancient Alliance between the French and Scots, and the Privileges of the Scots in France. Together with the original French, faithfully extracted several Records of that Kingdom. Edinburgh, Printed by W. Cheyne, and sold by W. Gordon, and other Booksellers in Town. 1751.
First edition. The ancient alliance between Scotland and France, forged in the Middle Ages, some historians say as early as the reign of Charlemagne, was frequently invoked in the fifteenth, sixteenth and seventeenth centuries. Memoirs begins with an excerpt from the treaty of 1326 between Charles IV and Robert I, apparently the earliest actual text that the author could find.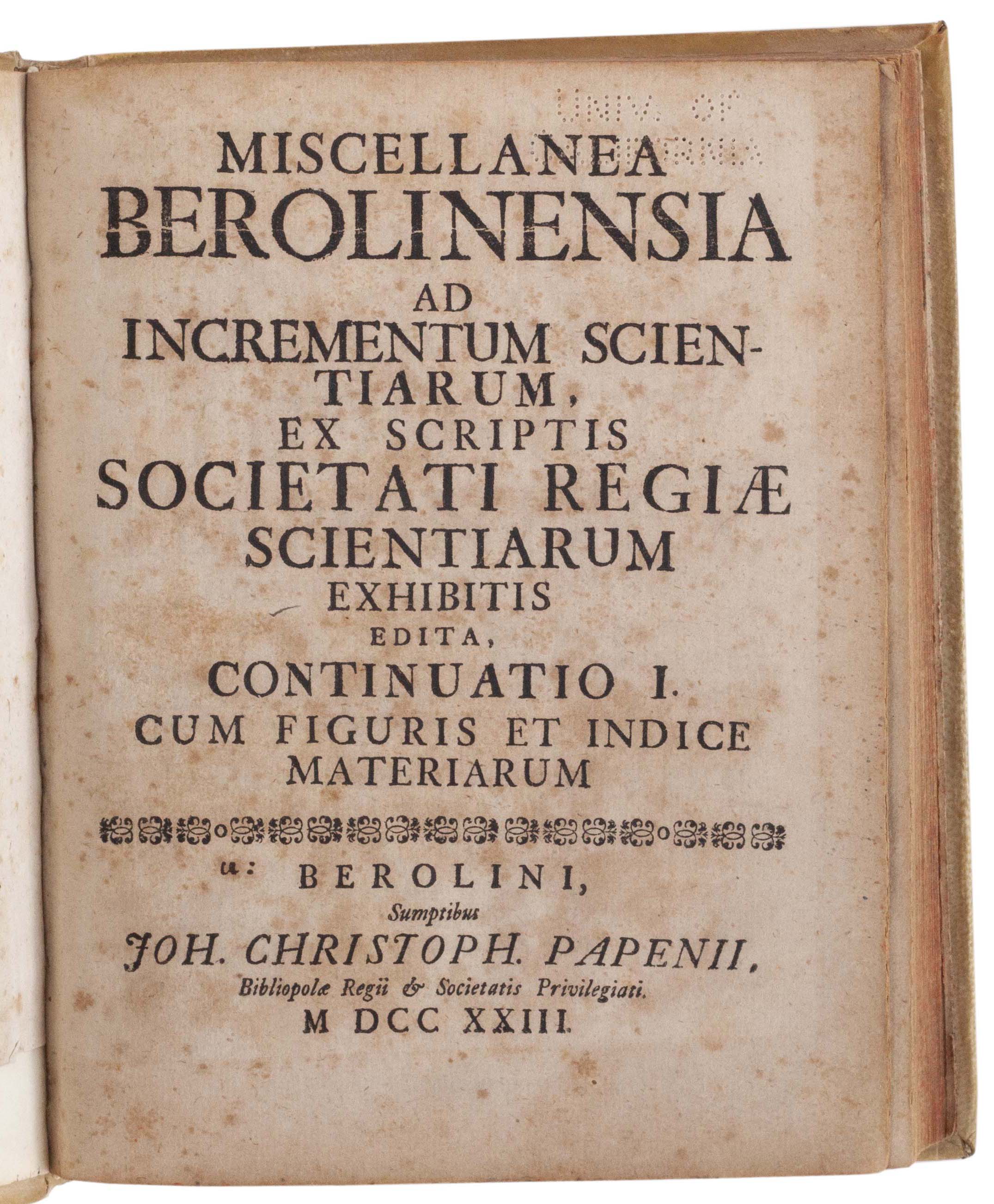 [ROYAL PRUSSIAN SOCIETY OF SCIENCES.] 
Miscellanea berolinensia ad incrementum scientiarum, ex scriptis societati regiae scientiarum exhibitis, edita, continuatio I. cum figuris et indice materiarum. 
First continuation of Leibniz's Miscellanea berolinensia.  First appearing in 1710, the publication of the Miscellanea was revived in 1723 as the official journal of the Royal Prussian Society of Sciences after the death of Leibniz, its founding President.  The Continuatio comprises articles on literature, mathematics, and mechanics, with contributions by the astronomers Johann Wilhelm Wagner, Johann Philipp von Wurzelbauer, and Christfried Kirch, the mathematicians Chrisoph Langhansen, Jakob Hermann, and Philippe Naudé the younger, and the linguists Gisbert Cuper, Johann Georg Wachter, and Justus Christoph Dithmar.