DRESS TO IMPRESS
[FANCY DRESS.]
Photograph album of costumes and accessories.
Derby, 1920s?
Oblong album (190 x 265 mm approx.), 8 leaves of thick grey card, with 26 photographic prints of various male and female costumes (11 with hand colouring, c. 13 x 8 cm, some by 'County Studios 1 & 2 Bold Lane Derby'), with typed captions and rental prices below, together with 108 small cut-out engravings of accessories, each with accompanying sticker with handwritten title and price; light rubbing to a few prints; overall very good in light brown cloth, upper cover lettered 'Photographs'; a little wear to extremities, a few light marks; 'County Carnival Stores 1 Bold Lane Derby' stamped in black ink to upper and lower covers.
£375

Approximately:
US $459
€435
Added to your basket:
Photograph album of costumes and accessories.
A delightful album of fancy dress costumes and accessories put together by County Carnival Stores of Derby, Derbyshire, from which clients could select the party outfits of their choice. The charming photographs, several with hand colouring, would appear to have been mostly taken in-house.

Local partygoers had plenty of choice. The costumes illustrated here include clowns (Pierrette), a pearly king, a cowboy, a 'Hindoo rajah', 'Scotch dress', a butterfly, a target, Father Christmas, Cinderella pages, a Dutchman (modelled by a woman), an Irish colleen, a Spanish dancer and gypsy, a student, Britannia, Dick Turpin (also modelled by a woman), 'Don Caesar', and 'Powder puff'. Rental charges range from 3 shillings and 6 pence for Britannia to 42 shillings for full traditional Scottish regalia including an impressively large sporran.

The selection of accessories, illustrated in small cut-out engravings, includes horns and trumpets, daggers and swords, bows and arrows, a telephone, and an impressive array of headgear, encompassing crowns, military hats, bonnets, Indian headdresses, bishop's mitres, clown hats, fezes, turbans, and coronets.
You may also be interested in...
[DRESS – SUMPTUARY LAW.]
Ordonnance du Roy pour le reglement & reformation de la dissolution & superfluité qui est és habillemens, & ornamens d'iceux: & de la punition de ceux qui contreviendront à ladicte ordo[n]nance. Publié en Parlement de vingtneufiesme jour de Mars, l'an mil cinq cens quantre vingts trois.
A rare example of one of the early attempts by the French authorities at sumptuary law relating to clothing, prohibiting the wearing of certain types of adornment and dress by the vast majority of the population. Similar prohibitions had been made by Henri III's predecessors, and one of his first acts was to enforce these before proposing more, firstly in 1577 and finally the present ones in 1583; more were issued under Louis XIII in 1629 and 1633, although in all cases (as might be imagined from the repeated attempts) they were barely enforced and hardly observed.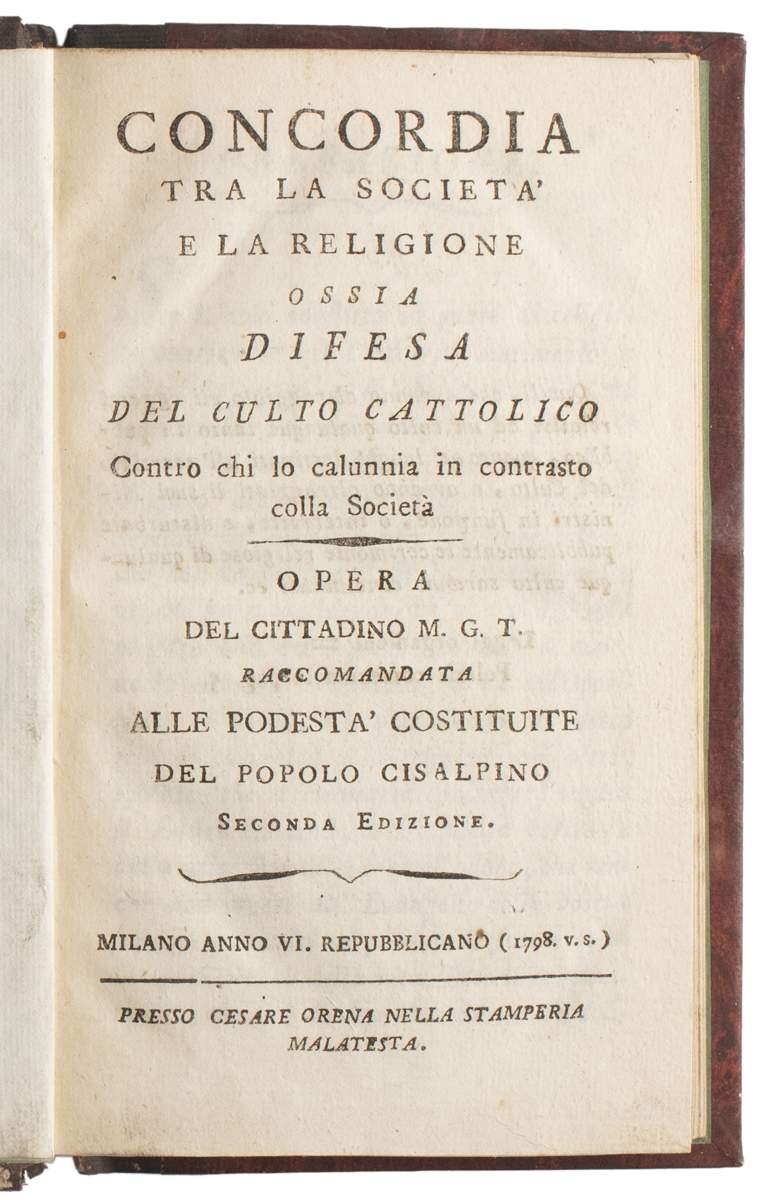 RELIGION IN THE ENLIGHTENMENT STATE [MASCHERANA, Girolamo.]
Concordia tra la società e la religione ossia Difesa del culto cattolico contro chi lo calunnia in contrasto colla società. Opera del Cittadino M.G.T. raccomandata alle podestà costituite del popolo Cisalpino. Seconda edizione.
Rare second edition, printed in the same year as the equally rare first, of this curious defence of religion in the light of the constitution of the Cisalpine Republic, in which the author seeks to demonstrate the compatibility of Catholicism with the Enlightenment ideals of the French Revolution and its aftermath.