CRIMINAL JUSTICE IN THE FRENCH ARMY
[FRANCE, Ministère de la Guerre.]
Compte général de l'administration de la justice militaire pour l'année 1843.
Paris, Imprimerie Royale, Mai 1846.
Folio, pp. 42; with tables of statistics, woodcut device to title; light offsetting to inner margins of pp. 22-23 from blue silk bookmark; a very good, crisp copy in contemporary gilt- and blind-stamped red morocco attributed in a pencil note to Thouvenin, gilt-lettered spine, gilt edges, patterned cream endpapers; faint abrasion to lower cover.
£650

Approximately:
US $916
€757
Added to your basket:
Compte général de l'administration de la justice militaire pour l'année 1843.
A handsome copy, perhaps bound for presentation, of this statistical report on military justice in the French army in 1843, dedicated to king Louis-Philippe by Alexandre Moline de Saint-Yon (1786–1870), a veteran of Waterloo who served as France's Minister of War between 1845 and 1847. The first such Compte appeared in the early 1830s soon after Louis-Philippe's accession, becoming an annual series thereafter.

Out of an army of 334,091 men, the report notes that 3488 were prosecuted for crimes including desertion, insubordination, theft, selling army equipment, murder, and rape. While ninety men were condemned to death, the majority of the offenders were imprisoned, other punishments including forced labour and the ball and chain. Among a wealth of statistical data, the malefactors are analysed according to how they joined the army, their rank, length of service, and by the branch of the army to which they belonged. Consideration is also given to the cost of criminal trials.

We have been unable to trace any copies in UK or US institutions.
You may also be interested in...
FOX-HUNTING FORE-EDGE THOMSON, James, and Allan CUNNINGHAM (editor).
The Seasons, and The Castle of Indolence … with a biographical and critical Introduction.
First edition with Cunningham's biography of Thomson, with a concealed fore-edge painting showing fox-hunters. Well executed, the anonymous painting shows a lively scene of the chase, complete with livery, horses, and hounds, and a rider jumping a fence.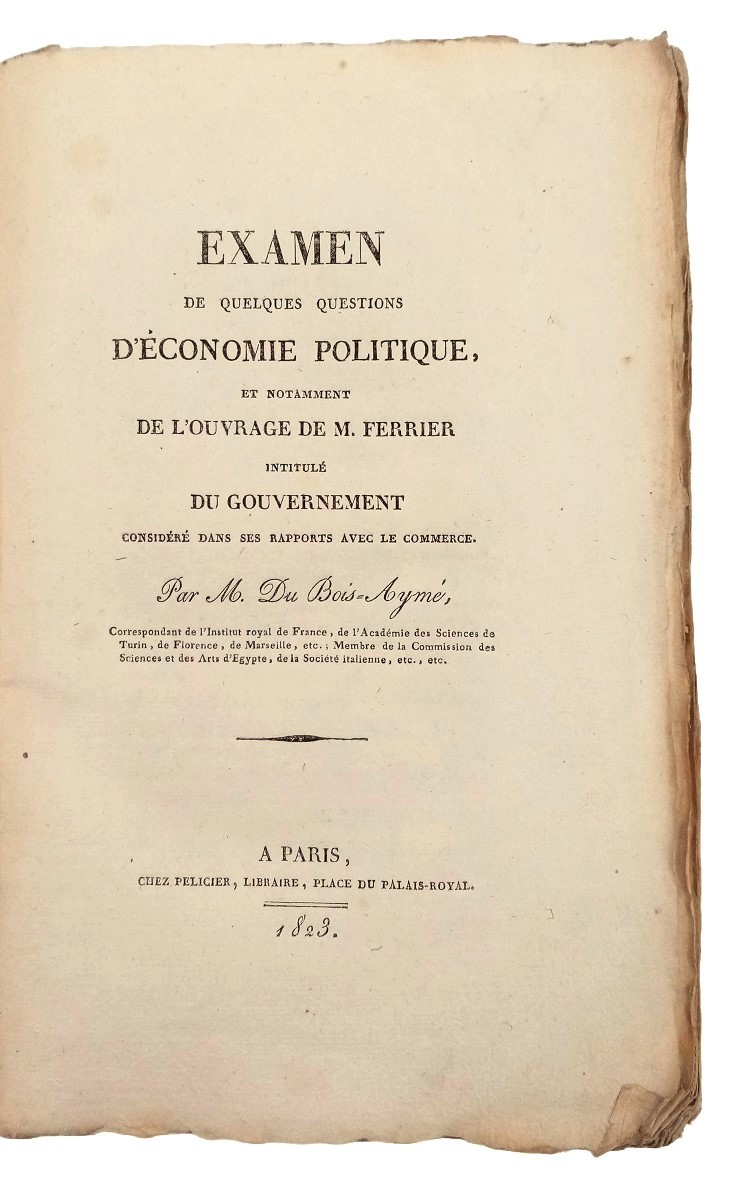 HOW MUCH MORE THE SKILLED WORKER SHOULD BE PAID THAN HIS UNSKILLED COUNTERPART DUBOIS-AYMÉ [Jean Marie Joseph Aimé DUBOIS, known as].
Examen de quelques questions d'économie politique, et notamment de l'ouvrage de M. Ferrier intitulé Du Gouvernement considéré dans ses rapports avec le commerce.
First edition. Dubois-Aymé uses mathematical methodology to examine two of the cases he considers. In the first instance he 'compares the power due to the riches of two countries. This power he maintains is in proportion to the goods available to each country over and above its indispensable requirements for consumption and reproduction' (Theocharis, p. 80). Later he discusses 'the relation between the salary of the unskilled worker and that of the skilled worker, who needs to undergo a period of apprenticeship at a certain expense. The condition is that the salary of the skilled worker should be such as to give him over his shorter working life total earnings equal to his earnings as a general labourer plus his costs of apprenticeship' (Theocharis, p. 80).