FROST, Percival.
Newton's Principia, First Book, Sections I., II., III., with notes and illustrations.
London, Macmillan, 1880
8vo, pp. xv, 292, [4 (adverts)], with diagrams in the text; inner hinges beginning to crack; a good copy in the original red cloth, two corners a little bumped, spine faded.
£75

Approximately:
US $93
€88
Added to your basket:
Newton's Principia, First Book, Sections I., II., III., with notes and illustrations.
Second imprint of the third edition. This book, first published in Cambridge in 1854, was intended and used as a text for university students. The author was formerly fellow of St. John's College.

Wallis 37.03; see Babson for the 1883 edition.
You may also be interested in...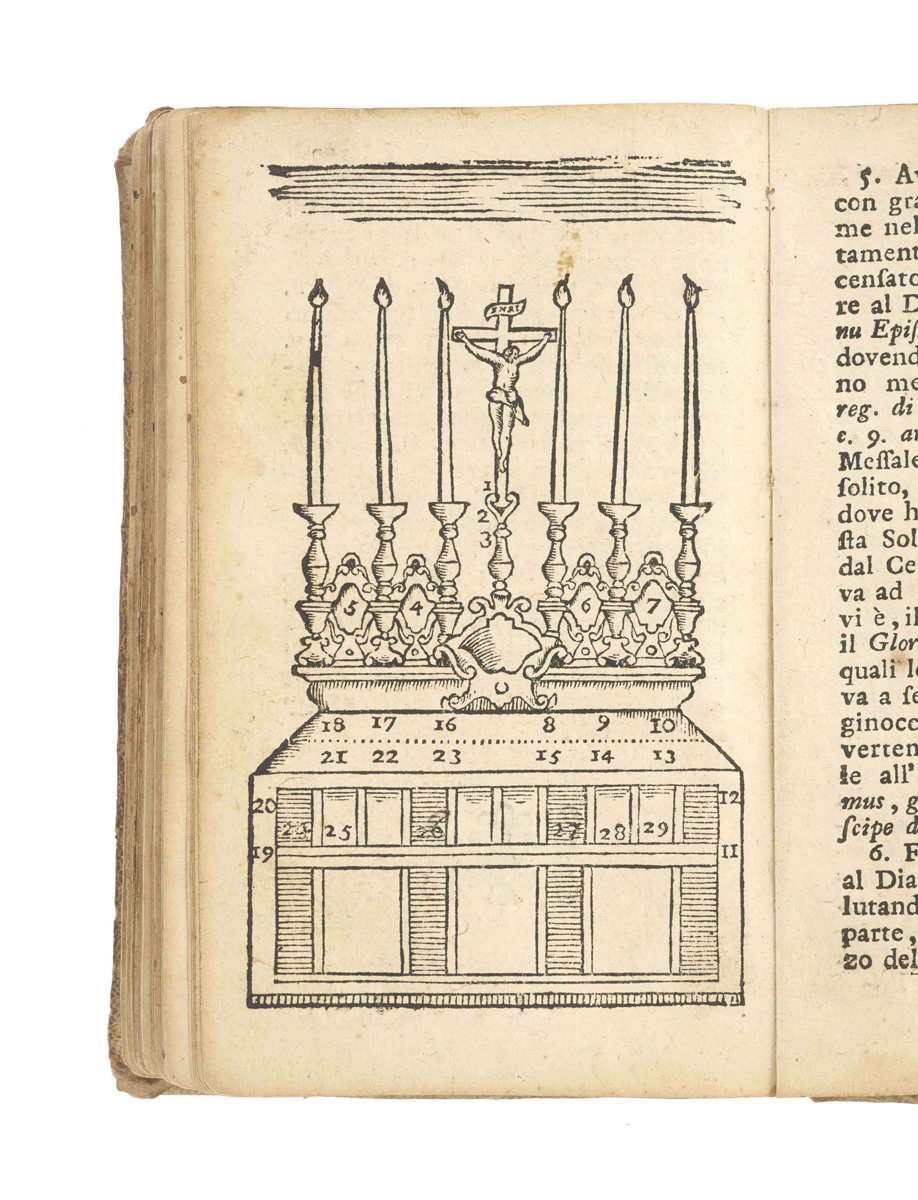 [LITURGY.]
Cerimonie piu' notabili della messa privata; Cavate dalle rubriche del Missale, ed altri autori da un Sacerdote D.C.D.M. Coll'aggiunta di quelle della messa, e vespri solenni si pei vivi, che pei defunti, col modo di servire alla messa privata. Da un'Alunno del Seminario di Torino.
As far as we are aware unrecorded edition of this uncommon treatise on the celebration of the mass and its associated rituals. Dealing both with private (low) masses and with solemn mass and solemn vespers, the work explains the meaning and performance of the non-verbal aspects of the liturgy: genuflection, the sign of the cross, the communion of the faithful, the movements of the celebrant's hands, the role of acolytes and thurifers (also during requiem masses), the office of the subdeacon and deacon, the use of incense, and instructions for serving at the missa private. The woodcut on page 200 depicts the altar, annotated with numbers referring to the relevant parts of the text.
The text itself appears first to have been published around the turn of the century; the earliest issue in SBN is a Naples printing of 1701, but that claims to be 'novamente riviste, ed accresciute', and is only of 134 pages in 12s. Other editions appeared in Pavia, Turin, and Modena, while Venetian printings were issued in 1739 and 1750. All seem very scarce.
Not in OCLC, which records only a Venice printing of the same year (in the Polish Union Catalogue); SBN does not record this edition.
WELLS, Edward.
The young Gentleman's Astronomy, Chronology, and Dialling, containing such Elements of the said Arts or Sciences, as are most useful and easy to be known … third Edition, revised, and corrected, with Additions.
Third edition of Wells's successful mathematical handbook. Though subsequently dismissed as 'more voluminous than distinguished' (ODNB), the educational writings of Edward Wells (1667–1727) proved both popular with the public and profitable for their author. The best known, the present work offers an introduction to mathematics, principally astronomy and geometry in their practical applications.