THE ENGLISH: BEAUTIFUL BUT FLIGHTY
GÉNIE ANGLOIS (LE),
ou histoire abrégée des revolutions fréquentes de la Grande-Bretagne; par un esprit desintéressé.
A Dublin [i.e. the Netherlands]: chez Jaques Pepiat. 1723.
12mo., pp. [10], 216, 215-401, possibly wanting a half-title or an initial blank; a very good copy in contemporary Dutch or French sheep, spine gilt in compartments.
£650

Approximately:
US $806
€751
Added to your basket:
ou histoire abrégée des revolutions fréquentes de la Grande-Bretagne; par un esprit desintéressé.
First and only edition of this curious children's history of England in French, up to the death of Queen Anne in 1714.

Despite the claim on the title-page that the author is 'un esprit désintéressé', the 'Avertissement' introduces the reader to the English as 'ce peuple inconstant et leger', comparing them, ironically (given the traditional English nickname for the French), to 'grenouilles imprudents'. On the other hand, the English, implausibly enough 'sont Presque tous beaux, ont les yeux bleus, le teint blanc, les cheveux blonds, & la taille belle', and the air is so healthy we live 'en parfaite sauté jusqu'à cent dix ans, & meme jusqu'à 150'. The rest of the text – which is more even handed in tone – is set out as a series of questions and answers, proceeding chronologically by monarch from Egbert (801-838) to Queen Anne. We are introduced to the virtues and the foibles of famous figures from English history: Charles II, for example, is diagnosed as possessing 'trop de passion pour les Dames'.

Though the rest of the work is anonymous, the author of the last chapter is identified as the lexicographer and journalist Abel Boyer. This probably means that the material was cribbed from his History of the Life and Reign of Queen Anne (1722), rather than being an original commission. Boyer, however, would have been more than capable of producing a chapter in French: his Compleat French Master for Ladies and Gentlemen (1694) was one of the most popular guides to the French language of its time.

The Dublin imprint is obviously false (though there was a Jeremiah Pepyat working there at this time). The book was presumably printed in the Netherlands.

ESTC records only one copy in North America, at UCLA.
You may also be interested in...
[COVENTRY, Francis].
La Vie et les aventures du petit Pompée. Histoire critique traduite de l'anglois par M. Toussaint …
First edition? in French of Coventry's most famous work, The History of Pompey the Little, or, The Life and Adventures of a Lap-Dog (1751), a lively satire of fashionable London life, told through the eyes of a favoured pet.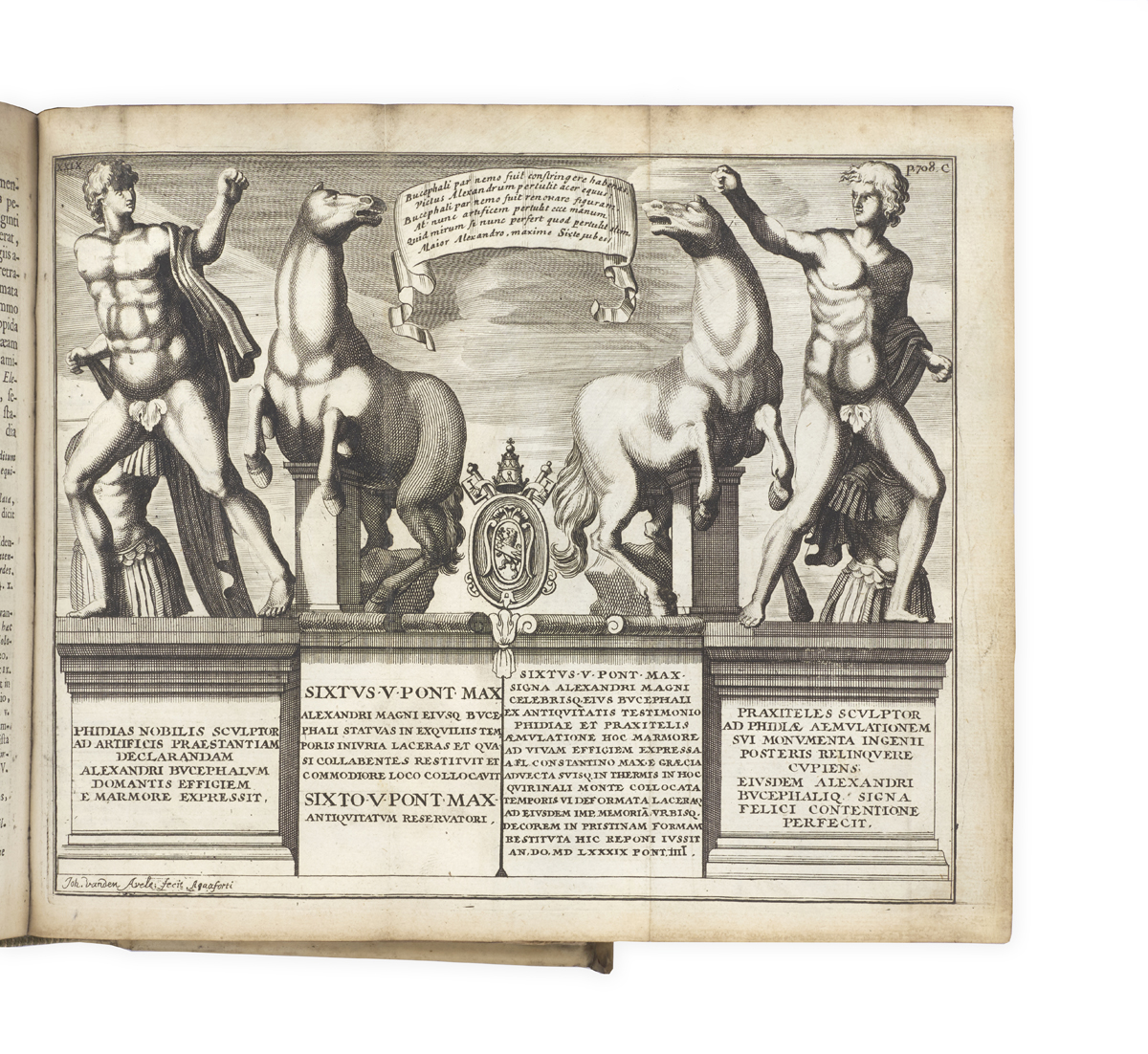 ALEXANDER ILLUSTRATED CURTIUS Rufus, Quintus. 
De rebus Alexandri Magni, cum commentario perpetuo & indice absolutissimo Samuelis Pitisci, quibus accedunt Mottevayeri de Curtio dissertatio, Freinshemii supplementa, figurae ex veterum monumentis ad historiam Alexandri illustrandam depromptae & illarum exegesis, Alexandri genealogia, & synopsis chronologica. 
First Halma edition of Curtius's history of Alexander the Great, with a series of accomplished etched illustrations by Jan van den Aveelen.