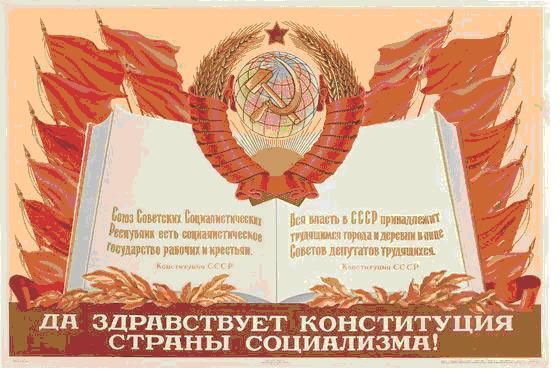 GANF, Iulii Abramovich, and P. PISKUNOV, editor.
Да здравствует конституция страны социализма! [Long live the constitution of the Socialist nation!]
Moscow, Gosudarstvennoe izdatel'stvo izobrazitel'nogo iskusstva, 1953.
Lithograph in colour, 32.8 x 22 inches (83.3 x 55.8 cm); linen backed; one instance of minor dust-soiling.
£700 + VAT

Approximately:
US $973
€808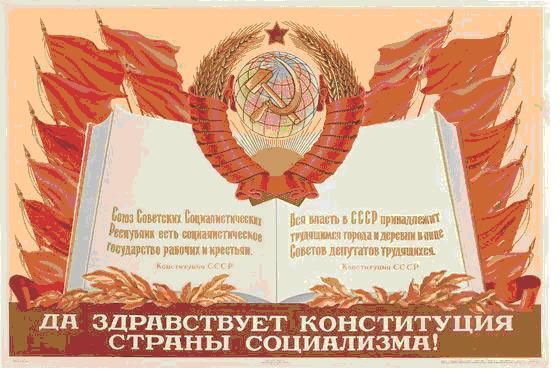 Added to your basket:
Да здравствует конституция страны социализма! [Long live the constitution of the Socialist nation!]
Typically Soviet poster illustrated by graphic artist Iuli Ganf, whose satirical work was published in magazines and newspapers such as Krokodil.

"He participated in the seventh exhibition of the group L'Araignée (The Spider) at the Galerie Devambe in Paris in 1925 and was included in the major exhibition in Moscow in 1927 marking the tenth anniversary of the Revolution" (Milner, J., A dictionary of Russian and Soviet artists 1420-1970, p. 157).

The quotes from the constitution read: The Union of Soviet Socialist Republics is a socialist government of labourers and peasants; All power in the USSR belongs to the labourers of town and countryside, who are represented by the Soviets of workers' delegates.

See King, D., Red star over Russia, p. 336.
You may also be interested in...
FEDORCHENKO, Sophia and Afanasy KULIKOV.
На Крылышах [On little wings].
First edition of this collection of verses for children on birds and butterflies, deftly illustrated by Kulikov.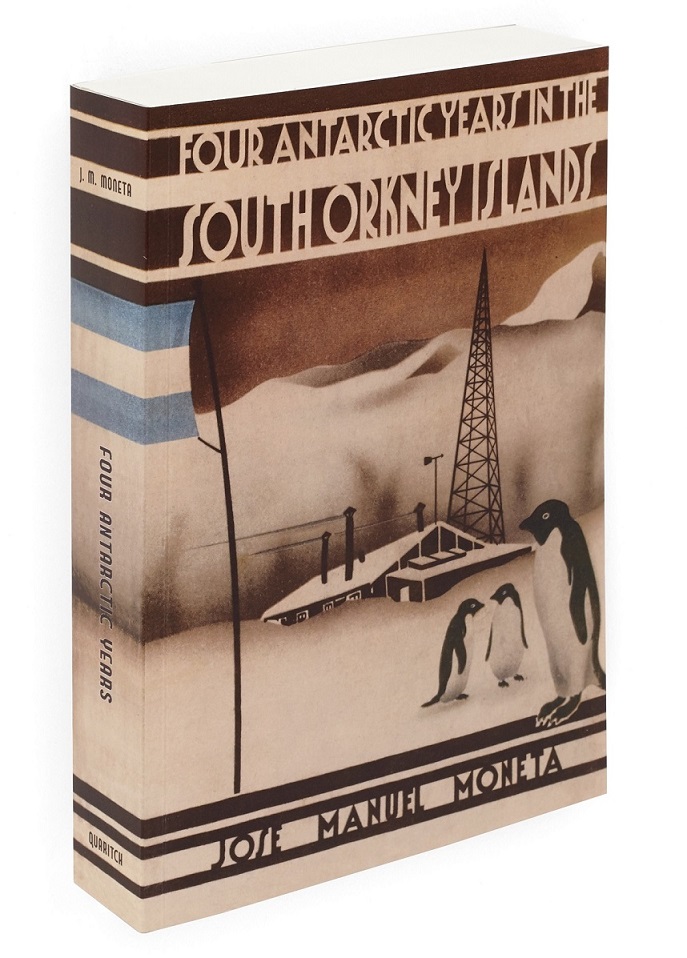 MONETA, José Manuel, and Robert Keith HEADLAND, (ed.).
Four Antarctic Years in the South Orkney Islands: an Annotated Translation of 'Cuatro Años en las Orcadas del Sur'.
One man's fascinating record of four winters in the Antarctic during the 1920s, the period of transition from the isolation of the Heroic Age to the beginnings of radio communication with the world outside.