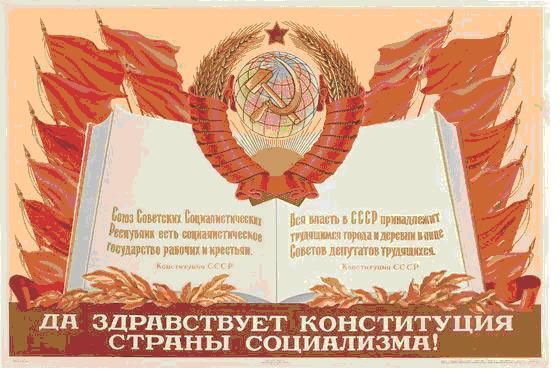 GANF, Iulii Abramovich, and P. PISKUNOV, editor.
Да здравствует конституция страны социализма! [Long live the constitution of the Socialist nation!]
Moscow, Gosudarstvennoe izdatel'stvo izobrazitel'nogo iskusstva, 1953.
Lithograph in colour, 32.8 x 22 inches (83.3 x 55.8 cm); linen backed; one instance of minor dust-soiling.
£700 + VAT

Approximately:
US $918
€782
Typically Soviet poster illustrated by graphic artist Iuli Ganf, whose satirical work was published in magazines and newspapers such as Krokodil.

"He participated in the seventh exhibition of the group L'Araignée (The Spider) at the Galerie Devambe in Paris in 1925 and was included in the major exhibition in Moscow in 1927 marking the tenth anniversary of the Revolution" (Milner, J. A dictionary of Russian and Soviet artists 1420-1970, p. 157).

The quotes from the constitution read: The Union of Soviet Socialist Republics is a socialist government of labourers and peasants; All power in the USSR belongs to the labourers of town and countryside, who are represented by the Soviets of workers' delegates.

See King, D. Red star over Russia, p. 336.
You may also be interested in...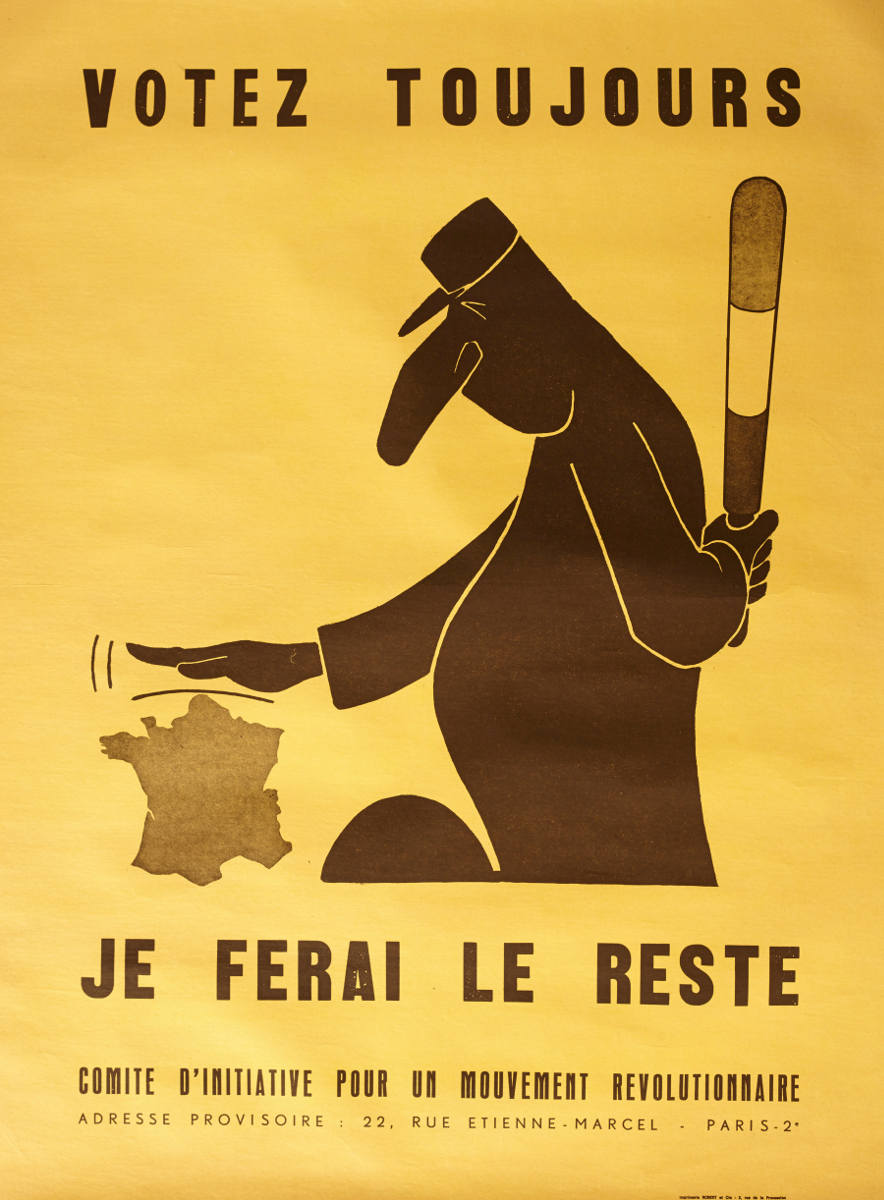 [PARIS UPRISING].
Votez toujours. Je ferai le reste [Always vote. I'll do the rest].
First edition. A striking image of General De Gaulle patting France on the head for obediently voting, a baton cunningly concealed behind him. 1968 was a year when passions were flying high in France. The communist and socialist parties had formed an alliance in February with a view to replacing the De Gaulle administration. The ensuing student occupation protests coupled with wildcat general strikes of over 20% of the French population seriously destablized De Gaulle's government, and for some time it seemed likely that it would fall. Having fled briefly to Germany, however, De Gaulle called elections for June 1968, and emerged with an increased majority.
KEELY, Patrick Cokayne.
SEPSIS Get First Aid. The Ministry of Labour and National Service and produced by the Royal Society for the Prevention of Accidents.
The Royal Society for the Prevention of Accidents (RoSPA) was responsible for the production of safety propaganda material used in those factories and workshops supplying the war effort. It was underwritten by the Ministry of Labour and National Service, which was responsible for military recruitment (as of 1939), management of employment, industrial relations as well as supervision of health and safety legislation and administration of labour statistics. Posters would have been accompanied by pamphlets and educational notes regarding information about illness and injury, the prevention of infection and treatment.