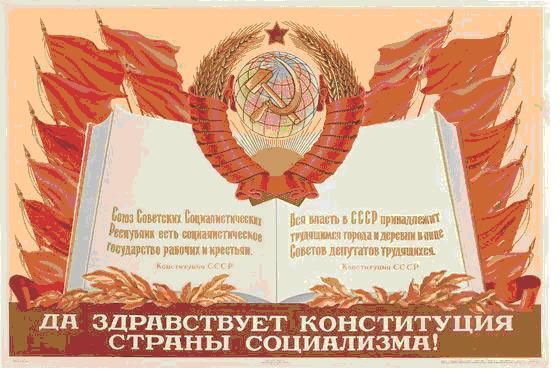 GANF, Iulii Abramovich, and P. PISKUNOV, editor.
Да здравствует конституция страны социализма! [Long live the constitution of the Socialist nation!]
Moscow, Gosudarstvennoe izdatel'stvo izobrazitel'nogo iskusstva, 1953.
Lithograph in colour, 32.8 x 22 inches (83.3 x 55.8 cm); linen backed; one instance of minor dust-soiling.
£700 + VAT

Approximately:
US $0
€0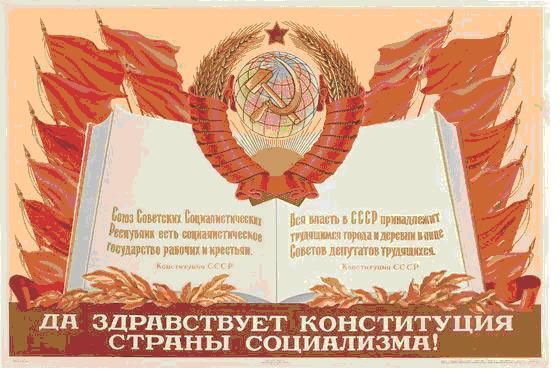 Added to your basket:
Да здравствует конституция страны социализма! [Long live the constitution of the Socialist nation!]
Typically Soviet poster illustrated by graphic artist Iuli Ganf, whose satirical work was published in magazines and newspapers such as Krokodil.

"He participated in the seventh exhibition of the group L'Araignée (The Spider) at the Galerie Devambe in Paris in 1925 and was included in the major exhibition in Moscow in 1927 marking the tenth anniversary of the Revolution" (Milner, J., A dictionary of Russian and Soviet artists 1420-1970, p. 157).

The quotes from the constitution read: The Union of Soviet Socialist Republics is a socialist government of labourers and peasants; All power in the USSR belongs to the labourers of town and countryside, who are represented by the Soviets of workers' delegates.

See King, D., Red star over Russia, p. 336.
You may also be interested in...
DEBATING DANTE DANTE Alighieri, and Pompeo VENTURI (commentator).
La divina commedia … col commento di P. Pompeo Venturi; edizione conforme al testo cominiano del 1727.
The attractive first Remondini edition of Dante's Commedia, in three volumes, with highly controversial commentary by the Jesuit scholar Pompeo Venturi (1693–1752) reflecting the volatile relationship between language and religion in the eighteenth century.
the radio adapter's copy LEWIS, Wyndham.
Tarr.
Third (second revised) edition, set up from a corrected version of the re-written text of 1928 – the details of the textual differences are outlined in 'Tarr V' by Bernard Lafourcade (Enemy News 15, Winter 1982). The dust-jacket features Lewis's last drawing before his blindness (see Meyers).