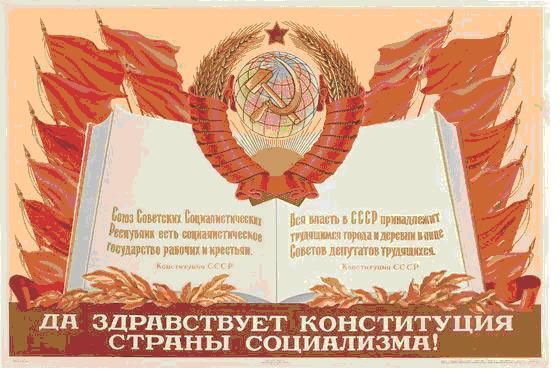 GANF, Iulii Abramovich, and P. PISKUNOV, editor.
Да здравствует конституция страны социализма! [Long live the constitution of the Socialist nation!]
Moscow, Gosudarstvennoe izdatel'stvo izobrazitel'nogo iskusstva, 1953.
Lithograph in colour, 32.8 x 22 inches (83.3 x 55.8 cm); linen backed; one instance of minor dust-soiling.
£700 + VAT

Approximately:
US $975
€822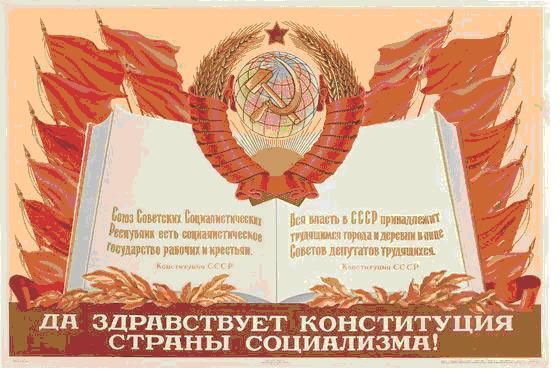 Added to your basket:
Да здравствует конституция страны социализма! [Long live the constitution of the Socialist nation!]
Typically Soviet poster illustrated by graphic artist Iuli Ganf, whose satirical work was published in magazines and newspapers such as Krokodil.

"He participated in the seventh exhibition of the group L'Araignée (The Spider) at the Galerie Devambe in Paris in 1925 and was included in the major exhibition in Moscow in 1927 marking the tenth anniversary of the Revolution" (Milner, J., A dictionary of Russian and Soviet artists 1420-1970, p. 157).

The quotes from the constitution read: The Union of Soviet Socialist Republics is a socialist government of labourers and peasants; All power in the USSR belongs to the labourers of town and countryside, who are represented by the Soviets of workers' delegates.

See King, D., Red star over Russia, p. 336.
You may also be interested in...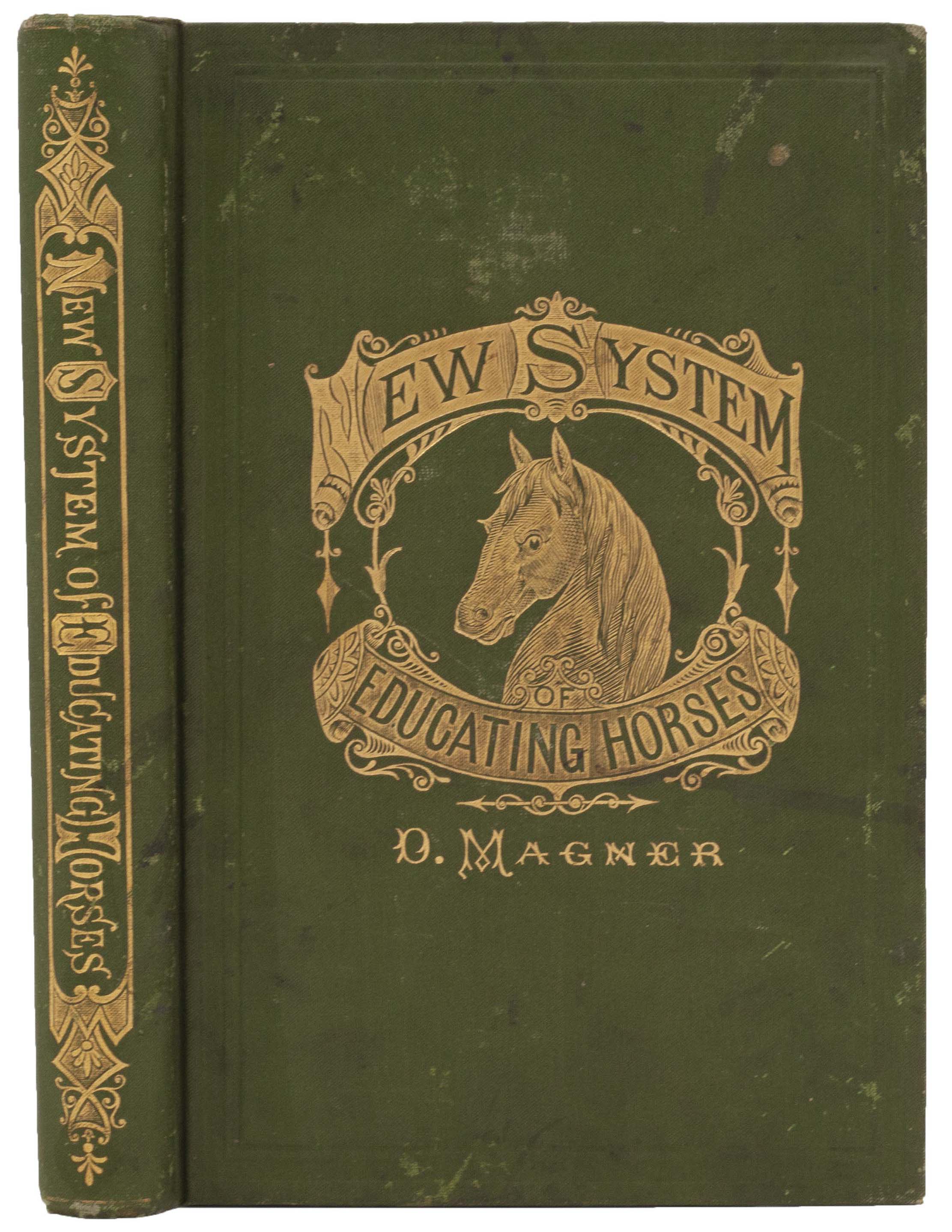 MAGNER, D.
The new System of Educating Horses, including Instructions on Feeding, Watering, Stabling, Shoeing, etc., with Treatment for Diseases, illustrated, including many valuable Recipes not before published … twelfth Edition, re-written with new Illustrations.
Twelfth edition of a well illustrated manual on equestrianism, principally the training of horses. 'The horse is an animal of high and spirited organization, endowed by his Creator with capabilities and faculties which sufficiently resemble man's to come under the same general law of education and government … Boys and colts, so much alike in friskiness and stubbornness, both are misunderstood and abused in equal ratio'.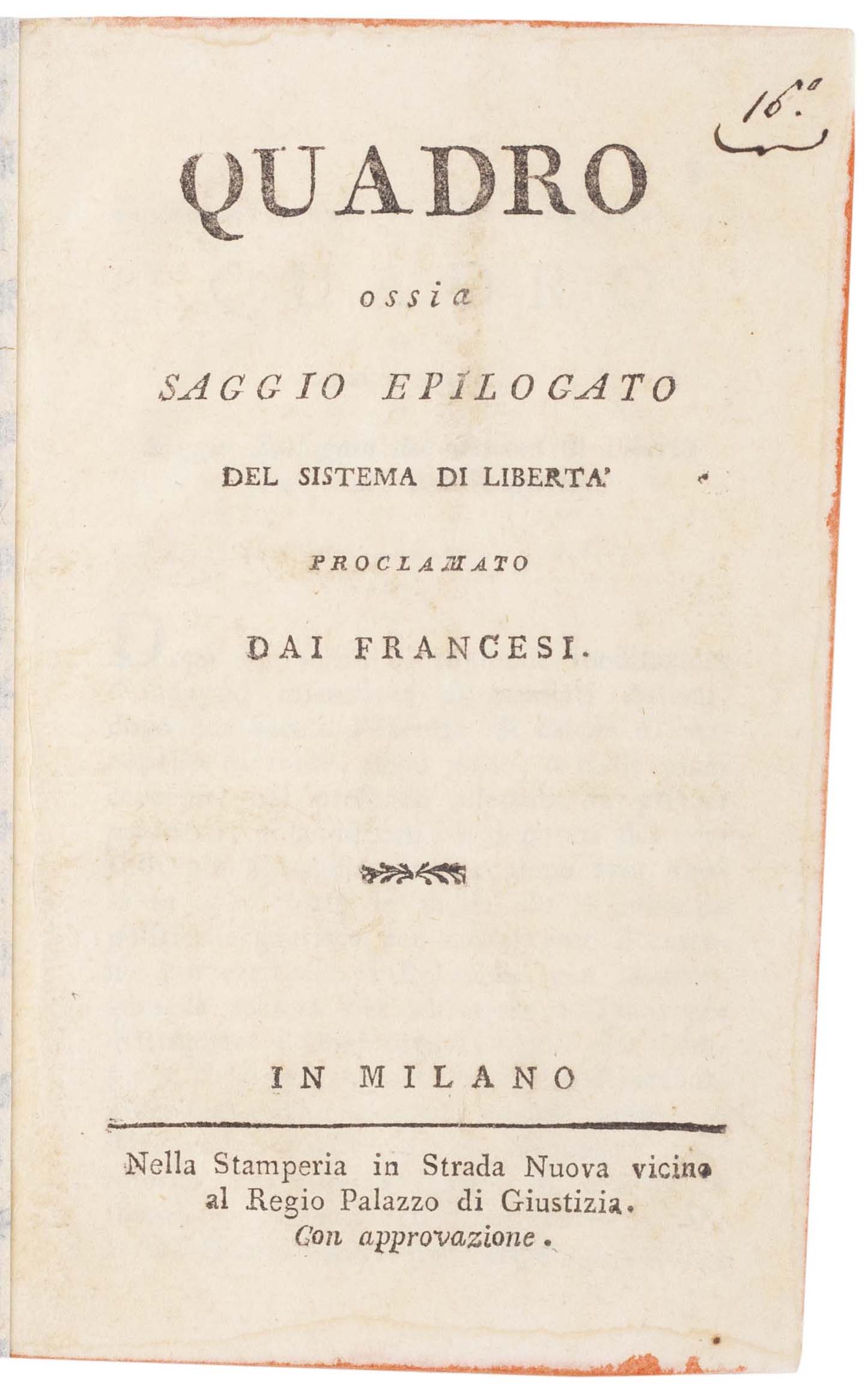 LIBERTY – WHAT LIBERTY? [BENDISCIOLI, Faustino.]
Quadro ossia saggio epilogato del Sistema di liberta' proclamato dai Francesi.
An impassioned tract attacking the claims of a new life of liberty promoted in Europe after the French Revolution, very rarely to be found in any of the three editions published in the same year.