ODE TO DALI
GARCÍA LORCA, Federico.
Ode à Salvador Dalí. Texte espagnol & traduction par Louis Parrot & Paul Eluard.
[Paris], GLM, [1938].
4to, pp. [32], with frontispiece portrait of García Lorca with Dalí (a photograph dating from 1927); text in Spanish with French translation opposite; a very good copy in the original printed wrappers, light wear to edges.
£600

Approximately:
US $819
€698
Added to your basket:
Ode à Salvador Dalí. Texte espagnol & traduction par Louis Parrot & Paul Eluard.
First separate edition of Lorca's Ode to Salvador Dalí, and first appearance in French, in a translation by the French surrealist poets Paul Eluard and Louis Parrot. The poem was first published in the original Spanish in April 1926 in the Revista de Occidente; a luxury edition to be published by Emilio Prados was planned for 1927 but never appeared.

'The Ode constitutes not only a fervent affirmation of Lorca's friendship with Dalí but an appraisal of contemporary painting as represented in Spain by his friend. Lorca admired in Dali's work – as in that of his cubist predecessors – its symmetry, objectivity and lack of sentimentality, its flight from both outmoded realism and the "impressionist mist"... The Ode to Salvador Dalí is perhaps the finest paean to friendship ever written in Spanish, and the fact that it appeared in one of the most important journals in Europe filled the painter with pride, as he recalled in 1980. Nor did the poem fail to attract the attention of the critics...' (Ian Gibson, Federico García Lorca, 1989, p. 159-162).

One of 515 numbered copies, of which this is one of 500 on papier vélin.

Laurenti & Siracusa 389.
You may also be interested in...
POEM ON THE 1755 LISBON EARTHQUAKE ALMEIDA, Theodoro de.
Lisboa destruida poema, author o P. Theodoro de Almeida, da Congregaçaõ do Oratorio de Lisboa.
First edition of this poem in six cantos, with extensive notes, on the disastrous 1755 Lisbon earthquake, by the Oratorian priest and philosopher Almeida (1722-1804). One of the deadliest in history, the earthquake almost totally destroyed the Portuguese capital and accentuated political tensions within the kingdom. It was widely discussed by European Enlightenment philosophers, including Voltaire and Rousseau, and led to important debates around theodicy and philosophical optimism.
Almeida was one of the most important figures of the iluminismo in Portugal and spent time in exile in France following the persecution of his congregation by the Marquis of Pombal. He wrote Lisboa destruida soon after the earthquake but it remained in manuscript until 1803, its publication perhaps motivated by the outbreak of the Napoleonic Wars, which threatened to bring fresh disaster to his country. In his prologue, Almeida refers to Voltaire's Poème sur le désastre de Lisbonne as 'obra dictada, naõ pelas Musas Christãs, mas certamente pelas Furias infernaes'. Almeida's poem has been praised by the bibliographer Inocênio for its historical value and is illustrated with beautiful vignettes alluding to the earthquake.
Provenance: this copy belonged to one Captain Saunders of the 14th Light Dragoons who no doubt acquired it on service with the 14th during the Peninsula War between 1808 and 1814.
Only one copy on Library Hub, at the British Library.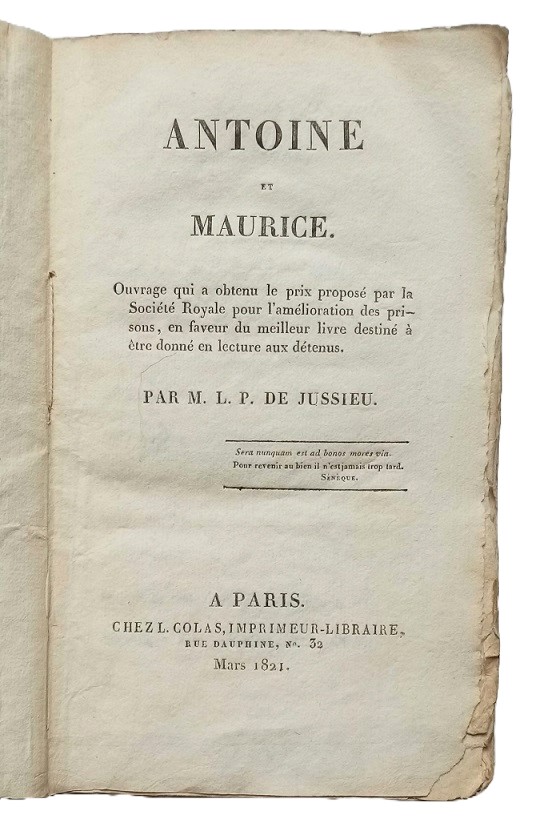 JUSSIEU, Laurent Pierre de.
Antoine et Maurice. Ouvrage qui a obtenu le prix proposé par la Société Royale pour l'amélioration des prisons, en faveur du meilleur livre destiné à être donné en lecture aux détenus.
First edition, rare, of this unsurprisingly moralising novel by the writer, geologist, and natural historian Laurent Pierre de Jussieu (1792-1866), written in response to a competition held by the Royal Society of the Improvement of Prisons to find the best book to circulate amongst inmates.
An 1837 note in the Edinburgh Medical and Surgical Journal explains: "Among other means of effecting this object [the reform and moral improvement of prisoners], one of the most effectual was conceived to be the preparation and distribution among the prisoners, of books, the perusal of which might impart an abhorrence of vice, and create a taste for virtue; and books of this description were soon composed by able writers, and the attempt is represented to have been attended with the happiest effects. At the head of the writings now mentioned, M. Parent Duchatelet informs us public opinion had long placed two productions of M. Jussieu, one entitled Simon of Nantua, the other Antony and Maurice". And indeed the novel, detailing the contrasting fortune of Antoine and the thief who led him into a life of crime, Maurice, was popular, seeing several editions not only in French but also in German. It remains unclear, of course, quite how enthusiastically it was received by its intended audience.
OCLC records no copies of any edition outside Continental Europe.