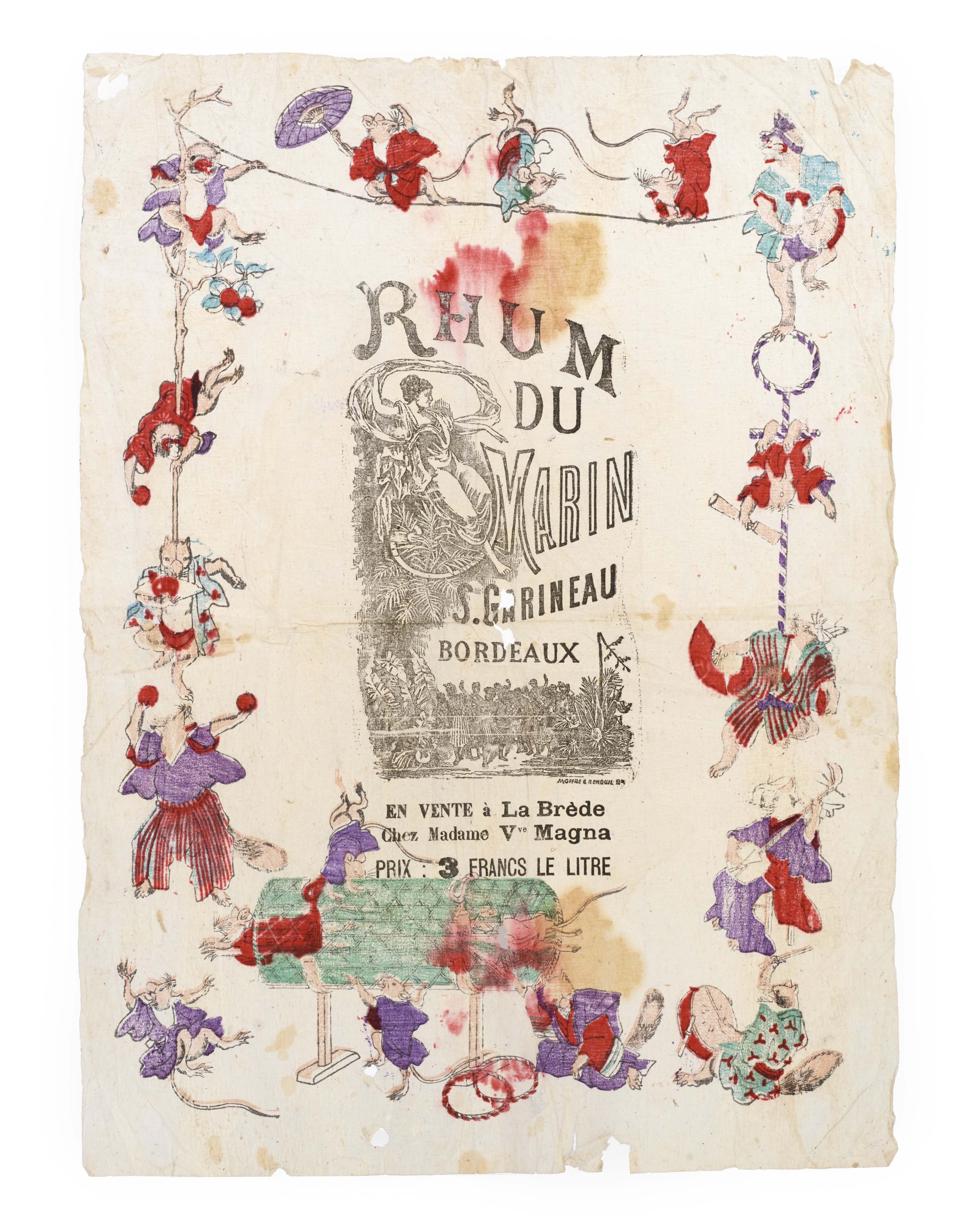 ALCOHOLIC ANTHROPOMORPHIC ACROBATIC ANIMALS
GARINEAU, Sylvain-Jean.
Rhum du Marin. S. Garineau, Bordeaux. En vente à La Brède chez Madame Vve Magna. Prix: 3 Francs le litre.
[Bordeaux,] Moffre & Renouil, [c. 1890].
Folio broadside (345 x 256 mm approx.), colour woodcut on crêpe paper; a few small paper-flaws, light blots, but a very good copy.
£300

Approximately:
US $376
€353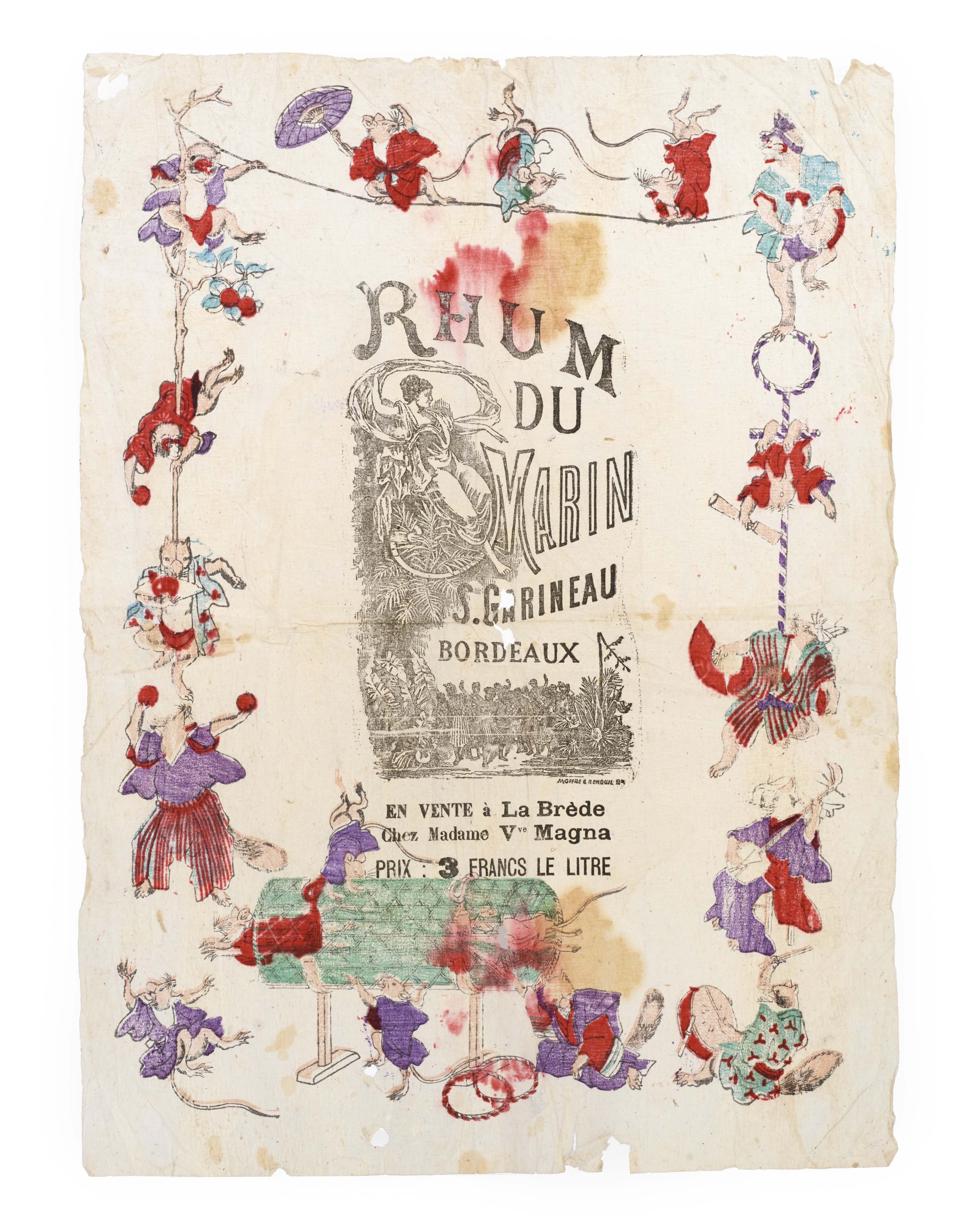 Added to your basket:
Rhum du Marin. S. Garineau, Bordeaux. En vente à La Brède chez Madame Vve Magna. Prix: 3 Francs le litre.
An extremely rare broadside advertisement for rum, splendidly printed in the fin de siècle style, with vibrant colours, depicting anthropomorphic acrobatic animals.

Garineau's central woodcut appears in several publications advertising Rhum du Marin in the final decades of the nineteenth century; the colourful border, showing mice dancing and walking a rope on their hands, rabbits and monkeys descending trees and ropes, and foxes juggling, beating a drum, or slumped on the floor, appears to be a unique addition to those advertisements destined to the various retailers of the Rhum du Marin, each adding their own address beneath the central woodcut.

The brand 'Rhum du Marin', inspired by Port Marine on Martinique, was registered by Garineau in January 1891, with a precise description of the central image ('Le fond est verni et de couleur saumon pâle; le personnage du haut a un vêtement bleu et rouge; les palmiers et autres feuillages sont verts…').

We have been able to trace only one copy, at the Musée des Arts Décoratifs, with the indication 'En vente à Auch, Chez M. J. Bachot, Négociant'. OCLC does not record any copies.
You may also be interested in...
THE ADVENTURES OF A DOLL WETZELL, Madame.
Les Matinées de la poupée, ou récréations d'une petite fille.
First and only edition, very rare, of a charming illustrated account of a girl's doll. Brillantine, a doll, is given to Célénie for company while her elder sister Alméa is in Africa; the book recounts in detail their relationship over the course of a week, from Brillantine's arrival with the family d'Ervilliers (on Saturday 18 May 1844), the provision of her wardrobe and furnishing of her apartment (a cabinet overlooking the garden), her education by Célénie, and their adventures meeting other girls and dolls and going on a horse-ride.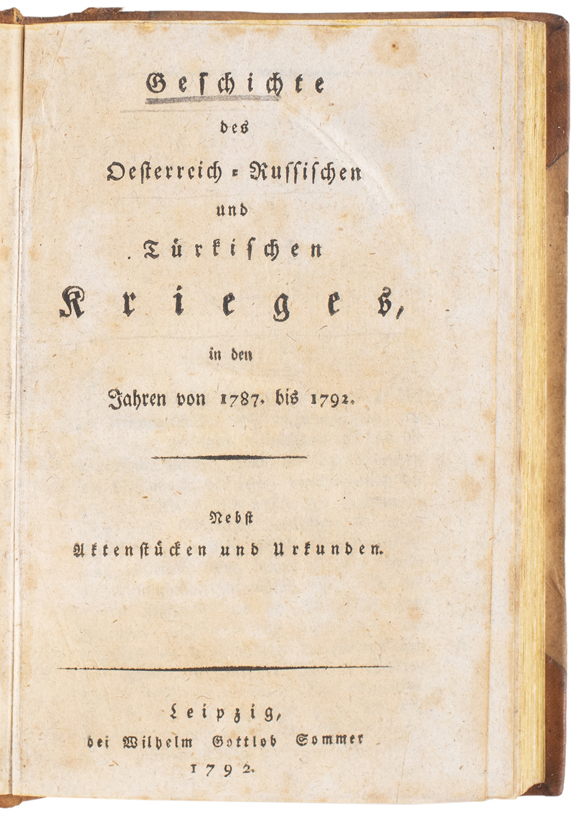 TURKISH WARSTHE SCHÖNBORN-BUCHHEIM–ATABEY COPY [UNGER, Salomo Gottlob.]
Geschichte des Oesterreich-Russischen und Türkischen Krieges, in den Jahren von 1787. bis 1792. Nebst Aktenstücken und Urkunden.
First and only edition, extremely rare, of this account of the Austro-Turkish War of 1788-1791, and of the concurrent Russo-Turkish war of 1787-92. It includes the full texts of the Treaty of Sistova of 4 August 1791 and of a separate convention attached to it, in both French and German. While the gains for Austria were meagre, the end of the Russo-Turkish war, sanctioned by the Treaty of Jassy of 9 January 1792, effectively left Russia in control of the Black Sea.