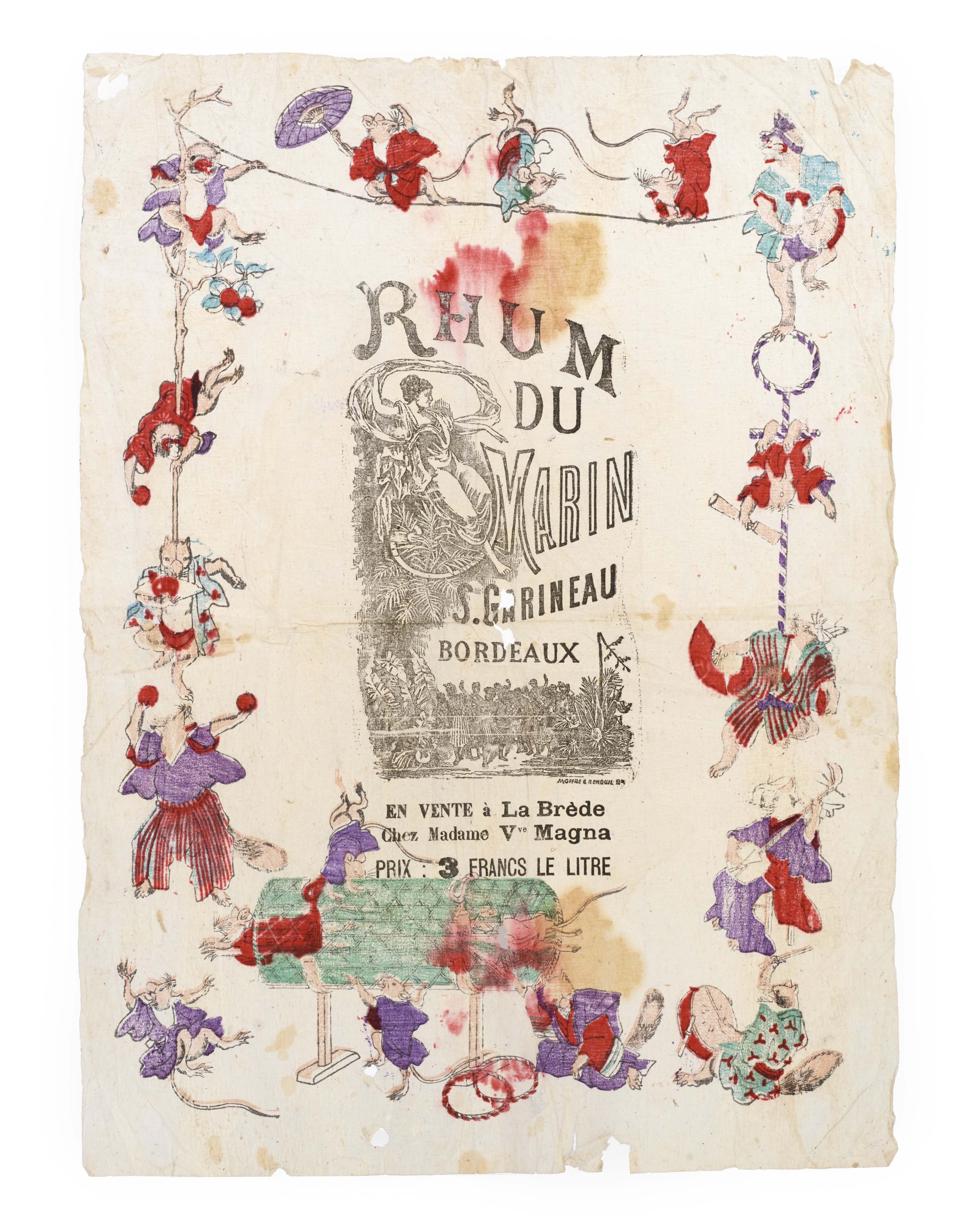 ALCOHOLIC ANTHROPOMORPHIC ACROBATIC ANIMALS
GARINEAU, Sylvain-Jean.
Rhum du Marin. S. Garineau, Bordeaux. En vente à La Brède chez Madame Vve Magna. Prix: 3 Francs le litre.
[Bordeaux,] Moffre & Renouil, [c. 1890].
Folio broadside (345 x 256 mm approx.), colour woodcut on crêpe paper; a few small paper-flaws, light blots, but a very good copy.
£300

Approximately:
US $418
€352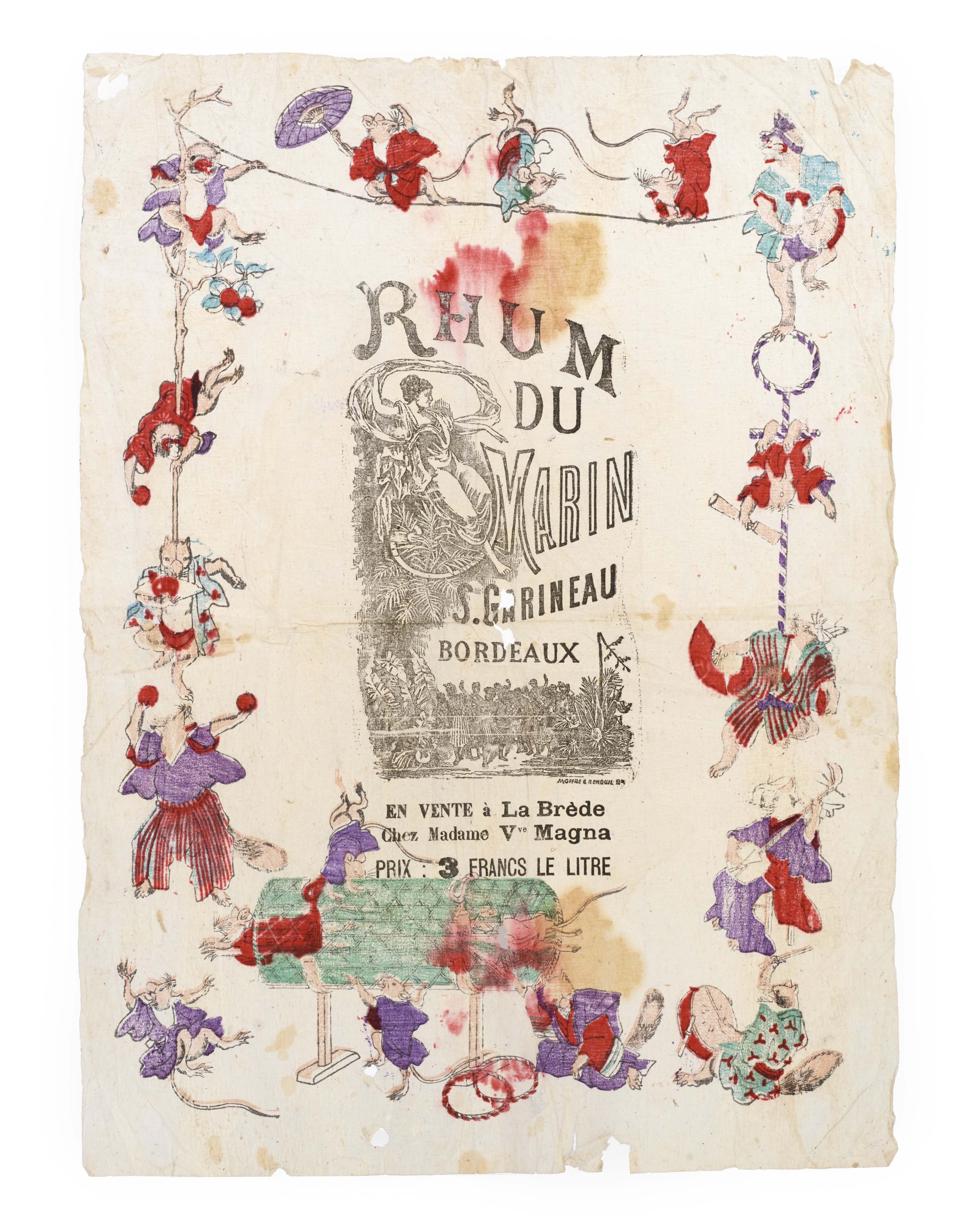 Added to your basket:
Rhum du Marin. S. Garineau, Bordeaux. En vente à La Brède chez Madame Vve Magna. Prix: 3 Francs le litre.
An extremely rare broadside advertisement for rum, splendidly printed in the fin de siècle style, with vibrant colours, depicting anthropomorphic acrobatic animals.

Garineau's central woodcut appears in several publications advertising Rhum du Marin in the final decades of the nineteenth century; the colourful border, showing mice dancing and walking a rope on their hands, rabbits and monkeys descending trees and ropes, and foxes juggling, beating a drum, or slumped on the floor, appears to be a unique addition to those advertisements destined to the various retailers of the Rhum du Marin, each adding their own address beneath the central woodcut.

The brand 'Rhum du Marin', inspired by Port Marine on Martinique, was registered by Garineau in January 1891, with a precise description of the central image ('Le fond est verni et de couleur saumon pâle; le personnage du haut a un vêtement bleu et rouge; les palmiers et autres feuillages sont verts…').

We have been able to trace only one copy, at the Musée des Arts Décoratifs, with the indication 'En vente à Auch, Chez M. J. Bachot, Négociant'. OCLC does not record any copies.
You may also be interested in...
BOUND IN HORSE-SKIN PETERS, J.G.
A Treatise on Equitation, or the Art of Horsemanship, simplified progressively for Amateurs, forming complete Lessons for Training Horses, and Instructions for Beginners, illustrated with twenty-seven descriptive Plates.
First and only edition of a scarce treatise on horsemanship, in an unusual horse-skin binding. Having served in the Seventh Queen's Own Hussars and the Royal Field Artillery from the 1890s until 1919, Major Henry Arthur Johnstone gathered a library comprising books largely on natural history, including several works on horses. Known for its distinctive bindings, with his initialled block and emblematic tools and often using uncommon skins, the collection was dispersed by the London bookseller Clements in 1921; two other of his horse-skin bindings are known, Markham's Cavelarice (1607), held by the Huntington, and a General Stud Book of 1873 at Harewood House.
[WOEIRIOT de Bouzey, Pierre (engraver).] CLÉMENT de Treille, Nicolas.
Austrasiae reges et duces epigrammatis.
First edition of a scarce collection of portrait medallions of the kings of Austrasia and dukes of Lorraine, from Theuderic I to Charles III. A native of Lorraine, Pierre Woeiriot de Bouzey (1531–1596) practised as a goldsmith in Lyons before moving into painting and sculpture and becoming one of the most important engravers in sixteenth-century France. The sixty-three splendid portrait medallions in the present work are testament to Woeiriot's subtle attention to detail and finish, qualities also shown in his medals of Catherine de' Medici, Simon Costière, and Charles III of Lorraine (1572). He executed the present plates, of which many are likely derived from coinage and commemorative medals, around 1572-3: the dedication is dated 1573, but the death of Nicolas Clement delayed publication until 1591 when the manuscript and plates were rediscovered by Sieur de Blondefontaine and published.