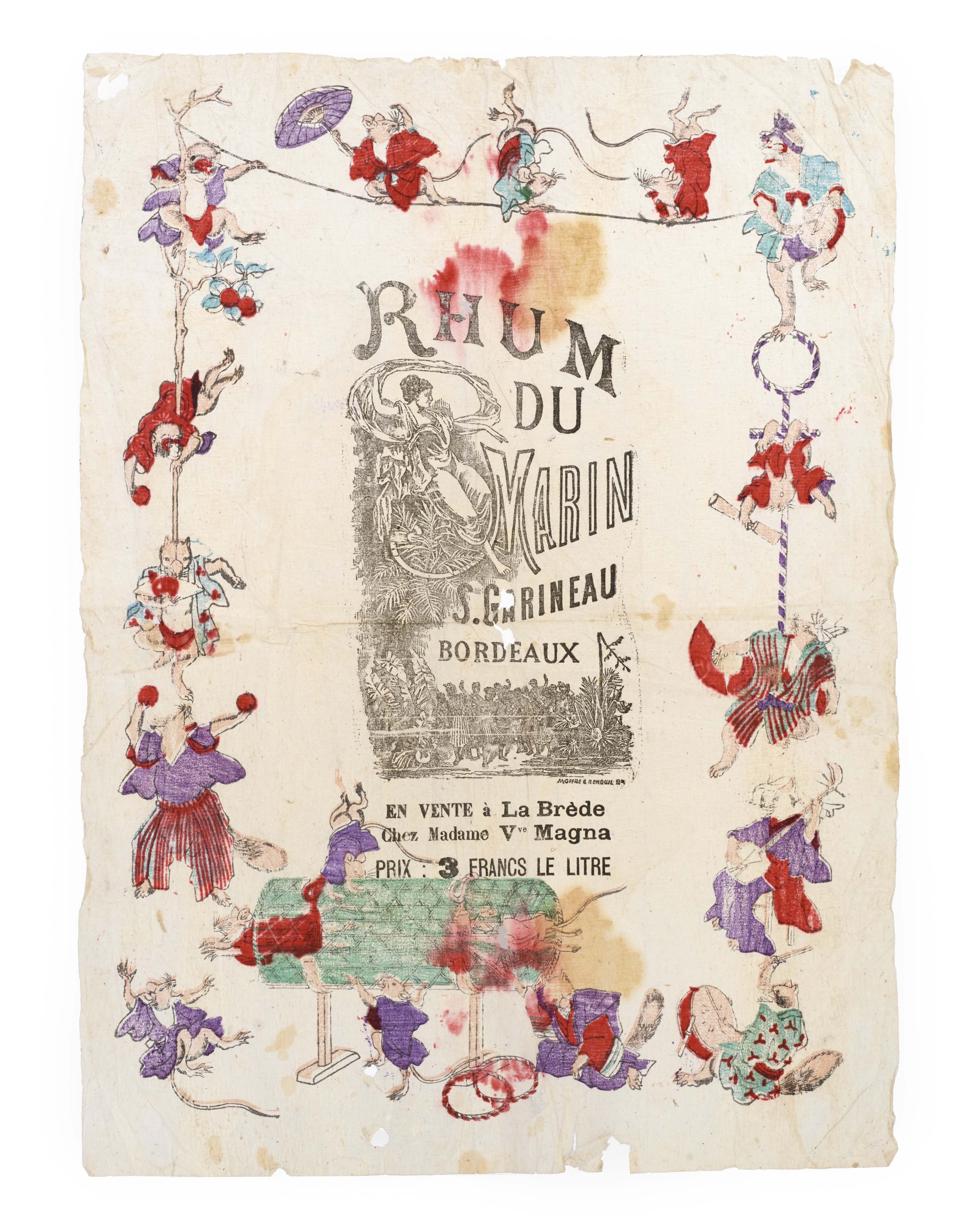 ALCOHOLIC ANTHROPOMORPHIC ACROBATIC ANIMALS
GARINEAU, Sylvain-Jean.
Rhum du Marin. S. Garineau, Bordeaux. En vente à La Brède chez Madame Vve Magna. Prix: 3 Francs le litre.
[Bordeaux,] Moffre & Renouil, [c. 1890].
Folio broadside (345 x 256 mm approx.), colour woodcut on crêpe paper; a few small paper-flaws, light blots, but a very good copy.
£300

Approximately:
US $362
€346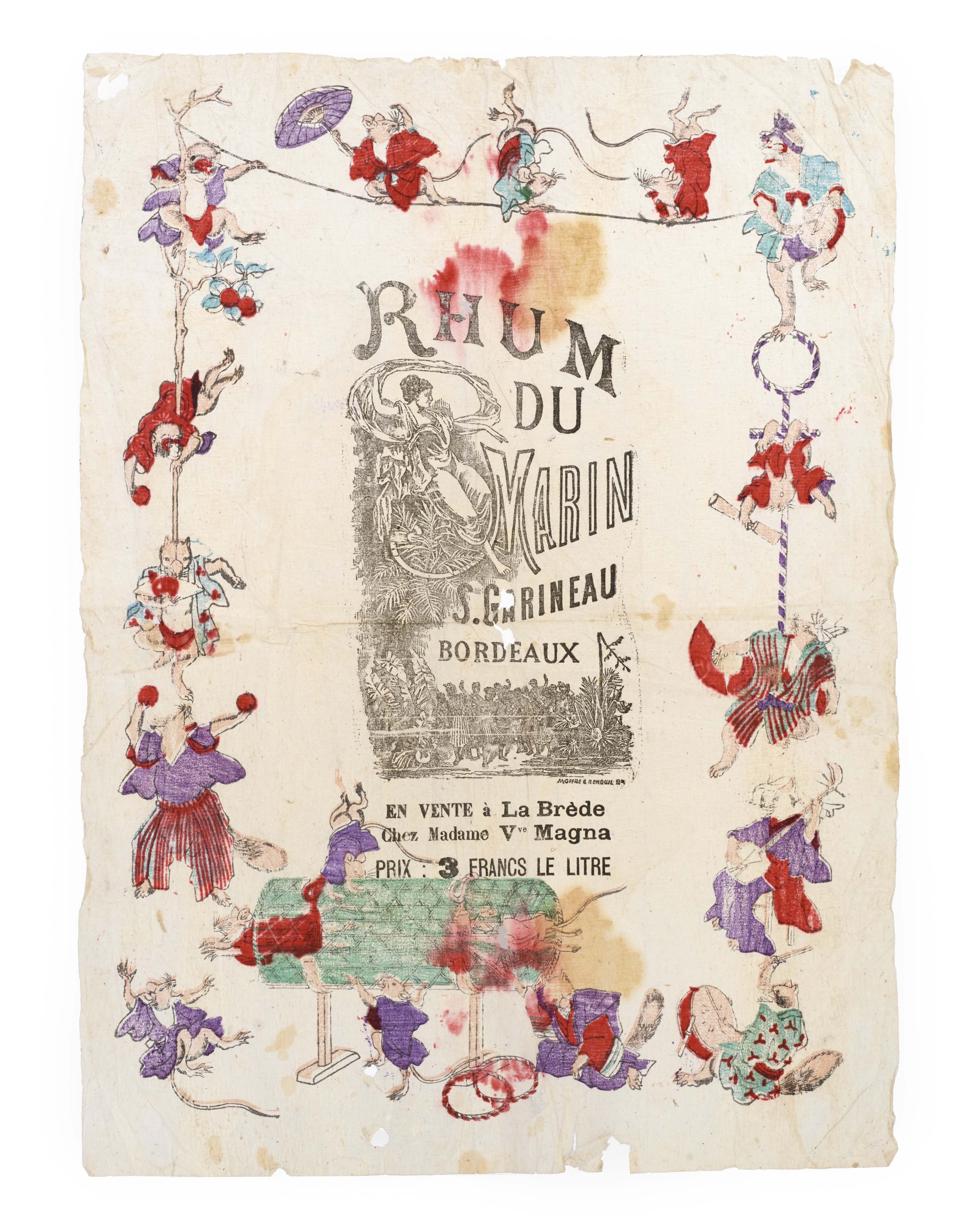 Added to your basket:
Rhum du Marin. S. Garineau, Bordeaux. En vente à La Brède chez Madame Vve Magna. Prix: 3 Francs le litre.
An extremely rare broadside advertisement for rum, splendidly printed in the fin de siècle style, with vibrant colours, depicting anthropomorphic acrobatic animals.

Garineau's central woodcut appears in several publications advertising Rhum du Marin in the final decades of the nineteenth century; the colourful border, showing mice dancing and walking a rope on their hands, rabbits and monkeys descending trees and ropes, and foxes juggling, beating a drum, or slumped on the floor, appears to be a unique addition to those advertisements destined to the various retailers of the Rhum du Marin, each adding their own address beneath the central woodcut.

The brand 'Rhum du Marin', inspired by Port Marine on Martinique, was registered by Garineau in January 1891, with a precise description of the central image ('Le fond est verni et de couleur saumon pâle; le personnage du haut a un vêtement bleu et rouge; les palmiers et autres feuillages sont verts…').

We have been able to trace only one copy, at the Musée des Arts Décoratifs, with the indication 'En vente à Auch, Chez M. J. Bachot, Négociant'. OCLC does not record any copies.
You may also be interested in...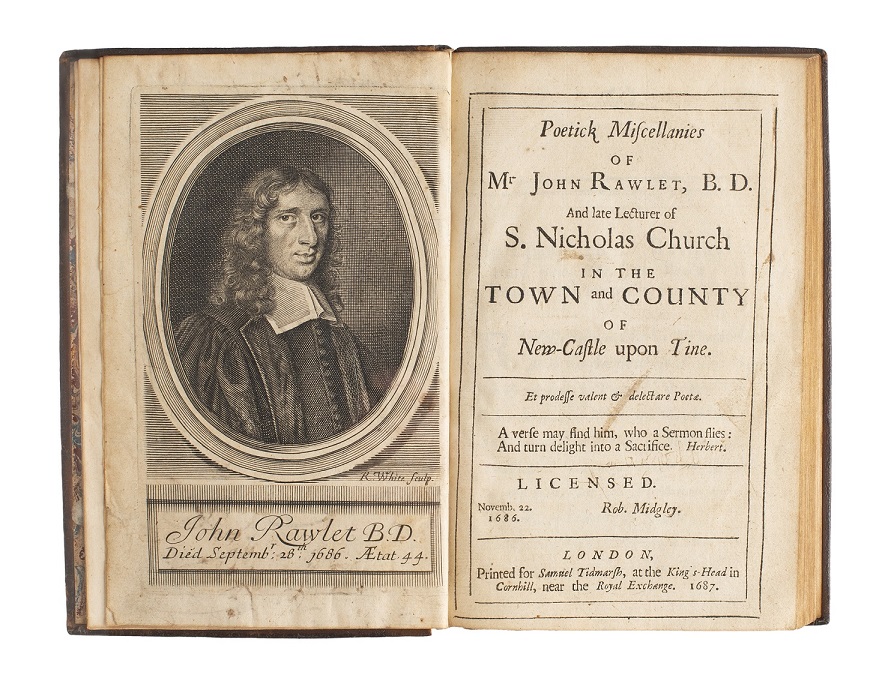 RAWLET, John.
Poetick Miscellanies …
First edition. Writing from the isolation of Newcastle, then a rural parish in fell country, Rawlet developed a mode of religious and descriptive poetry distinctly out of step with his own age, as is acknowledged by the editor in a verse preface: 'Reader, expect not here, the filth of th' Stage, / Poems that please, but more debauch the Age.' Rawlet's poems, such as 'On a great Thunder and Storm', 'On a Cross with a Crown upon it, in Burton, betwixt Lancashire and Kendale', and 'On the sight of Furness Fells', while looking back to Herbert in their weaving of the spiritual and the physical, please more by their anticipation of the topographical and sentimental concerns of the succeeding century.
THE MIRACULOUS 'SWEDISH POWDER' [MIRACLE CURE.] 
Poudre suédoise. 
Seemingly unrecorded pamphlet extolling the virtues of 'Swedish Powder', sold at the Hôtel du Grand-Cerf on the rue Saint-Denis for the treatment and prevention of several ailments, but especially for the 'most unfortunate symptoms of venereal disease'.