GASPERINI, Oreste.
Ente radio rurale radioprogramma scolasico n. 55 del 26 febbraio 1938 XVI ore 10:30: Come si diventa aviatori.
Rome, Tumminelli & Co., 1938.
Lithograph in colour, 31¾ x 43½ in (80.5 x 111 cm); vibrant colour, photographic reproductions, minor folds visible through centre; linen backed; rare, very fine.
£450

Approximately:
US $618
€527
Added to your basket:
Ente radio rurale radioprogramma scolasico n. 55 del 26 febbraio 1938 XVI ore 10:30: Come si diventa aviatori.
The Rural Radio Organization (EER) was instrumental in bringing political and cultural propaganda to rural communities during the Ventennio. It did so by launching a series of campaigns highlighting Italian military achievements, the technological advancements of modern warfare, historical programming as well as cultural programming that supported the imperial aspirations of the Fascist regime. Many such programmes were specifically produced for children and, with the added advantage of bypassing schools and teachers, the EER could directly influence the younger generation with ideals of nationalism and collective identity. This emphasis on national unity over regionalism, coupled with the focus on glorification of Italian history inevitably led to the Fascist concept of cultural strength and the dangers of foreign powers. Toward the end of the 1930s, as Hitler grew in power and the Italo-German alliance began to favour Germany, the EER's educational broadcasts strategically heightened its message against foreign governments and turned further towards the uniform advertisement of Italy's unity and superiority.
You may also be interested in...
VENUSTI, Antonio Maria.
Compendio utilissimo di quelle cose, le quali a nobili e christiani mercanti appartengono.
First edition, containing Discorso d'intorno alla Mercantia and Trattato del Cambio di Lione o di Bisenzone and Trattato de' Cambi, and including the Italian translation of Saravia de la Calle's Institutione de' Mercanti.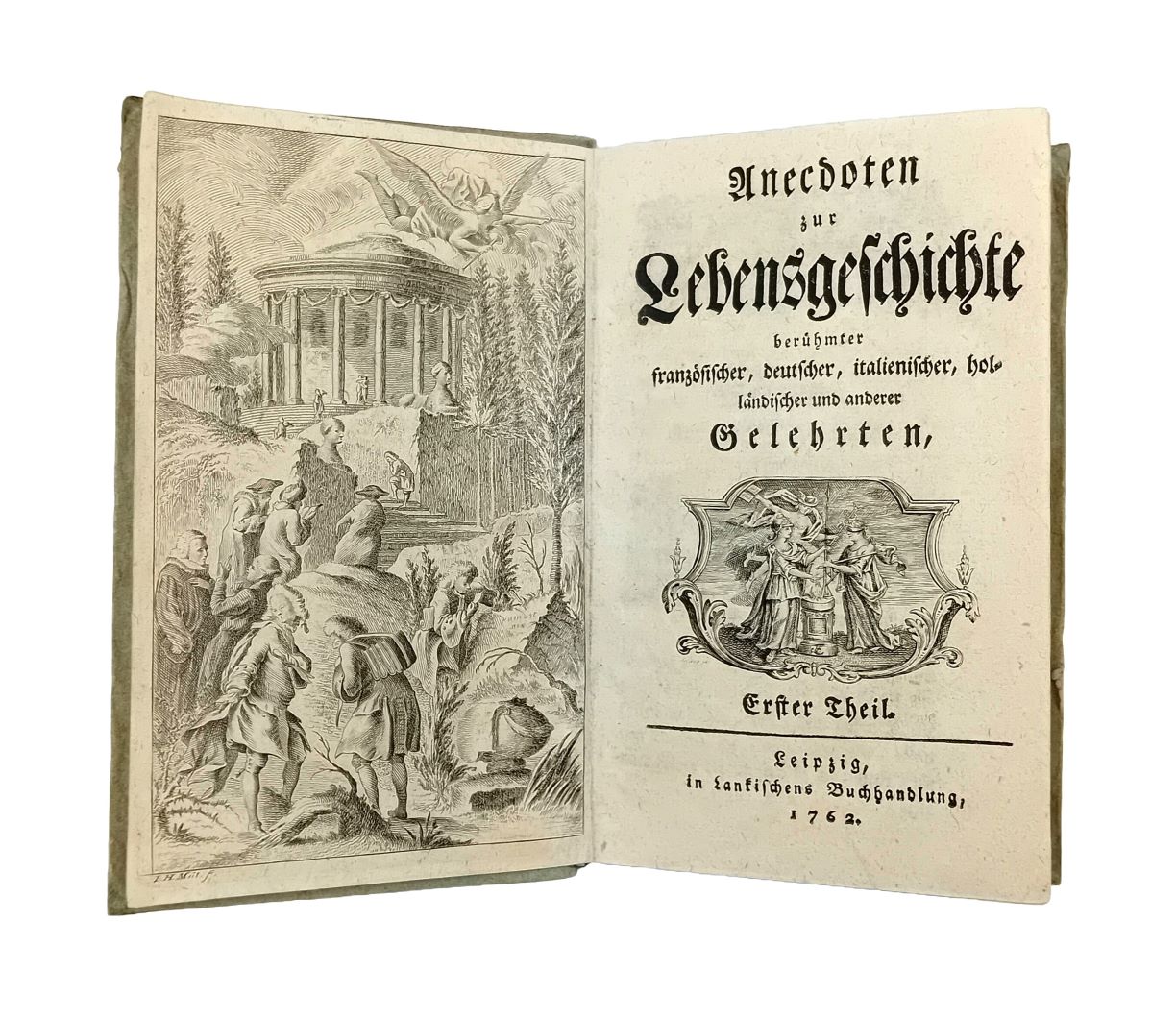 [HILLER, Johann Adam, editor].
Anecdoten zur Lebensgeschichte berühmter französischer, deutscher, italienischer, holländischer und anderer Gelehrten, erster [-zweyter] Theil.
Scarce first edition of Hiller's two-volume collection of literary, philosophical and historical anecdotes. The editor's note at the end mentions the contemporary publication of a French work of similar inspiration, and states the editor's intention to translate it and publish it as a sequel to his original collection. Thus, the sequel came out in the following two years as volumes III and IV, but with the different title Merkwürdigkeiten zur Geschichte der Gelehrten, und besonders der Streitigkeiten derselben, vom Homer an bis auf unsere Zeiten; Aus dem Franzosischen übersetzt.