GASPERINI, Oreste.
Ente radio rurale radioprogramma scolasico n. 55 del 26 febbraio 1938 XVI ore 10:30: Come si diventa aviatori.
Rome, Tumminelli & Co., 1938.
Lithograph in colour, 31¾ x 43½ in (80.5 x 111 cm); vibrant colour, photographic reproductions, minor folds visible through centre; linen backed; rare, very fine.
£450

Approximately:
US $546
€532
Added to your basket:
Ente radio rurale radioprogramma scolasico n. 55 del 26 febbraio 1938 XVI ore 10:30: Come si diventa aviatori.
The Rural Radio Organization (EER) was instrumental in bringing political and cultural propaganda to rural communities during the Ventennio. It did so by launching a series of campaigns highlighting Italian military achievements, the technological advancements of modern warfare, historical programming as well as cultural programming that supported the imperial aspirations of the Fascist regime. Many such programmes were specifically produced for children and, with the added advantage of bypassing schools and teachers, the EER could directly influence the younger generation with ideals of nationalism and collective identity. This emphasis on national unity over regionalism, coupled with the focus on glorification of Italian history inevitably led to the Fascist concept of cultural strength and the dangers of foreign powers. Toward the end of the 1930s, as Hitler grew in power and the Italo-German alliance began to favour Germany, the EER's educational broadcasts strategically heightened its message against foreign governments and turned further towards the uniform advertisement of Italy's unity and superiority.
You may also be interested in...
[HO CHI MINH.] 'Nguyên-Aï-Quôc' (pseud.).
Le Procès de la colonisation française – première série [all published] – Mœurs coloniales.
First edition, very rare, of a strident attack on French colonial policy, not just in Indochina but also in Madagascar, Cameroon, Algeria etc, by the future President and Prime Minister of North Vietnam. He strikes out at taxation, governance, 'les civilisateurs', corruption, exploitation, undereducation and 'le martyre de la femme indigène'.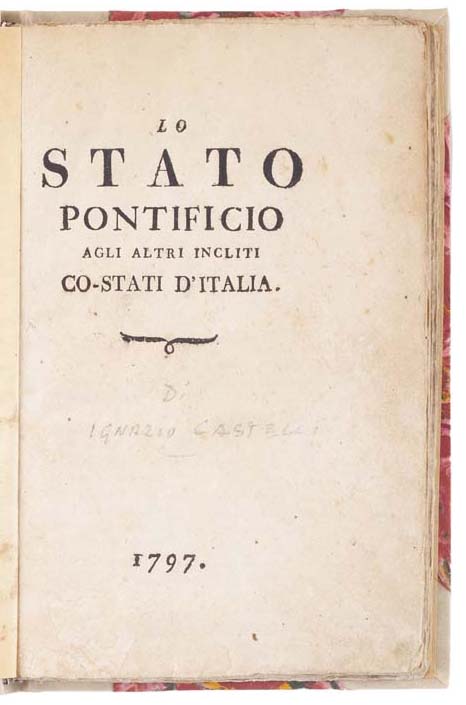 [FRENCH REVOLUTIONARY WARS.]
Lo Stato Pontificio agli altri incliti co-stati d'Italia.
Anonymous anti-French pamphlet, which saw a number of printings in 1796 and 1797, and calls for a general insurrection against the French in Italy. The pamphlet draws very heavily, albeit without any acknowledgment of its debt, on Francesco Gusta's 1794 Saggio critico sulle cruciate, in which he argued both that the Crusades against the Turks were justified on the grounds that the Turks wished both to destroy Christianity and to enslave Europe, and that the Republican French wished to do the same; therefore he argued for a similar popular movement against the French. Lo Stato Pontifico presents itself as the Papal States' attempt to rally support for such a movement throughout Italy.