FROM RABBI TO ROMAN CATHOLIC
GAZZOLI, Giacomo Maria.
Il Luminario de' Ciechi. Operetta diretta all'universale del Giudaismo da Giacomo M.a Gazzoli già Rabbino e Predicatore Ebreo poi Cattolico Romano.
Parma, [Giambattista Bodoni] 'Dalla Reale Tipografia', 1797.
8vo, pp. [16], 230, complete but misbound throughout; printed in roman, italic, and Hebrew letter (see below), small woodcut ornament to title, woodcut headpiece vignette to p. 1 (signed 'Gritner'); marginal wormhole to lower inner corner, otherwise an excellent copy; contemporary vellum over boards, gilt red morocco lettering-piece to spine, edges stained red.
£850

Approximately:
US $0
€0
Added to your basket:
Il Luminario de' Ciechi. Operetta diretta all'universale del Giudaismo da Giacomo M.a Gazzoli già Rabbino e Predicatore Ebreo poi Cattolico Romano.
A rare typographic marvel featuring three distinct Hebrew typefaces by Giambattista Bodoni (1740–1813), in which Rabbi-turned-Catholic-zealot Giacomo Gazzoli exhorts the Jews of Italy to 'emerge from a state of blindness into the light of Christianity'.

Supported by quotations from Scripture in Hebrew, Italian, and Latin, the present text reveals the author's ideological convictions as well as the transformative influence of Bodoni on non-Latin typography and his lifelong interest in Semitic scripts. Duke Ferdinand of Parma, to whom Gazzoli addresses his dedicatory letter, established Bodoni as the director of the Stamperia Reale in 1768, a position held until his death forty-five years later. Having studied Hebrew and Arabic at La Sapienza and worked in the department of exotica at the Tipografia Poliglotta Vaticana, Bodoni would go on to develop a record-breaking polyglot edition of the 'Oratio dominica' in 1806 comprising translations into one hundred and fifty-five languages. The preface to his highly comprehensive Manuale tipografico emphasises the typographic significance of Hebrew, whose characters are 'the most essential for any well-equipped printer, second only to Greek' (trans.) and which presents a particular set of difficulties due to the various diacritical marks (נִקּוּד) positioned above, below, and inside individual letters (vol. I, pp. LIII-LX).

Bodoni here elects to print what he identifies in his Manuale as the two primary varieties of Hebrew script: the Square Hebrew, or 'Quadrata testuale', and the semi-cursive 'Rashi script' used primarily in Biblical commentary, as well as a small yet elegant third typeface without diacritics, not included in the manual.

Though significant in its use of Bodoni's Hebrew scripts, Gazzoli's proselytising text generated more criticism than praise: in the same year, Rabbi Alessandro Padovani published Il luminario ecclissato (Modena, Societa Tipografica), a scathing response critiquing the 'absurd improprieties' (trans.) of a work which generates discord in its attempt to illuminate and enlighten.

Library Hub finds only two copies in the UK (Bodley and Leeds), to which OCLC adds two in the US (Chicago and Harvard Divinity School Library).
You may also be interested in...
SHELLEY, Percy Bysshe.
The Beauties of Shelley … with portrait of the author.
First and only edition thus, rare. Ascham had published Shelley's Works in 1834 - although a piracy it was nevertheless the first attempt at a complete collection of his poems, and the text, taken from authorised editions, was surprisingly accurate. The Beauties is a reduced but substantial selection.
BL only on Library Hub.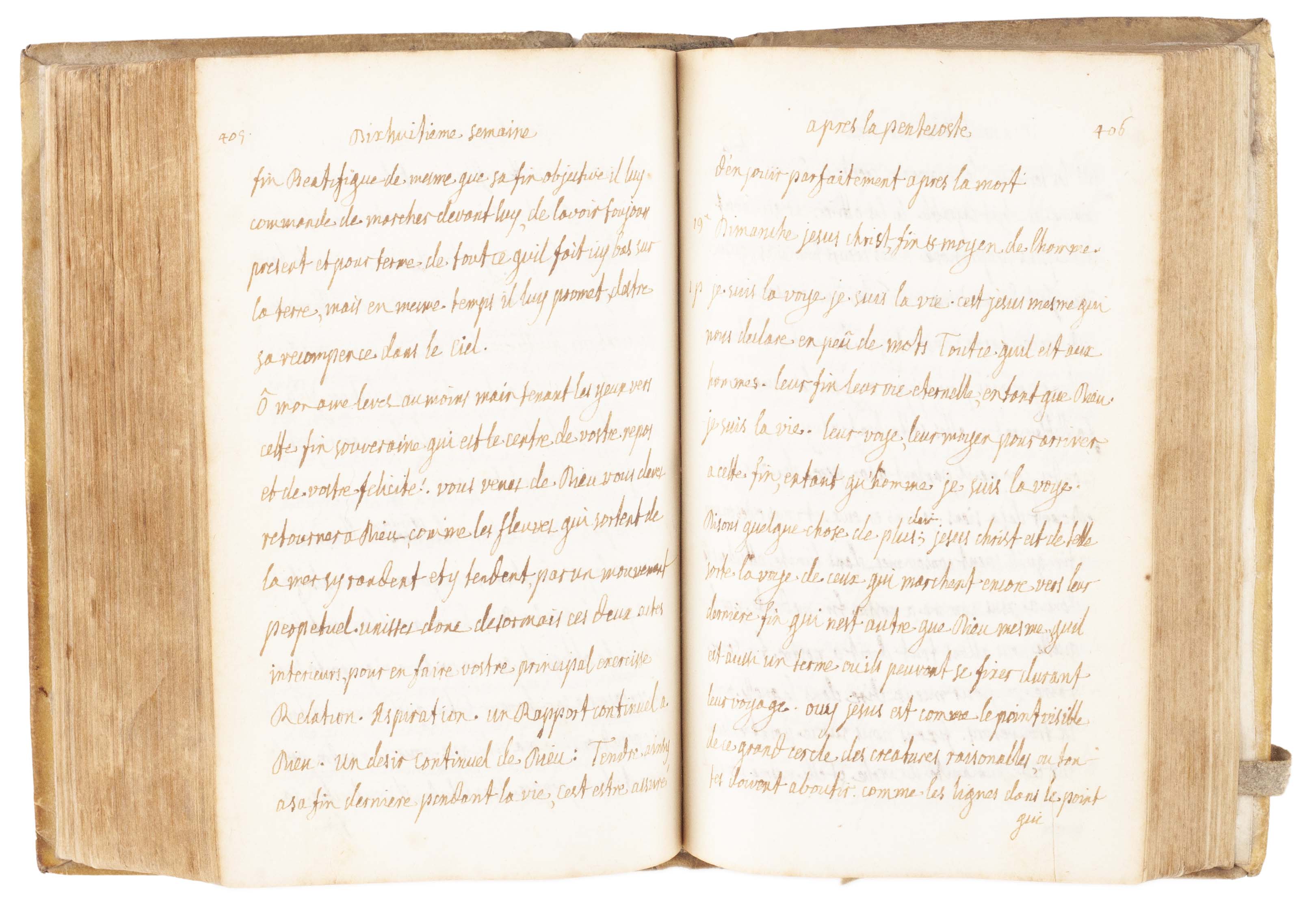 UNPUBLISHED RELIGIOUS MEDITATIONS [HOMILETIC.] 
Meditations de la seconde annee. 
Apparently unpublished set of meditations for the Sundays in the Liturgical year running from the seventh to the twenty-fourth week after Pentecost, shedding light on tools and practices put in places in the homiletic art.  Themes range from reflections on the Eucharist, to consideration on mortality, on values, on grace, on human capacity for redemption.  The meditations are often prompted by the Gospel of the day, lending strength to the notion that this book be a cleric's personal tool for delivering semi-impromptu homilies: an aide-memoire, a structured repertoire of themes and examples made more convenient by a detailed table of content.