GOLDEN COCKEREL PRESS – Christopher SANDFORD, Anthony SANDFORD, and Owen RUTTER.
Chanticleer. A Bibliography of the Golden Cockerel Press April 1921-1936 August. Introduction by Humbert Wolfe. Foreword and Notes by the Partners.
London: The Golden Cockerel Press, 1936.
8vo (258 x 160mm), pp. 48; title printed in gold and black, and with wood-engraved frame by and after Lynton Lamb, wood-engraved illustrations in the text after Robert Gibbings, Eric Gill, David Jones, Blair Hughes-Stanton, Eric Ravilious, John Nash, Paul Nash, et al.; original quarter green crushed morocco over cockerel-patterned buckram by Sangorski & Sutcliffe, London, spine lettered and decorated in gilt, top edges gilt, others uncut; minimal rubbing at extremities, spine slightly faded, otherwise a very good copy.
£350

Approximately:
US $459
€391
First edition, no. 103 of 300 specially-bound copies signed by Christopher and Anthony Sandford, Owen Rutter, and Francis J. Newbery. This is the first of the four bibliographies published by the Golden Cockerel Press, and it provides a record of the press' productions between April 1921 and August 1936, richly illustrated with woodcuts taken from some of those title. The catalogue is prefaced by an introduction by the poet and writer Humbert Wolfe (1885-1940), who judges that, '[a] great thought deserves a great selling. It is no good asking a company of barnstormers to play Hamlet. It is nearly as wrong-headed to print Milton like a railway-guide. The printing-machine, like the camera in the making of films, is definitely an artist's weapon. For the insistence on this obvious truth – like most such truths escaping attention – lovers of the fine arts owe a permanent debt of gratitude to the private printing presses, among which the Golden Cockerel takes a very high place indeed' (p. [11]).

Pertelote 116; Ransom p. 318.
You may also be interested in...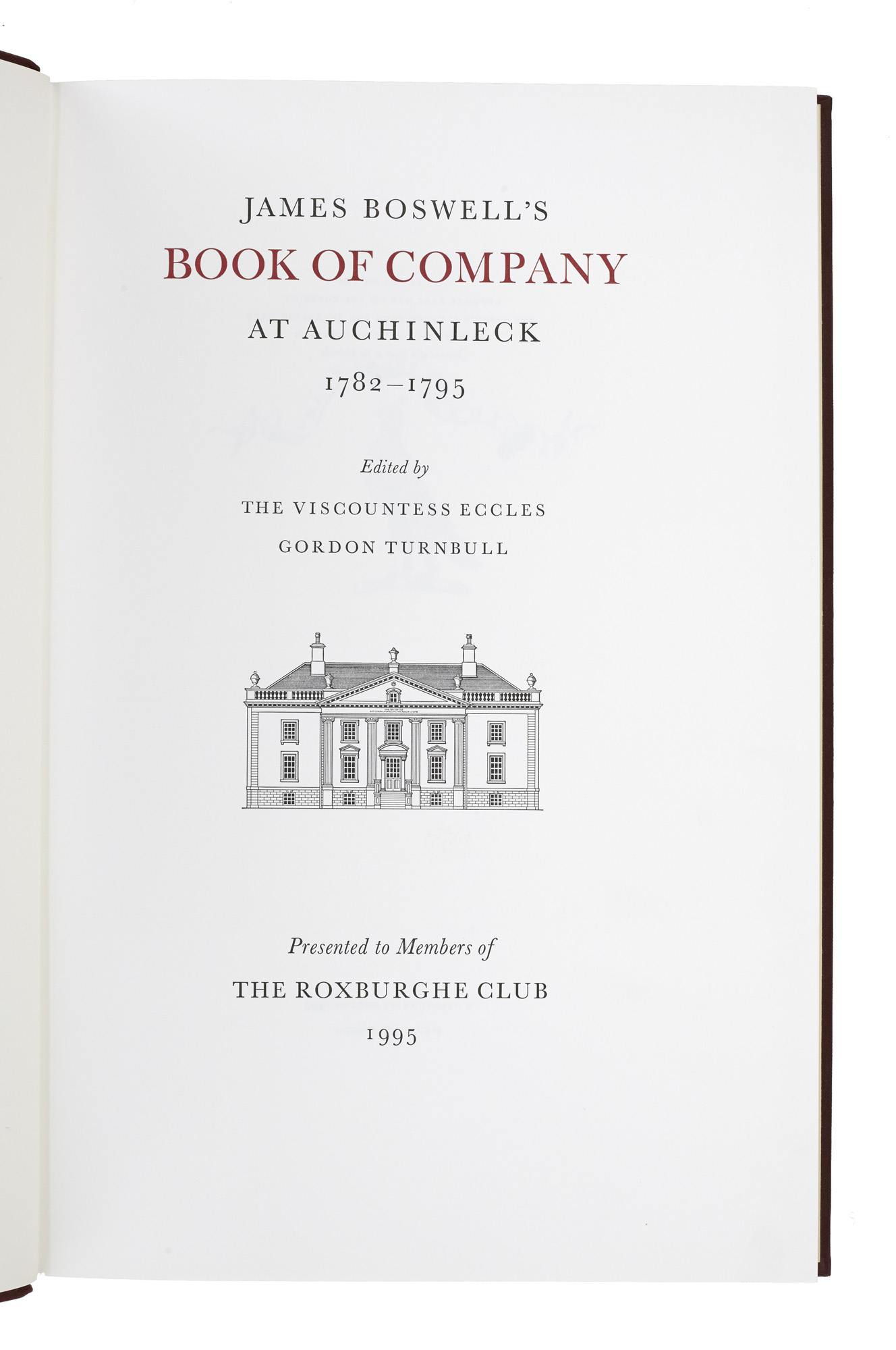 ECCLES, Mary, Viscountess, and Gordon TURNBULL, eds..
James Boswell's Book of Company at Auchinleck.
The Book of Company is much more than a visitor's book, since James Boswell comments on the men and women he met and entertained, and the occasions of his doing so, are all his own. It is therefore an important addition to his many-sided self-portrait. Beginning in 1782, two years before Samuel Johnson died, and ending five months before Boswell's own death in May 1795, it reflects Boswell's anguished uncertainties, as well as the everyday details of where he was, with whom he dined, whom he saw in the evening and – punctually recorded – how many bottles of wine and spirits were dispatched. The book is here reproduced in full facsimile, interleaved with a transcript on facing pages. At the foot of each page is a commentary, largely drawn from Boswell's correspondence and journals, which converts it into a comprehensive day by day diary of his thoughts and actions throughout the period.
LINDSETH, Jon A., and Alan TANNENBAUM, eds.
Alice in a World of Wonderlands: the Translations of Lewis Carroll's Masterpiece.
This is the most extensive analysis ever done of translations of any single English language novel. On 4 October 1866 Charles Lutwidge Dodgson/Lewis Carroll wrote to his publisher Macmillan stating "Friends here [in Oxford] seem to think that the book is untranslatable." But his friends were wrong, as this book shows with translations in 174 languages.