GOLDEN COCKEREL PRESS – Christopher SANDFORD.
Cockalorum. A Sequel to Chanticleer and Pertelote. Being a Bibliography of the Golden Cockerel Press June 1943-December 1948. Foreword and Notes by Christopher Sandford.
[London]: The Golden Cockerel Press, [1950].
8vo (257 x 158mm), pp. 112; wood-engraved title-border and press device by and after Mark Severin, wood-engraved illustrations in the text by and after Robert Gibbings, Reynolds Stone, John Buckland-Wright, Dorothea Braby, David Jones, Eric Ravilious, et al.; original quarter chestnut crushed morocco over cockerel-patterned buckram, spine lettered and ruled in gilt, top edges gilt, others uncut; minimal traces of rubbing on corners, otherwise a fine copy.
£250

Approximately:
US $326
€280
First edition, no. 232 of 250 specially-bound copies signed by Sandford. Cockalorum was the third of the four bibliographies of its publications that the Golden Cockerel Press issued, and it spans the period between June 1943 and December 1948. During this time, as Sandford records in his foreword, his partner Owen Rutter died 'from exhaustion at the Admiralty', and the destruction of the Press' premises during the Blitz led Sandford to establish an office in Sangorski and Sutcliffe's bindery, at the invitation of Stanley Bray. He concludes with the statement that, though threats of war continued to rumble on, '[e]ven in the fox's mouth, Cockalorum will continue to crow' (p. 11). The catalogue of publications is followed by three articles by Sandford on artists who worked for the press – Dorothea Braby, John Buckland-Wright, and Clifford Webb – and memorials of Eric Ravilious (d. 1943) by Sandford, Ravilious' widow, and one of his pupils. The volume concludes with two addresses on printing by Sandford, which he had given to university students.

Cock-a-Hoop 184.
You may also be interested in...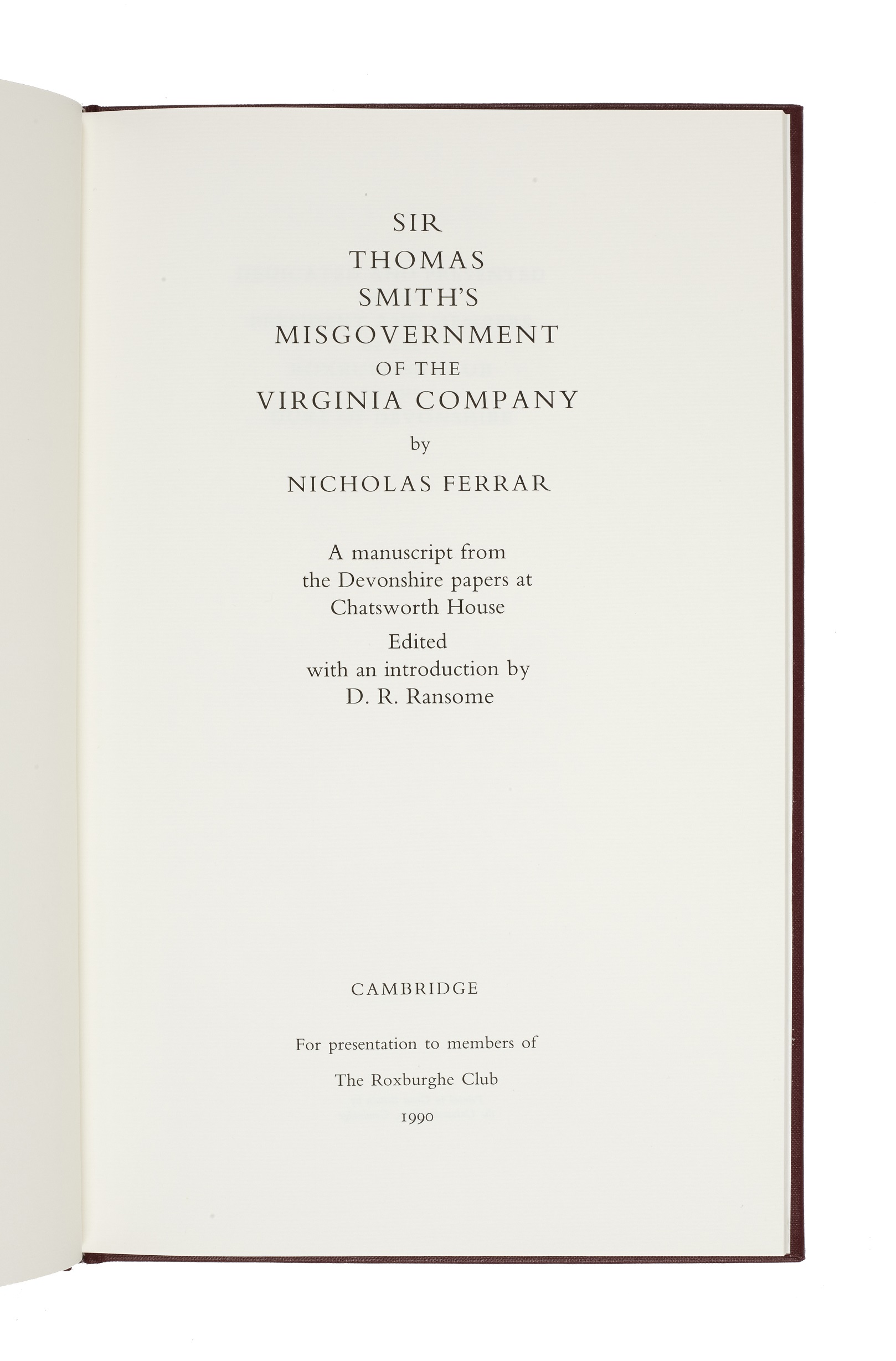 FERRAR, Nicholas.
Sir Thomas Smith's Misgovernment of the Virginia Company by Nicholas Ferrar. A manuscript from the Devonshire papers at Chatsworth House. Edited with an introduction by D. R. Ransome.
Ferrar's text is a crucial document in the history of the Virginia Company and its colony. It reveals the intense animosity which destroyed the Company and is a vivid, powerful and one-sided denunciation of the maladministration that had brought the Company down. It is also something more – a vital document of the first English colony to be permanently established in the New World. The document is printed here in full facsimile, together with a diplomatic transcription and introduction by David Ransome, a distinguished historian of early America.
FRANKLIN, Colin.
Obsessions and confessions of a book life.
Reminiscences of an author, bookseller, and publisher, written at the age of eighty-eight. Colin Franklin's newest book wanders freely through themes which have absorbed him—a lost world of publishing, adventures in bookselling, and the irreplaceable scholarly eccentrics who dominated that world a generation ago. Available in USA from Oak Knoll Press; available in Australia from Books of Kells.