GOLDEN COCKEREL PRESS – Christopher SANDFORD.
Cockalorum. A Sequel to Chanticleer and Pertelote. Being a Bibliography of the Golden Cockerel Press June 1943-December 1948. Foreword and Notes by Christopher Sandford.
[London]: The Golden Cockerel Press, [1950].
8vo (257 x 158mm), pp. 112; wood-engraved title-border and press device by and after Mark Severin, wood-engraved illustrations in the text by and after Robert Gibbings, Reynolds Stone, John Buckland-Wright, Dorothea Braby, David Jones, Eric Ravilious, et al.; original quarter chestnut crushed morocco over cockerel-patterned buckram, spine lettered and ruled in gilt, top edges gilt, others uncut; minimal traces of rubbing on corners, otherwise a fine copy.
£250

Approximately:
US $349
€283
First edition, no. 232 of 250 specially-bound copies signed by Sandford. Cockalorum was the third of the four bibliographies of its publications that the Golden Cockerel Press issued, and it spans the period between June 1943 and December 1948. During this time, as Sandford records in his foreword, his partner Owen Rutter died 'from exhaustion at the Admiralty', and the destruction of the Press' premises during the Blitz led Sandford to establish an office in Sangorski and Sutcliffe's bindery, at the invitation of Stanley Bray. He concludes with the statement that, though threats of war continued to rumble on, '[e]ven in the fox's mouth, Cockalorum will continue to crow' (p. 11). The catalogue of publications is followed by three articles by Sandford on artists who worked for the press – Dorothea Braby, John Buckland-Wright, and Clifford Webb – and memorials of Eric Ravilious (d. 1943) by Sandford, Ravilious' widow, and one of his pupils. The volume concludes with two addresses on printing by Sandford, which he had given to university students.

Cock-a-Hoop 184.
You may also be interested in...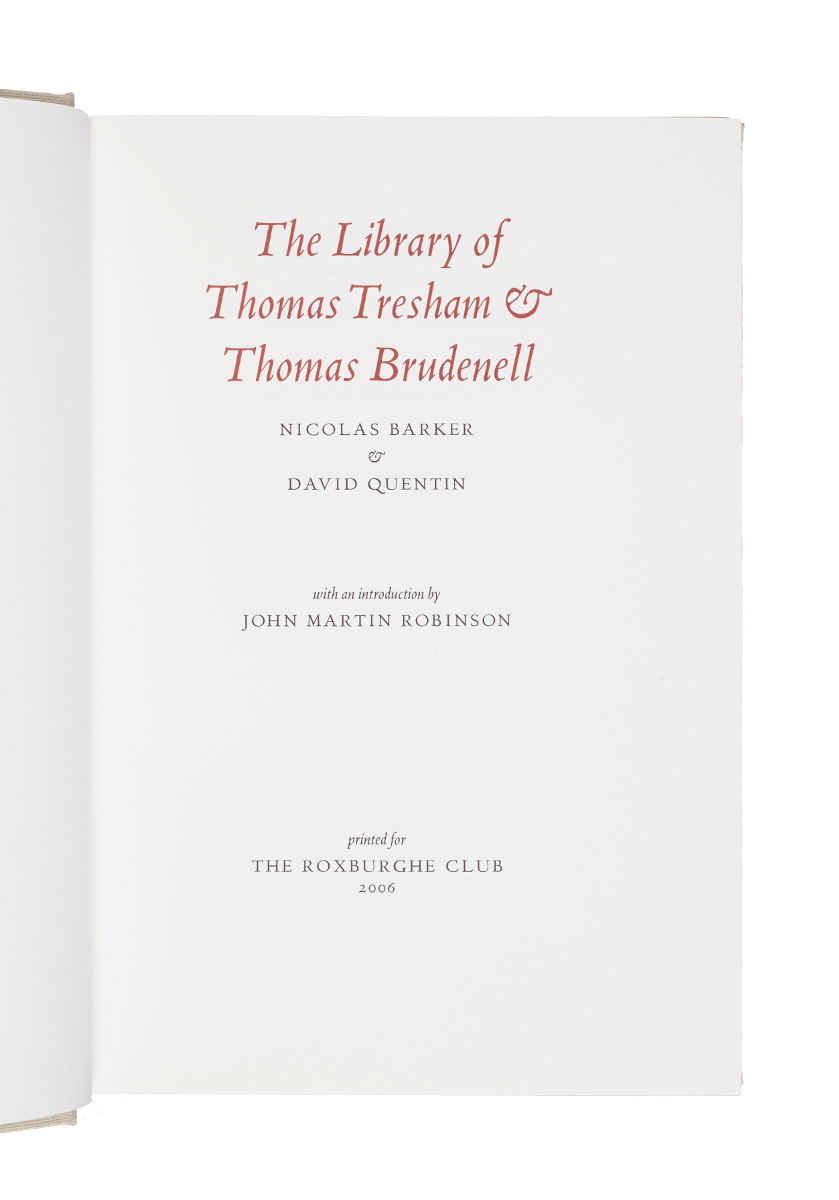 BARKER, Nicolas, and David QUENTIN.
The Library of Thomas Tresham and Thomas Brudenell. With an introduction by John Martin Robinson.
Sir Thomas Tresham (1543–1605) remains best-known for his buildings, especially the market house at Rothwell, the Triangular Lodge at Rushton and Lyveden New Bield. His library, one of the largest in England of its time, has hitherto attracted comparatively little interest. Now, as a result of a careful examination of both the portion of the library which has been preserved at Deene Park in Northamptonshire by the descendants of Tresham's son-in-law, Thomas Brudenell, and of a manuscript inventory of the original library, Nicolas Barker and David Quentin have provided a detailed picture of the library and the circumstances of its creation.  The catalogue of nearly 2,000 works shows that Tresham owned the latest works on architecture, mathematics, astronomy and science, Catholic theology and devotion, with a wide range of works on history and literature. John Martin Robinson's introduction gives much information on Tresham's family and his patronage of architecture.
AUVERMANN, Detlev, and Anthony PAYNE.
The Society of Jesus 1548–1773.
This is a catalogue of books by Jesuit authors and works relating to the Society of Jesus published between 1548, when Ignatius of Loyola's Spiritual Exercises was first printed, and 1773, when the Society was suppressed. It includes an historical introduction by Alastair Hamilton, Arcadian Visiting Research Professor, Warburg Institute, University of London. Originally issued as our Catalogue 1226 in 1996, The Society of Jesus has been unobtainable for many years and has become sought after as a reference work. To meet this demand it has now been reprinted, in hardback, in an edition of 200 copies.