'COCKERELS ARE LUXURIES, I SUPPOSE'
[GOLDEN COCKEREL PRESS and CENTAUR PRESS.] 

A small archive of letters, photographs, and printed items.
Leominster and London, 1954-1967.
3 autograph letters signed and carbon copies of 6 typescript letters, a presentation copy of Circe and Ulysses (Golden Cockerel Press, 1954, with prospectus) with inserts, a Golden Cockerel Press prospectus for 1958, a photographic postcard of Eye Manor with a leaflet, an album of 18 sepia photographs of Eye Manor, and a cutting from the Sunday Times 21 May 1967; some creasing to letters, overall very good.
£1250

Approximately:
US $1393
€1421
Added to your basket:
A small archive of letters, photographs, and printed items.
A most interesting and revealing collection of material connecting Christopher Sandford (1902–1983), proprieter of the Golden Cockerel Press between 1933 and 1959, and Jon Wynne-Tyson (1924–2020), who founded the Centaur Press in 1954.

Included here are three autograph letters signed, of which two on Golden Cockerel Press headed paper, from Sandford to Wynne-Tyson, from July 1954, November 1955, and September 1958. In the first Sandford refers to Wynne-Tyson's vegetarianism and describes himself as a 'busy publisher' unable 'to get on with his own job at all just now'. In the second he sympathises that the Centaur Press's plight and writes that 'the Cockerel did very much better during the '54-'55 financial year, due … to my putting out a luring catalogue (in vast numbers) & to buyers being well off'. He refers to 'our blessed treasury … doing its best to stop people buying books' and writes that the Press needs 'several good years on end before I shall be able to declare the Cockerel quite recovered'. In his last letter Sandford refers to Wynne-Tyson's mother being 'very anxious' about his publishing venture, and discusses the Cockerel's own difficulties: 'Suez & the credit squeeze in two consecutive years did me a lot of harm. (Cockerels are luxuries, I suppose, though I would like them to be essentials)'. 

The six typed letters from Wynne-Tyson to Sandford, sent between 1955 and 1964, are equally revealing. In the first he confesses that 'my own venture into publishing is still teething painfully. At present everything is going fine except sales, backing and the means of personal survival. Distribution is a frightful problem …'. In his following correspondence he sends a copy of Shakespeare's Ovid, asks about publishing T.E. Lawrence's Crusader Castles, and writes that work at the Centaur 'is solid slog'. In the final two letters he discusses selling the press, writing initially that he 'would let the whole bang-shoot go for not less than £35,000, or the Classics alone for not less than £25,000' but subsequently worrying if this would provide enough for his family, even if he does not smoke or drink and sells his Aston Martin to make do with his 'wife's Morris'.

Also included is a handsome presentation copy of the Golden Cockerel Press's Circe and Ulysses (June 1954, Cock-a-hoop 194), illustrated with seven wood engravings by Mark Severin, numbered 180 of an edition of 300 copies, and inscribed to the front free endpaper 'To Jon from Christopher as a memento of his first visit to Eye July 1954'. Enclosed is the prospectus for the work (Cock-a-hoop P194) and notes written in ink on a piece of card giving the 'approx costing' for the book (including engraving, type setting, and paper) and calculating the profit if three hundred copies sold.

The remaining items include a prospectus for 1958, The Golden Cockerel British Private Press Books (Cock-a-hoop XCIII); an album of early twentieth-century sepia photographs of Eye Manor, Sandford's home, one featuring a handsome bookcase; and a Sunday Times cutting on Sandford noting that the Golden Cockerel Press 'produced about four books a year, nothing terribly startling, except that they were beautifully bound and produced, and didn't make any money'.
You may also be interested in...
LEWIS, Wyndham.
Time and Western Man.
First edition, first issue (on heavier paper), of Lewis's 'single most important philosophical work' (Morrow & Lafourcade).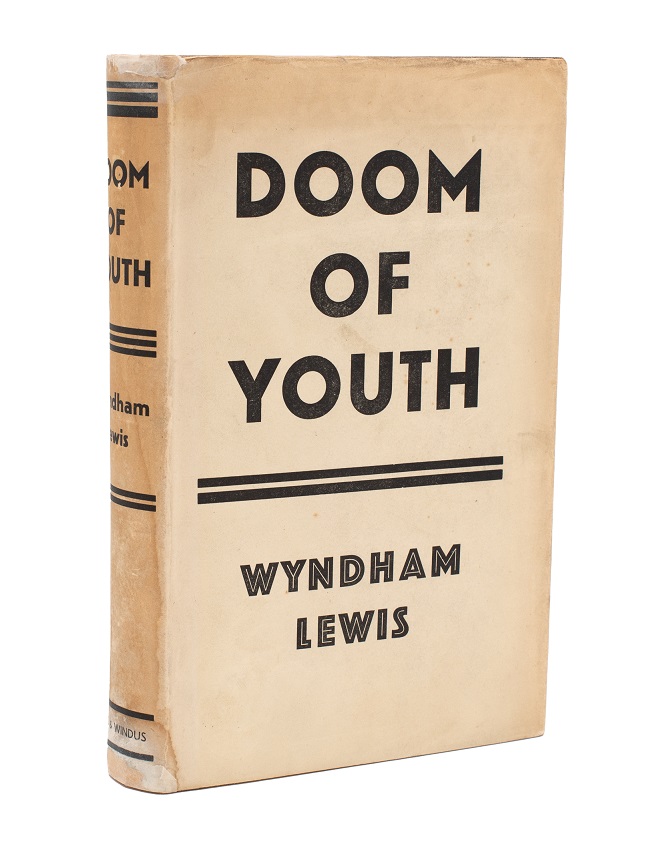 WITHDRAWN FOR LIBEL AND PULPED LEWIS, Wyndham.
Doom of Youth …
First English edition, one of Lewis's scarcest works (only 549 copies avoided destruction). Doom of Youth began life as a series of seven articles on youth politics in Time and Tide in June–July 1931, rounded off with a pair by G. K. Chesterton; it was expanded and first published in book form in New York.