ONE BOOK UNITING THREE BALLIOL MEN
GREENE, Graham.
The great Jowett.
London, The Bodley Head, 1981.
8vo, pp. [2], 43, [1]; no. 16 of a limited edition of 525 copies, signed 'Graham Greene'; very good in orange cloth, title and author's name to upper cover on black ground within oval gilt frame, spine lettered gilt, grey endpapers; board edges and spine slightly sunned; bookplate of Sir Anthony Kenny.
£200

Approximately:
US $251
€223
Added to your basket:
The great Jowett.
Signed limited edition of this play about the great Oxford scholar and reformer Benjamin Jowett (1817-93), written by Greene in 1939 for BBC radio.

Jowett served as Master of Balliol College, Oxford, from 1870 until his death, turning it 'into the leading college in the first university in the United Kingdom at the height of its world power' (ODNB). Regarded as one of the greatest writers of the 20th century, Greene went up to Balliol in 1922 to study history, though he spent much of his time and energy on writing poetry. The eminent philosopher Sir Anthony Kenny (b. 1931) – whose numerous works include studies of Descartes, Wittgenstein, Aristotle, Aquinas, and Frege – was Master of Balliol from 1978 to 1989.
You may also be interested in...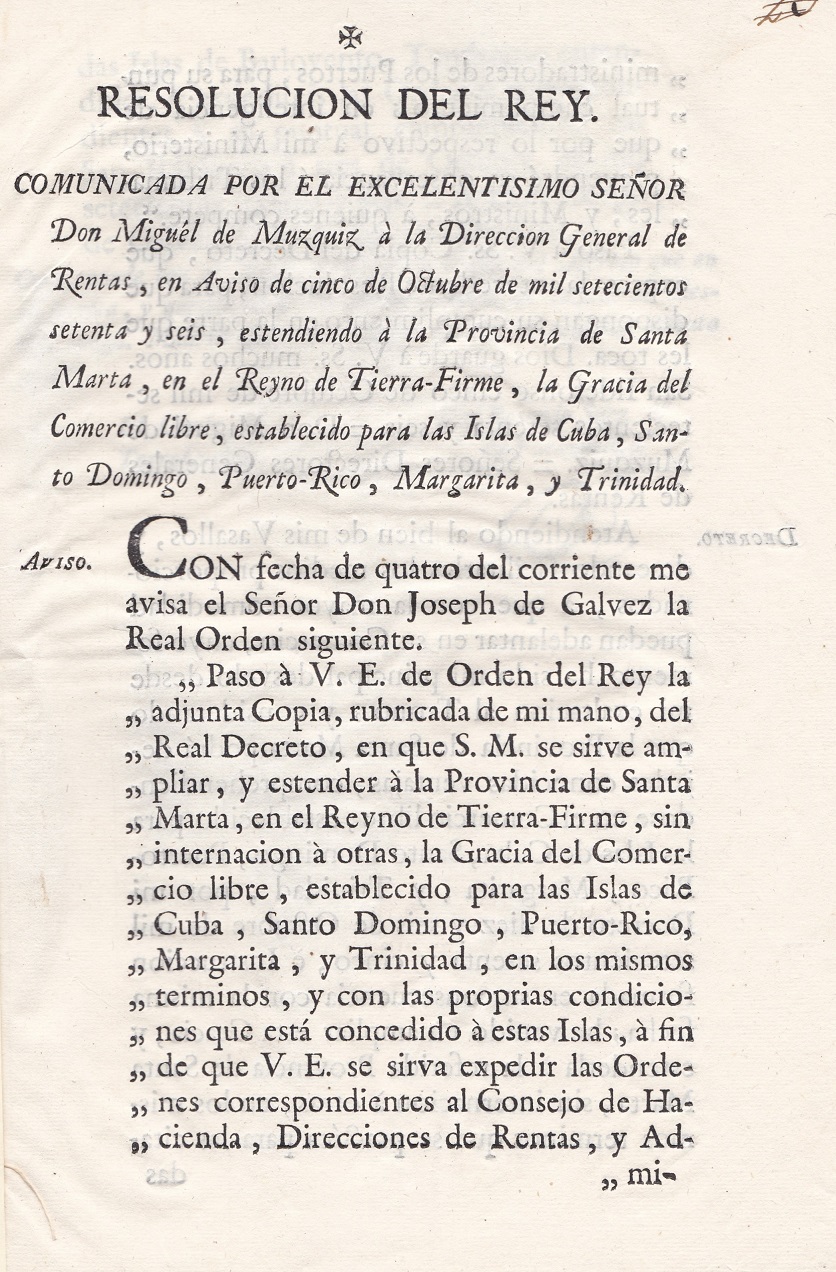 FREE TRADE IN COLONIAL COLOMBIA [COLOMBIA.]
Resolucion del rey. Comunicada por el excelentisimo senor Don Miguel de Muzquiz a la direccion general de rentas, en aviso de cinco de Octubre de mil setecientos setenta y seis, estendiendo a la provincia de Santa Marta, en el reyno de Tierra-Firme, la gracia del comercio libre, establecido para las Islas de Cuba, Santo Domingo, Puerto-Rico, Margarita, y Trinidad.
Very rare resolution issued by Charles III of Spain granting the right of free trade to the province of Santa Marta, in modern-day northern Colombia, then in the Spanish Virreinato de Nueva Granada. Stating his express desire to encourage commerce among his subjects, the king grants comercio libre to the province under the same terms as for the Carribean islands of Cuba, Santo Domingo, Puerto Rico, Margarita and Trinidad, and the Windward Islands (Islas de Barlovento).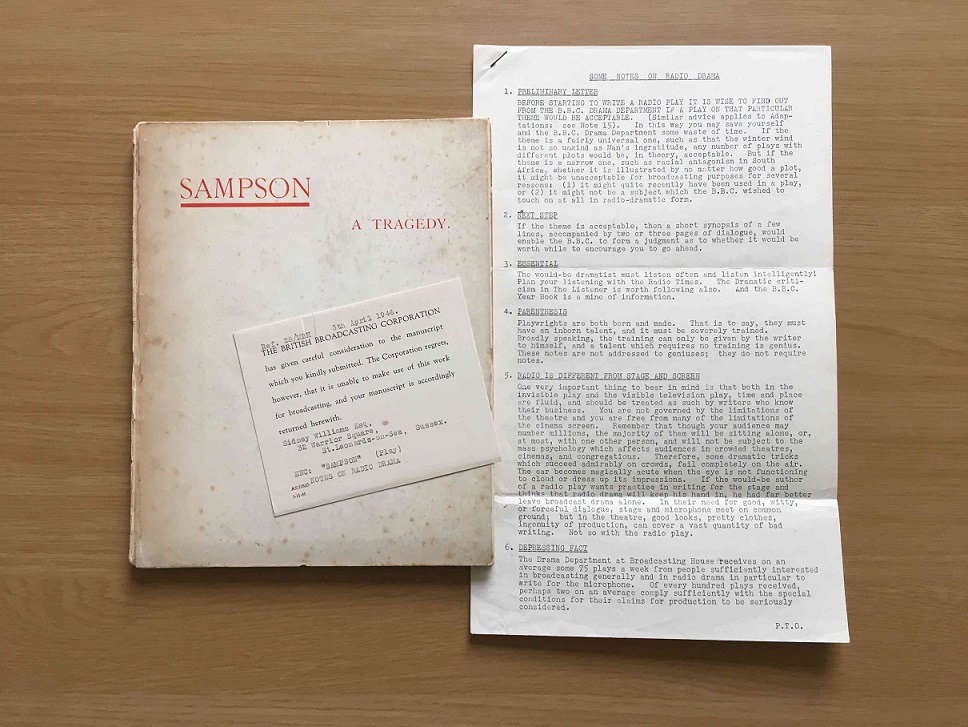 AN UNRECORDED PLAY BY LEWIS CARROLL'S BIBLIOGRAPHER 'A WASTE OF BBC TIME' [WILLIAMS, Sidney Herbert.]
Sampson. A tragedy. [London?, c. 1920?].

Large 4to, pp. 42; decorative headpiece and initial at start of Act 1; printed on Whatman paper watermarked 1913; a very good, clean copy, uncut, in original printed boards, title in red to upper board; some foxing to covers, spine rubbed and chipped at head and tail. [With:]

[British Broadcasting Corporation.] Rejection postcard, dated 5th April 1946.
Small postcard (c. 13 x 10.5 cm), with pre-printed rejection note and typed address '32 Warrior Square, St. Leonards-on-Sea' of Sidney Williams. [and:]

[B.B.C.] Some Notes on Radio Drama.
A privately printed and seemingly unrecorded play by Lewis Carroll's first bibliographer, submitted to the BBC for consideration as a radio drama, with its accompanying rejection letter and notes on how to write for radio; an amusing testament to the trials and tribulations of the amateur playwright, and of those forced to read their work.
The enclosed notes, titled Some Notes on Radio Drama, are initialled (in type) at the bottom Val Gielgud and Lance Sieveking (Lancelot de Giberne Sieveking), two major figures of BBC radio drama. The notes set out a clear 15 point guide on how to write a radio play which could be accepted by the BBC, with advice on subject, characters, length, and how to write for the peculiarities of a 'voice-only' format. Gielgud's tenure as Head of Productions at the BBC marked a high point for the radio play as a genre. As noted in section 6 'Depressing Fact', the BBC at the time received an average of 75 scripts per week; clearly a guide was needed to stem the flow of unusable manuscripts, and to save the Drama Department from the nation's less able dramatists. Gielgud and Sieveking's notes are helpful but cutting, they 'are not addressed to geniuses; they do not require notes', and exasperation often leaks through:
'before starting to write a radio play it is wise to find out from the b.b.c. drama department if a play on that particular theme would be acceptable… In this way you might save yourself and the B.B.C. Drama Department some waste of time.' (emphasis theirs).
A readthrough of Sampson gives some insight as to the cause of its rejection; the dialogue is ponderous and the language smugly anachronistic:
Delilah: "Thou art right, Barak, but for a lover overly cautious, methinks. I love thee more than thou lovest me, and in the game of love, who placest most on the game has most to lose…"
The book, however, is produced to a high standard, with its delicate headpiece and initial, and printed on good quality paper; whatever its faults the author was clearly proud of his creation. This appears to have been William's first (and possibly only) foray into drama, he is better known as the first bibliographer of Lewis Carroll and authored a number of works on the subject: Some rare Carrolliana, 1924 (a privately printed work which bears some physical resemblance to the present play); A Bibliography of the writings of Lewis Carroll (Charles Lutwidge Dodgson, M.A.), 1924; and A Handbook of the Literature of the Rev. C.L. Dodgson (Lewis Carroll), 1931, which was written with Falconer Madan and remains the definitive reference book on Carroll. Williams was also a fellow of the Society of Antiquaries, and a barrister at the Inner Temple.
Though the rejection must have stung, Williams was in good company in being turned down by Val Gielgud; amongst the many plays Gielgud rejected was Samuel Beckett's Waiting for Godot, which would otherwise have had its UK debut on the radio rather than the stage.