ASTROLOGY AND THE LOTTERY
[GREPPI, Fortunato.]
Ragionamento de' celesti influssi, del determinato, e libero oprare, con ottantaquattro tavole numeriche.
[Milan?, c. 1800].
8vo, pp. XX, 85, [1 blank]; engraved vignette to title (depicting a sieve), woodcut initials, text and tables within double-ruled borders, engraved vignette ('il fine') to p. 85; very good, crisp and clean, in contemporary carta rustica; a few marks to covers; 'De Ipperg' and '1820' inked to title.
£1500

Approximately:
US $2074
€1738
Added to your basket:
Ragionamento de' celesti influssi, del determinato, e libero oprare, con ottantaquattro tavole numeriche.
Very rare first edition of this curious astrological work by the Milanese writer Fortunato Greppi, in which he takes a swipe at the philosophes of the Enlightenment, and offers tables to help his readers select winning lottery numbers.

Greppi dedicates his work to the Milanese nobleman Tiberio Crivelli, V marchese di Agliate (1737-1804), concealing his identity (albeit thinly) behind the anagram 'De-ipperg'. In his introduction, he insists on the influence of the stars on earthly affairs and attacks both empiricists and rationalists, and indeed all 'filosofi' who seek answers only in their 'Enciclopedia', mocking the idea that mankind was living in a 'secol d'oro, secol d'eruditi'. In his discussion of chance, fate, free will, and causality, he mentions Wolff, Leibniz, and Newton ('saggi interpreti della natura' but of lesser stature than Socrates and Plato), as well as Galileo, Descartes, and Kepler. Along the way he quotes from the writings of Giovanni Antonio Magini, Heinrich Cornelius Agrippa, and Johannes Trithemius.

Greppi's 84 astrological tables ('planetarum tabulae gradibus, numerisque expresis in loco caeli existentium') comprise 12 each (one for each sign of the zodiac) for Saturn, Jupiter, Mars, the Sun, Venus, Mercury, and the Moon, and are prefaced with the promise that they will help the user find those numbers most likely to come up in the lottery ('probabiliores numeros sotitione vulgo Lotto invenies').

Another undated edition of the Ragionamento, clearly subsequent to ours, was published with parallel text in Italian and French, and with a dedication to the Grand Duke of Tuscany signed 'Greppi' (only one copy traced, at the Österreichische Nationalbibliothek, Vienna).

Greppi's only other published work appears to have been De superstitione et vinculis daemonum secundum aegyptiorum et chaldeorum dogmata juxta etiam Tychonis calendarium accurate emendatum, printed at the author's expense in Milan in 1803.

Not on OCLC. We have traced only one copy, at the Biblioteca nazionale Vittorio Emanuele III, Naples.
You may also be interested in...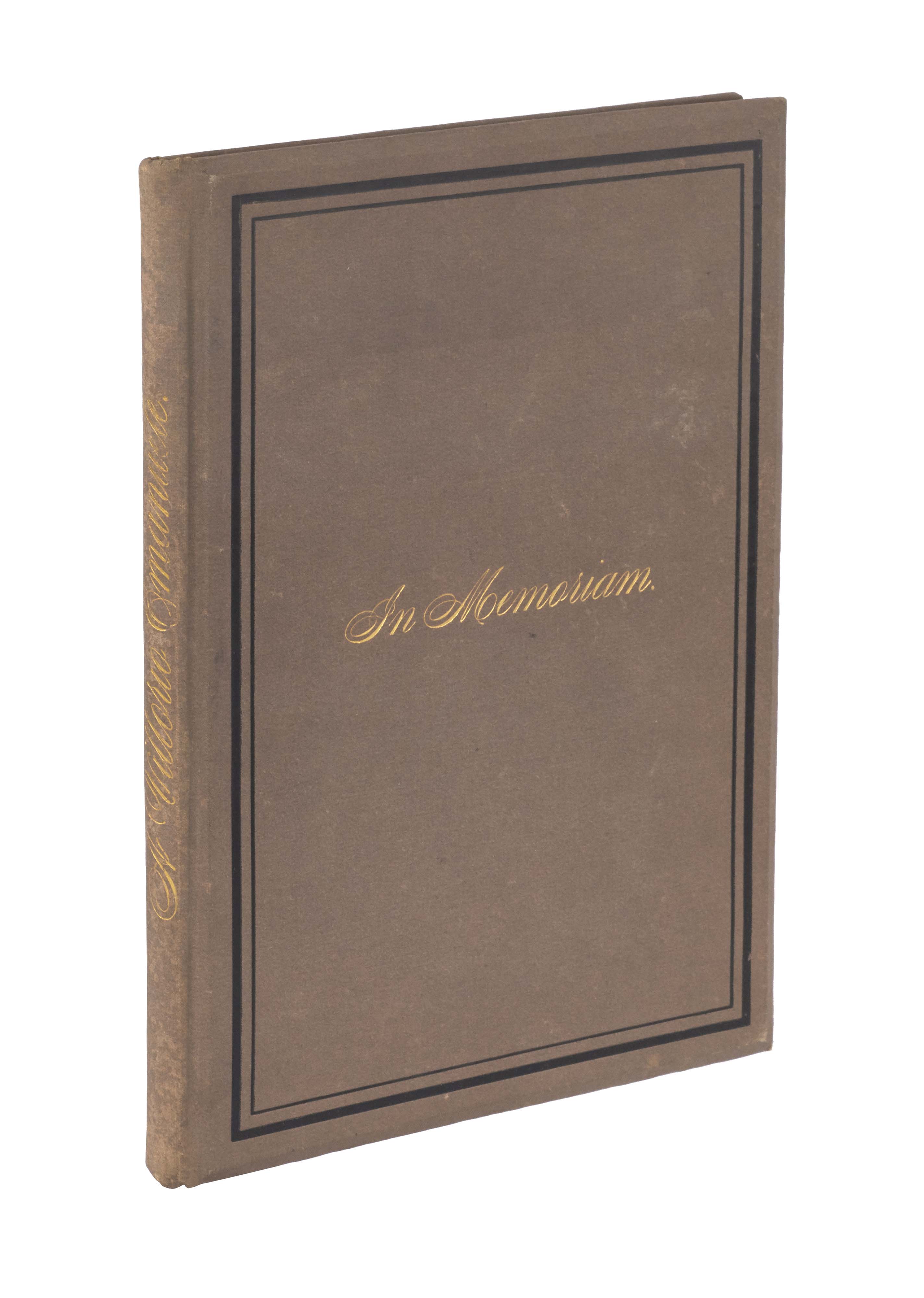 ITALIANS IN NEW YORK [VITTORIO EMANUELE II.]
Alla gloriosa memoria di Vittoria Emanuele primo re d'Italia, gli Italiani residenti in New York convenuti in publica assemblea offrivano in omaggio di lutto e di riconoscenza il XIV di gennaio MDCCCLXXVIII.
First edition of a commemorative tribute to the late Vittorio Emanuele II, first king of Italy, by the Italian community of New York.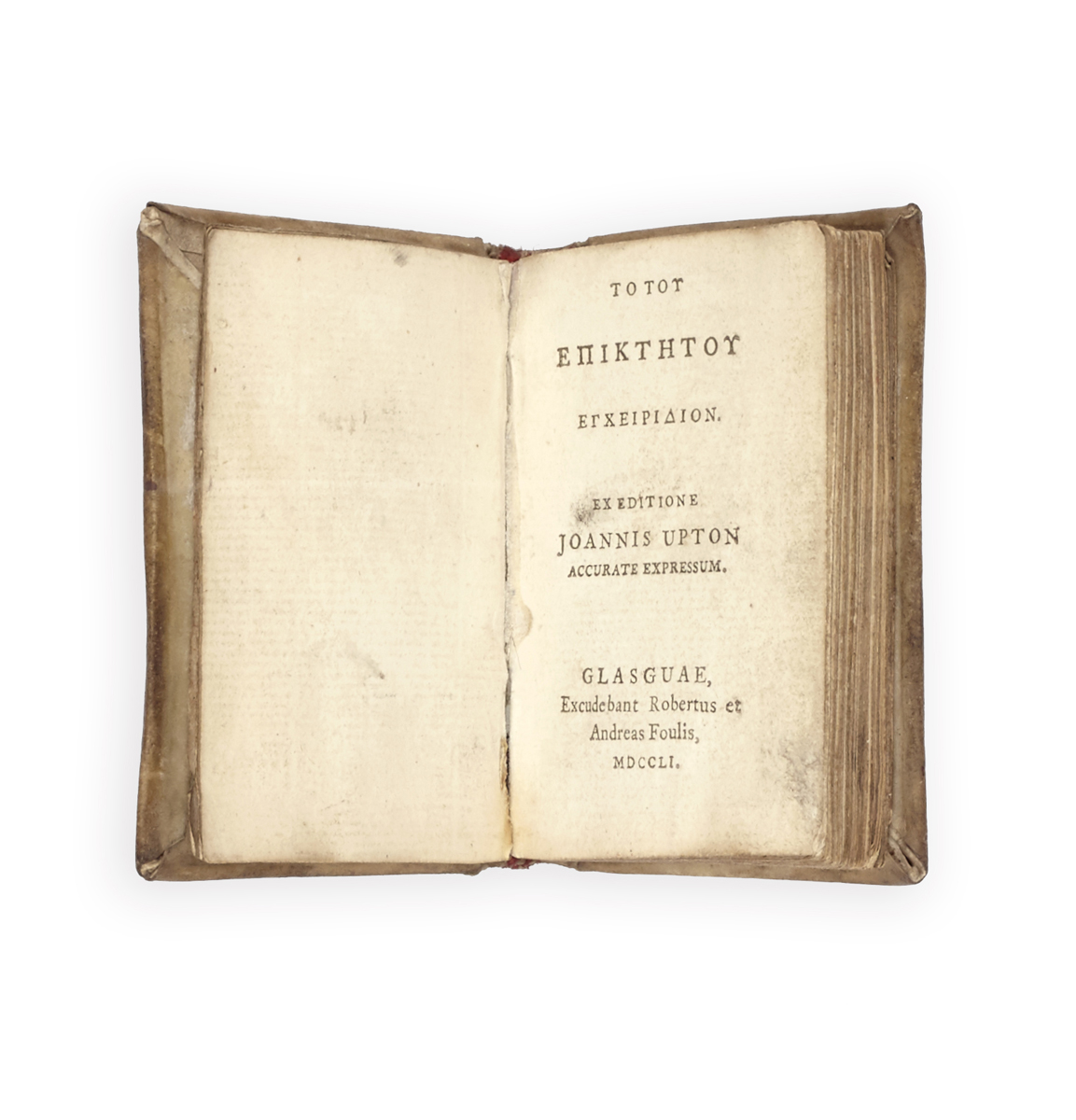 EPICTETUS.
To tou Epiktetou encheiridion. Ex editione Joannis Upton accurate expressum.
The first miniature Foulis edition of Epictetus in Greek, and the first Foulis Epictetus in Greek only; it had been preceded by a larger format, 12mo (1748) edition in Greek and Latin. A 1765 reissue was, according to ESTC, reset.