ELIZABETHAN SONNETS
GREVILLE, Fulke, Baron Brooke.
Certaine Learned and Elegant Workes of the Right Honorable Fulke, Lord Brooke, written in his Youth, and familiar Exercise with Sir Philip Sidney ...
London: Printed by E. P. for Henry Seyle ... 1633.
Small folio, pp. [2], 23-82, 298, wanting the preliminary and final blanks, and, as in all known copies, beginning at page 23 because one long poem, A Treatise of Religion, was suppressed; a very good copy in contemporary calf, neatly rebacked, gilt Pegasus device of Heneage Finch, third Earl of Winchilsea (1628-82) on both covers, bookplate of Richard Shuttleworth Streatfield.
£2250

Approximately:
US $2939
€2557
First edition. This is the definitive printing of the poems and plays of an attractive minor Elizabethan – the 'Servant to Queen Elizabeth, Councillor to King James, Friend to Sir Philip Sidney' (to quote his epitaph). Like Sidney, Greville never published his poetry in his lifetime; and, apart from a few anthologized poems and a pirated edition of Mustapha, these Workes, though written mainly in the 1570s-1590s, are printed here for the first time.

In all known copies the text begins at p. 23. The Licenser's entry makes it clear that A Treatise of Religion originally stood first in the manuscript; and Malone plausibly suggested that its anti-prelatical tenor led to censorship by Archbishop Laud. This poem and A Treatise of Monarchy were eventually published in Fulke Greville's Remains (1670), completing the verse canon.

As issued, the volume begins with three long reflective poems ('Of Humane Learning', 'Upon Fame and Honour', and 'Of Warres'), followed by the verse dramas Alaham and Mustapha, and the irregular 'sonnet' sequence 'Caelica' comprising 109 sonnets and other short poems. There are a few selected letters at the end.

'Oh wearisome Condition of Humanity', Greville's most famous poem, forms the final chorus to Mustapha. Like Alaham, Mustapha was 'no Plaie for the Stage', but a Senecan examination of power, tyranny, ambition, and deceit. Greville wrote one other tragedy in the same vein, Antonie and Cleopatra, but thought it prudent to destroy the manuscript in about 1601, 'the Earle of Essex then falling'.

STC 12361; Greg III, 1068-9; Pforzheimer 437; Hayward 68.
You may also be interested in...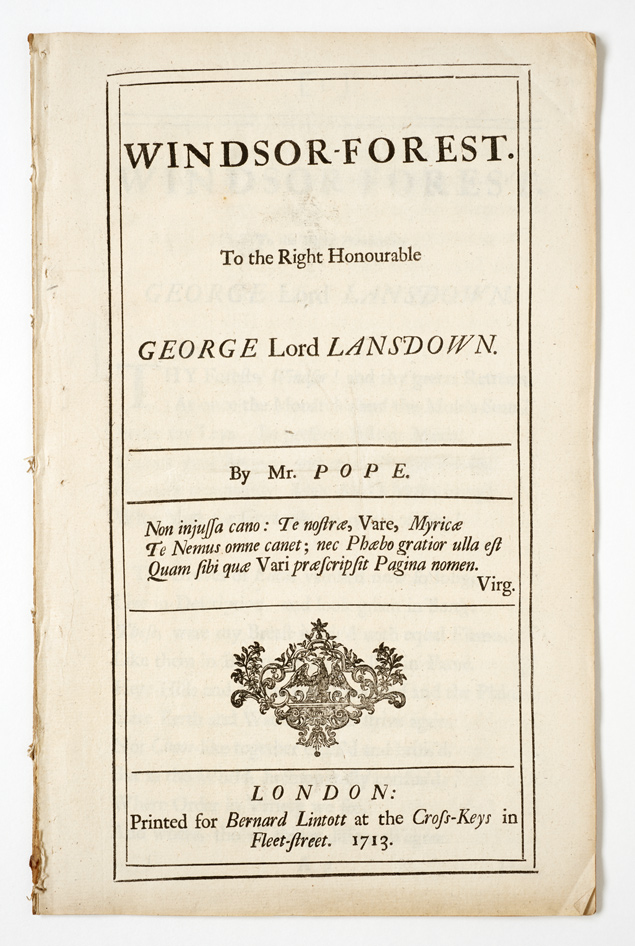 POPE, Alexander.
Windsor-Forest. To the Right Honourable George Lord Lansdown …
First edition of Pope's second separately published poem, preceded by An Essay on Criticism in 1711. Written in the tradition that young poets begin with pastoral verse, Windsor-Forest, with its epigraph from Virgil's Eclogues, was the poem that first won Swift's regard and laid foundations for the 'most celebrated literary friendship of the earlier eighteenth century' (Oxford DNB).
EDITED BY THE POET COWPER'S UNCLE [COWPER, Ashley, editor].
The Norfolk poetical Miscellany. To which are added some select Essays and Letters in Prose. Never printed before. By the Author of the Progress of Physick. In two Volumes …
First edition. This lively miscellany, containing a large number of amusing short poems (but nothing for the libertine), was assembled by William Cowper's uncle, the father of Theodora, later Lady Hesketh, with whom the poet fell in love. The dedication to the young Lady Caroline [Cowper] is subscribed 'Timothy Scribble': 'Too true it is, that the present Age has been fruitful of Miscellanies; and I wish it was less true, that even the best Collections of them (tho' handed to us by the brightest Wits of our Family [i.e. Scribblers and Scriblerians]) are not without some Impurities, which make them very unfit Companions for Youth ….' 'But to say a Word of the following Collection. It consists chiefly of Original Pieces – many of them (and those I fear the worst) are the Editor's own – some never so much as handed about in Manuscript – few ever committed to the Press before ….'