A BRIGHT COPY OF GRIFFIS' ACCOUNT OF KOREA IN THE ORIGINAL CLOTH
GRIFFIS, William Elliot.
Corea the Hermit Nation.
London: W.H. Allen & Co., 1882.
8vo (214 x 140mm), pp. [2 (blank l.)], xxiii, [1 (blank)], [2 (illustrations, maps and plans)], [2 (part-title, verso blank)], 462; wood-engraved frontispiece, folding colour-printed lithographic map finished by hand in colours, wood-engraved illustrations and maps in the text, 7 full-page, wood-engraved tailpieces; occasional light spotting; original blue colth over bevelled boards, gilt design on upper board, spine lettered and decorated in gilt, grey endpapers; extremities slightly rubbed, fore-edges a little spotted, nonetheless a very bright, clean copy.
£350

Approximately:
US $487
€404
Added to your basket:
Corea the Hermit Nation.
First British edition. The American orientalist, minister and writer Griffis (1843-1928) was educated at Rutgers University and travelled to Japan in 1870, in the early years of the Meiji period, when Japan was beginning to engage with the West. After four years teaching in Japan, Griffis returned to the United States and studied at New Brunswick Theological Seminary in order to become a minister. He then embarked on a fifty-year career of lecturing, writing and teaching, becoming one of the greatest American experts on Japan, the author of many books on the country and its culture and history, and the leading interpreter of America to Japan. From his earliest days in Japan, while living at Fukui in 1871, Griffis had come into contact with Koreans and Korean culture, and, whilst usually a strong supporter of Japan, he was an advocate of Korea's policies and positions in its political disputes with Japan.

The work is divided into three parts ('Ancient and Mediaeval History', 'Political and Social Corea', and 'Modern and Recent History'), and is prefaced by an extensive bibliography of publications on Korea (pp. [xi]-xvii). Griffis' introduction states that, 'My purpose in this work is to give an outline of the history of the Land of Morning Calm – as the natives call their country – from before the Christian era to the present year. As "an honest tale speeds best, being plainly told," I have made no attempt to embellish the narrative, though I have sought information from sources from within and without Corea, in maps and charts, coins and pottery, the language and art, notes and narratives of eye-witnesses, pencil-sketches, paintings and photographs, the standard histories of Japan and China, the testimony of sailor and diplomatist, missionary and castaway, and the digested knowledge of critical scholars. I have attempted nothing more than a historical outline of the nation and a glimpse at the political and social life of the people' (p. vi).

Cordier, Sinica, cols 2956-2957.
You may also be interested in...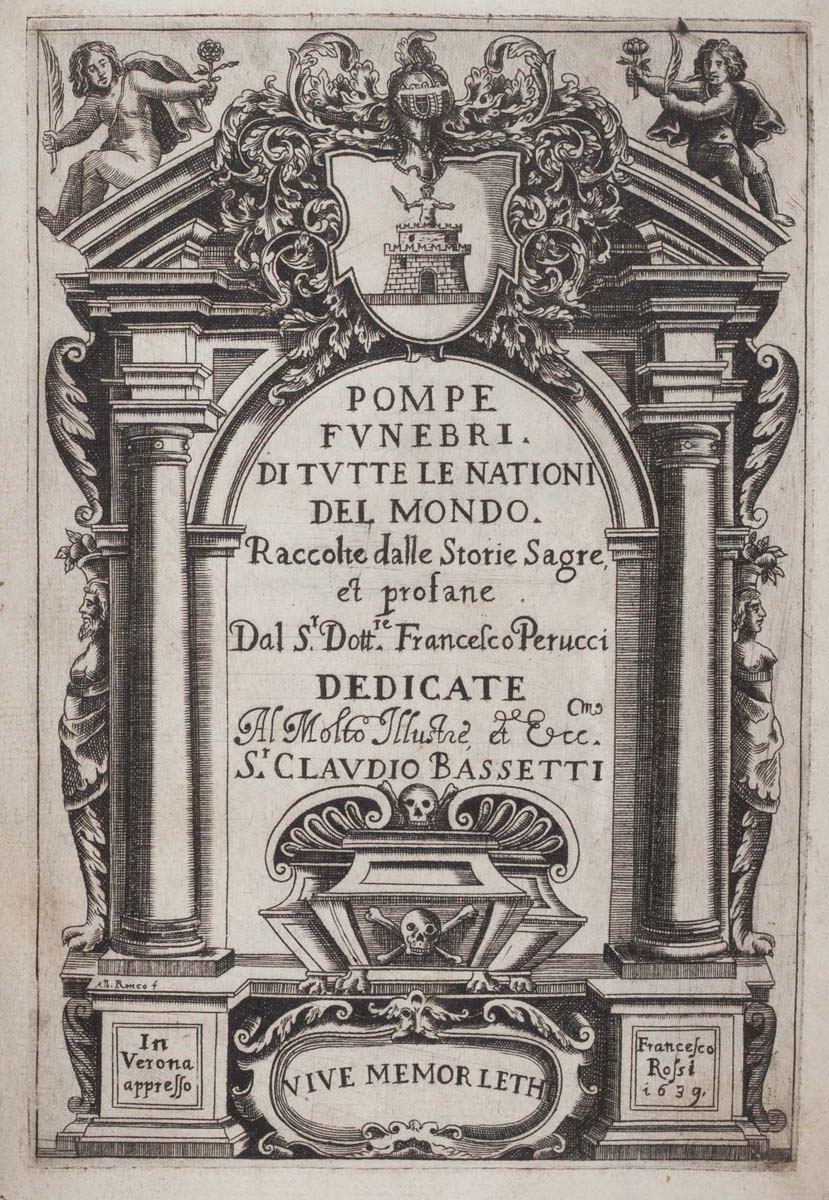 FROM THE LOST LOGIE LIBRARY OF WALTER BOWMAN PERUCCI, Francesco.
Pompe funebri di tutte le nationi del mondo, raccolte dale storie sagre et profane.
First edition of Perucci's extensively illustrated account of funeral practices, inscribed by a Scottish antiquary and documented book collector. A fellow of the Society of Antiquaries and later the Royal Society, Walter Bowman (1699–1782) travelled extensively over the course of five decades in Italy, where this book was most likely acquired, studying at the University of Padua for two years and accompanying Samuel Rolle, Simon Harcourt, and Francis Seymour-Conway as tutor on grand tours; his remarkably detailed notes on his travels and keen collecting survive, principally in the National Library of Scotland and the Biblioteca nazionale in Florence.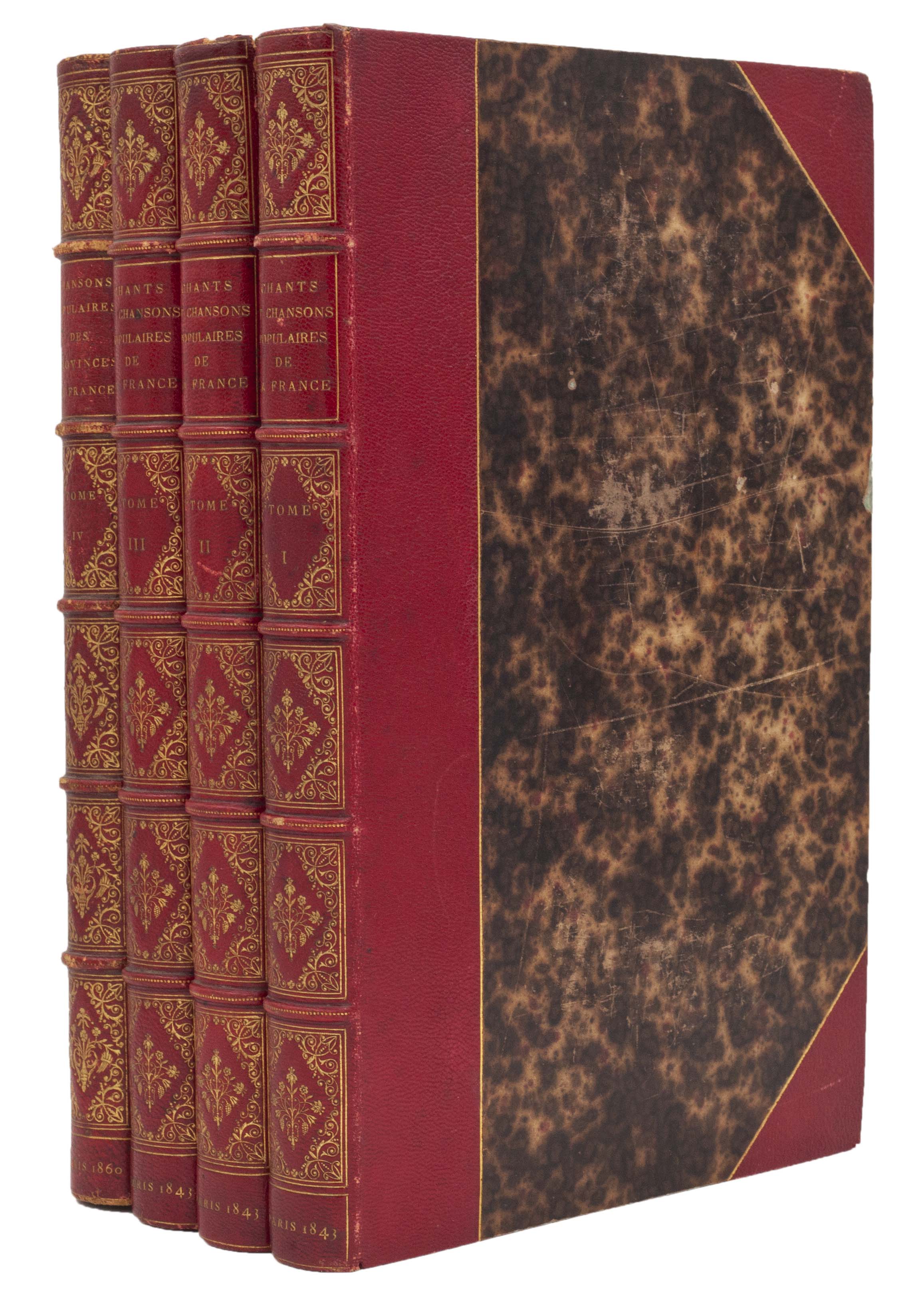 EXTRA-ILLUSTRATED DELLOYE, H.-L. (editor).
Chants et chansons populaires de la France [– notices par M. du Mersan], première [– deuxième; – troisiéme] série.
First edition of a finely illustrated, serially published collection of French music, broad-margined, extra-illustrated, and accompanied by the later fourth series. Formed of four series of twenty-eight issues, sold individually at sixty centimes from February 1842, the Chants et chansons populaires are considered by Carteret to be an 'admirable publication, printed on papier vélin fort, deservedly highly esteemed as one of the most beautiful of the nineteenth century, which can be compared to the handsome illustrated books of the eighteenth century' (trans.).