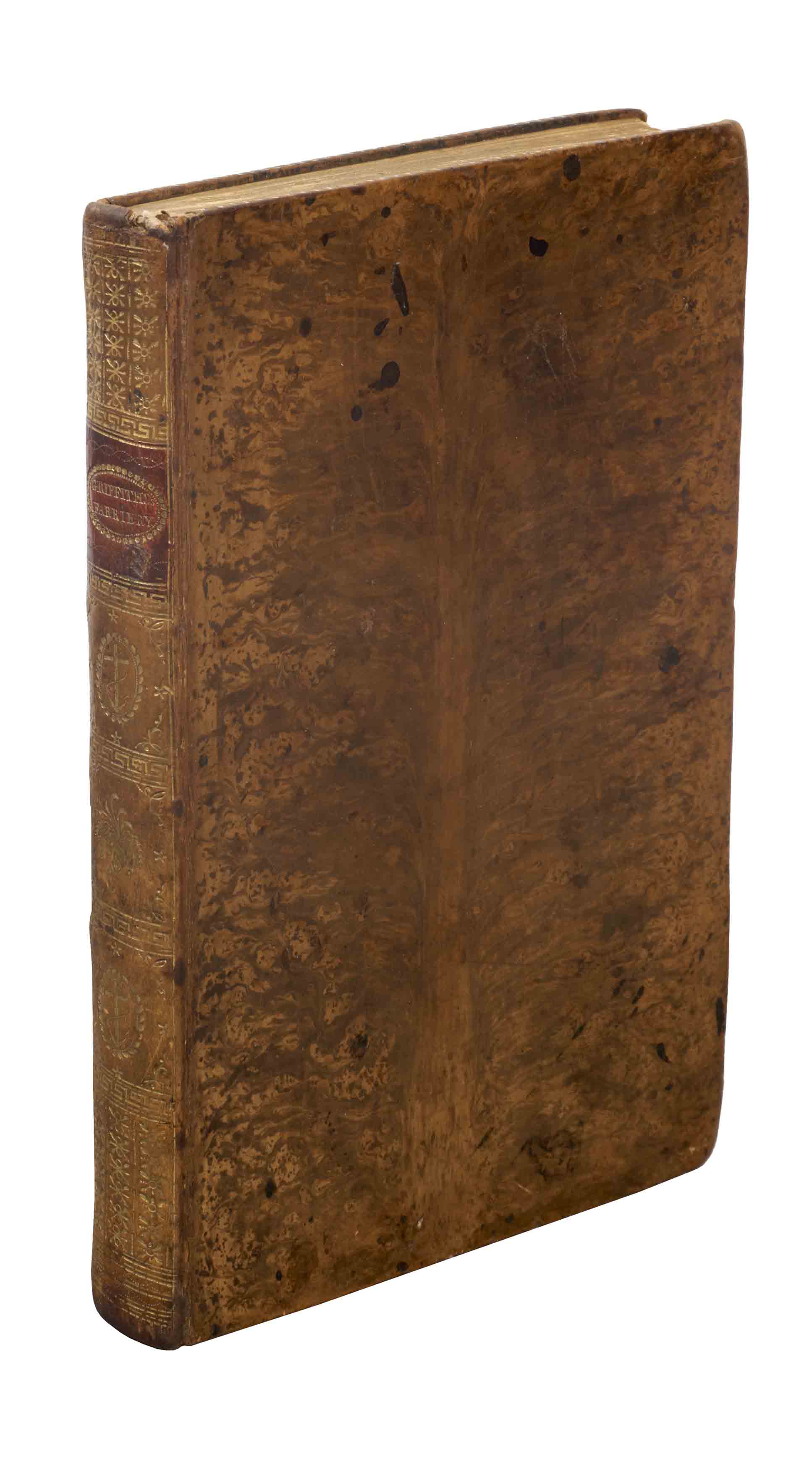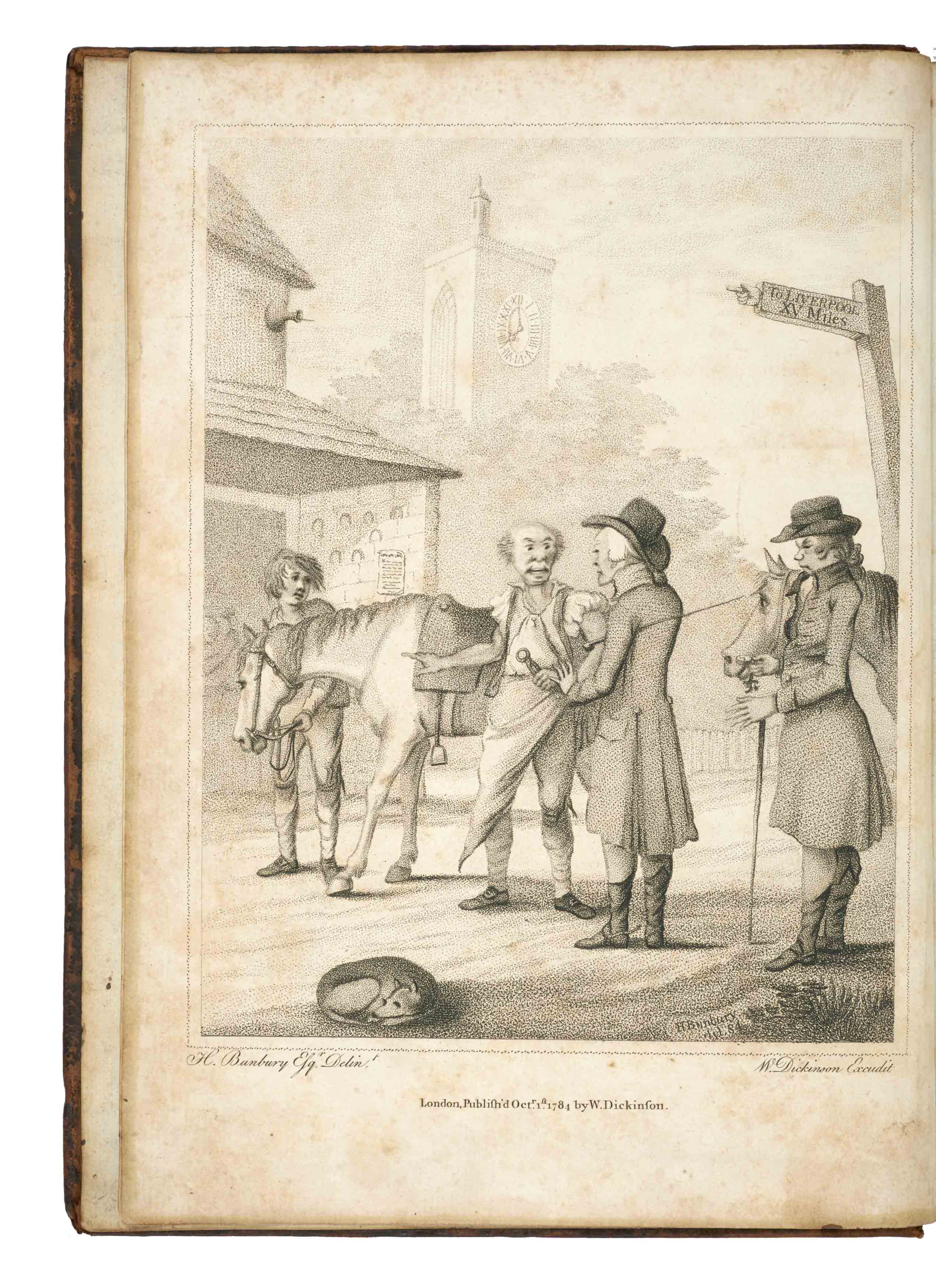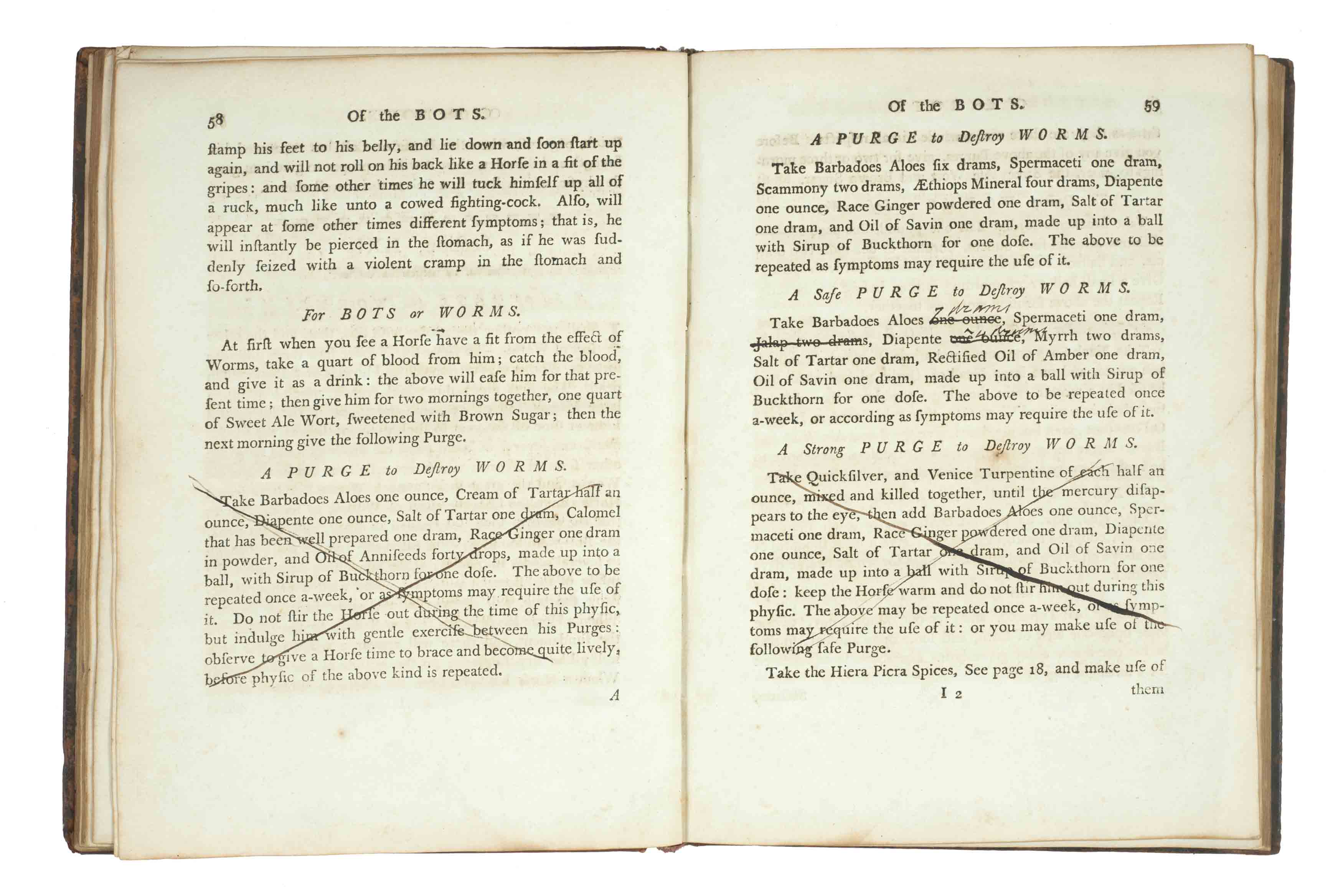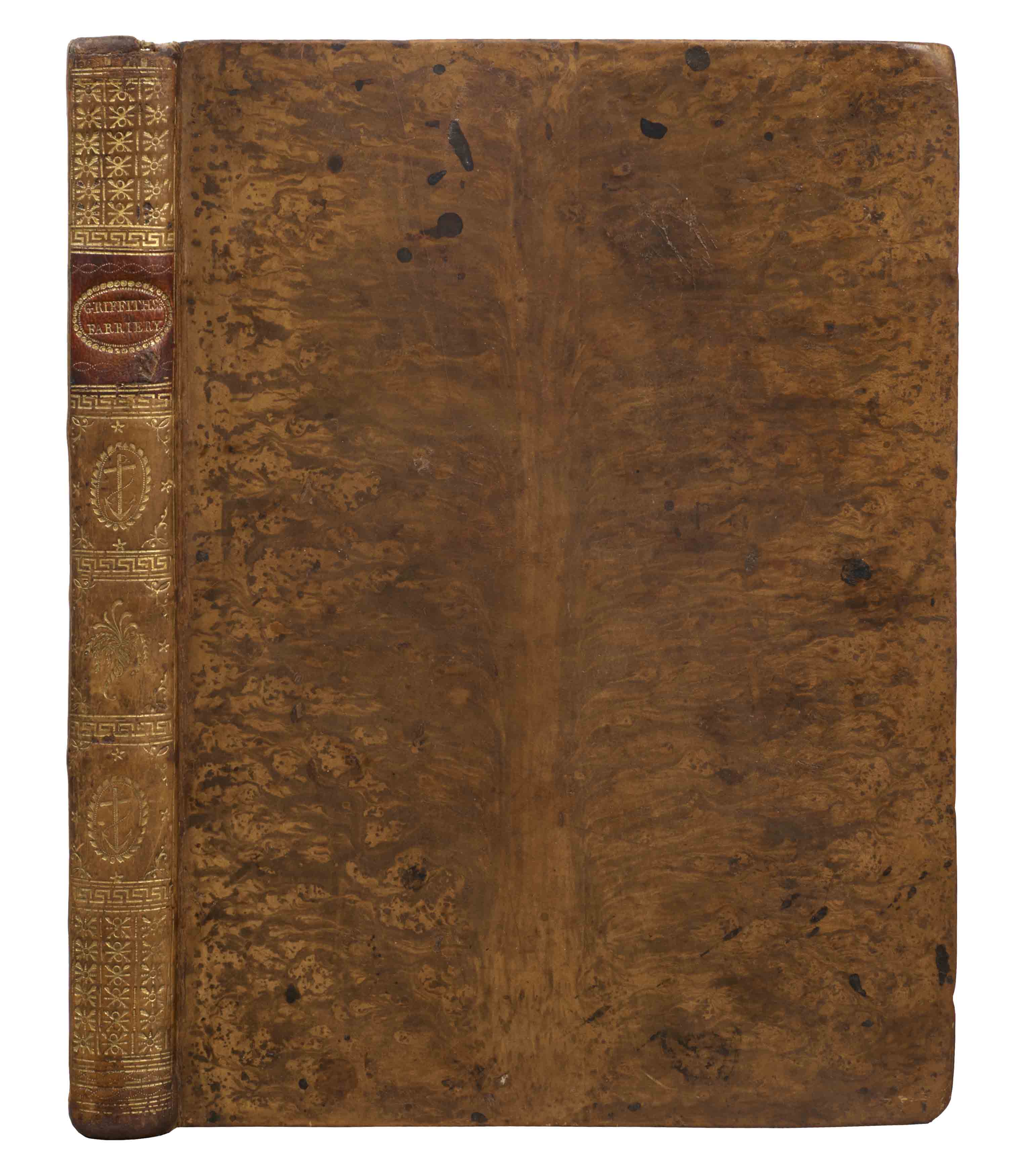 WELSH FARRIERY FOR SIR WATKIN WILLIAMS WYNN:
A FINELY BOUND SUBSCRIBER'S COPY
GRIFFITHS, William, and Henry BUNBURY (illustrator).

A practical Treatise on Farriery, deduced from the Experience of above forty Years in the Service of the late Sir Watkin Williams Wynn, Bart., the present Earl Grosvenor, and the present Sir Watkin Williams Wynn, Bart.
Wrexham, R. Marsh, [1784].
4to, pp. [4], iii, [1], 184, [4 (index)], [9 (list of subscribers)], [1 (blank)], with stipple-engraved frontispiece by W. Dickinson after H. Bunbury, dated 1784; some slight spotting, marginal tear to 2B1; a very good copy in contemporary tree-calf, spine gilt in compartments between gilt Greek-key motifs, gilt red morocco lettering-piece in one, others tooled with anchors and a cornucopia in gilt, board-edges roll-tooled in gilt; corners very slightly bumped, small ship to head-cap and short split to joints; with the armorial bookplate of W.M. Owen, Woodhouse, and a few contemporary annotations.
£1100

Approximately:
US $0
€0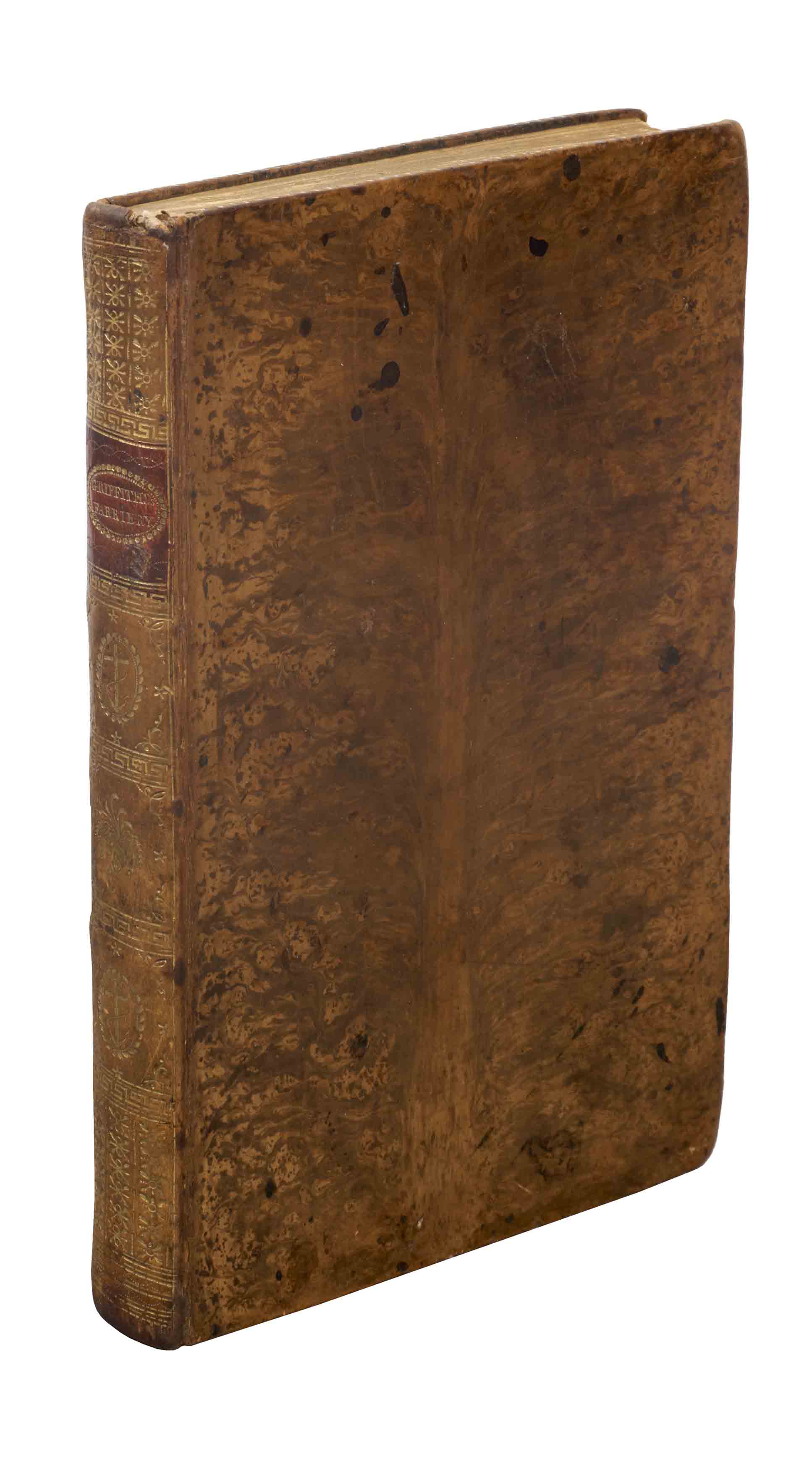 Added to your basket:
A practical Treatise on Farriery, deduced from the Experience of above forty Years in the Service of the late Sir Watkin Williams Wynn, Bart., the present Earl Grosvenor, and the present Sir Watkin Williams Wynn, Bart.
First edition of this informative treatise by the groom to the Williams Wynn family, from the library of Sir Watkin Williams Wynn's political ally, William Mostyn Owen. A farrier to the Williams Wynns of Wynnstay since at least the 1740s, Griffiths dedicates the work to his second master from the family, the fourth baronet and prominent patron of politics and arts, Sir Watkin Williams Wynn (1749 – 1789). Of the subscribers, the majority are found within the area of Williams Wynn's influence in North Wales and Shropshire, and many are known to have been his associates; William Mostyn Owen (c. 1742 – 1795) is one of few to have received three copies.

Having been returned as a Member of Parliament in 1772, Williams Wynn hoped to secure his influence in several further seats at the 1774 general election, spending £4600 in an unsuccessful attempt to defend Montgomeryshire for his cousin, Watkin Williams, against Mostyn Owen, backed by the rival Herberts of Powis Castle. Mostyn Owen's willingness, however, to join the opposition to Lord North's ministry evidently returned him to favour of the reputed radical Williams Wynn: he was reelected unopposed in 1780 and 1784, with the support of his former opponent.

Henry Bunbury, a friend of Williams Wynn and a regular visitor at Wynnstay, is best known for his satirical drawings, but was himself a notable horseman, publishing two humorous works on horsemanship and being appointed equerry to the Duke of York and Albany in 1787. His brother Sir Charles, a subscriber to the present work, was steward of the Jockey Club.

The work bears an uncommon Welsh imprint, being printed locally at Wrexham with unusual and striking typographic ornaments throughout. The final matter of the present copy is in the second state, with the Subscribers names continued completed and the 'remarkable nostrum … proved, when too late for the press', printed directly to the foot of leaf 2B2v, beneath the index.

Another subscriber's copy (that of Kenyon), is known in a closely related binding, suggesting these may have been finely bound for presentation.

ESTC N20539 (state B); Mellon 65; Dingley 300.
You may also be interested in...
LEWIS, Wyndham.
The Caliph's Design. Architects! Where is your Vortex?
First edition, a pamphlet of art criticism, particularly an attack on ugly modern architecture; there is (rare) praise for Cézanne and Picasso. It was printed in an edition of 1000, of which 121 were distributed gratis and 84 eventually remaindered and returned to Lewis.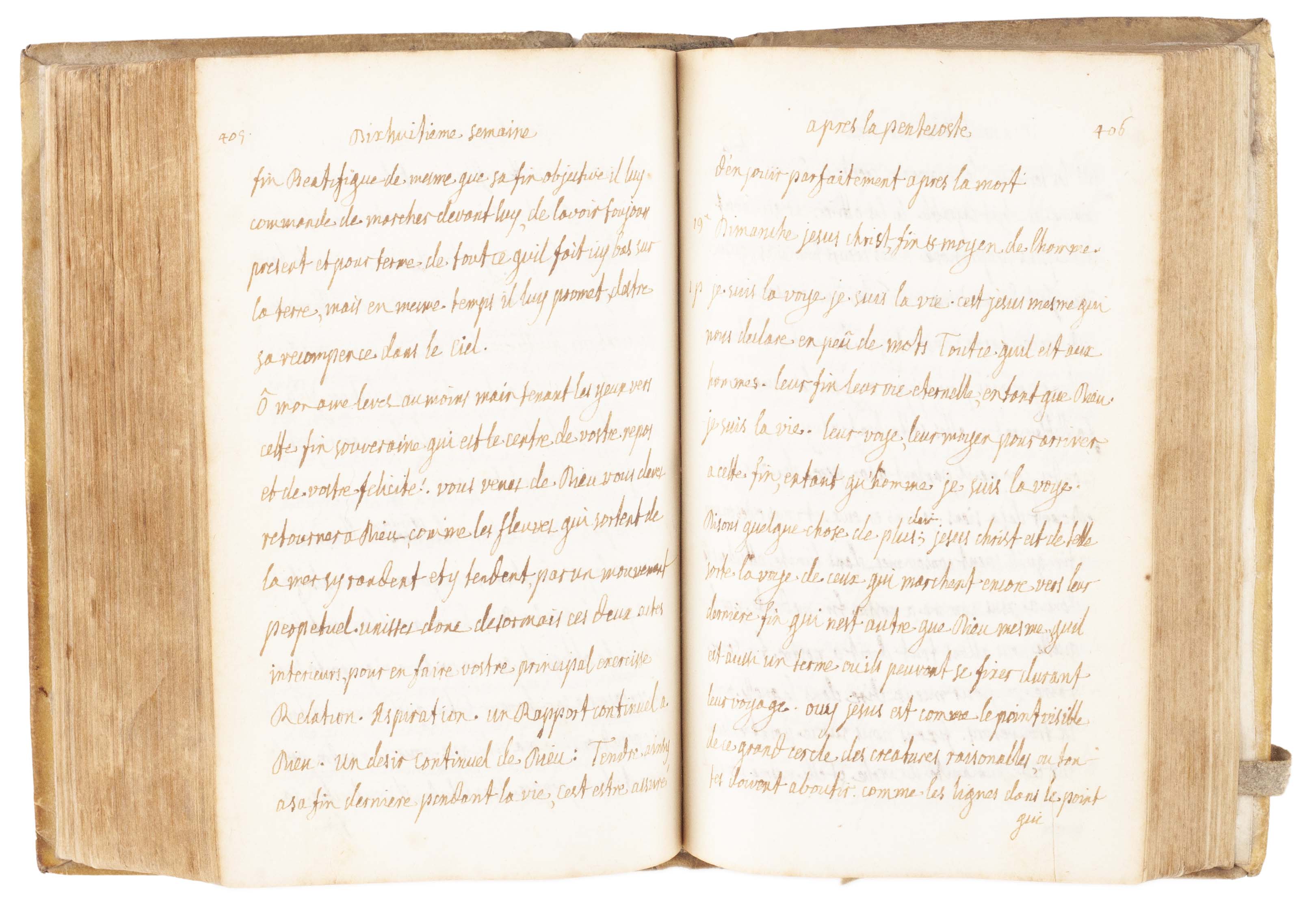 UNPUBLISHED RELIGIOUS MEDITATIONS [HOMILETIC.] 
Meditations de la seconde annee. 
Apparently unpublished set of meditations for the Sundays in the Liturgical year running from the seventh to the twenty-fourth week after Pentecost, shedding light on tools and practices put in places in the homiletic art.  Themes range from reflections on the Eucharist, to consideration on mortality, on values, on grace, on human capacity for redemption.  The meditations are often prompted by the Gospel of the day, lending strength to the notion that this book be a cleric's personal tool for delivering semi-impromptu homilies: an aide-memoire, a structured repertoire of themes and examples made more convenient by a detailed table of content.