BANNED HISTORY OF ITALY'S 'FEMALE POPE'
GUALDI, Cesare [i.e. Gregorio LETI]. 

Vita di Donna Olimpia Maldachini [sic] che governò la Chiesa, durante il Ponteficato d'Innocentio X. doppo l'anno 1644 sino all'anno 1655 … nuovamente ristampata, con un'aggiunta considerabile. 
'Ragusa' [i.e. Geneva], Giulio Giuli, 1676. 
12mo, pp. [23], [1 (blank)], 502; woodcut and typographic head- and tailpieces throughout, woodcut initials; marginal paperflaw to A1 (not affecting text), light marginal dampstaining to a handful of leaves; a very good copy in contemporary vellum over boards, later ink lettering to spine (over faded contemporary titling), edges speckled red; eighteenth-century ink ownership inscription of 'W. Waterhouse' to p. 1, nineteenth-century bookplate and stamp of the Earl of Ellenborough.
£750

Approximately:
US $910
€866
Added to your basket:
Vita di Donna Olimpia Maldachini [sic] che governò la Chiesa, durante il Ponteficato d'Innocentio X. doppo l'anno 1644 sino all'anno 1655 … nuovamente ristampata, con un'aggiunta considerabile. 
Scarce expanded edition of Gregorio Leti's salacious life of Olimpia Maidalchini Pamphilij, the infamous sister-in-law of Innocent X dubbed 'Pope Olimpia I' for her extraordinary influence on the Papacy. 

Following a first marriage to the wealthy Paolo Nini, supposedly orchestrated to avoid monachisation, Olimpia Maidalchini (1592–1657) was married in 1612 to Pamphilio Pamphilij, brother of the future Innocent X.  Leti suggests that she developed a growing intimacy with her brother-in-law and aided him in securing a seat as cardinal before bribing the conclave to elect him Pope.  During his reign she was involved closely in political and economic affairs, allowing visitors an audience with the Pope only after they had consulted her.  Banned by the Index Librorum Prohibitorum in 1667, the Vita di Donna Olimpia is the basis of the enduring myths that Olimpia was the Pope's mistress and that, having taken immense sums of money from his chambers in the weeks before his death, she concealed his death for several days while continuing to remove valuables to her own palace (p. 437). 

First issued in Geneva in 1666, the Vita di Donna Olimpia enjoyed immense popularity and was swiftly translated into French, German, and English; the present copy is a reissue of the 1667 second edition (BM STC Italian, p. 418), containing a letter from Giuli to the reader in which he alleges that the present text was given to him in manuscript by the author's brother directly, and is 'much more substantial, though without offense or omission from the original' (trans.).  Another addition, absent from the 1666 edition, is a dedication to female readers: 'I could dedicate the life of such a renowned woman to no better audience than her own sex … not all women are like Donna Olimpia, as not all men are like Pope Innocent, but it is far easier to find Olimpias than Innocents' (trans.). 

Provenance: Edward Law, first Earl of Ellenborough (1790–1871), politician and governor-general of India, with Southam Delabere bookplate and with stamp to front free endpaper 'Earl of Ellenborough's Heirlooms.  Book no. ['1430', entered in manuscript]'. 

OCLC finds two copies outside of Continental Europe, at the British Library and the University of Michigan. 

BM STC Italian, p. 418; this edition not in Melzi; Tabarini, 'Donna Olimpia Pamphilij'; Von Ranke (1840). 
You may also be interested in...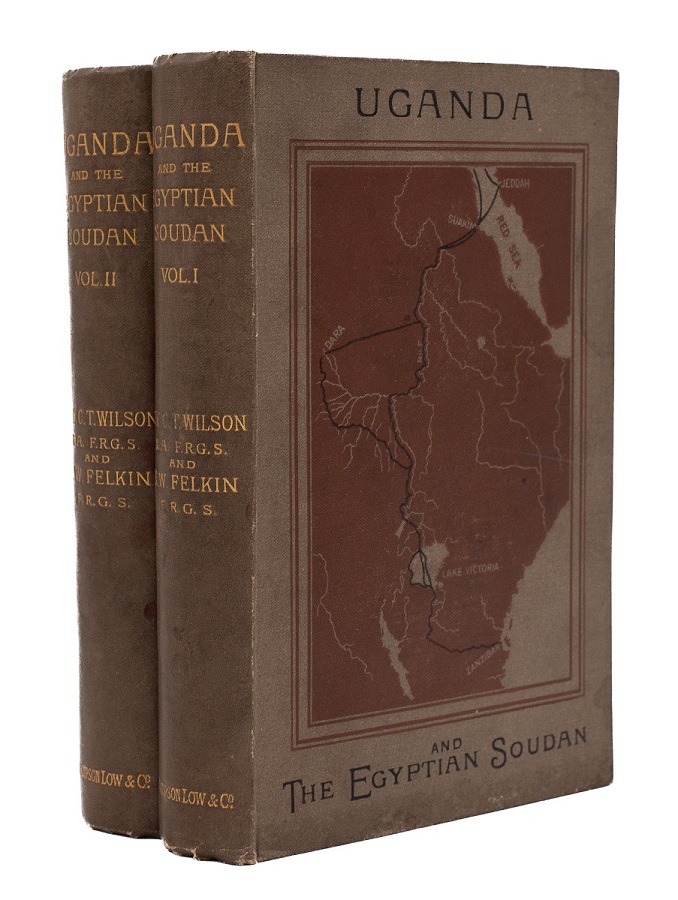 'FROM THE ARCHIVE OF HENRY MORTON STANLEY' WILSON, Charles Thomas, and Robert William FELKIN.
Uganda and the Egyptian Soudan ...
First edition, 'from the archive' of the great explorer Henry Morton Stanley, of this account of Sudan and Uganda by the medical missionary and explorer (and magician) Dr Robert Felkin (1853–1926) and the Rev. Charles Wilson.
RELIGIOUS INSTRUCTION FOR THE GRAND DAUPHIN GOBINET, Charles.
Instruction sur la vérité du Saint Sacrement, contenant en abregé les principaux motifs de la créance Catholique sur le Saint Sacrement de l'Eucharistie ...
Scarce first edition thus, containing an explanation of the Eucharist and a defence of transubstantiation by the French writer and teacher Charles Gobinet (1613–1690), a lovely copy bearing a stamp found on bindings executed for Louis de France, the Grand Dauphin (1661–1711), eldest son of Louis XIV.