GUILELMUS ALVERNUS.
De fide et legibus.
[Augsburg, Günther Zainer, c. 1475-6].
Folio, ff. [140], with initial blank; capital spaces, a few initials supplied in red at beginning; some worming (mostly marginal but touching some letters, those towards end with old paper repairs), small loss to blank upper margin of [a6], a few marks, first and last page dusty; good in nineteenth-century yellow boards, paper labels to spine; slightly marked; a few marginal notes and manicules (longer note to Pars IX Ca. I, and to final blank).
£5000

Approximately:
US $6070
€5915
Added to your basket:
De fide et legibus.
First and only incunable edition of this work covering reason, faith, love, error, idolatry, superstition, magic, and demonology. William of Auvergne (1180/90 – 1249), Bishop of Paris, was the most important of the pre-Scholastics. 'He represents the first generation of Paris masters to make a wide use of Aristotelian, Islamic, and Jewish thought in the years immediately preceding the establishment of the friars' schools. William was the first great master of the new age' (David Knowles). He was familiar with al-Farabi, Avicenna (whom he criticized), Avicebron, Averroes, and Maimonides; and he was perhaps the first to display an intimate acquaintance with Hermes Trismegistus.

After the De universo, this is William's most important book. The De legibus of the title means 'Of religions', according to the frequent medieval use of the word lex, and such is the breadth of William's reading that it can be seen as a study in comparative religion. However critical or otherwise, there are chapters De his quae sunt absurda ... in lege Hebraeorum (VI, i); De festivitatibus Judaeorum (VI, x); Errores Mahometi (VII, ii); De diversis legibus Sarracenorum (VII, iv); and De errore Mercurii [i.e. Hermes Trismegistus] in statuis adorandis (IX, xi). For Lynn Thorndike (History of Experimental Science and Magic II, chapter LII), this work is the source for 'an unexpectedly detailed picture of the magic and superstition of the time'.

BMC II 323; Bod-Inc G-297; Goff G711; ISTC ig00711000.
You may also be interested in...
GRANDIOSE GARDENS FALDA, Giovanni Battista.
Li giardini di Roma con le loro piante, alzate e vedute in prospettiva, disegnate ed intagliate da Gio. Battista Falda. Nuovamente dati alle stampe ...
A later impression of these magnificent plates of nine Roman gardens by the influential engraver Giovanni Battista Falda (1643–1678). The plates offer perspectives and bird's-eye-views of the gardens of the Vatican and Quirinal, and of the villas Medici, Farnese, Ludovisi, Montalto Peretti, Borghese, Celimontana, and Pamphili. Populated with labouring gardeners, well-dressed visitors, barking dogs, and ornate carriages, Falda's etchings 'are distinguished by deeply bitten line and shadow in the manner of Jacques Callot and Israël Silvestre, and by accuracy in topographical and genre details' (Grove Art Online). The magnificent dedication plate, depicting the Garden of the Hesperides, is by Arnold van Westerhout (1651–1725).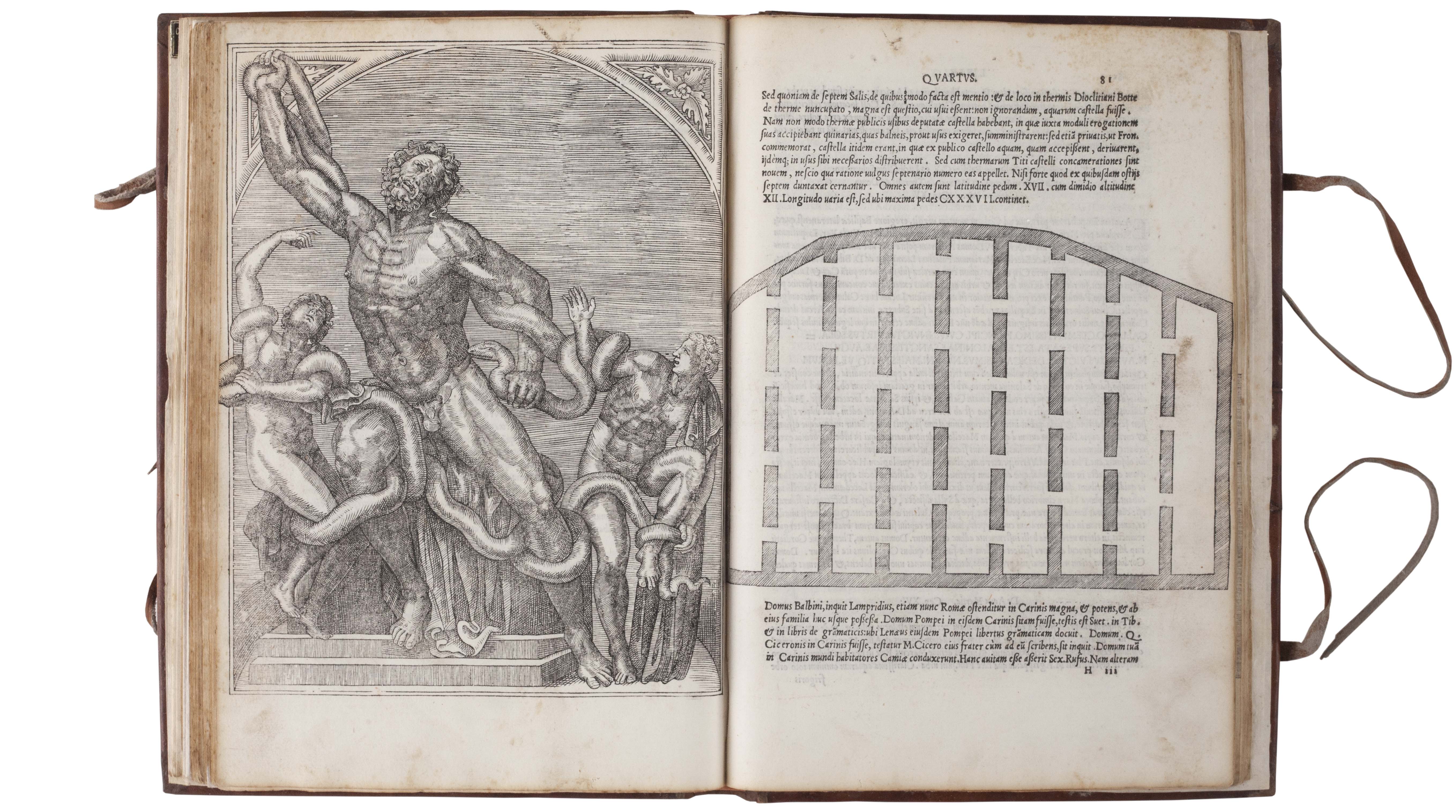 MARLIANI, Bartolomeo.
Urbis Romae topographia.
First illustrated edition (third overall), showing the archaeology and antiquities of Rome as known in the sixteenth century. First published in octavo by Antonio Blado in 1534 and reprinted at Lyons by Sébastien Gryphe later the same year, Marliani's topography of Rome remained the foremost work on the subject over the following two centuries. This considerably revised edition, the first to be printed in folio, was accompanied for the first time by a series of large woodcuts, providing a comprehensive visual record of ancient structures and sculptures in Rome. Particularly noted are the double-page map of Rome, signed by the calligrapher Giovanni Battista Palatino, and the full-page woodcut of the Laocoön, whose excavation Marliani had witnessed in 1506.