HANWAY, Jonas.
Autograph letter, signed, to Sir Joseph Banks, dated at the foot
'Red Lion Square, [3]d April 1782'.
1 page, folio, in a bold clear hand; some slight wear to left edge, touching 3 letters; later biographical note to head; slightly spotted, but generally in very good condition.
£1250

Approximately:
US $1757
€1430
'I have the honour to send You the Produce of the ingenious Information You gave me, in so Kind & polite a manner, last Saturday [30 March]. As I sought You, in Your Character as a friend to Mankind, I have been sought: & You will perceive how much I have taken the midle way & accomodated my Doctrine to the Feelings of the Honest, without Alarming the Timid.'

The only recorded letter from Banks to Hanway is an undated one from this period on the subject of caterpillars (now at the State Library of New South Wales, and apparently from the same source – both letters being numbered in the same hand in the upper right-hand corner). It seems unlikely, however, that the New South Wales letter represents Banks in his 'Character as a friend to Mankind'; much more probable that Hanway and Banks had been exchanging information regarding Hanway's major project of that year – his Proposal for County Naval Free Schools to be built on waste lands, which would be distributed at great expense in June to the great and the good.

Hanway autographs are very scarce in commerce, the only material to have appeared at auction since at least 1940 being the pair of letters to John Blackburn from the Phillips collection, sold in 1977. This is the only recorded letter from Hanway to Banks, and proposes an intriguing connection between two major figures in eighteenth-century maritime affairs.

The Banks Letters, p. 394, recording only a transcription in the Dawson Turner collection.
You may also be interested in...
[LITURGY WITH MUSICAL NOTATION.]
MISSAL, with readings and music for the 18th, 19th and 20th Sundays after Pentecost; a partial bifolium and a single leaf (text of first leaf of bifolium and single leaf continuous), vellum, double columns of 28 lines written in two sizes of an angular late romanesque liturgical script, dark brown ink, ruled with a hard point, initials in blue, green and red, rubrics in red, neumes on a single stave traced in red; recovered from a binding and with consequent creasing and staining, outer column of second leaf of bifolium cropped, a few small holes, one initial ('D') filled with a Renaissance doodle of strapwork and a putto's head, generally in good condition and almost entirely legible. The first leaf measures 290 x 227 mm (260 x 175 mm)
The fine angular script and elegantly simple initials are typical of Cistercian manuscripts, although the absence of punctus flexus punctuation precludes a more definitive Cistercian attribution.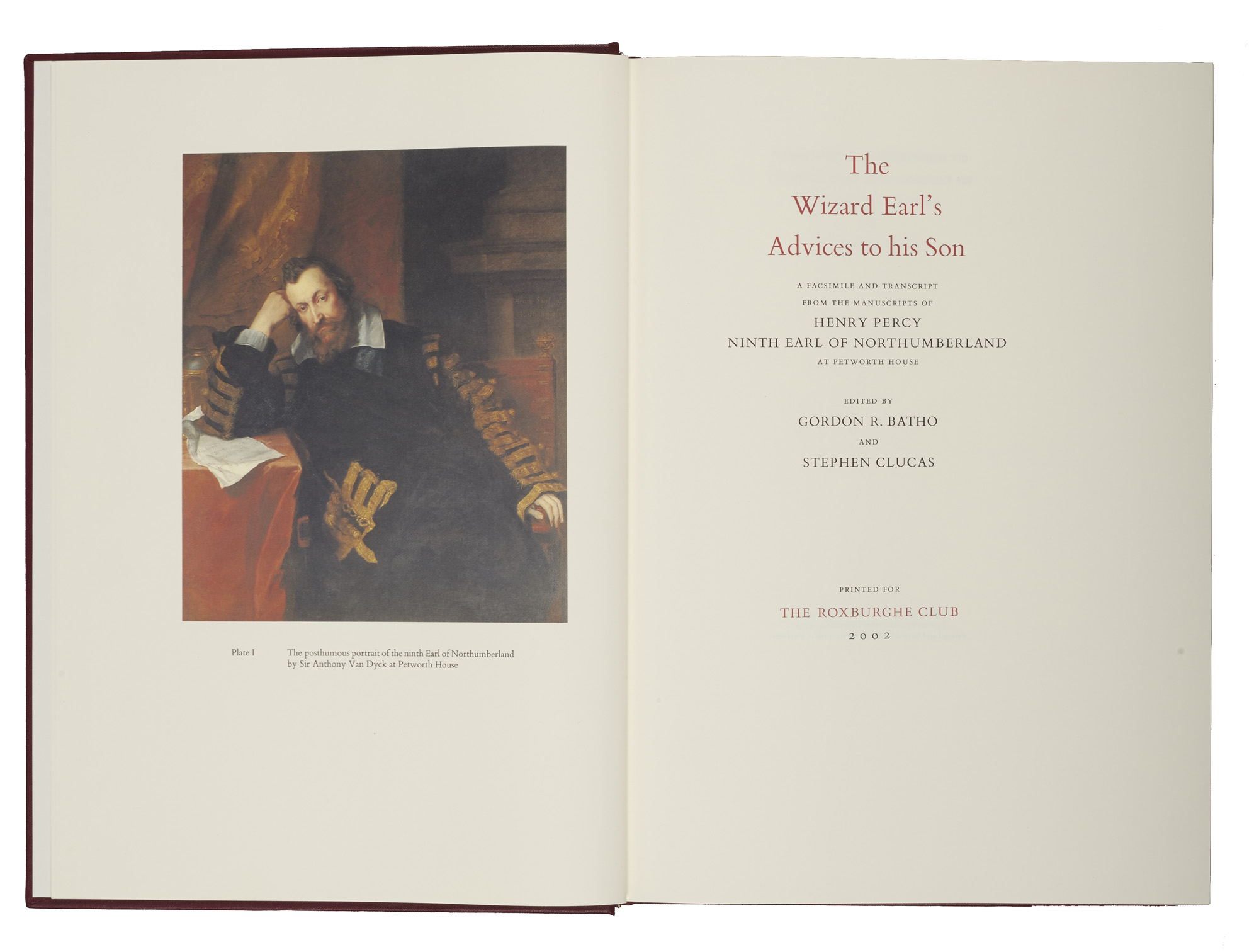 BATHO, Gordon R., and Stephen Clucas, eds.
The Wizard Earl's Advices to his Son. A Facsimile and Transcript from the Manuscript of Henry Percy, 9th Earl of Northumberland, at Petworth House.
The 'Wizard Earl', Henry, Ninth Earl of Northumberland, spent much of his life under suspicion. He was, first of all, suspected of being a member of the 'School of Night', the butt of Shakespeare's Love's Labours Lost. Secondly, and more gravely, he was suspected of involvement in the Gunpowder Plot and imprisoned in the Tower for almost sixteen years. It was during his incarceration that he compiled advice to his son and heir, Algernon. This work is a full facsimile, with a diplomatic transcript, of the 'Advices to his Son'. The texts are prefaced with an extended introduction by Professor G. R. Batho and Dr Stephen Clucas, who together provide a full and up-to-date account of the Earl's life, the writing of the 'Advices', and his intellectual tastes and development.