SO MANY MEN ARE MADE & UNDONE
HOGARTH, William.
[South Sea Scheme].
[London], [n.p.], [after 1751].
Single sheet etching and engraving plus verses (372 x 289 mm), lower edge trimmed on the plate mark, with the publication line and price of one shilling erased from the plate; in good condition, lightly browned, unobtrusive crease to the upper right corner, damp stain to the lower left corner; unmounted.
£750

Approximately:
US $921
€864
Added to your basket:
[South Sea Scheme].
Final state of eight, the first dated to 1721, of this fine satirical Hogarth print. 'Hogarth's satire concerns speculation of all kinds, his implication being that when the crowd loses itself in speculation all the ordinarily hidden evils emerge to operate unmolested. In the manner of Pope's 'Epilogue of the Satires, I,' now 'G' (Self-Interest), equipped with a net-hook and a file for bills, can break 'D' (Honesty) on the wheel. 'F' (Villainy), who has removed his fairseeming mask, can tie 'E' (Honor) to a pillory and flog him, while an ape wearing a gentleman's sword tries to wrap himself in Honor's robe. 'Trade' lies exhausted or dead in the lower right corner, an early victim of this madness' (Paulson, p. 46).

A busy London street scene, whose witty goings-on are partially explained by the verses below, with their letter-based key:

So here ye Causes why in London,
So many men are made & undone,
That arts, & honest, Trading drop,
To Swarm about ye Devils Shop (A),
Who Cuts out (B) Fortunes Golden Haunches,
Trapping their Souls with Lotts & Chances,
Shareing with from Blue Garters down
To all Blue aprons in the Town.
Here all Religions flock together,
Like Tame & Wild Fowl of a Feather,
Leaving their strife Religious bustle,
Kneel down to play at pitch & Hustle (C);
Thus when the Sheepherds are at play,
Their flocks must surely go astray;
The woeful cause ye in these Times,
(E), Honour, & (D) honesty, are Crimes,
That publickly are punish'd by
(G) Self Interest, and (F) Vilany;
So much for monys magick power
Guess at the Rest you find out more.

On the left, indicated by the statue of Gog or Magog, is the Guildhall, called by Hogarth the Devils Shop (A), consisting of a platform like a stage with an inner recess and balcony above. An angry mob heckle, while 'onstage' the Devil himself, breathing fire, winged, and armed with a menacing scythe, hacks pieces of flesh off Fortune's blindfolded body (B) to throw to the crowd. Beyond in the distance several women wait in line, flapping their fans, under the sign Raffling for Husbands with Lottery Fortunes in Here. In front of the stage, three religious men, a Roman Catholic, a Jew, and a Puritan sit gambling in the dust rather than watching after their flocks (C).

On the right stands a giant plinth, the foot of the London Fire Monument, that fills the right-hand side of the image. Its engraving attributing the fire to the Papists has been updated to: This monument was erected in memory of the destruction of this city by the South Sea in 1720. Two statues of foxes, representing the directors of the South Sea Company, snarl down from the column that tops the plinth. In the central area is a structure like a fairground ride, worked by South Sea Directors. Men and women from varying ranks of society ride poles with 'horses' on the ends of sticking-out joists, spinning through the air with a mixture of enjoyment and fear on their faces. The 'ride' is topped by a Billy-goat, standing on the sign Who'l Ride.

BMC Prints and Drawings, 1722; Paulson 43 (8). Not in Sperling.
You may also be interested in...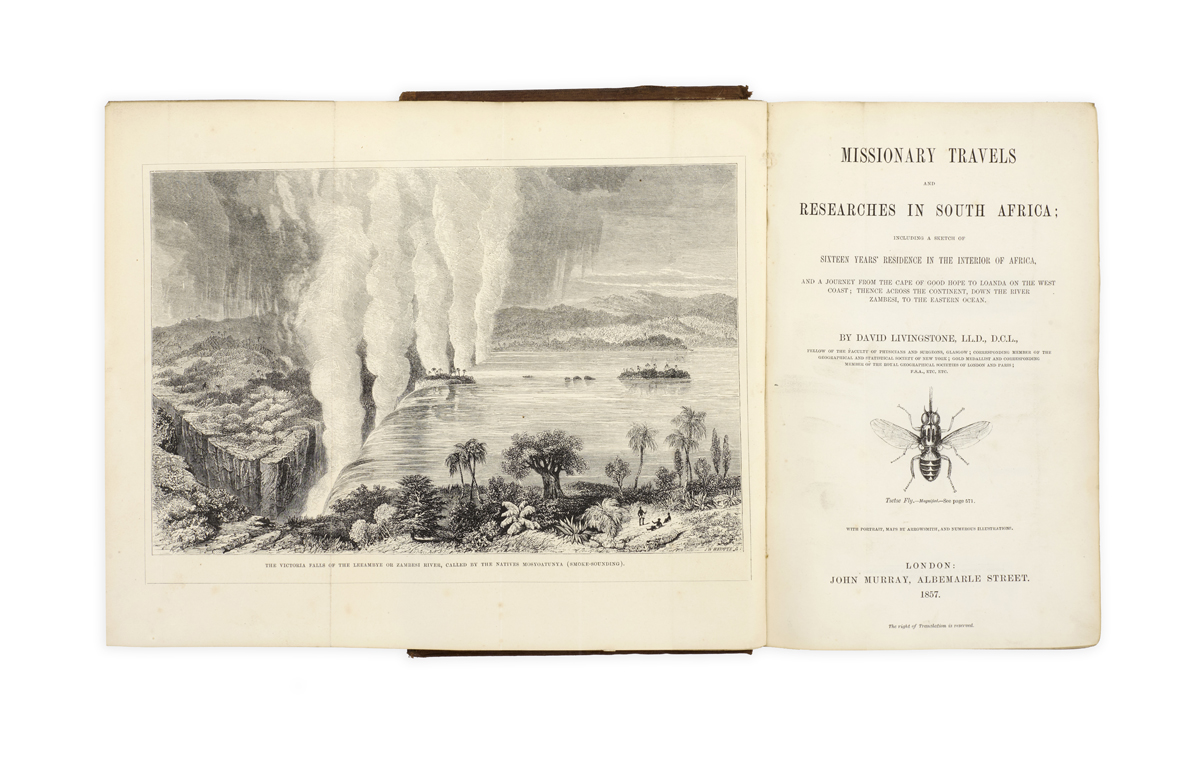 LIVINGSTONE, David. 
Missionary Travels and Researches in South Africa; including a Sketch of sixteen Years' Residence in the Interior of Africa, and a Journey from the Cape of Good Hope to Loanda on the West Coast; thence across the Continent, down the River Zambesi, to the eastern Ocean. 
First edition.  'Livingstone's services to African geography during thirty years are almost unequalled; he covered about a third of the continent from the Cape to the Equator and from the Atlantic to the Indian Ocean.  He made three great expeditions; in 1853-6 (described in this book), 1858-64 and 1865-73, of which the first and third are the most important.  During these years he explored vast regions of central Africa, many of which had never been seen by white men before' (Printing and the Mind of Man).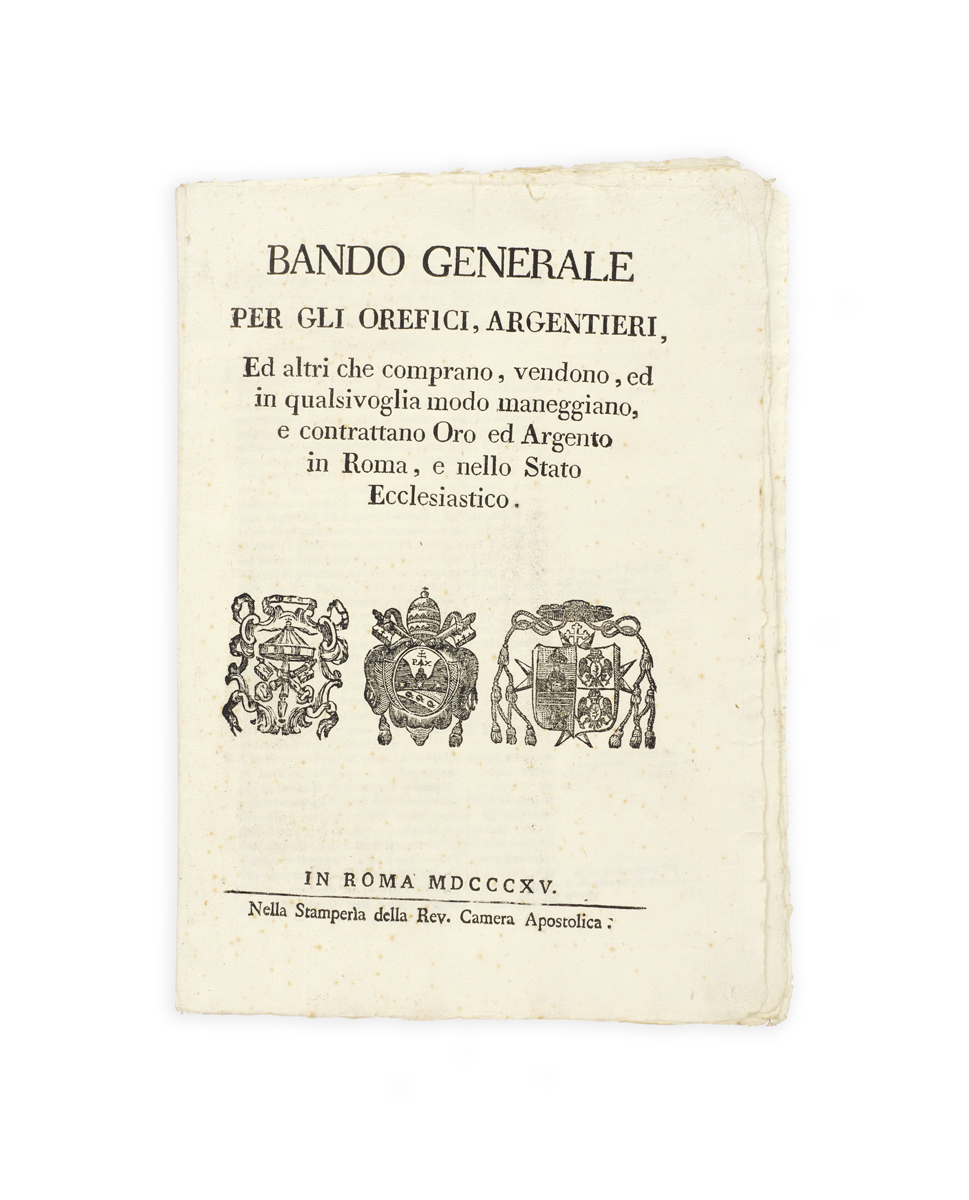 CLEANING UP THE GOLD AND SILVER TRADE [GOLD and SILVER.] 
Bando generale per gli orefici, argentieri, ed altri che comprano, vendono, ed in qualsivoglia modo maneggiano, e contrattano oro e argento in Roma, e nello Stato Ecclesiastico. 
Rare edict governing goldsmiths, silversmiths, and traders in gold and silver operating in Rome and the Papal States, issued by Cardinal Bartolomeo Pacca (1756–1844) in January 1815 as Camerlengo to Pope Pius VII.