'CELESTIAL SCENERY, ELEGIES, TALES' BY A BERMONDSEY RHYMESTER
HOGG, John.
Autograph poetical manuscript, apparently unpublished, comprising a preface dated 3 April 1825 and some forty long poems.
[London, 1825-7].
8vo, notebook, paginated by hand 3-186 (apparently wanting a title-page) with a list of Contents at the front; two poems set to music (by G. Godwin and Moses Lawrence, in total 20 pages); written in brown ink throughout, in a legible hand, with scattered corrections in pencil and pen; first and last pages browned; contemporary calf, rebacked and re-cornered, new endpapers.
£1350

Approximately:
US $1867
€1564
Added to your basket:
Autograph poetical manuscript, apparently unpublished, comprising a preface dated 3 April 1825 and some forty long poems.
A fascinating volume of manuscript verse by an otherwise unknown poetaster, probably based in Southwark. In his grandiloquent Preface, Hogg explains that his poems are designed to excite in the reader the pleasurable contemplation of heaven, via 'the Study of Nature' and of our souls. 'Celestial Scenery, Elegies, Tales, &c will be found in this little work!'

'Visionary Scenes', which opens the volume, is in the first category – an extended metaphysical poem in which the author ascends in dream to meet the shades of his father and of two ministers named Abdy and Mason. There are elegies on notables – Princess Charlotte, George III (set to music) and Edward, Duke of Kent; as well as a series of 'Poetical Flights' 'on the Trial of a female Exile, who left this Kingdom, to seek shelter abroad, through the false accusation of Over-Ruling Power', then on her death, and ascension to Elysium, followed by an account of her funeral procession. This is almost certainly the maligned Princess Caroline, whose funeral in 1821 saw unrest and the killing of two bystanders by the Life Guards: 'Tyrannic force shall show its marshall sway / And cause defenceless men this day to rue'.

There is also a series of elegies to less well-known figures, mostly of Bermondsey and Rotherhithe: Jesse Curling, Esq., (a merchant and shipbuilder); Master Henry Thomas, aged 5; Rev John Townshend (founder of the London Asylum for the Deaf and Dumb); 'Daniel Wade Richardson, Coal Meeter'; Daniel Day, 'seized with Death at Sea'. These may have been produced to order, as there are several other occasional poems including a 'A Recital for Youth, on New Year's Day', apparently written for a Miss Garth at the request of her parents, as well as topographical celebrations of the residences of Jesse Curling (see above) and Robert Slade of Lambeth (whose fortune made as proctor in the Doctors' Commons, passed to his son the virtuoso and collector Felix Slade, of the eponymous professorships). There are also several transparent pieces about patronage – 'The Poet's Petition' ('to the Rich apply for aid / In ev'ry art, in ev'ry Trade'), and 'The Poet's Disasters', in which an attempt to woo a patroness falls flat when he splutters his way through a recitation then knocks over some furniture, injuring a lapdog.

The 'Tales' include 'Insanity, or the fatal Catastrophe!', 'The reduced Merchant', 'The General and Spider', and 'Nick the Conjuror, or the Diamond Ring', as well as another metaphysical work: 'Colin, Phillis, and Rover: their Affection and Ascent to the Elysian Fields'. In this abruptly tragic piece, Phillis forsakes Colin for a wealthier older man; Colin drowns himself in a brook; Phillis realises her error and throws herself off a cliff. So much for the first part – in the longer 'Continuation', the ghosts of Colin and Phillis return to lift their friend Rover from his despond and grant him a lengthy vision of the afterlife:

Then I behel'd (sic) the fields call'd the Elysian
That look'd resplendent as eternal Summer
Where Briton, Frenchman, Dutchman, & the Greecian
Drunk angels Nectar from an Arial Rummer …

The two pieces set to music are the Ode to the memory of George III, and 'The Discovery. A Pastoral Strain', dated 1814, set by Moses Lawrence, leader of the band at the Royal Amphitheatre.

We cannot trace the appearance of any of Hogg's poetry in print, which is not particularly surprising. But for all its obsession with celestial machinery the volume offers a fascinating insight into the preoccupations of an amateur poet in late Georgian London.
You may also be interested in...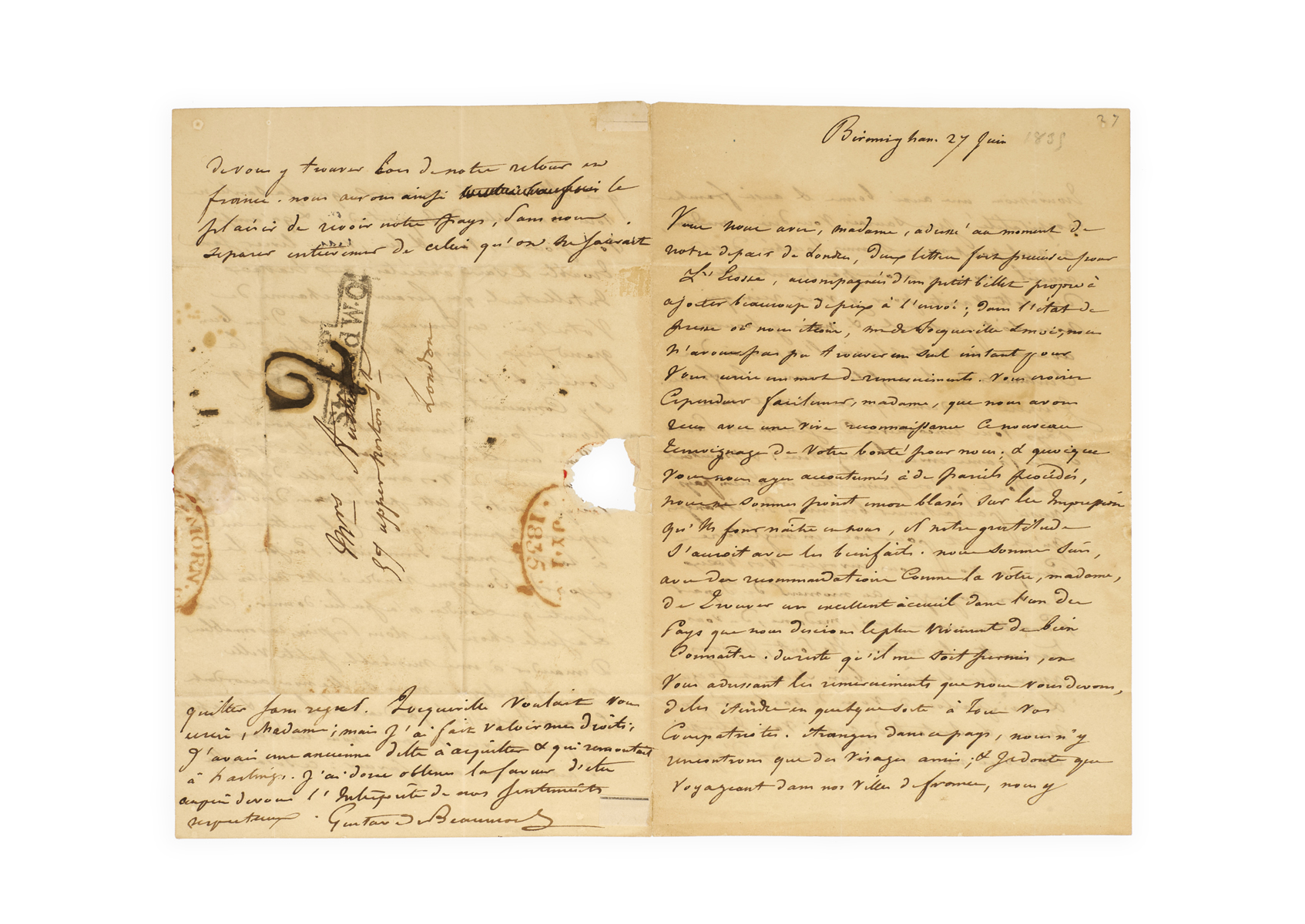 PRAISE FOR ENGLISH HOSPITALITY FROM TOCQUEVILLE AND BEAUMONT BEAUMONT, Gustave-Auguste de la Bonninière de (1802–1866), French prison reformer and travel companion to Alexis de Tocqueville.
Autograph letter signed ('Gustave de Beaumont') to Sarah Austin.
A warm and personal autograph documenting the relationship between the reformer Beaumont and one of the most accomplished contemporary catalysts of philosophical exchange, the translator Sarah Austin. In 1831 Beaumont was sent by the French government with his friend and colleague Alexis de Toqueville to study the prison system in America, a trip that resulted in several publications, not least Toqueville's De la démocratie en Amérique. Beaumont was particularly struck by the number of Black slaves in America and in the same year as this letter wrote a novel on the subject.
HESIOD.
Poemata Hesiodi Ascraei, quae extant, omnia, Graece, cum varia interpretatione Latina. Una cum doctissimis Ioannis Tzetzis grammatici in omnia poemata eiusdem scholiis, nunc primum ex Graeco sermone in Latinum conversis, et in lucem editis, a Georgio Henischio ...
A handsome copy of Hesiod's poems, in a Justice and Lucretia binding, used by a student in Strasbourg at the end of the eighteenth century.