HIMALAYAN BOTANY
HOOKER, Joseph Dalton. 
Himalayan Journals: Notes of a Naturalist in Bengal, the Sikkim and Nepal Himalayas, the Khasia Mountains … A new edition, carefully revised and condensed … 
London, John Murray, 1855. 
2 vols, 12mo, pp. I: xvi, 348, II: xii, 345, [1 (blank)]; two wood-engraved frontispieces (signed J.W. Whymper), one red-printed lithographic plate (vol. I), and 77 wood-engravings within the text (some full-page); some light foxing; overall a very good set in contemporary polished green calf, spines richly gilt in compartments with contrasting lettering- and numbering-pieces, marbled edges and endpapers; a little wear to extremities, some sunning to spines and marks to covers; inscription to front endpaper vol. I 'Edward Durnford with the best wishes of his friend George G. Arbuthnot. On his leaving Eton, Election 1862'.
£300

Approximately:
US $367
€347
Added to your basket:
Himalayan Journals: Notes of a Naturalist in Bengal, the Sikkim and Nepal Himalayas, the Khasia Mountains … A new edition, carefully revised and condensed … 
Second edition of a classic of Himalayan travel literature in the early years of Himalayan exploration, by the celebrated botanist Joseph Dalton Hooker (1817–1911). 

Hooker, his father's successor as director of Kew Gardens and a close friend of Darwin, left England for India in the winter of 1847 and spent three years travelling through the Sikkim and East Nepal Himalayas, alongside the British government agent Dr Archibald Campbell (1805–1874).  Their journey took them through a number of locations as yet unexplored by Europeans; it also included, in November 1849, their arrest and imprisonment by the Dewan of Sikkim (II, pp. 206-245), which was only ended by the intercession of the British government (Darwin, in a letter to Hooker of March 1854, earmarked this passage as being 'very interesting').  Hooker's primary interest was, however, botany, and particularly geographical botany, a field of study he himself pioneered.  Altogether Hooker managed to collect over seven thousand species in India and Nepal; his discovery of more than twenty-five varieties of Rhododendrons helped contribute to the so-called 'Rhododendron' craze among British gardeners (see ODNB). 

Hooker first published of his travel account in 1854, which he dedicated to Darwin.  This second edition was published the following year, and features a text revised and abridged by the author himself.  While it does not include the foldout map or the coloured lithographs of the first edition, it does retain the many woodcut plates which depict the landscape, customs, and wildlife of the Himalayas and its people. 

Yakushi H236. 
You may also be interested in...
MILES, William J., J.I. LUPTON, and Benjamin HERRING (illustrator).
Modern practical Farriery: A complete Guide to all the relates to the Horse, its History, Varieties, and Uses – Breaking, Training, Feeding, Stabling, and Grooming – how to buy, keep, and treat a Horse in Health and Disease, etc., etc., forming a complete System of the veterinary Art, as at Present practised at the Royal Veterinary College, London … with numerous Illustrations and a Series of anatomical Plates, engraved from original Drawings from Nature … to which is added an Essay on the Diseases and Management of Cattle, Sheep, and Pigs.
Miles's comprehensive and generously illustrated treatise on veterinary science. The text first appeared in sixteen monthly parts, issued between 1868 and 1869, before being published in several undated editions in quick succession, accompanied by plates by the sporting artist Benjamin Herring (1830–1871). According to Dingley, 'numbers and states of plates were varied between editions, and both the distribution of the plates throughout the volume, and the order of binding the four sections and the Index etc appear to have been left to the discretion of individual binders'.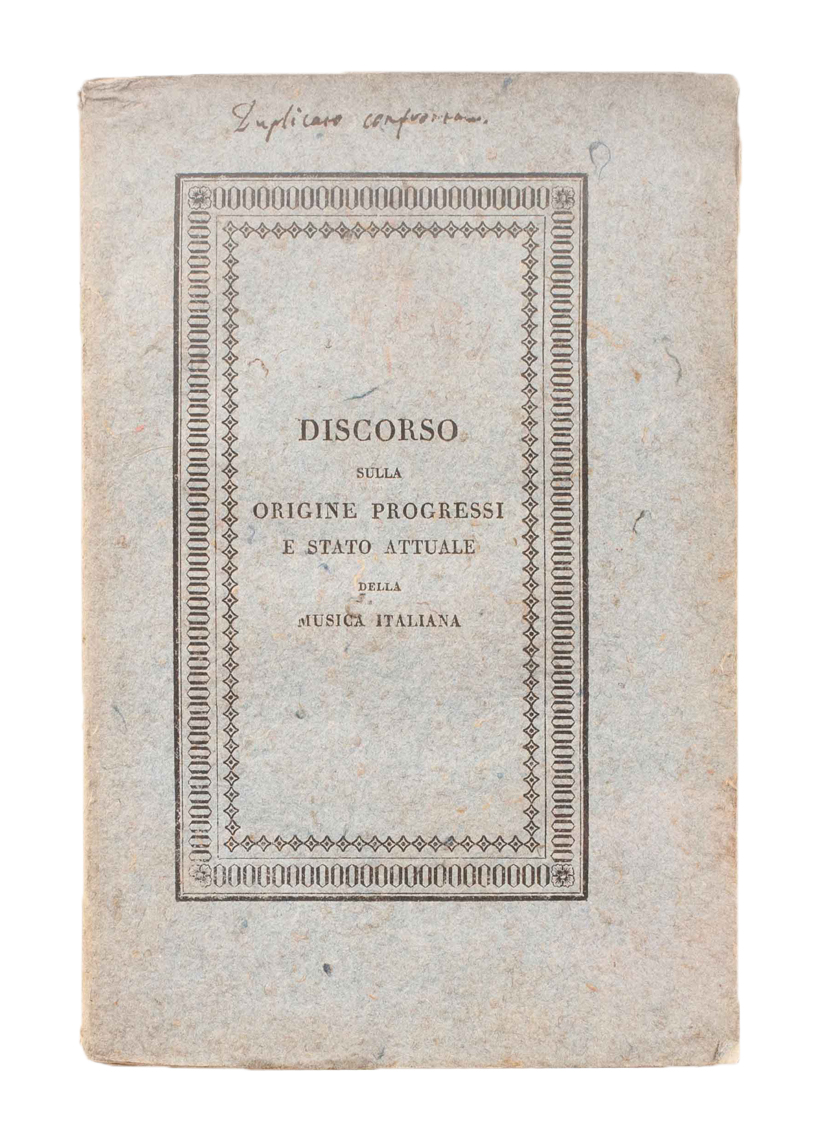 ROSSINI AS A RADICAL MAJER, Andrea. 
Discorso sulla origine, progressi, e stato attuale della musica italiana … 
First edition of Majer's treatise on music, 'a conservative defence of tradition as part of a backlash against the popularity of Rossini's reforms' (Baragwanath, p. 29).