AFTER PETERLOO
[HUNT, Henry.]
Mr. Hunt's triumphant entry in Manchester, from Lancaster Gaol.
Nottingham, Ordoyno, [1819].
4to handbill; slightly toned, a little chipping at extremities, but withal very good.
£450

Approximately:
US $561
€531
Added to your basket:
Mr. Hunt's triumphant entry in Manchester, from Lancaster Gaol.
Unrecorded handbill reporting on Hunt's arrival in Manchester on 31 August 1819.

After the Peterloo Massacre on 16 August 1819, Hunt was arrested, charged with seditious conspiracy and transferred to Lancaster Gaol. 'Bailed, he challenged the competence of the Lancashire grand jury and its foreman Lord Stanley, and mustered popular support in the North-West and London' (History of Parliament online), passing through Bolton on his way back to Machester – 'the populace at every place he came to did the utmost to display their voluntary homage'. The present handbill praises Hunt as a 'tough and faithful instrument' for reform but warns that 'discipline is necessary to Reformers', and in-fighting should be avoided.
You may also be interested in...
PATRIOTIC SONGS FOR GERMAN-SPEAKERS IN REVOLUTIONARY FRANCE [LAMEY, August.]
Dekadische Lieder für die Franken am Rhein.
First (and only?) edition of this very uncommon collection of hymns and patriotic songs printed in Strasbourg for the German-speaking population of the French Rhineland, by the prolific Alsatian writer, dramatist, and poet August Lamey (1772–1861).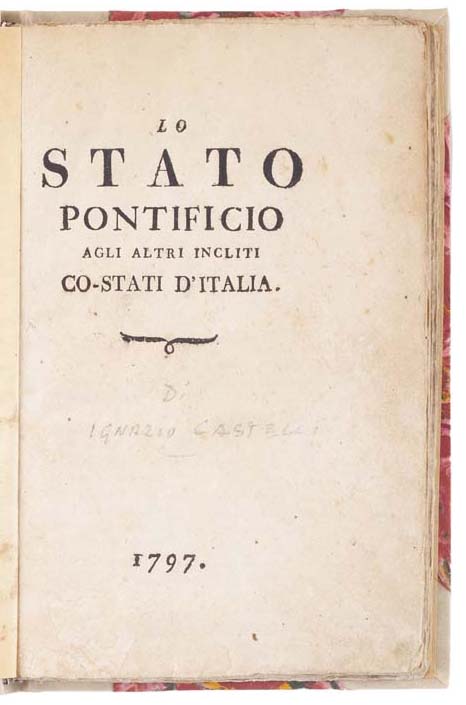 [FRENCH REVOLUTIONARY WARS.]
Lo Stato Pontificio agli altri incliti co-stati d'Italia.
Anonymous anti-French pamphlet, which saw a number of printings in 1796 and 1797, and calls for a general insurrection against the French in Italy. The pamphlet draws very heavily, albeit without any acknowledgment of its debt, on Francesco Gusta's 1794 Saggio critico sulle cruciate, in which he argued both that the Crusades against the Turks were justified on the grounds that the Turks wished both to destroy Christianity and to enslave Europe, and that the Republican French wished to do the same; therefore he argued for a similar popular movement against the French. Lo Stato Pontifico presents itself as the Papal States' attempt to rally support for such a movement throughout Italy.