AFTER PETERLOO
[HUNT, Henry.]
Mr. Hunt's triumphant entry in Manchester, from Lancaster Gaol.
Nottingham, Ordoyno, [1819].
4to handbill; slightly toned but very good.
£450

Approximately:
US $583
€492
Added to your basket:
Mr. Hunt's triumphant entry in Manchester, from Lancaster Gaol.
Unrecorded handbill reporting on Hunt's arrival in Manchester on 31 August 1819.

After the Peterloo Massacre on 16 August 1819, Hunt was arrested, charged with seditious conspiracy and transferred to Lancaster Gaol. 'Bailed, he challenged the competence of the Lancashire grand jury and its foreman Lord Stanley, and mustered popular support in the North-West and London' (History of Parliament online), passing through Bolton on his way back to Machester – 'the populace at every place he came to did the utmost to display their voluntary homage'. The present handbill praises Hunt as a 'tough and faithful instrument' for reform but warns that 'discipline is necessary to Reformers', and in-fighting should be avoided.
You may also be interested in...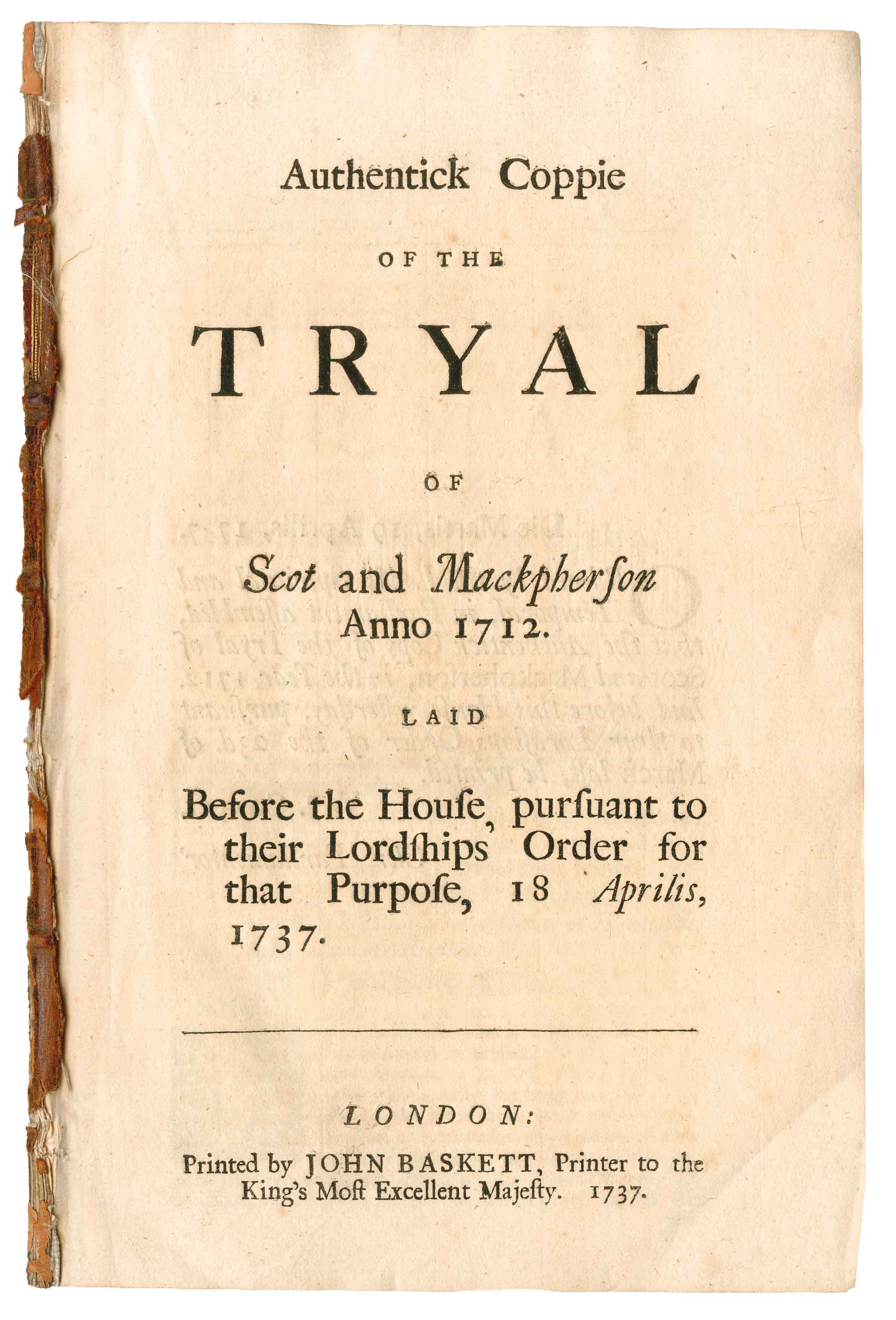 [TRIALS.]
Authentick Coppie of the Tryal of Scot and Mackpherson Anno 1712. Laid before the House, pursuant to their Lordships' Order for that Purpose, 18 Aprilis, 1737.
First edition of this London trial of Scottish cattle-rustlers. Donald McPherson, a merchant drover, was driving black cattle from the North of Scotland into England, when he was attacked near the river Tweed by William Laidly, or 'Scot', his brother Walter and their gang. McPherson was dragged backwards from his horse by his hair and severely beaten with horse-whips, and his servant's finger was nearly severed with a shearing hook. The Laidlys proceeded to drive the cattle over rough terrain, laming a number of them.
The prosecutor was James Erskine, Lord Grange. The trial stated that several of the witnesses were unable to speak English, so one of the jurors is asked to translate. His fellow jurors include a watchmaker, a musician and William Paterson, a bookbinder.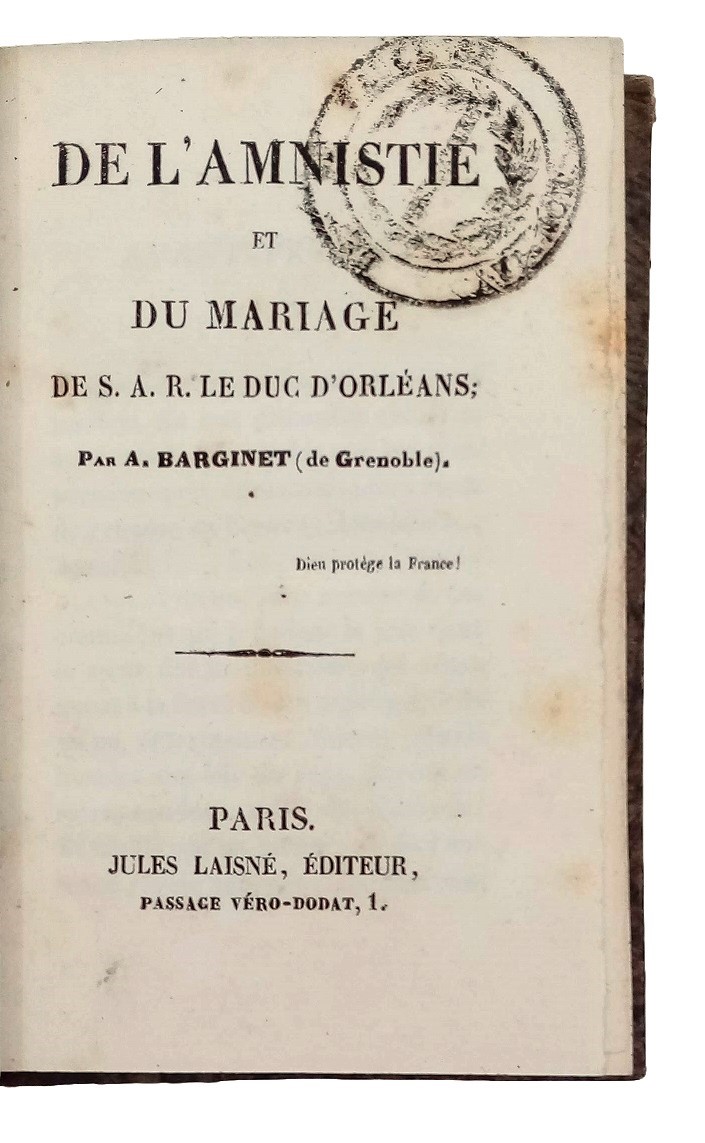 BARGINET, Alexandre-Pierre.
De l'amnistie et du mariage de S. A. R. le duc d'Orléans.
First edition, rare. A work commending the Prince Royal, Ferdinand Philippe of Orléans, whose talent at exercising influence and popular support gave a hopeful outlook for the constitutional monarchy in France – a position strengthened by his marriage to Hélène of Mecklenburg-Schwerin in May 1837. The Prince's ability and bright future was poignantly attested by the political struggles which Ferdinand's father Louis Philippe I suffered after his son's untimely death in 1842 and his own subsequent abdication in 1848.