ILLUMINATED
INTITIAL from a manuscript Gradual or Antiphonal; initial 'U' painted in rose red with elaborate white tracery, the centre filled with coloured foliage and blue grapes, all against a richly burnished gold ground, square notation on red 4-line staves and one partial line of text written in brown ink in a gothic hand on the verso, cut to shape, one corner chipped, in fine condition. 90 x 90 mm
Italy, ? Ferrara, c. 1475.
£750

Approximately:
US $966
€867
Added to your basket:
INTITIAL from a manuscript Gradual or Antiphonal; initial 'U' painted in rose red with elaborate white tracery, the centre filled with coloured foliage and blue grapes, all against a richly burnished gold ground, square notation on red 4-line staves and one partial line of text written in brown ink in a gothic hand on the verso, cut to shape, one corner chipped, in fine condition. 90 x 90 mm
The stylized decoration and use of bright colours, including the deep blue grape motif, recalls the art of Ferrara at the end of the third quarter of the 15th century. Compare, for example, an initial in a Bible painted for the Este family by Taddeo Crivelli (active from 1451, died 1479) which is now in Modena (Este Library, Ms. V. G. 12; see M. Salmi, Italian Miniatures, 1954, pl. LIII). Compare also the similar initial in a slightly later manuscript (Stralsund, Stadtarchiv, Ms. IV. 290; see E. Rothe, Buchmalerei aus Zwolf Jahrhunderten, 1965, p. 270, pl. 129).
You may also be interested in...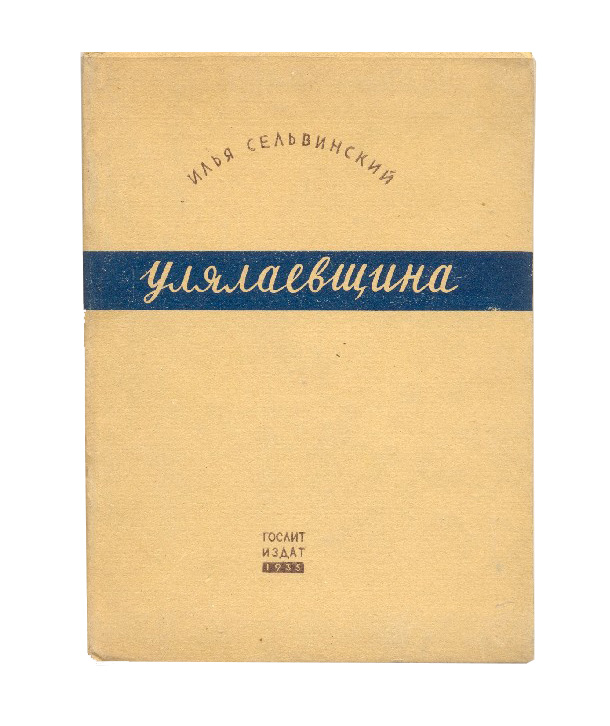 SEL'VINSKII, Il'ia Lvovich.
Ulialaevshchina: epopeia [The Ulialaev uprising: an epic].
Fourth edition (first, 1927) of Sel'vinskii's first and most successful verse epic. Ulialaevshchina describes the fortunes of a kulak, Ulialaev, 'who seized an estate from its pre-Revolutionary owner and was later defeated in an anarchist rebellion by the Red Army. Selvinsky's depictions are folkloric. The hero's wife, first taken from the landowner, is brutally murdered, her corpse dragged by a horse, and her head impaled on a spear by the Red commander. Ulialaev himself is shot and decapitated. In the 1950s this tale had to be rewritten, and its hero became Lenin' (Evelyn Bristol, A History of Russian Poetry, OUP, 1991, p. 255).
PLATES BY HOLLAR [HOLLAR.]
The Office of the Holy Week according to the Missall and Roman Breviary. Translated out of French with a new and ample Explanation taken out of the Holy Fathers, of the Mysteries, Ceremonies, Gospels, Lessons, Psalms, and of all that belongs to his Office. Enricht with many Figures.
First edition of the French Catholic liturgy in English for the two weeks from Palm Sunday to Quasimodo or Low Sunday, translated and with a dedication and explanatory footnotes by Sir Walter Kirkham Blount.