ILLUMINATED
INTITIAL from a manuscript Gradual or Antiphonal; initial 'U' painted in rose red with elaborate white tracery, the centre filled with coloured foliage and blue grapes, all against a richly burnished gold ground, square notation on red 4-line staves and one partial line of text written in brown ink in a gothic hand on the verso, cut to shape, one corner chipped, in fine condition. 90 x 90 mm
Italy, ? Ferrara, c. 1475.
£750

Approximately:
US $980
€889
Added to your basket:
INTITIAL from a manuscript Gradual or Antiphonal; initial 'U' painted in rose red with elaborate white tracery, the centre filled with coloured foliage and blue grapes, all against a richly burnished gold ground, square notation on red 4-line staves and one partial line of text written in brown ink in a gothic hand on the verso, cut to shape, one corner chipped, in fine condition. 90 x 90 mm
The stylized decoration and use of bright colours, including the deep blue grape motif, recalls the art of Ferrara at the end of the third quarter of the 15th century. Compare, for example, an initial in a Bible painted for the Este family by Taddeo Crivelli (active from 1451, died 1479) which is now in Modena (Este Library, Ms. V. G. 12; see M. Salmi, Italian Miniatures, 1954, pl. LIII). Compare also the similar initial in a slightly later manuscript (Stralsund, Stadtarchiv, Ms. IV. 290; see E. Rothe, Buchmalerei aus Zwolf Jahrhunderten, 1965, p. 270, pl. 129).
You may also be interested in...
LECTIONARY,
in French and Latin, with readings from the Gospel of John, the Book of Wisdom, and Ephesians; a partial bifolium (leaves not consecutive), double columns of 30 lines written in a good formal gothic bookhand in brown ink, ruled lightly with ink, five two-line initials delicately painted in pink or blue against burnished gold grounds and with ivyleaf extensions, ten one-line initials in burnished gold against pink and blue grounds, capitals touched in yellow, Latin passages underlined in red, original numbering in red at head of each leaf 'xii. xix.' and 'xiii. iiii.', rubrics; trimmed at foot, without loss of text, and at fore-margins, occasionally affecting a letter or two, but in excellent condition. 202 x 141 mm (172 x 120 mm)
The use of French indicates that the parent manuscript was intended for a lay reader or audience, while the quality of the script and illumination points to a prestigious commission. The passages in French are each preceded by the first few words of the original Latin text, underlined in red.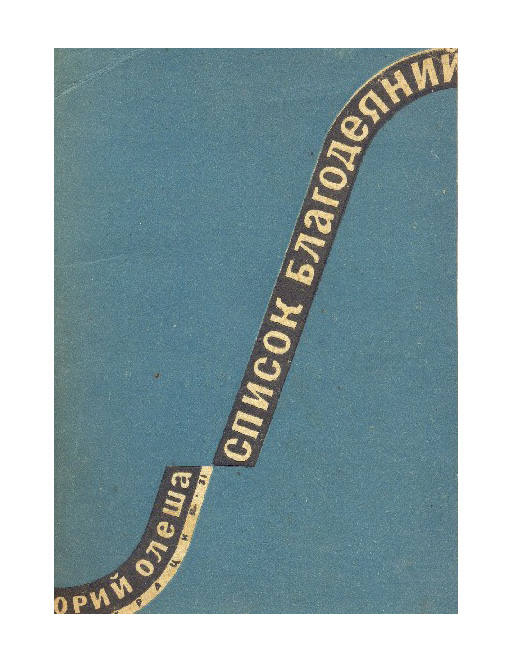 OLESHA, Iurii Karlovich.
Spisok blagodeianii … [List of blessings].
First edition of the writer's only original play. Olesha (1899–1960) is best known for the short novel Zavist' (Envy, 1927), which was fêted by both Soviet and émigré critics and established the young writer's reputation almost overnight. 'A writer of great distinction, … as subtle – and sometimes as elusive – as the best representatives of that Western psychological school with which he had so many affinities, … Olesha wrote comparatively little …, and when the volume of his collected works was published in 1934, it contained all his fiction. Yet his one novel and the several short stories and plays are a more remarkable and lasting phenomenon of modern Russian literature than the many bulky tomes of more fortunate and more popular Soviet writers' (Slonim, Soviet Russian Literature, p. 124f).