ILLUMINATED
INTITIAL from a manuscript Gradual or Antiphonal; initial 'U' painted in rose red with elaborate white tracery, the centre filled with coloured foliage and blue grapes, all against a richly burnished gold ground, square notation on red 4-line staves and one partial line of text written in brown ink in a gothic hand on the verso, cut to shape, one corner chipped, in fine condition. 90 x 90 mm
Italy, ? Ferrara, c. 1475.
£750

Approximately:
US $960
€852
Added to your basket:
INTITIAL from a manuscript Gradual or Antiphonal; initial 'U' painted in rose red with elaborate white tracery, the centre filled with coloured foliage and blue grapes, all against a richly burnished gold ground, square notation on red 4-line staves and one partial line of text written in brown ink in a gothic hand on the verso, cut to shape, one corner chipped, in fine condition. 90 x 90 mm
The stylized decoration and use of bright colours, including the deep blue grape motif, recalls the art of Ferrara at the end of the third quarter of the 15th century. Compare, for example, an initial in a Bible painted for the Este family by Taddeo Crivelli (active from 1451, died 1479) which is now in Modena (Este Library, Ms. V. G. 12; see M. Salmi, Italian Miniatures, 1954, pl. LIII). Compare also the similar initial in a slightly later manuscript (Stralsund, Stadtarchiv, Ms. IV. 290; see E. Rothe, Buchmalerei aus Zwolf Jahrhunderten, 1965, p. 270, pl. 129).
You may also be interested in...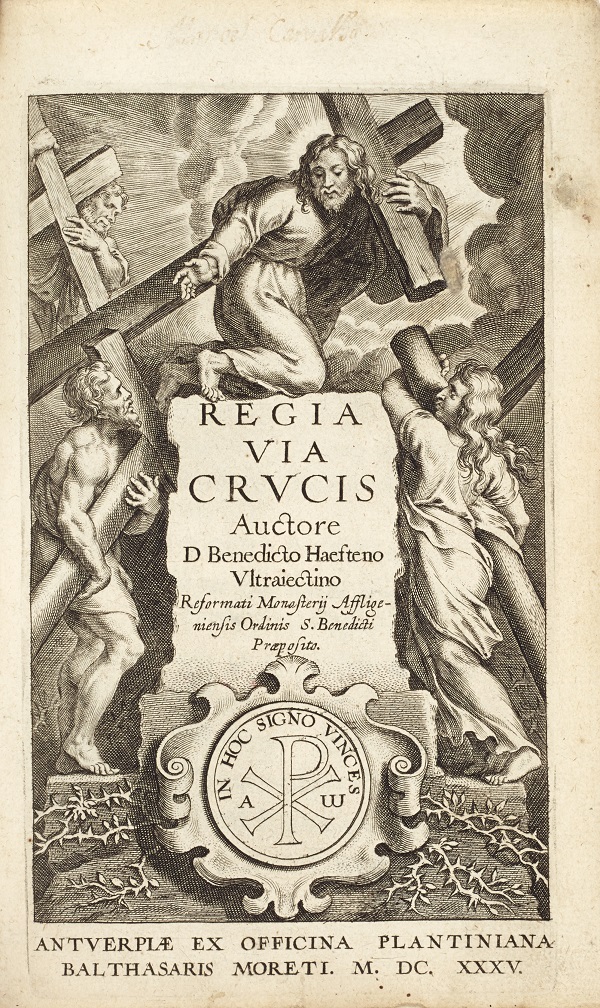 DEVOTIONAL EMBLEM BOOK WITH RUBENS TITLE-PAGE HAEFTEN, Benedictus van.
Regia via crucis.
First edition of an important counter-reformation devotional emblem book, with a title-page designed by Peter Paul Rubens. Haeften (1588-1648) was provost of the Benedictine abbey of Affligem, Belgium, and played an important role in the reform of the Benedictine order. The Regia via crucis was his most important work, running to over 40 editions, including translations into Dutch, French, Spanish and other languages. The work was intended 'to provide the (Catholic) reader with a good understanding of the significance of the Stations of the Cross, to inspire imitation of Christ's example, and thereby to become acquainted with the way to the Kingdom of God. The rather abstract spiritual journey that the human soul had to make towards this goal is made more concrete by the ... selection of such principal figures as the Virgins Anima – the personification of the human soul – and Staurophila – a Greek name that literally means the one who adores the cross. Their experiences in the imitation of Christ and the resulting lessons of life were nothing else but allegorical examples that were to lead every reader to the just and good. The engraved illustrations are very important in this regard as they support the meaning of the text in a simple and clear emblematic manner.' (The illustration of books published by the Moretuses p. 118-9).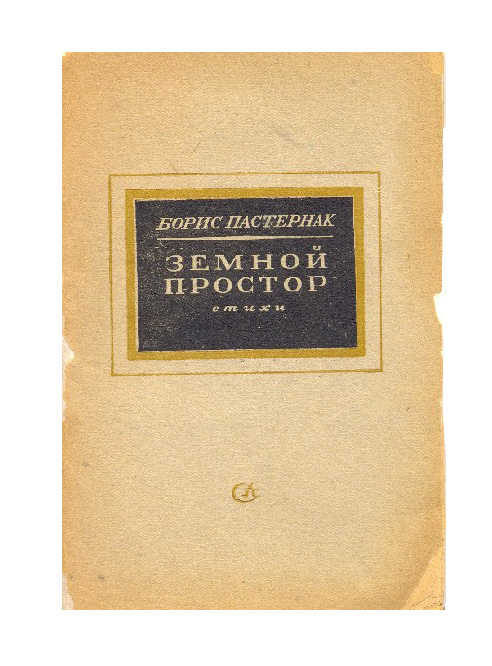 PASTERNAK, Boris Leonidovich.
Zemnoi prostor [Expanses of Land].
First edition: Pasternak's war poems.