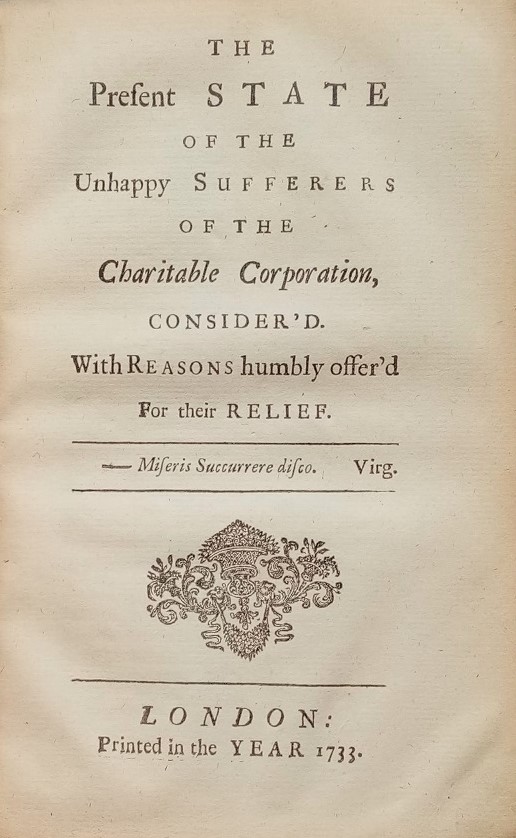 ECONOMIC CONSEQUENCES OF DAMAGED TRUST
[INDUSTRIOUS POOR, Charitable Corporation for the Relief of.]
The present state of the unhappy sufferers of the Charitable Corporation consider'd. With reasons humbly offer'd for their relief.
London, [n.p.], 1733.
8vo in fours, pp. [iv], 24; small marks on half title; a very good copy, bound in recent boards.
£350

Approximately:
US $481
€413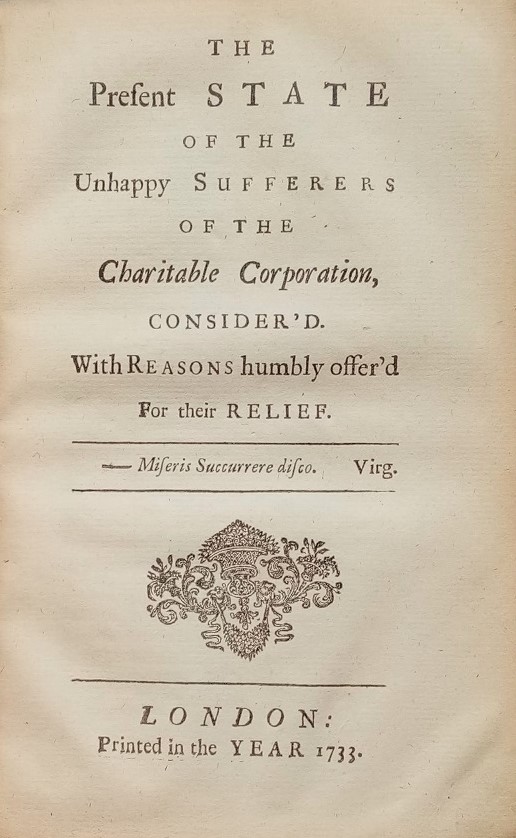 Added to your basket:
The present state of the unhappy sufferers of the Charitable Corporation consider'd. With reasons humbly offer'd for their relief.
First and only edition of an anonymous plea to Parliament for the rescue of the Charitable Corporation for the Relief of the Industrious Poor, a pawnbroker which granted credit at low interest to the 'deserving poor' who left a pledge. Founded in 1707, in the 1720s the Corporation came under scrutiny for large-scale fraud. In 1731 the City of London petitioned Parliament for relief against the interest rates, which witnesses reported to reach 30 percent, and against the sale of pledged goods at a price much lower than production cost. Four years and numerous pamphlets passed before Parliament was able to summon the evidence and the fraudsters, to deliver the act which devolved the Corporation's assets, and to grant lottery options to shareholders unconnected with the frauds.

The author of this anonymous pamphlet stands out as one of the very few, if not the only, voices in the contemporary pamphlet debate to defend the Corporation. He shifts the polemic from the emotional and circumstantial issue of fraud to the economic argument of loan interest: usury, he contends, is a lethally generic label, which is often unduly applied to practices that not only abstain from extortion, but, through the timely provision of ready cash, guarantee the very survival of businesses necessary to the employment of many. As well as launching an appeal on behalf of the blameless members of an endangered institution, this tract makes a cogent case for the attention due to cash-flow in any business, for the necessity of credit, and for the political appropriateness of Parliamentary measures to promote easy access to liquidity.

ESTC T121015; Goldsmiths' 7152.
You may also be interested in...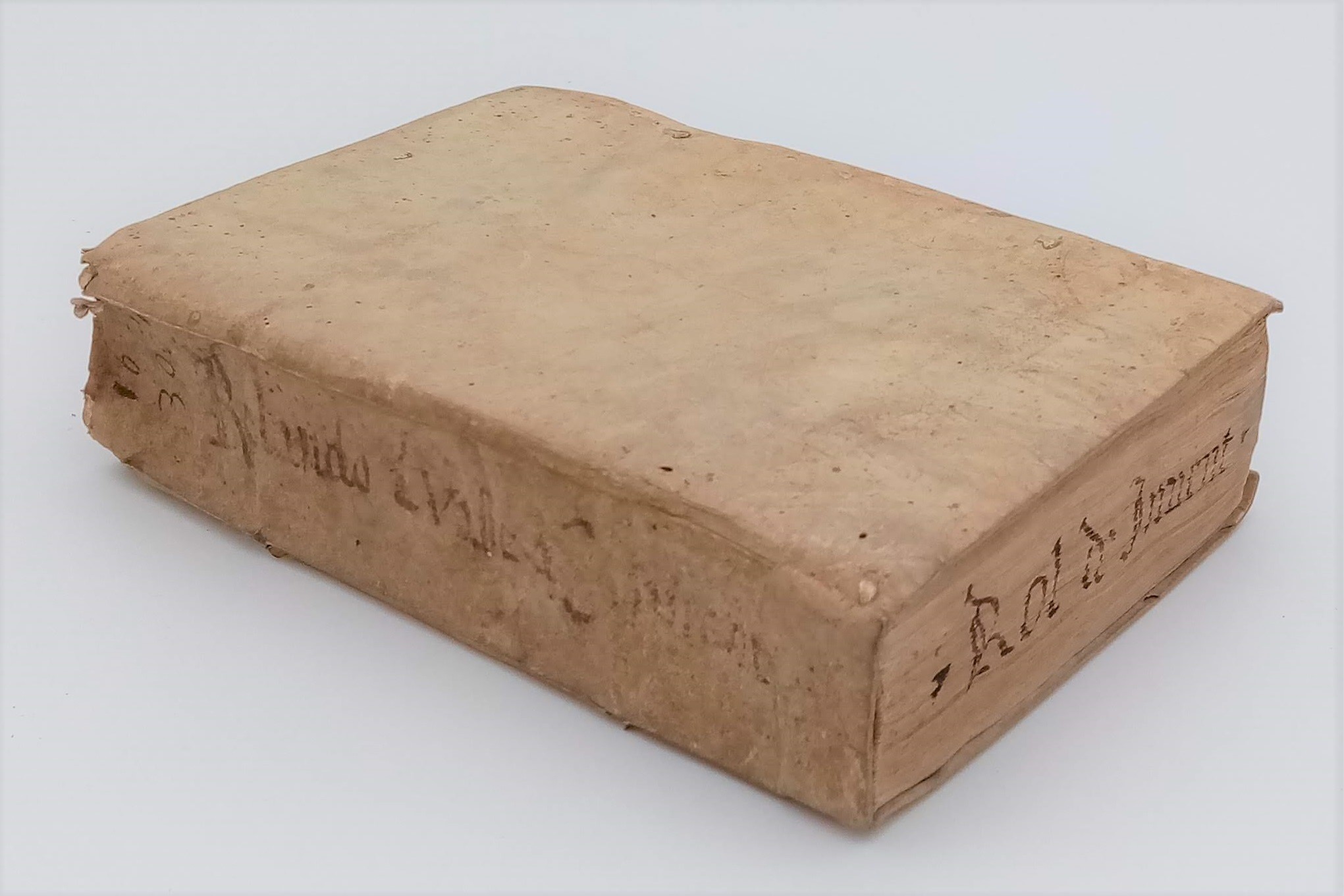 VALLE, Rolando della.
Tractatus non minus utilissimus quam necessarius de inventarii confectione.
Very rare first edition of the successful Tractatus of the statesman and jurist Rolando della Valle. It is the first work to systematically treat the procedure for the drawing of organized lists or inventories to be used in the practice of inheritance law.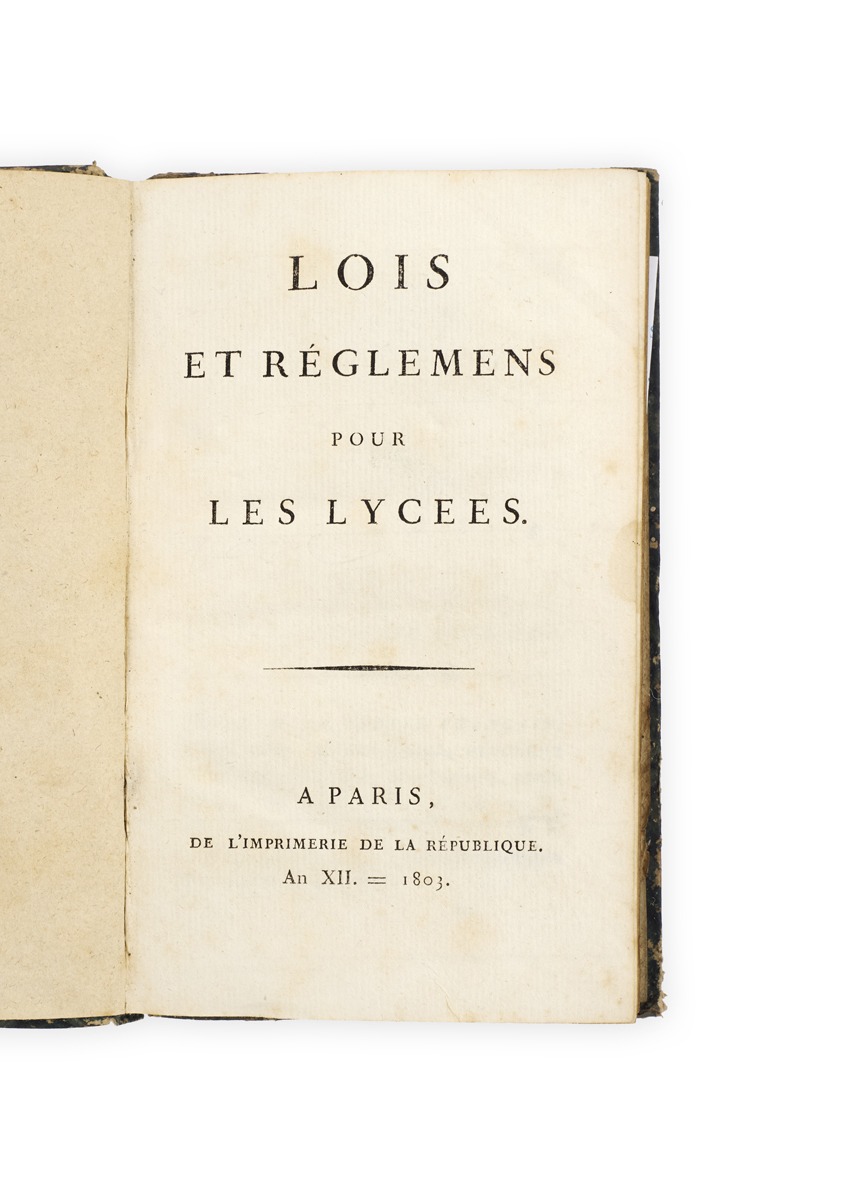 NAPOLEON REFORMS FRENCH EDUCATION [EDUCATION.]
Lois et réglemens pour les lycees.
Rare first edition of this extremely interesting collection of laws and regulations governing secondary education in France, reflecting the historic changes enacted between 1801 and 1803 by Napoleon as First Consul, in particular the establishment of lycées.