ONLY EDITION OF A GREAT HOAX
INGHIRAMI, Curtio.
Ethruscarum antiquitatum fragmenta, quibus urbis Romae, aliarumque gentium primordia, mores, et res gestae indicantur ...
'Frankfurt', [i.e. Florence, Amadore Massi], 1637.
Folio, pp. [xxiv], 324; with 235 woodcuts and engravings, including four folding plates, including maps, illustrations of antiquities and a genealogical tree, half-title, text within frame throughout, initials; first two quires and first three plates reinforced at gutter, some old repairs to back of first plate, a few marks, some browning towards end, otherwise a very good copy; early 20th-century half vellum over marbled boards, gilt lettering-piece (chipped) to spine; board edges somewhat rubbed; contemporary ownership inscription to front free endpaper ('ad usum F. Fortunati Marie a S. Antonio ordinis excalcearum St Trinitatis ...').
£650

Approximately:
US $849
€719
Added to your basket:
Ethruscarum antiquitatum fragmenta, quibus urbis Romae, aliarumque gentium primordia, mores, et res gestae indicantur ...
First edition. In 1634, Inghirami (1614-55) made an incredible 'discovery' in the grounds of his family villa at Scornello. He claimed to have uncovered a cache of Etruscan archaeological artefacts: a lamp, a damaged human figurine and a huge number of inscriptions and tablets. The finds are illustrated in this volume, in woodcuts and engravings, along with the strange vessels in which they had been preserved, capsules called 'scariths', made of caked mud and hair. These discoveries attested to the great significance of Volterra, a few miles from Scornello, as one of the principal Etruscan centres, and Inghirami devotes much of his book to 'translating' fragments of a chronicle of 'Vulterran' history by one Prosperus Fesulanus.

In reality, Inghirami's amateur archaeology was a complete forgery: he was in fact a bored, well-educated, twenty-something of aristocratic stock, who decided to falsify an Etruscan legacy in his own, 'Vulterran' corner of Tuscany. Inghirami's ancestry, displayed in a wonderful foldout family tree, included Tomasso Inghirami (1470-1516), prefect of the Palatine Library, poet laureate, and a correspondent of Erasmus.

BL German 1601-1700, I54; Freeman, Bibliotheca fictiva, 353.
You may also be interested in...
A VISION OF CHRIST AFONSO I, king of Portugal.
Iuramento com que el rey dom Afonso Henriquez confirmou a visao de Christo nosso saluador.
Rare first edition of this account of Afonso I's vision of Christ on the cross on the eve of the Battle of Ourique, with a magnificent narrative woodcut to the title. On 25 July 1139 Afonso defeated Muslim forces under the Almoravid commander Muhammad Az-Zubayr Ibn Umar at Ourique, and was immediately proclaimed as the first king of Portugal.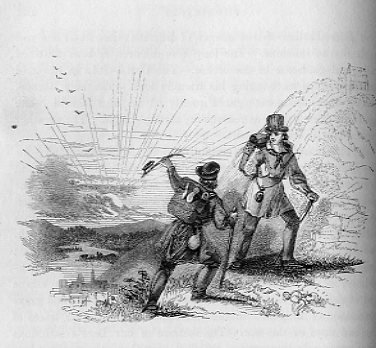 HOWITT, William.
The rural and domestic life of Germany: with characteristic sketches of its cities and scenery, collected in a general tour, and during a residence in the country in the years 1840-41 and 42.
A fine copy of the first edition of Howitt's account of his travels in Germany and Austria, and one of the best books in English about German life at the time. Howitt had moved with his family to Heidelberg in 1840 and stayed in Germany for more than two years on account of the education of his older children. According to a review of his book in the Allgemeine Zeitung 'The rural and domestic Life of Germany' contained the most accurate account of Germany written by a foreigner.