[ISELIN, Isaak]. [WANDALL, Peder Topp trans.]
Philosophiske og Patriotiske Drømme af en Menneskeven. Oversatte af Peder Topp Wandall.
Copenhagen, Frig. Stein, 1774.
8vo, pp. [vi], 254; one or two spots, pp. 9-12 with short fore-edge tear not affecting text, occasional marginal highlighting in pencil, a very good copy bound in contemporary sheep, spine decorated with a gilt floral motif in compartments and a gilt morocco lettering-piece; a little worn, joints rubbed, head of spine chipped to expose headband; contemporary ink ownership inscription to the front flyleaf, contemporary table of contents written in ink on recto and verso of the rear flyleaf, later bookplate to front pastedown.
£400

Approximately:
US $550
€472
Added to your basket:
Philosophiske og Patriotiske Drømme af en Menneskeven. Oversatte af Peder Topp Wandall.
First Danish edition of Iselin's earliest work, the very successful Filosofische und patriotische Träume. First published in 1755, a couple of years after his deeply affecting journey to France, having met among others Rousseau, Fontenelle and Buffon. His reformist version of utopia, a response to Rousseau's ideal state of nature, aimed at sketching the traits of the optimum government in concrete terms of public administration, social structure, education and legality, and at tracing the history of human progress from barbarism to higher states of civility, which was to be the basis of the organic notion of state, as opposed to Rousseau's theory of social contract. Iselin's subsequent articles were infused with natural law arguments, with Leibniz' and Wolff's 'enlightened' logical tools, and with a practical view of religion as active and beneficial participation in the community.

This early reform-utopian works prepared the ground for Iselin's encounter with Quesnay's physiocratic theories: 'Afterwards [i.e. after the Filosofische und patriotische Träume], by good fortune, the Ephémérides du Citoyén came into his hands, after reading which, Quesnay became in his eyes "what Newton is in the eyes of a mathematician"' (Palgrave II, p. 459). Iselin became one of the foremost promoters of physiocracy in Switzerland and Germany.

Translated into Danish by the librarian, writer, and dramatist Peder Topp Wandall (1737-1794).

Rare, WorldCat, KVK, and the Danish Libraries Catalogue locate only 3 copies, 2 in the Det Kongelige Bibliotek in Copenhagen, and 1 in the Statsbiblioteket in Århus.
You may also be interested in...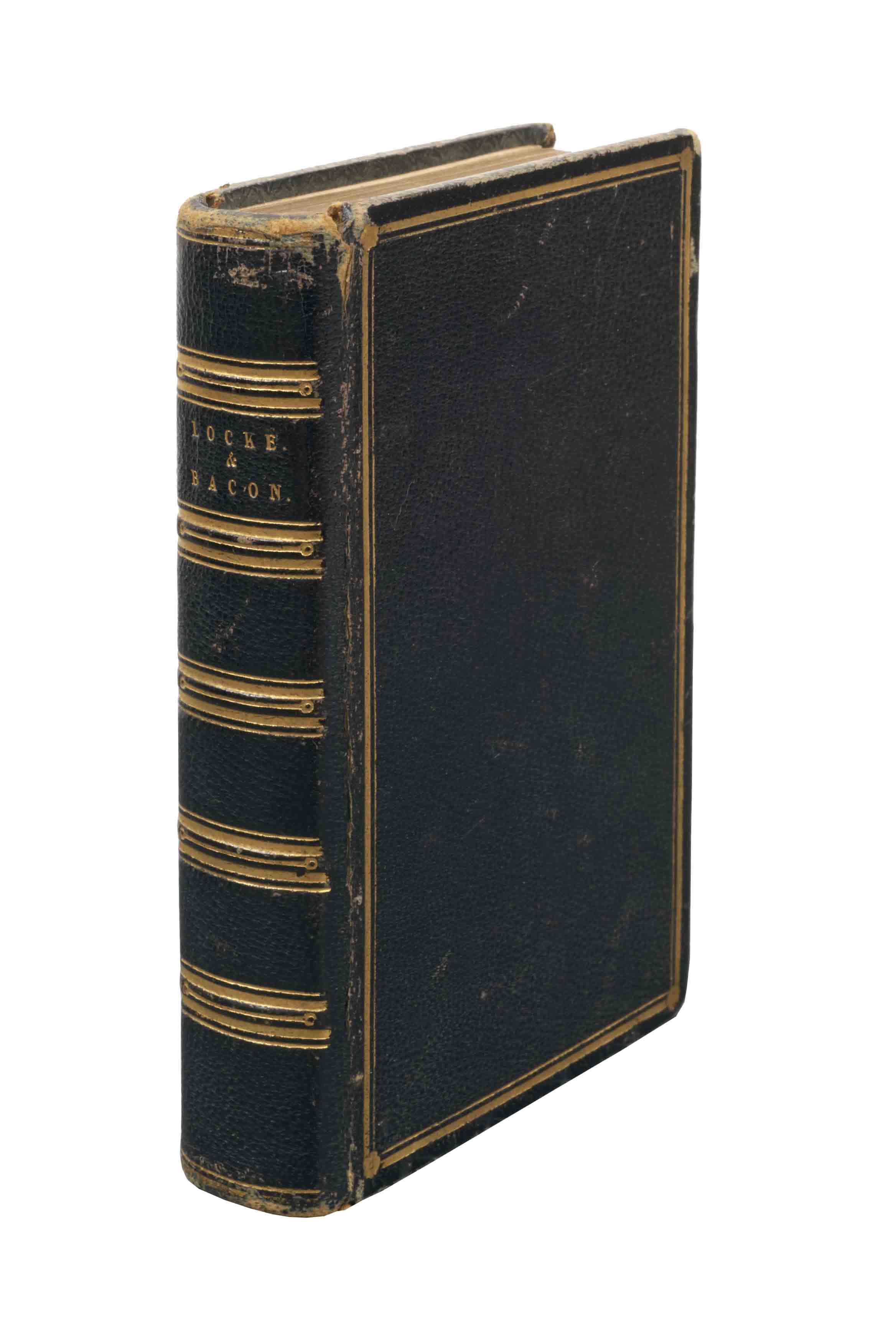 LOCKE, John, and Francis BACON.
The conduct of the understanding. Essays, moral, economical, & political.
A good copy of this surprisingly rare printing of two works by Locke and Bacon, printed by Charles Daly, who also printed works by, inter alia, Coleridge, Combe, and Swift. One issue had appeared in 1841, with the address of Red Lion Square; the current issue is undated, with an address in Greville Street, to which Daly moved some time in the 1840s, although the engraved title is taken from the earlier issue.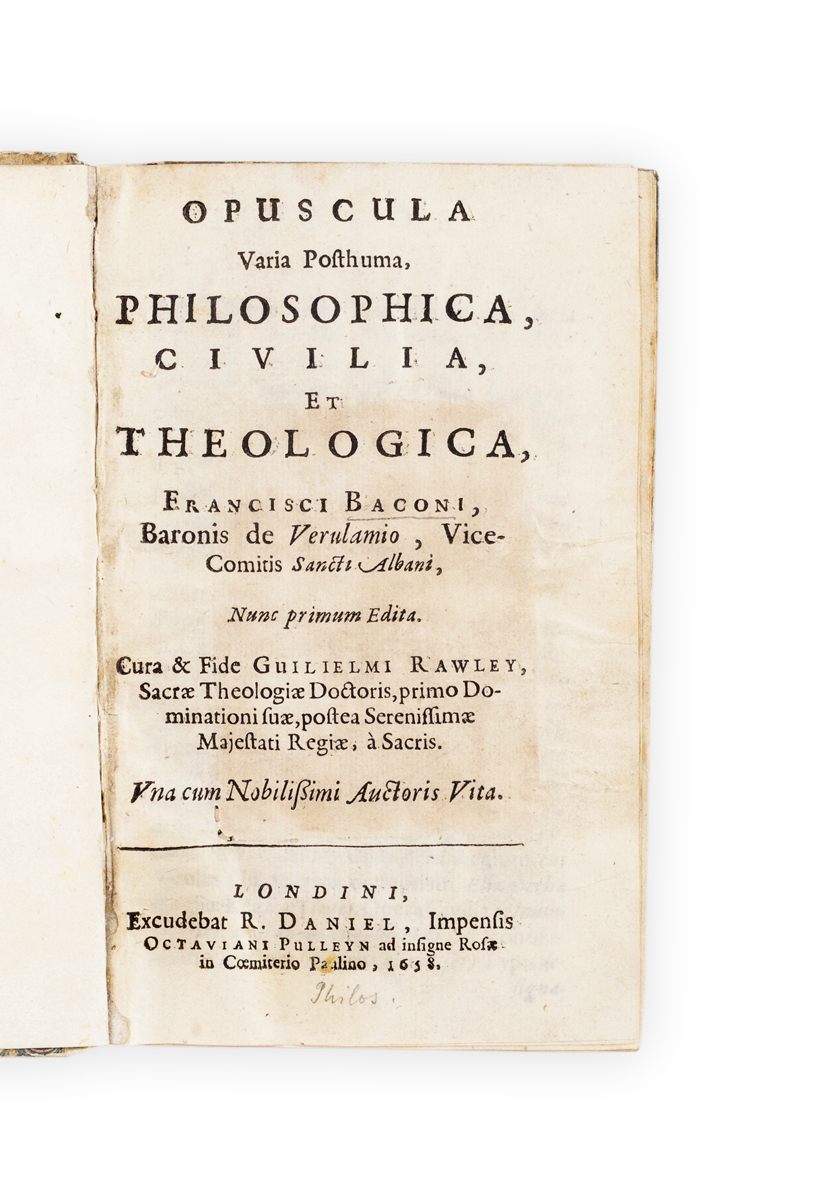 BACON, Francis.
Opuscula varia posthuma, philosophica, civilia, et theologica, nunc primum edita. Cura & fide Guilielmi Rawley… Una cum nobilissimi auctoris vitae.
First edition, second issue (with the imprint R. Daniel, rather than R. Danielis) of this collection of the philosophical, political, and theological writings of Bacon, including numerous essays previously unpublished, and the first appearance of William Rawley's biographical sketch of the philosopher. Rawley, Bacon's literary executor, collects together eleven essays, some original and some appearing for the first time in Latin, including 'Historia densi et rari', 'Inquisitio de magnetate', 'Topica inquisitionis de luce et lumine', 'Confessio Fidei', and 'Inquisitio de versionibus, transmutationubus, multiplicationibus, et effectionibus corporum'; several have their own title-pages.