JACOBSON, Ken, and Jenny JACOBSON.
Carrying Off the Palaces: John Ruskin's Lost Daguerreotypes.
London, Bernard Quaritch Ltd, 2015.
Small 4to, (250 x 300 mm), pp. xxvi, 406 (including 601 illustrations); cloth-bound with pictorial dust-jacket.
Added to your basket:
Carrying Off the Palaces: John Ruskin's Lost Daguerreotypes.
The inspiration for this book was a remarkable discovery made by the authors at a small country auction in 2006. One lightly regarded lot was a distressed mahogany box crammed with long-lost early photographs. These daguerreotypes were later confirmed as once belonging to John Ruskin, the great 19th-century art critic, writer, artist and social reformer. Moreover, the many scenes of Italy, France and Switzerland included the largest collection of daguerreotypes of Venice in the world and probably the earliest surviving photographs of the Alps.

Core to this book is a fully illustrated catalogue raisonné of the 325 known John Ruskin daguerreotypes. The overwhelming majority of the newly-discovered plates are published here for the first time. There are an additional 276 illustrations in the text and an essay describing the technical procedures used in conserving Ruskin's photographs. Ten chapters extensively study Ruskin's photographic endeavours. A chronology, glossary, twenty-page bibliography and comprehensive index complete this handsome hardback book.

Winner of The Apollo Awards 2015: Book of the Year and The Ruskin Society Book Prize.

ISBN 978-0-9563012-7-7
You may also be interested in...
PARTIALLY-UNOPENED SET OF JESSOP'S 'DETAILED DESCRIPTION OF THE SOUTH EASTERN PART OF AUSTRALIA JESSOP, William Rowlestone Henry.
Flindersland and Sturtland; or, The Inside and Outside of Australia.
First edition, presumed first binding. A 'detailed description of the South Eastern part of Australia' (Ferguson), based on Jessop's travels in the late 1850s and early 1860s. 'In the twenty-fourth chapter of the second volume Jessop records in interesting and accurate detail an early expedition of one Ernest Giles whom the author met at Wilpena where Giles had stopped on his homeward trip from the north. This expedition [...] was from Adelaide to the north in search of new pastoral land. It does not appear to be elsewhere recorded and dates at least ten years before Giles's career became a matter of public record. Jessop supplies no precise date, but from the context it is clear that the expedition took place in the first half of 1859. [...] Constituting the first appearance in print of the last of the great Australian explorers, it is well worth adding to an exploration library' (Wantrup, pp. 266-267).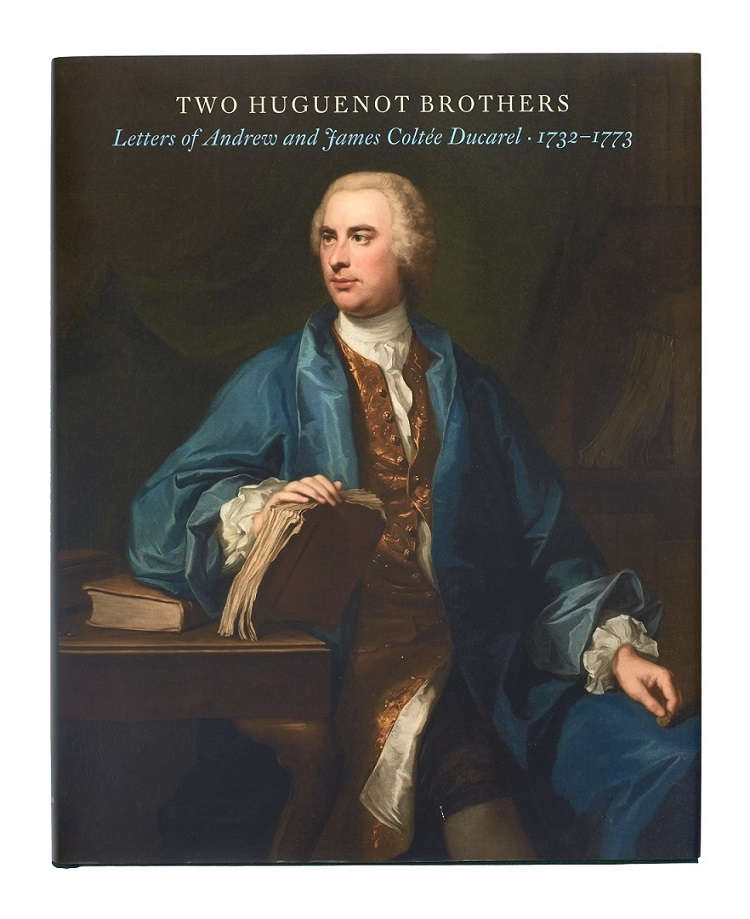 DUCAREL, Andrew & James Coltée, and Gerard DE LISLE & Robin MYERS, eds.
Two Huguenot Brothers: Letters of Andrew and James Coltée Ducarel 1732-1773.
James Coltée Ducarel's letters sent from France to his elder brother Andrew in London are a hitherto unknown resource for the study of the Enlightenment and the French Huguenots in the mid-eighteenth century.