JEVONS, Herbert Stanley.
Essays on economics.
London and New York, Macmillan & Co., 1905.
8vo, pp. xi, [1] blank, [4], 280; a good copy, rebound in recent buckram, spine lettered gilt, inscribed 'To J. David Thompson from the Author' in pencil on the still-present original front flyleaf.
£100

Approximately:
US $137
€118
Added to your basket:
Essays on economics.
First edition of Herbert Stanley Jevons' essays, on pleasure and pain, utility, labour, exchange and capital, rent, and production, inscribed to his Chicago associate J.D. Thompson. In the introduction he mentions his father's work in discussion of 'the hedonic school' of economics, whose philosophy he invokes in his opening declaration: 'The motive which underlies almost all the actions of men is a desire to experience pleasure and avoid pain' (p. 1). Herbert classifies his own argument as 'characteristic of the hedonic school', but with a more than characteristically mathematical treatment. Motivated by consideration for 'the general reader' he uses 'graphic illustrations' rather than algebraic equations (pp. 14-15).

Batson, p. 140; Menger, col. 467.
You may also be interested in...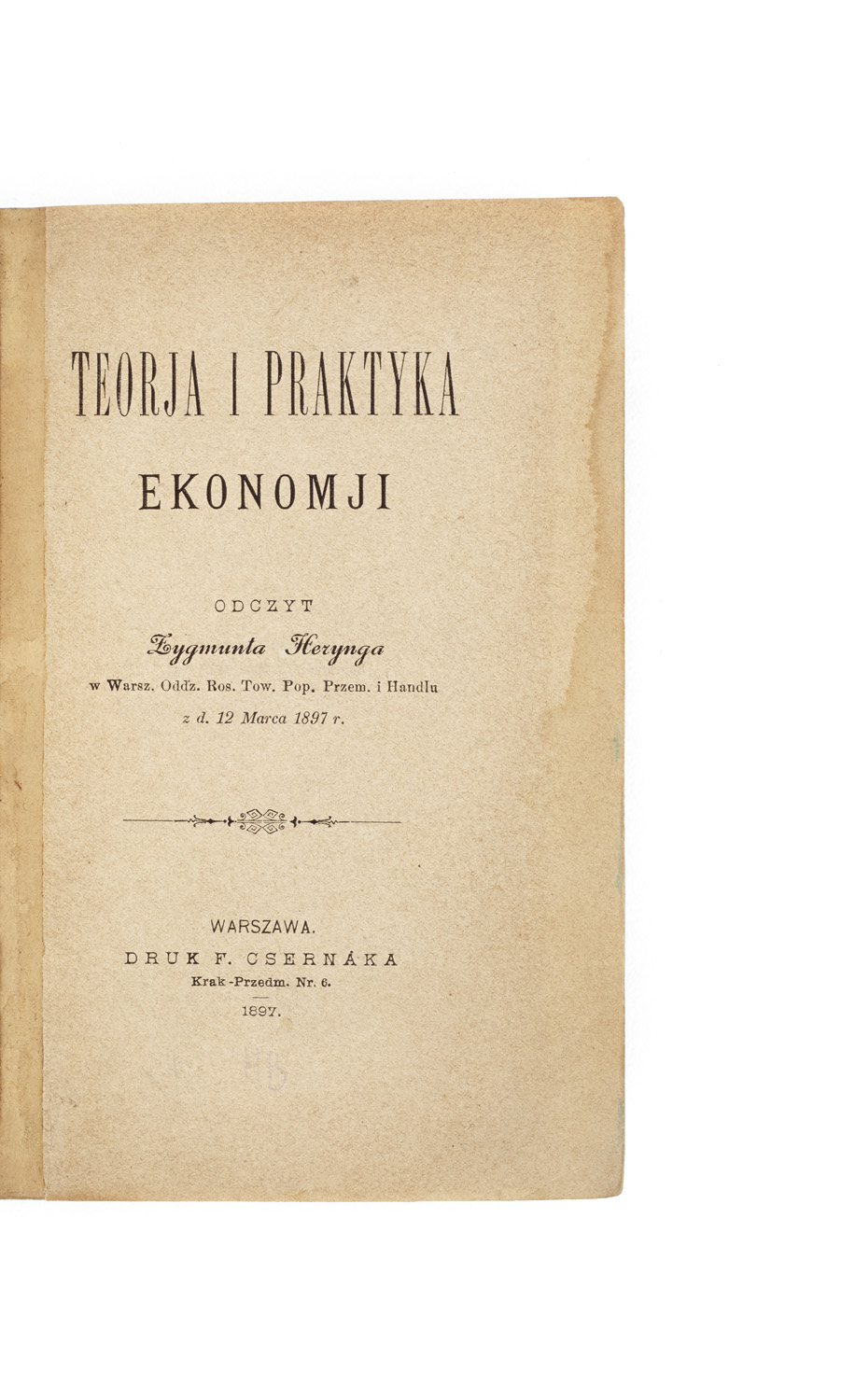 HERYNG, Zygmunt.
Teorja i praktyka ekonomji.
First edition, very rare, of Heryng's Theory and practice of economics. Zygmunt Heryng, Polish economist and political activist, was deeply concerned with economics as a science. He saw it as a systematic and conscious pursuit of efficiency in resource allocation in relation to targets. One of the categories he cherished was 'social energies', a concept he uses in relation to demand and supply, which he describes as 'mental states', or desires. Averse to the use of macro-data (average combinations and aggregate data) in the analysis of economic phenomena, Heryng believed that statistics should instead concentrate on presenting present figures and facts in the form of properly grouped raw material (micro-data), for a more precise identification of factors influencing people's behaviour.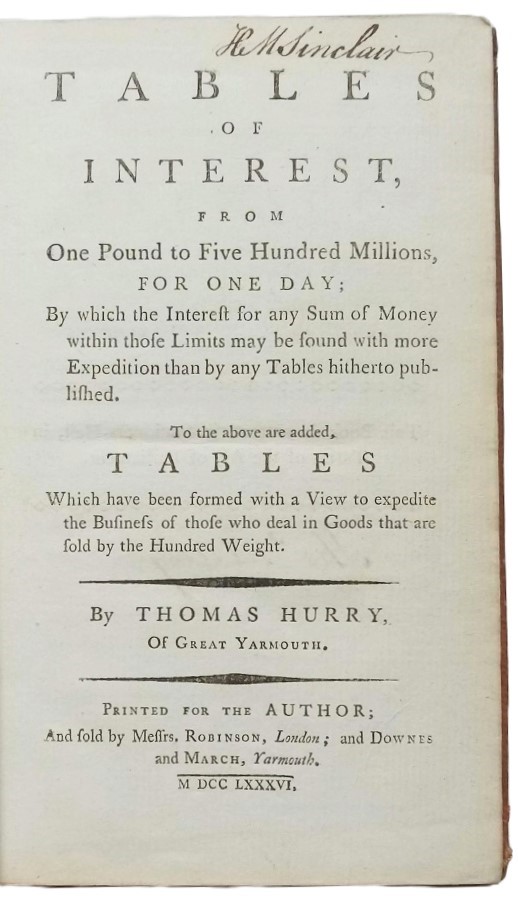 HURRY, Thomas.
Tables of interest, from one pound to five hundred millions, for one day; by which the interest for any sum of money within those limits may be found with more expedition than by any tables hitherto published. To the above are added, tables which have been formed with a view to expedite the business of those who deal in goods that are sold by the hundred weight.
One of two editions published in 1786, the other one undated, ESTC does not give any precedence. Tables for calculating interest at a quarter, half, three-quarters, three, four, and five percent; intended as a quick reference for bankers and merchants. Hurry precedes his tables with four pages of example banker's accounts, demonstrating how his tables can be used.