JOHNSON, John, and James Duffield HARDING.
The costumes of the French Pyrenees, drawn on stone by J. D. Harding, from original sketches, by J. Johnson Esqr.
London, James Carpenter & Son, 1832.
Large 4to, pp. iv, [ii, list of plates], 60, with a lithographed title and 30 hand-coloured lithographed plates; engraved title slightly spotted, a few isolated spots elsewhere, pale dampstain in extreme upper margin of a few plates, but generally a very good copy in the original boards with lithographed paper label on upper cover; rubbed and soiled, spine renewed, endleaves spotted; from the library of Ian Robertson (1928–2020).
£1800

Approximately:
US $2247
€2128
Added to your basket:
The costumes of the French Pyrenees, drawn on stone by J. D. Harding, from original sketches, by J. Johnson Esqr.
First edition of this attractive and very scarce costume book. 'The individual figures were all taken from nature during a tour through the French Pyrenées in 1825, and the backgrounds, which are faithful representations of the scenery, limited however from the size of the paper, though taken at the same time, were not sketched in connexion with the figures; and it is to Mr. J. D. Harding that the merit of their tasteful design and adaptation is due. The letter-press descriptions are mere brief notices; as to give a more detailed account of their customs, superstitions, etc. would have much exceeded the intended limits of the publication' (introduction, pp. iii–iv).

Little is known about John Johnson, but James Duffield Harding (1797–1863) was an early and prolific practitioner of lithography who was highly thought of by Ruskin. Although he travelled extensively on the Continent himself, he also worked up views by others of places which he had not himself visited, as here.

Colas 1551; Lipperheide Fe 9. Not in Abbey, Travel.
You may also be interested in...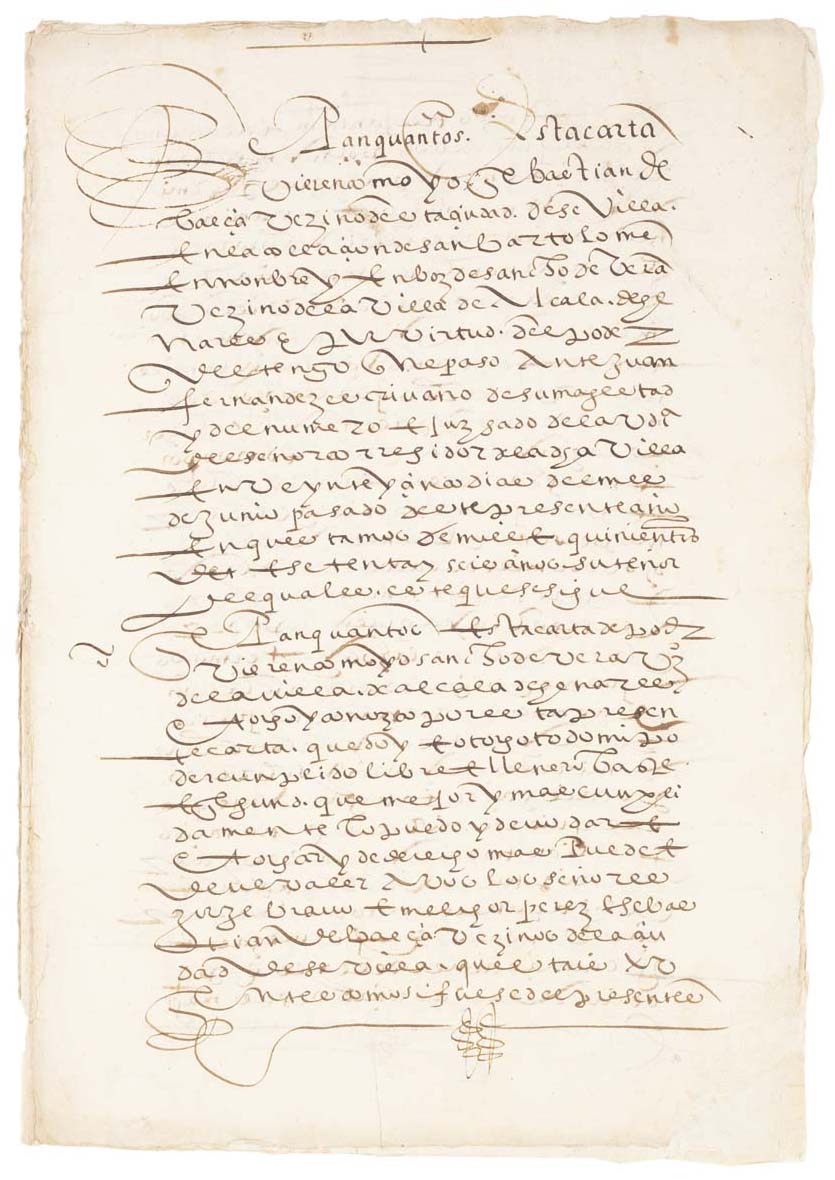 SPANISH TRADE WITH THE INDIES [SEVILLE.]
Mercantile contract between Sebastián de Baeza of Seville and Hernán López de Segovia, almost certainly relating to trade with the Indies.
A commercial document from the heyday of Seville's trade with the Indies. Drawn up for Sebastián de Baeza, a resident of the barrio of San Bartolomé in Seville, the document recapitulates a previous agreement of 25 June 1576 between, on the one hand, Hernán López de Segovia and, on the other, Sebastián de Baeza and two fellow Sevillians, Jorge Bravo and Melchor Pérez de Cervantes (these last apparently in the capacity of witnesses). It is endorsed in a contemporary hand 'la oblig[acion] hizo Sebastian de baeca a Segobia pasada', below which a different hand has written '= Negozios de yndias'.
TRAVELS IN THE INDIAN OCEAN LEGUAT, François.
A new voyage to the East-Indies by Francis Leguat and his companions. Containing their adventures in two desart islands, and an account of the most remarkable things in Maurice Island, Batavia, at the Cape of Good Hope, the Island of St Helena, and other places in their way to and from the desart isles. Adorn'd with maps and figures.
First English edition of this remarkable – albeit quite possibly imaginary – account of the adventures of the French explorer François Leguat (c. 1637–1735) in the Indian Ocean at the end of the seventeenth century.