JUVENAL, Decimus Junius, and Aulus PERSIUS Flaccus. 

D. Junii Juvenalis et Auli Persii Flacci satyrae. 
Birmingham, John Baskerville, 1761. 
Large 4to, pp. 240; E2, K4, U4, and Z3 uncancelled; a little spotting (heavier on first and final leaves); early nineteenth-century red British straight-grained morocco, borders filleted in gilt and roll-tooled in blind, spine gilt in compartments and lettered directly in gilt, edges gilt, double endbands sewn in blue and white, green endpapers; a little scuffed at extremities, neatly retouched, but a very good copy; nineteenth-century armorial bookplate and ink ownership inscription of Robert Willis Blencowe.
£450

Approximately:
US $551
€523
Added to your basket:
D. Junii Juvenalis et Auli Persii Flacci satyrae. 
Baskerville's celebrated edition of Juvenal and Persius in its earliest state with no cancels, in splendid contemporary red morocco. 

Following the Virgil of 1757, Baskerville's Juvenal and Persius is the second of his series of classical authors in quarto, and although the project was not abandoned, the Horace of the following year is a somewhat less ambitious duodecimo; the next quarto did not appear until 1770, and subsequent works (Lucretius, Catullus, Tibullus, and Propertius, Terence, and Sallust) were each accompanied by issues in smaller formats.  While the 'perfectionism and over-optimistic press runs' of his more expensive books 'consumed much of his fortune', his elegant and restrained types inspired the neo-classical typographic revolution of the following decades, influencing particularly the Didots and Bodoni (Oxford Companion to the Book). 

Provenance: from the library of the antiquary Robert Willis Blencowe (1792–1874). 

Gaskell 15. 
You may also be interested in...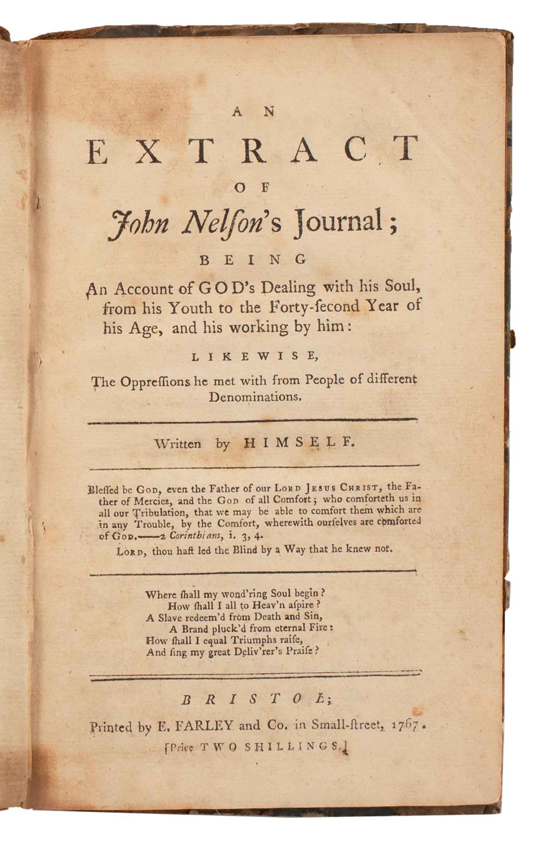 A METHODIST'S MEMOIRS NELSON, John.
An Extract of John Nelson's Journal, being an Account of God's Dealing with his Soul from his Youth to the forty-second Year of his Age, and his working by him, likewise, the Oppressions he met with from People of different Denominations, written by himself.
Rare first edition, printed in Bristol, of the autobiography of the preacher and pioneer of Methodism in Yorkshire John Nelson (1707–1774).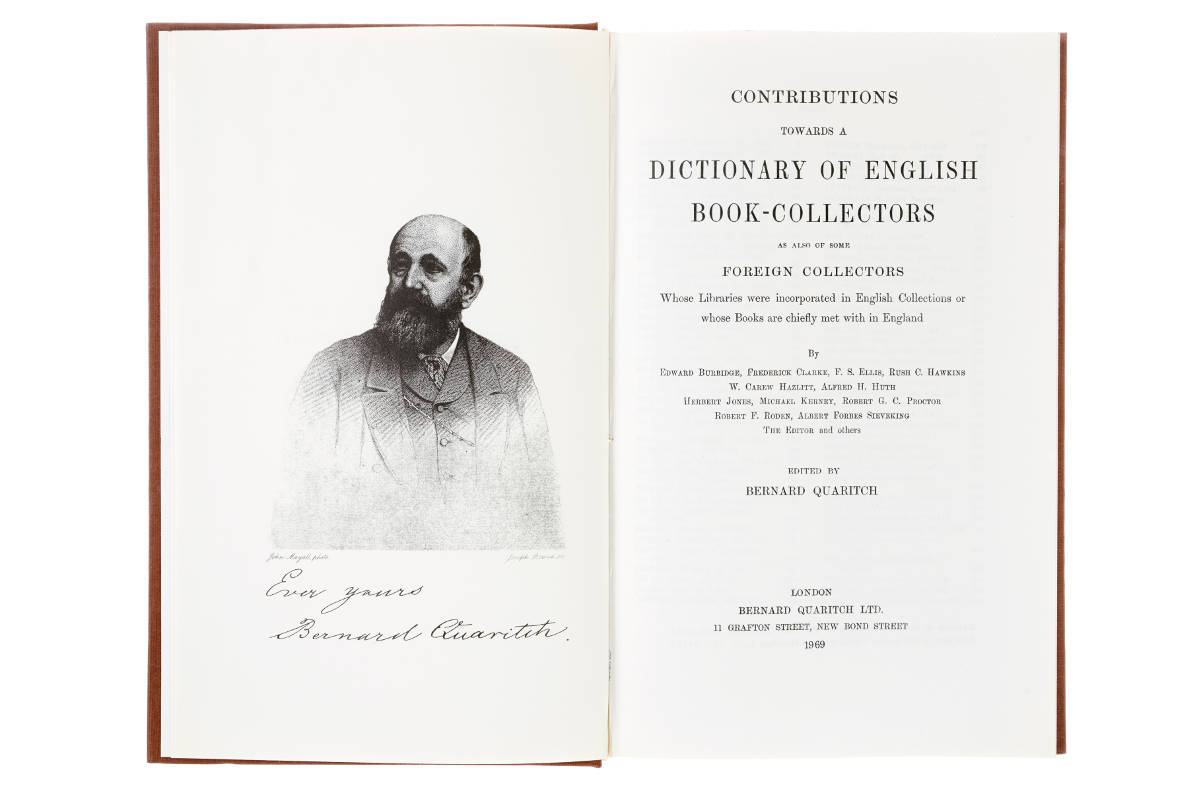 QUARITCH, Bernard Alexander Christian, editor.
Contributions towards a Dictionary of English Book-Collectors as also of some Foreign Collectors whose Libraries were Incorporated in English Collections or whose Books are Chiefly Met with in England.
A facsimile reprint of Quaritch's series of profiles of bibliophiles, with brief lists of the treasures of their collections and notes on their dispersal at auction or in the trade, which remains a useful resource both for the history of book-collecting in Britain and for provenance research. Contributions towards a Dictionary of English Book-Collectors was originally published in fascicules between 1892 and 1921, and the contributors included F.S. Ellis, W. Carew Hazlitt, Alfred H. Huth and Robert C.G. Proctor – however, as Arthur Freeman states in his biography of Quaritch in the ODNB, Quaritch's contributions were 'largely ghost-written'.