LEARN TO BE LOVED
[JUVENILIA.]
Petite bibliothèque des enfans. Tome I [- IV]. Orné de jolies images.
Paris, chez Augustin Legrand et A.S. Letaille, [c. 1820s].
4 vols, 10 x 6 cm, pp. I: 32 (engraved throughout), II: 32 (first 16 pages engraved, thereafter letterpress), III: 32 (letterpress text, engraved illustrations), IV: 32 (likewise, in different fonts); with numerous illustrations; a little foxing, a few light marks; very good; volumes in yellow, light grey, pink, and green paper wrappers respectively, protected by glassine; preserved in a modern four-flap box.
£650

Approximately:
US $842
€720
Added to your basket:
Petite bibliothèque des enfans. Tome I [- IV]. Orné de jolies images.
A scarce and truly delightful set of volumes designed to teach young children to read, telling them in no uncertain terms that 'si vous voulez que l'on vous aime bien il faut apprendre à lire'.

The first volume teaches the alphabet from A for Arbre to Z for Zebre. Each word has an accompanying illustration, a translation into English, and an attempt at rendering English pronunciation (e.g. 'Tree – Tri'). The prefatory 'Avis aux pères et mères' justifies this use of English as 'un jeu pour le présent et une chose utile pour l'avenir, suivant les circonstances ou la vie peut placer nos enfans'. There are some delightful errors in the printed English, such as 'biro' for 'bird'. The second volume then teaches writing and pronunciation.

The third gives short reading passages with accompanying illustrations (e.g. 'Homme pauvre. Il est de pauvres gens bien infirmes qui ne peuvent gagner leur vie. Il faut leur donner du pain, ou de l'argent pour en acheter. Dieu vous bénira'). An image of 'le lit' has the charming English rendition 'zi bed'. The final volume contains longer passages, including the tale of a greedy bear and a story about each month of the year, which ends: 'Décembre. Voila les petits gâteaux de Noäl [sic]. Nous les mangerons près du feu.'

Rare institutionally: Library Hub shows a full set in the Bodleian, and vol. I (with different imprint) at the V&A; OCLC only shows incomplete sets, at Princeton (vols I and II) and the Smithsonian (vols I and III).
You may also be interested in...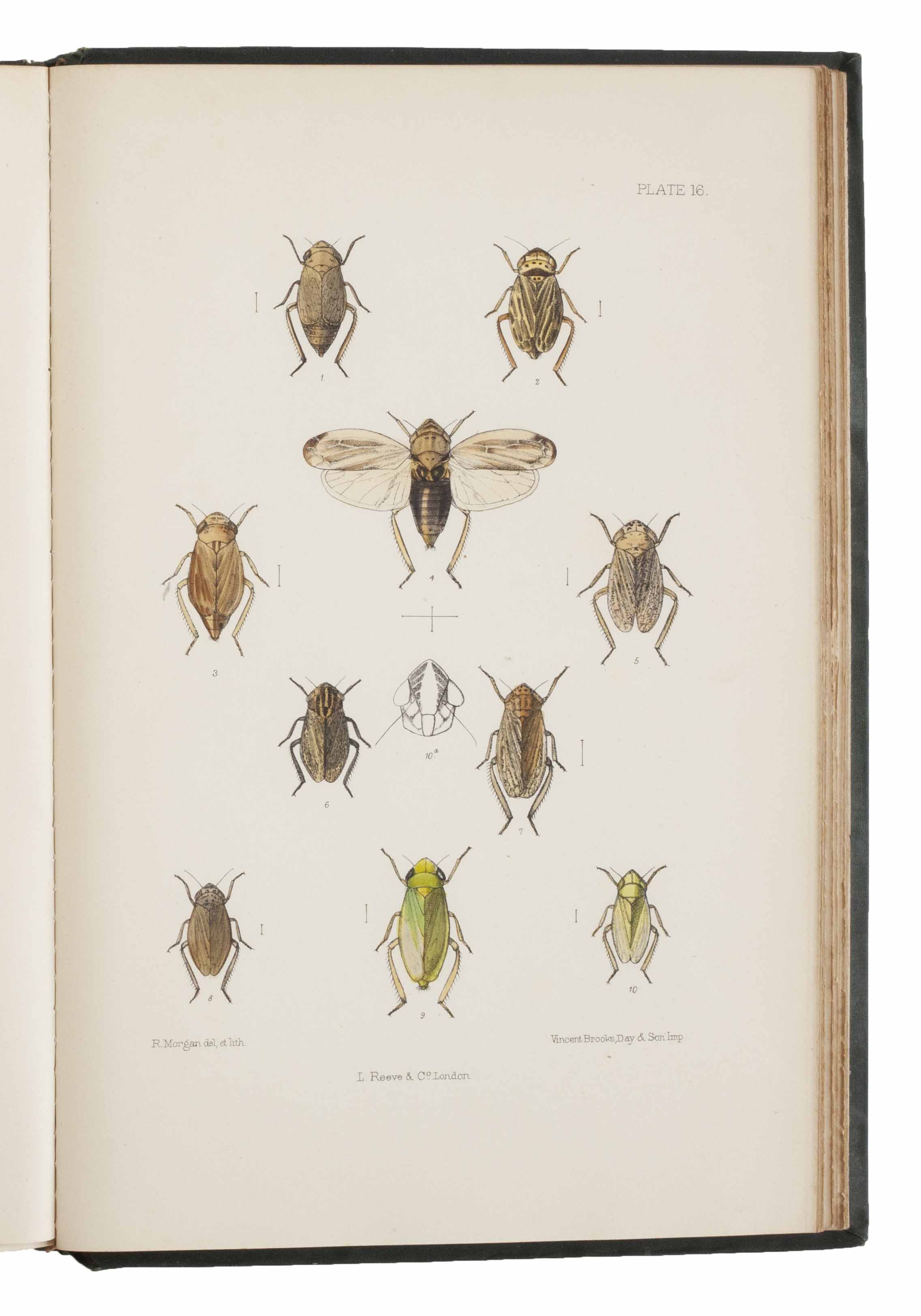 EDWARDS, James.
The hemiptera-homoptera (cicadina and psyllina) of the British Isles: A descriptive Account of the Families, Genera, and Species indigenous to Great Britain and Ireland, with Notes as to Localities, Habitats, etc.
First edition of Edwards's survey of British hemiptera-heteroptera.
POMET, Pierre, LEMERY, and Joseph Pitton de TOURNEFORT.
A compleat History of Druggs, written in French … to which is added, what is further observable on the same Subject … divided into three Classes, vegetable, animal, and mineral, with their Use in Physick, Chymistry, Pharmacy, and several other Arts, illustrated with above four hundred Copper Cutts, curiously done from the Life, and an Explanation of their different Names, Places of Growth, and Countries from whence they are brought, the Way to know the True from the False, their Vitrues, &c., a Work fo very great Use and Curiosity, done into English from the Originals, the second Edition.
Second English edition of Pomet's Histoire générale des drogues. Among the most complete pharmacopoeias of the period, the Compleat History of Druggs is expanded from the work of Pierre Pomet (1658 – 1699), chief druggist to Louis XIV. Copiously illustrated with copper plates, the History describes the uses of botanical, animal, and mineral materials, including Lemery's catalogue of seeds 'lately brought back from the American islands' and accounts of the preparation of tobacco and sugar.