KANT, Immanuel. 
Opera ad philosophiam criticam.  Volumen primum, cui inest Critica rationis purae Latine vertit Fredericus Gottlob Born.
Leipzig, Engelhard Benjamin Schwickert, 1796.
8vo, pp. xliv, 587, [1 blank]; a little browning and spotting due to paper, a few ink stains, especially to pp. 246-7 and 255-258, small loss to blank corner of last leaf; a very good copy in contemporary quarter sheep over orange paper boards, spine tooled and lettered in gilt, edges sprinkled blue; lower joint split but holding, wear to spine and boards; extensive annotations in a contemporary hand in French and occasionally in Latin (slightly trimmed at edges).
£2500

Approximately:
US $3086
€2878
Added to your basket:
Opera ad philosophiam criticam.  Volumen primum, cui inest Critica rationis purae Latine vertit Fredericus Gottlob Born.
First Latin translation of Kant's Critique of Pure Reason, extensively annotated by a contemporary critical hand.

The translation, by the philosopher and Kantian apostle Friedrich Gottlob Born (1743-1807) was the first into any language of the first Critique, and so became the standard gateway into Kant's critical philosophy for those without German. Born was no more a prose stylist in Latin than Kant was in German, and his translation has a scholastic feel to it. This is not matched by the thorough annotations, which, while detailed, are also forthright, frequently calling out Kant for begging the question (as, for example, on p.43 - 'c'est la une assertion sans preuves'), and on several occasions opening a criticism with a bald 'l'auteur se trompe'. The annotations, though, are substantial, often occupying all the available space on a page. Largely in French, but occasionally in Latin, they show a familiarity with some of Kant's predecessors, whether ancient sources such as Plato or modern influences such as Hume and Leibnitz, both of whom are cited, and also a critical engagement with the text. The annotator may well have been coming from a neoscholastic background, as he pays particular attention to the sections on space and time, the cosmological argument, and the transcendental method.
 
If our annotator was indeed French, he was quite unusual in engaging with Kant's critical philosophy so early. Although studies of transcendental idealism were appearing in French by the start of the 19th century (such as Villers' Philosophie de Kant of 1801), the first French translation of the first Critique did not appear until 1835, in a version by Joseph Tissot. This version was the first volume to appear of Born's four volume Latin translation of Kant's critical works, published in Leipzig between 1796 and 1798. The present copy, despite its faults, gives an invaluable insight into the contemporary reception of Kant's critical philosophy, and would reward further research.
You may also be interested in...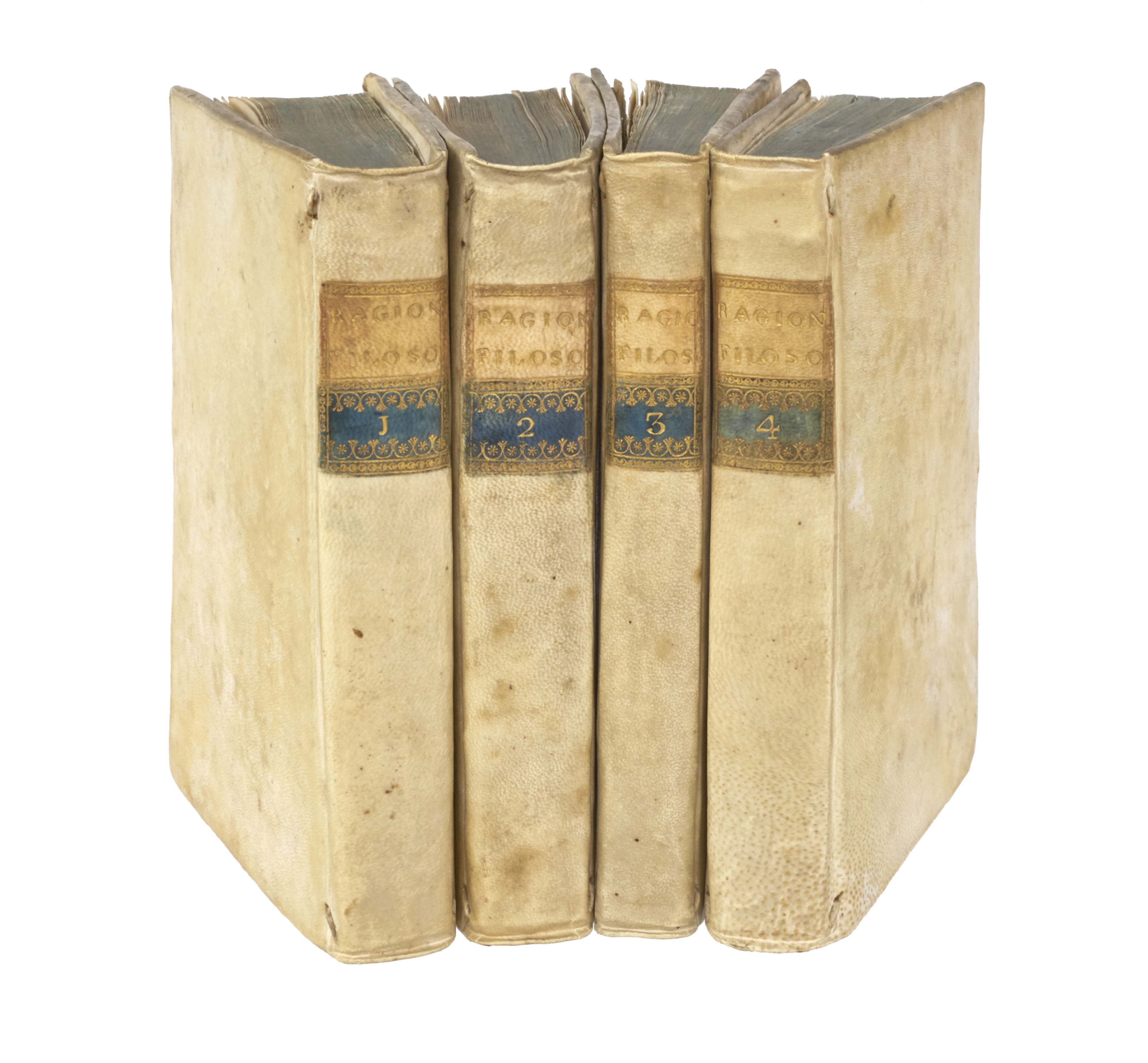 [GUARINI, Giambattista Lascaris].
Ragionamenti filosofici.
Only edition, very uncommon, of this collection of 33 essays on scientific and philosophical subjects, published with the aspiration to provide a complete course of physics and philosophy. The work is divided into four parts. The first deals with materialism and idealism, the physical attributes of bodies, forces, gravity and attraction, mechanics, hydrostatics, meteorology, and fluid mechanics; the second with anatomy, circulation, the classification and organisation of plants and animals, the senses, electricity, atmospheric and astronomical phenomena, Newtonian colour theory, optics, and heat. In the third volume, we find cosmology, the planets and constellations, the use of the armillary sphere, the equator and tropics, solstices and equinoxes, the poles, the antipodes, and the climate; the work also discusses the systems of Ptolemy, Tycho Brahe, and Copernicus, the last of which is described in detail, while the volume concludes with studies of comets, and those who live on them.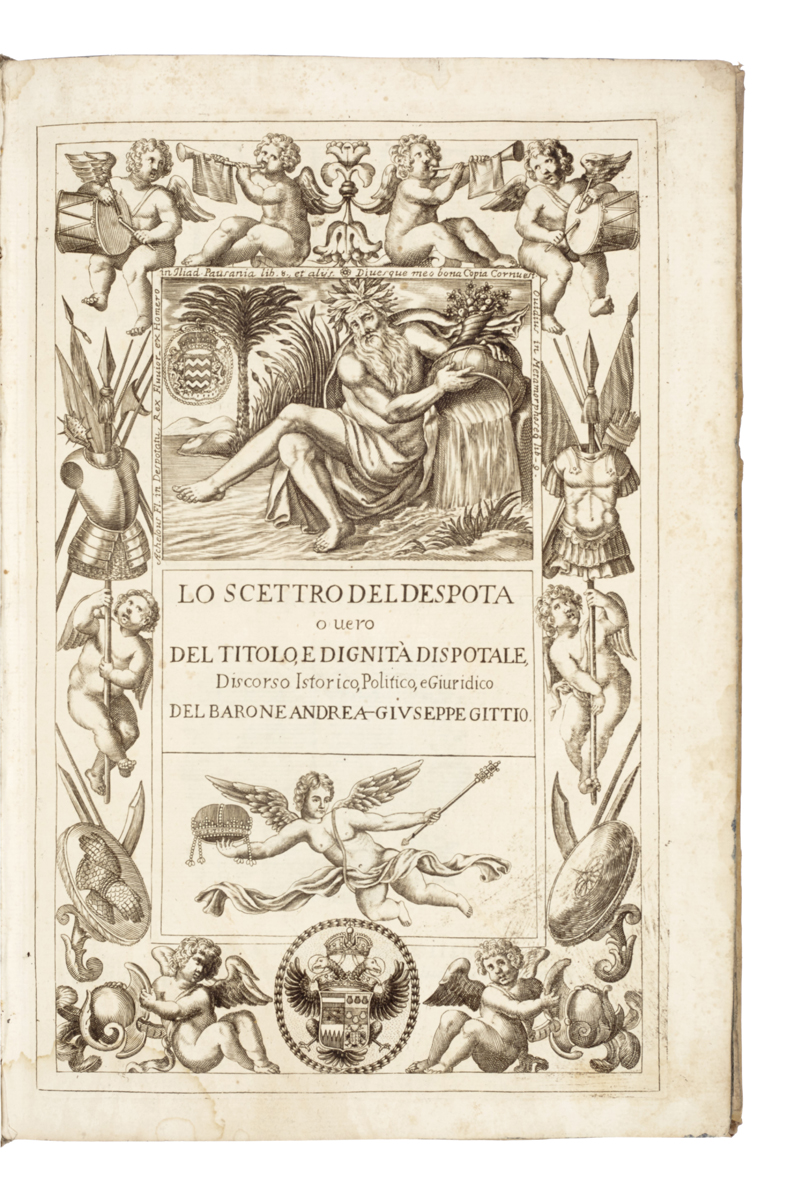 GIZZI [or GITTIO], Andrea Giuseppe.
Lo scettro del despota, overo del titolo, e dignità dispotale, discorso istorico, politico, e giuridico.
Only edition of this extraordinary and rare study of legal, ceremonial, and political roles of the despot, a class of prince akin to a king and beneath an emperor in the power structures of both the Byzantine world and Renaissance Italy, and thus a title used both in Venice and throughout the Balkans and Greece.