KEELY, Patrick Cokayne.
SEPSIS Get First Aid. The Ministry of Labour and National Service and produced by the Royal Society for the Prevention of Accidents.
London, Loxley Bros., 1943.
Lithograph in colour, 20 x 30 in (51 x 76 cm); linen backed with restoration to the lower left corner with some minor loss, very light marks to left margin, otherwise in very good condition.
£300

Approximately:
US $387
€357
Added to your basket:
SEPSIS Get First Aid. The Ministry of Labour and National Service and produced by the Royal Society for the Prevention of Accidents.
The Royal Society for the Prevention of Accidents (RoSPA) was responsible for the production of safety propaganda material used in those factories and workshops supplying the war effort. It was underwritten by the Ministry of Labour and National Service, which was responsible for military recruitment (as of 1939), management of employment, industrial relations as well as supervision of health and safety legislation and administration of labour statistics. Posters would have been accompanied by pamphlets and educational notes regarding information about illness and injury, the prevention of infection and treatment.

Sepsis was a common side effect of untreated industrial wounds, especially to the hands. It is a bacterial infection of the blood that was disabling and required a significant recovery time. Several large factories during the war period had medical facilities which were able to treat the condition quickly, thereby lessening recovery time and loss of workers. Posters such as Keely's were aimed at workers in factories without medical provision, in which the infection might not have been caught at such an early stage (British Journal of Industrial Medicine, 1948, 5, p. 88).
You may also be interested in...
ENLIGHTENED MYSTICISM [SAINT-MARTIN, Louis-Claude de.]
Des erreurs et de la vérité, ou les hommes rappellés au principe universel de la science, par un ph... inc... Premiere [-seconde] partie.
Rare 1782 edition (first 1775) of the first major work of the mystic philosopher Saint-Martin (1743-1803), the 'philosophe inconnu' who rejected materialism and what he saw as the anti-spiritual tendency of the Enlightenment. While dismissed by Voltaire, his influence can be seen in the work of Maistre, Lamartine, and German Romantics like Franz von Baader. Des erreurs examines such questions as good and evil, free will, man's thought and senses, physical matter, human error, religion and worship, politics, human sociability, sovereigns and government, law, crime and punishment, mathematics, and language. The central themes to Saint-Martin's thought are man's philosophical fall from the spiritual into the concrete and the idea that error is the condition of our being, although this error can lead to insight. In his interesting discussion on language, he denies that the world's many tongues are simply the product of habit and convention, seeing them instead as deviations from the pure first language of man.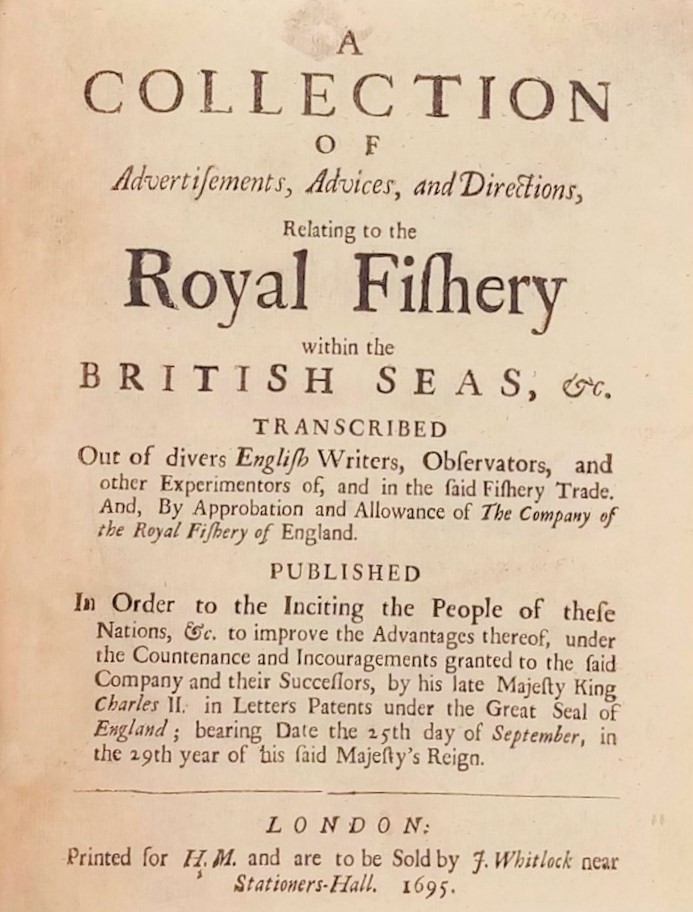 FLOUNDERING [ROYAL FISHERY COMPANY.]
A Collection of Advertisements, Advices, and Directions, relating to the Royal Fishery within the British Seas, &c.
First edition. The Royal Fishery Company, incorporated in 1662, had great trouble finding subscribers. Initially, Charles II offered £9000 as an incentive to investors but on these only raising £3680 he withdrew his undertaking, instead allowing a lottery to aid the Company's fortunes. After attempts in 1677 to capitalize the company, much of the property was sold in 1680. The complicated structures governing the company devolved onto 4 directors and 8 masters in 1692.