KENNEDY, James.
A New Description of the Pictures, Statues, Bustos, Basso-Relievos, and other Curiosities at the Earl of Pembroke's House at Wilton. In the Antiques of this Collection are contain'd the whole of Cardinal Richelieu's and Cardinal Mazarine's, and the greatest part of the Earl of Arundel's...
Salisbury: Printed by Benjamin Collins... sold by R.Baldwin, 1758.
8vo, pp. [8], 107, [1], [2] (blank), with the half-title, and a slip bearing a description of the statues in 'two painted niches' pasted on p. 4; last leaves a little spotted but a very good copy in recent half calf, gilt, and marbled boards. Bookplate of Charles Sebag-Montefiore.
£600

Approximately:
US $836
€679
First edition of Kennedy's guide book to the art collections of Wilton House in Wiltshire, seat of the Earls of Pembroke. This is the first proper guide book to the Wilton House collections. This catalogue is annotated from Pembroke's own manuscript notes. Contemporaries, like Winckelmann and Horace Walpole, teased Pembroke about some of his more wild attributions. The catalogue nevertheless provides a fascinating picture of early collecting habits.

Thomas Herbert, 8th Earl of Pembroke (1664-1732) was the first important English collector of antique sculpture after King Charles I and Lord Arundel. His collecting zeal began with the purchase of the Arundel busts which were dispersed in 1678, followed by at least 23 sculptures from the Mazarin collection, and a large number of busts from the Giustiniani collection in Rome. The purchase of the latter Pembroke only secured against determined competition from Cardinal Albani.

F. Herrmann, The English as Collectors, pp. 96-99.
You may also be interested in...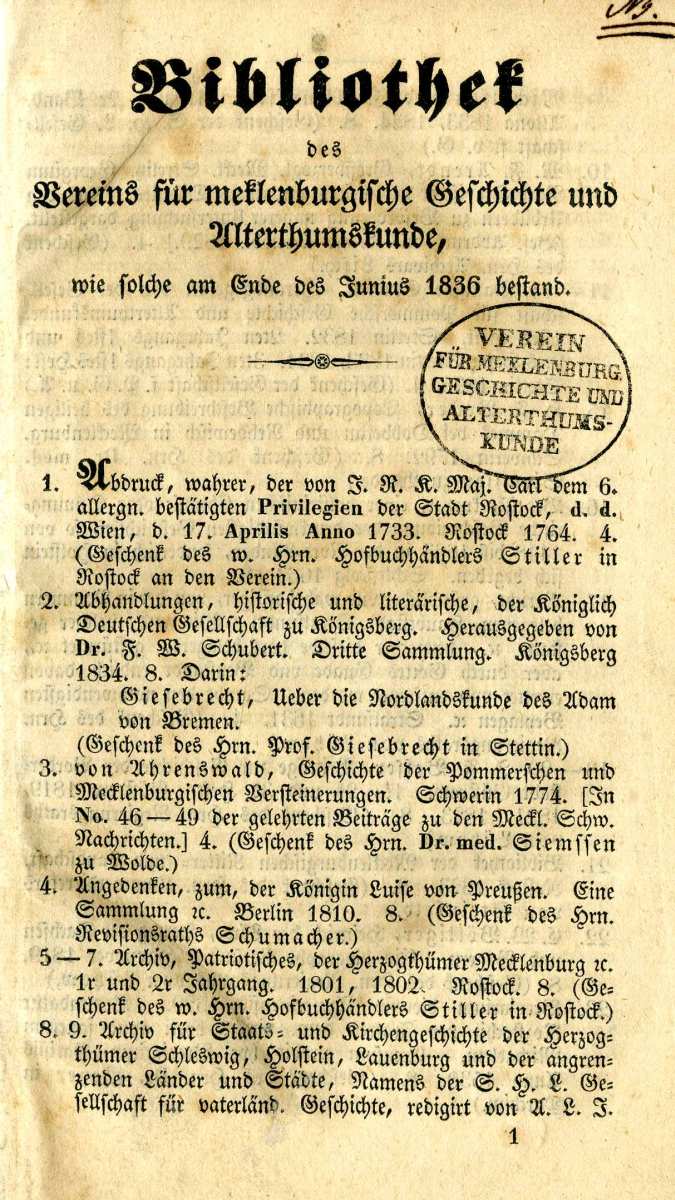 (SCHWERIN) (GLOECKER, A.F.W).
Bibliothek des Vereins für Meklenburgische Geschichte und Alterthumskunde, wie solche am Ende des Junius 1836 bestand.
The Verein für Mecklenburgische Geschichte ('Association for the history of Mecklenburg') was founded in 1835. Here we have the catalogue of its library, with over 1500 books, as it grew over the years from its foundation to 1844. This is a fascinating record of local interest books, some published contemporarily but many from the preceding centuries, donated by its member. The library grew at a healthy speed of a few hundred books each year, and all had local interest. There was also a fine collection of books printed in the county of Mecklenburg. Mecklenburg is a relatively little known region in northern Germany, with Schwerin and the ports of Wismar and Rostock as its main towns.
[LAUGIER, Marc-Antoine, Abbé].
Essai sur l'Architecture.
First edition of Laugier's important and influential Essai advocating a return to the use of geometrical forms in architecture rather than the embellishment of the Orders, and determining the regular layout of streets and squares in city planning, with special reference to Paris, and calling for a picturesque alternative to the traditional French formal garden. The book's argument was deemed so revolutionary that Laugier published it anonymously. It was translated into English in 1755.