KERSHMAN, Andrew.
Book Lovers' London.
London, Metro Publications, 2015.
8vo, (215 x 150 mm), pp. 340 (including over 100 full colour photos and area maps); paperback.
Added to your basket:
Book Lovers' London.
Fifth edition. Book Lovers' London has established itself as an essential reference tool for those wanting to enjoy the literary delights of the capital. It contains reviews of over six hundred bookshops, including Quaritch.

The guide also suggests less obvious places for bookworms to explore including the best markets, charity shops, auctions and fairs. Sections on London's libraries and archives, as well as museums, walks, venues and courses wrap the book up.

ISBN 978-1-902910-49-9
You may also be interested in...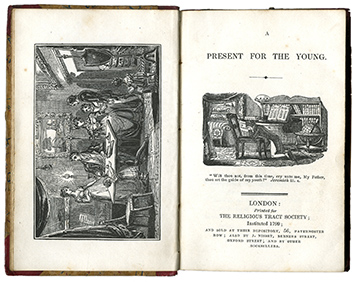 WITH 67 ILLUSTRATIONS PRESENT FOR THE YOUNG (A).
London: Printed for The Religious Tract Society … and sold at their Depository … also by J. Nisbet … and by other Booksellers.
First edition. A finely illustrated anthology of religious verse, contemplations, and prayers for children. Pieces include poems on the seasons and stories about a Welsh Shepherd, and 'The Hill and the Valley', all with heavily metaphorical content.
LINDSETH, Jon A., and Alan TANNENBAUM, eds.
Alice in a World of Wonderlands: the Translations of Lewis Carroll's Masterpiece.
This is the most extensive analysis ever done of translations of any single English language novel. On 4 October 1866 Charles Lutwidge Dodgson/Lewis Carroll wrote to his publisher Macmillan stating "Friends here [in Oxford] seem to think that the book is untranslatable." But his friends were wrong, as this book shows with translations in 174 languages.