KERSHMAN, Andrew.
Book Lovers' London.
London, Metro Publications, 2015.
8vo, (215 x 150 mm), pp. 340 (including over 100 full colour photos and area maps); paperback.
Added to your basket:
Book Lovers' London.
Fifth edition. Book Lovers' London has established itself as an essential reference tool for those wanting to enjoy the literary delights of the capital. It contains reviews of over six hundred bookshops, including Quaritch.

The guide also suggests less obvious places for bookworms to explore including the best markets, charity shops, auctions and fairs. Sections on London's libraries and archives, as well as museums, walks, venues and courses wrap the book up.

ISBN 978-1-902910-49-9
You may also be interested in...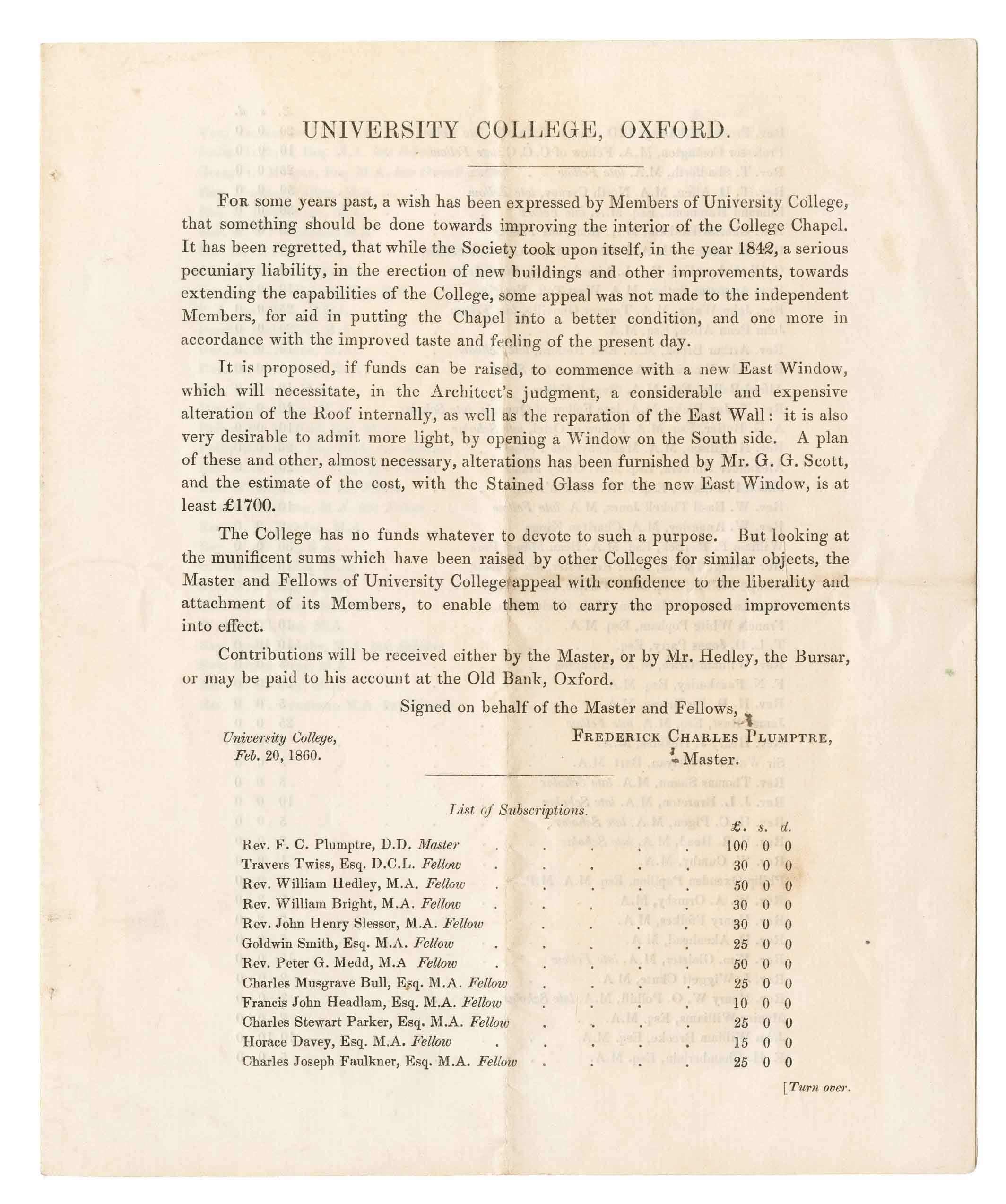 SUBSCRIPTION FOR IMPROVEMENTS BY GEORGE GILBERT SCOTT [UNIVERSITY COLLEGE, OXFORD.]
Subscription list for repairs to the College Chapel.
A printed appeal from University College, signed by the Master Frederick Charles Plumptre (1796-1870), for funds to improve the interior of the Chapel, with an admission that 'the College has no funds whatever to devote to such a purpose'. The list of subscribers contains some ninety names.
The improvements will include 'a new East Window, which will necessitate, in the Architect's judgment, a considerable and expensive alteration of the Roof internally, as well as the reparation of the East Wall: it is also very desirable to admit more light, by opening a Window on the South side. A plan of these and other, almost necessary, alterations has been furnished by Mr. G. G. Scott, and the estimate of the cost, with the Stained Glass for the new East Window, is at least £1700'. Sir George Gilbert Scott (1811-1878) had just designed the Library at University; his alterations to the Chapel still survive. A photograph by Fox Talbot, taken in 1843, shows the Chapel's exterior with the original seventeenth-century window and its unusual tracery.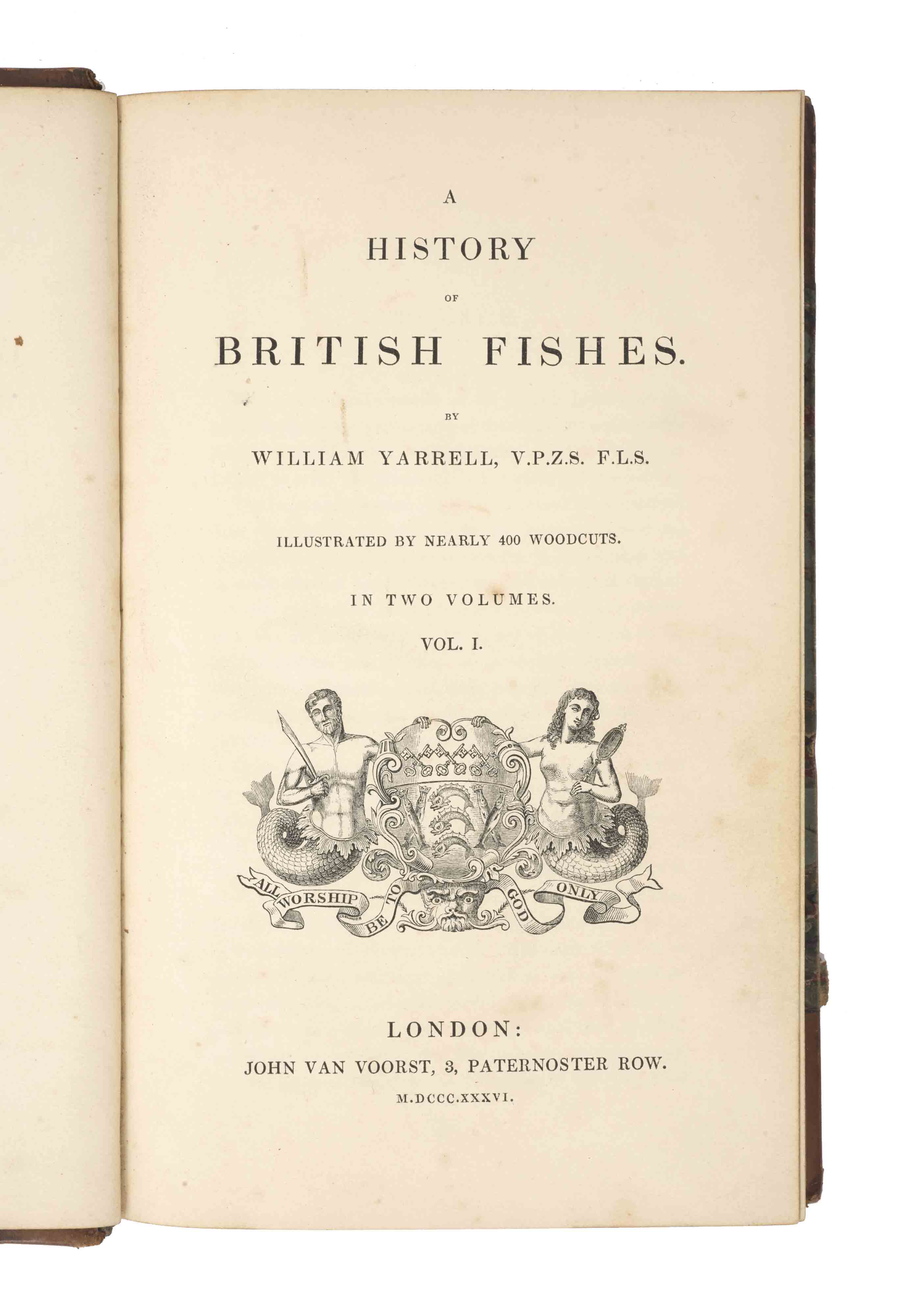 HEBRIDAL SMELT YARRELL, William.
A History of British Fishes … illustrated by nearly 400 Woodcuts. London, Samuel Bentley for John van Voorst, 1836.

[Bound with:]YARRELL, William. Supplement to the History of British Fishes … illustrated with Woodcuts, in two Parts. London, Samuel Bentley for John van Voorst, 1839.

[and:]

BELL, Thomas. A History of British Reptiles … illustrated by more than forty Woodcuts.
First collected editions, with an autograph letter on the Hebridal smelt from the species' discoverer. Published serially from 1835 to 1836, Yarrell's History of British Fishes was reprinted within a year, and followed soon after by Thomas Bell's British Reptiles in 1839 and his own British Birds in 1843 published by van Voorst and together forming a comprehensive survey of British wildlife. Though noted for his careful observations, Yarrell is here corrected on several points in an autograph letter to the antiquarian Adam Sim (1805–1868) from William Euing (1788–1874), who had discovered the Hebridal smelt (first included in the Supplement) in November 1837.
Despite this contribution to Scottish ichthyology, Euing, a Fellow of the Royal Society of Edinburgh and President of the Glasgow Archaeological Society, is best remembered for his fine library, of which some twelve thousand volumes now belong to Glasgow University.