KERSHMAN, Andrew.
Book Lovers' London.
London, Metro Publications, 2015.
8vo, (215 x 150 mm), pp. 340 (including over 100 full colour photos and area maps); paperback.
Added to your basket:
Book Lovers' London.
Fifth edition. Book Lovers' London has established itself as an essential reference tool for those wanting to enjoy the literary delights of the capital. It contains reviews of over six hundred bookshops, including Quaritch.

The guide also suggests less obvious places for bookworms to explore including the best markets, charity shops, auctions and fairs. Sections on London's libraries and archives, as well as museums, walks, venues and courses wrap the book up.

ISBN 978-1-902910-49-9
You may also be interested in...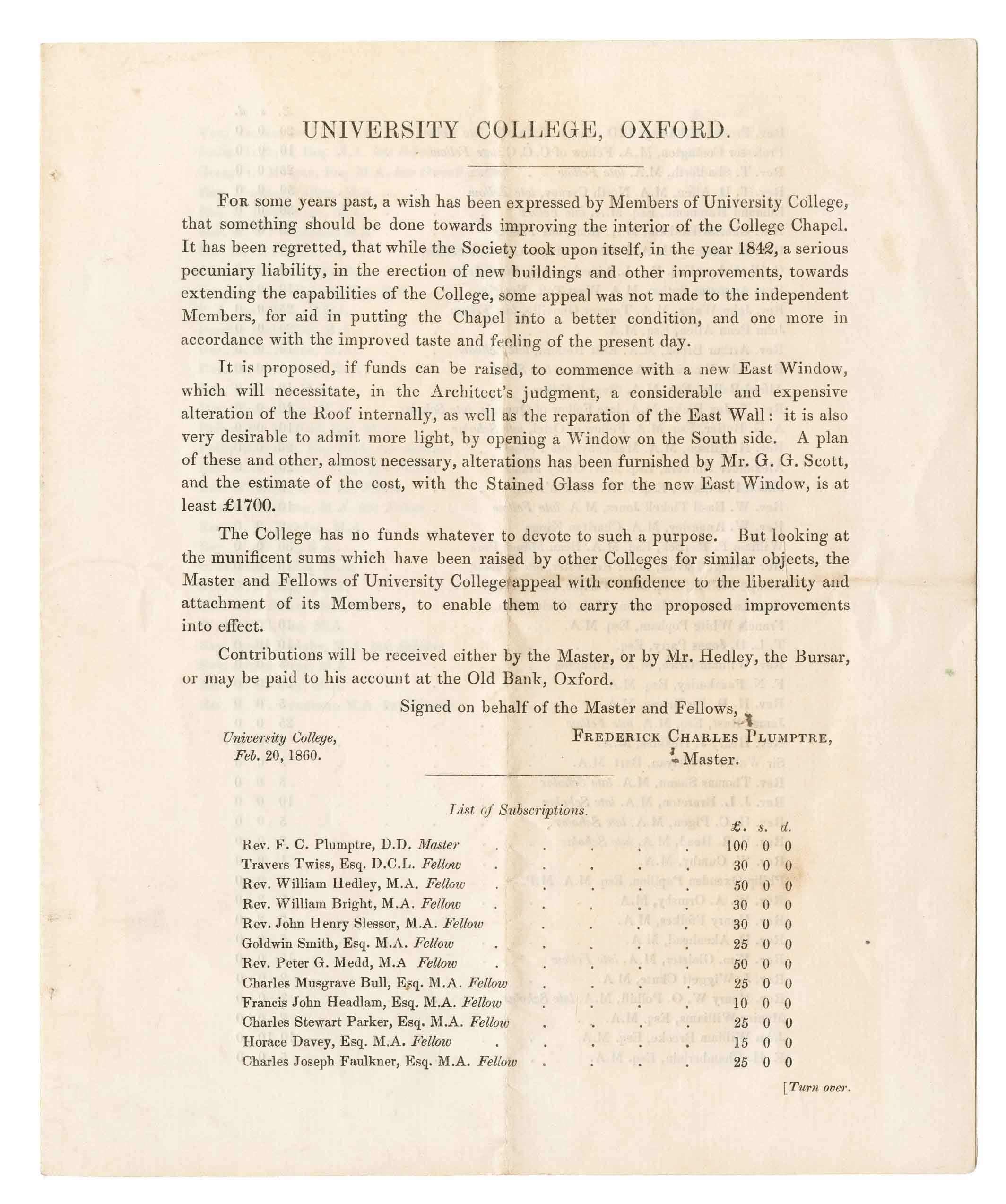 SUBSCRIPTION FOR IMPROVEMENTS BY GEORGE GILBERT SCOTT [UNIVERSITY COLLEGE, OXFORD.]
Subscription list for repairs to the College Chapel.
A printed appeal from University College, signed by the Master Frederick Charles Plumptre (1796-1870), for funds to improve the interior of the Chapel, with an admission that 'the College has no funds whatever to devote to such a purpose'. The list of subscribers contains some ninety names.
The improvements will include 'a new East Window, which will necessitate, in the Architect's judgment, a considerable and expensive alteration of the Roof internally, as well as the reparation of the East Wall: it is also very desirable to admit more light, by opening a Window on the South side. A plan of these and other, almost necessary, alterations has been furnished by Mr. G. G. Scott, and the estimate of the cost, with the Stained Glass for the new East Window, is at least £1700'. Sir George Gilbert Scott (1811-1878) had just designed the Library at University; his alterations to the Chapel still survive. A photograph by Fox Talbot, taken in 1843, shows the Chapel's exterior with the original seventeenth-century window and its unusual tracery.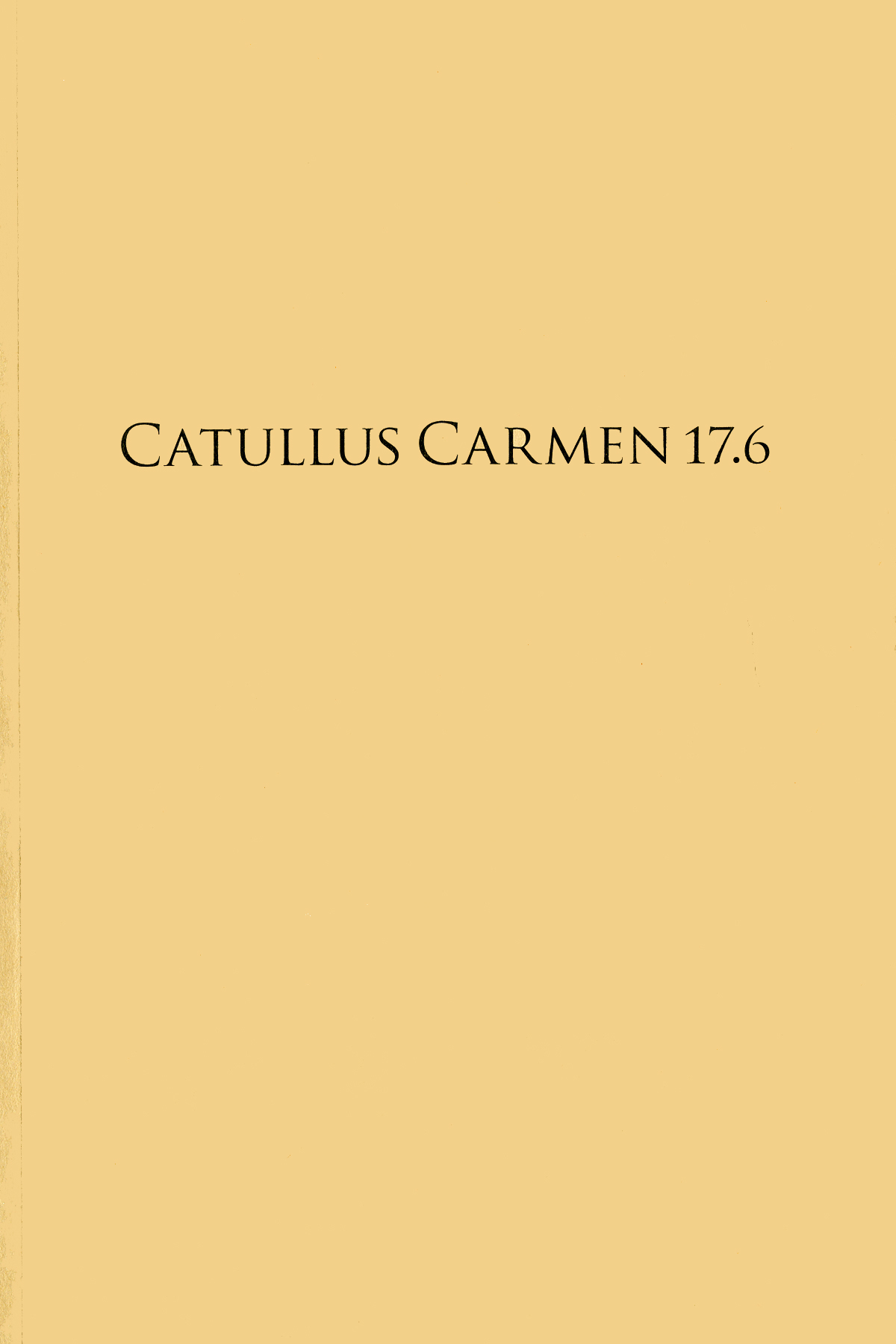 FREEMAN, Arthur.
Catullus Carmen 17.6 and Other Mysteries. A Study in Editorial Conflict, Eccentricity, Forgery, and Restitution. With a checklist of significant printed editions of Catullus in Latin, 1472-2005.
This partly historical, partly philological essay offers a general account of the early preservation, post-medieval recovery, and Renaissance evolution of the text of Catullus, with specific reference to one speculative reading in Carmen 17 ('De Colonia'), and certain humanist twists and forgeries that accompanied its long editorial history.
Accompanying the narrative is a substantial bibliographical appendix that provides a checklist of significant editions of Catullus in Latin from 1475 to the present day, with brief notes of relevance and location.
Arthur Freeman is a rare book dealer and writer living in London. In 2014 Quaritch published his Bibliotheca Fictiva: a Collection of Books and Manuscripts Relating to Literary Forgery 400 BC – AD 2000. Catullus Carmen 17.6 is the second footnote to that book, following Julia Alpinula (2015).