CZECH PORTRAIT GALLERY
KUTHEN ZE SPRINSBERKA, Martin.
Catalogus ducum regumque Bohoemorum in quo summatim gesta singulorum singulis distichis continentur. In super additae sunt eorum facies iconicae, et ad vivum deliniatae.
[Prague, s.n.,] 1540.
Small 4to, ff. [20] (last blank), with 52 circular woodcut portraits of Bohemian rulers (two to a page), large woodcut showing the Imperial eagle crushing a Turk and dated 1540 on verso of title, author's large woodcut coat-of-arms on recto of penultimate leaf; title re-attached at inner margin and slightly dust-soiled, some light soiling elsewhere, but a good copy in nineteenth-century polished calf; rubbed, rebacked preserving part of spine; spine worn, scuffs to boards.
£3000

Approximately:
US $3746
€3547
Added to your basket:
Catalogus ducum regumque Bohoemorum in quo summatim gesta singulorum singulis distichis continentur. In super additae sunt eorum facies iconicae, et ad vivum deliniatae.
First edition of a fine and rare portrait book of the Bohemian (Czech) rulers by the Czech historian Martin Kuthen ze Sprinsberka (c. 1510–1564), with brief contributions by Friedrich Nausea, Johannes Rosinus, Matouš Collinus, and Šimon Villaticus.

The text does not indicate from where the portraits are taken. They may of course be entirely fanciful, but are so individually expressive that it seems doubtful. The largest portrait gallery of Bohemian rulers was to be found at Karlštejn Castle, twenty miles southeast of Prague. In his preface Kuthen suggests that the portrait gallery printed here may be instructive to King Ferdinand's children, responsibility for whose education had been assumed in 1539 by the humanist Jan Horák (Johannes Hasenberg).

VD16 K2856, locating four copies (Bayerische Staatsbibliothek, Gotha, Vienna, and Zwickau). OCLC records only one copy outside Germany and the Czech Republic, at Harvard; Library Hub locates a single copy at the British Library.
You may also be interested in...
ROMAN HISTORY
FIRST EDITION, ILLUSTRATED WITH WOODCUTS DIO CASSIUS.
Dione historico delle guerre et fatti de Romani. Tradotto di Greco in lingua vulgare per M. Nicolo Leoniceno. Con le sue figure a ogni libro, opera nuovamente venuta in luce, ne piu in lingua alcuna stampata ...
First edition of Dio's Roman History in any language, translated into Italian from the original Greek by Niccolò Leoniceno and preceding the Greek editio princeps, printed by Robert Estienne in 1548, by some fifteen years.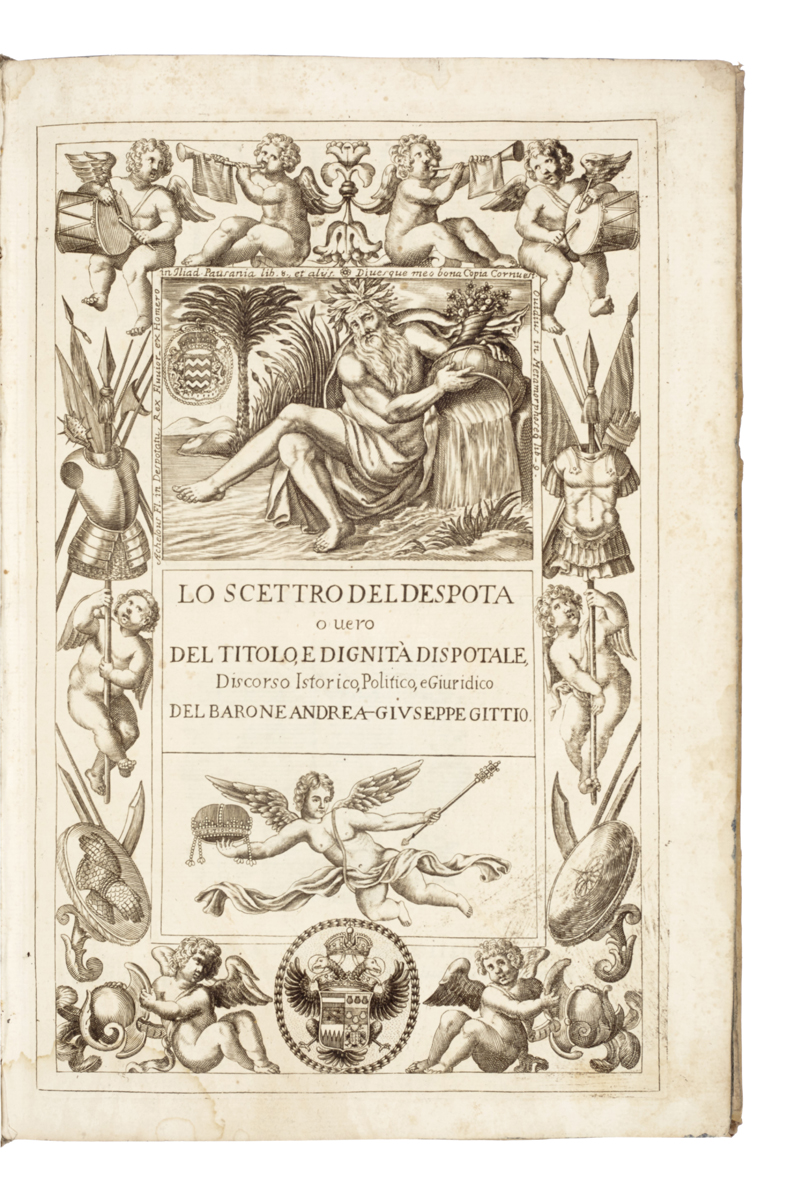 GIZZI [or GITTIO], Andrea Giuseppe.
Lo scettro del despota, overo del titolo, e dignità dispotale, discorso istorico, politico, e giuridico.
Only edition of this extraordinary and rare study of legal, ceremonial, and political roles of the despot, a class of prince akin to a king and beneath an emperor in the power structures of both the Byzantine world and Renaissance Italy, and thus a title used both in Venice and throughout the Balkans and Greece. The work of the Neapolitan nobleman Andrea Giuseppe Gizzi (or Gittio), and dedicated to Silvestro Valiero, Doge of Venice (and thus a despot himself), Lo scettro del despota draws on legal and historical sources ranging from the ancient (Aristotle, Justinian) to the medieval and modern (Aquinas, Molina, de Soto, Botero, and others) to present a full survey of the origins and uses of the title (and related titles such as infante – the 'despot' originally referred to the heir-apparent of the Byzantine emperor), the ways in which the role diverges between West and East, the ceremonials attached to the title, and its use throughout Italy, and especially in the Kingdom of Naples (it was not until the next century that the term acquired the negative connotations it has today). Of particular interest is the Catalogo degli autori cited in the margins; this takes up an entire quire and lists some 350 sources, and can reasonably be said to be the earliest bibliography on the subject.