KUZMIN, Mikhail Alekseevich.
Aleksandriiskiia pesni [Alexandrian songs].
St Petersburg, "Prometei", [1921].
8vo, pp. 74 + 4 pp. advertisements; a good copy in the original printed wrappers, dust-soiled, spine worn and chipped at head and tail; with a contemporary ms. gift inscription in ink to fly-leaf, quoting from the first poem of the second cycle in the collection, 'Liubov' [Love].
£400

Approximately:
US $559
€456
First separate edition of Kuzmin's Alexandrian Songs, originally published as part of his first collection, Nets, in 1908. 'Kuzmin's fame as a poet rests largely with his cycle "Alexandrian Songs" (1905–1908). These are love poems with different personas, male and female, mostly homoerotic, stylized to reflect the sensibility of Alexandria in the age of Hadrian. One subcycle tells of a Roman soldier enamored of a distant Antinous, whose beauty overwhelms him at first sight. The poems are in unrhymed free verse, one of the few real successes in the writing of Russian free verse. The moods of the Mediterranean metropolis, its sights, sounds, and smells, provide a rich background to ingenuous and mostly serene declarations, confessions, and exultant boasts of love. The whole spirit of "Alexandrian Songs" is a credit to Russian poetry's ability to project a sensibility so totally alien to Russian life' (Terras).

Tarasenkov p. 198; not in Kilgour.
You may also be interested in...
GOR'KII, Maksim, pseud. [i.e. Aleksei Maksimovich Peshkov].
V liudiakh [In the world].
First edition printed in Russia of the second volume of Gorky's memoirs, first published in Berlin in 1916. It was preceded by Childhood (1913) and followed by My university years (1923). 'Gorky reached the apogee of his creative powers in his autobiographical trilogy, Childhood, In the World and My University Years, a magnificent panorama of Russian lower and lower middle-class life. In vignette after vignette from his own life, Gorky is at his best, as he deftly shifts the center of attention from himself to the situation and people he faces' (Victor Terras).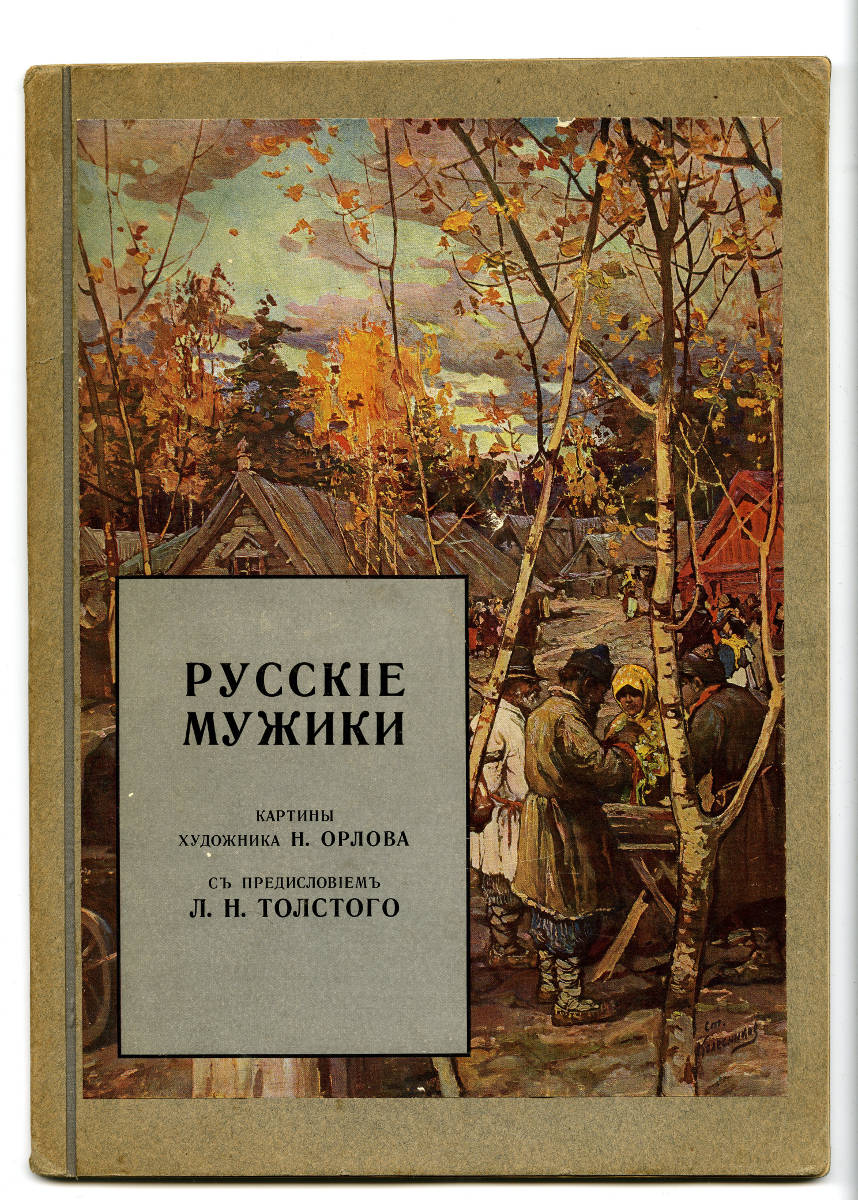 'THE REAL RUSSIAN SALT-OF-THE EARTH PEASANT PEOPLE' [TOLSTOY, Lev Nikolaevich.] ORLOV, Nikolai.
Russkie Muzhiki. Kartiny khudozhnika N. Orlova, s predisloviem Leva Nikolaevicha Tolstogo [Russian Peasants. Pictures painted by N. Orlov, with a preface by Lev Nikolaevich Tolstoy].
First and only edition of this album of nine black and white reproductions of folk-art paintings by the peasant artist Nikolai Orlov, prefaced by an 8-page introduction by Tolstoy. The realistic portrayal of Russian society, especially of the peasantry, was a cause beloved by Tolstoy, and is a key feature of many of his most famous works, including The Cossacks and Anna Karenina.