MANUSCRIPT WITH JACOBITE CONNECTIONS
LAFFREY.
'Abregé de l'histoire ancienne avec des reflexions philosophiques & politiques par Mr. Laffrey.'
C. 1760s.
Manuscript on paper ('Pro Patria' watermark similar to Churchill 130), in French, 8vo (205 x 140 mm approx.), pp. [4 (title and dedication)], 120, [2 (table of contents)], [36 (blank)], title-page with engraved vignette, all pages with borders of type ornaments; neatly written in brown ink in a single hand, c. 20 lines per page; very good in contemporary green morocco, gilt border to covers, spine gilt in compartments with red morocco lettering-piece, gilt edges, marbled endpapers; extremities rubbed; engraved bookplate of 'Anw Lumisden' by R. Strange to upper pastedown, modern bookplate of Jacques Laget to front free endpaper.
£750

Approximately:
US $1034
€885
Added to your basket:
'Abregé de l'histoire ancienne avec des reflexions philosophiques & politiques par Mr. Laffrey.'
A charming manuscript summary of ancient history, compiled for a young female member of the Bellew family, and once in the library of the eminent Scottish Jacobite Andrew Lumisden (1720–1801).

Composed by 'Mr Laffrey' and dedicated to 'Mademoiselle De Bellew', the Abregé covers the history of the ancient Egyptians (their kings, education, religion and priesthood, and customs), and of the Carthaginians (including their government, trade, arts and sciences, religion, conquests, Punic wars with Rome, Hannibal, Masinissa etc.). While the manuscript's authorship is uncertain, one candidate is the French writer Arnoux Laffrey (1735–1794), author of Vie privée de Louis XV. The dedicatee was likely related to the Irish peer John Bellew, fourth Baron of Duleek (1702–1770), whose first wife, Lady Anne Maxwell, served as maid of honour in Rome to Maria Clementina, wife of the Old Pretender James Francis Edward Stuart.

The handsome bookplate is that of Andrew Lumisden, whose place at the heart of the exiled Jacobite court must surely have brought him into contact with the Bellews. Lumisden served as secretary and treasurer to Charles Edward Stuart, Bonnie Prince Charlie, during the Jacobite rising of 1745, and was present at the battle of Culloden the following year. He spent months in the Scottish Highlands as a hunted fugitive before escaping to the continent, where he served as the Old Pretender's secretary in Rome. Lumisden was pardoned by the British government in 1778, largely for securing a collection of rare books in Paris for the future George IV, and became a founding member of the Royal Society of Edinburgh. His bookplate was engraved by his brother-in-law, the artist Sir Robert Strange (1721–1792), who served in Bonnie Prince Charlie's lifeguard at Culloden and designed Jacobite currency.
You may also be interested in...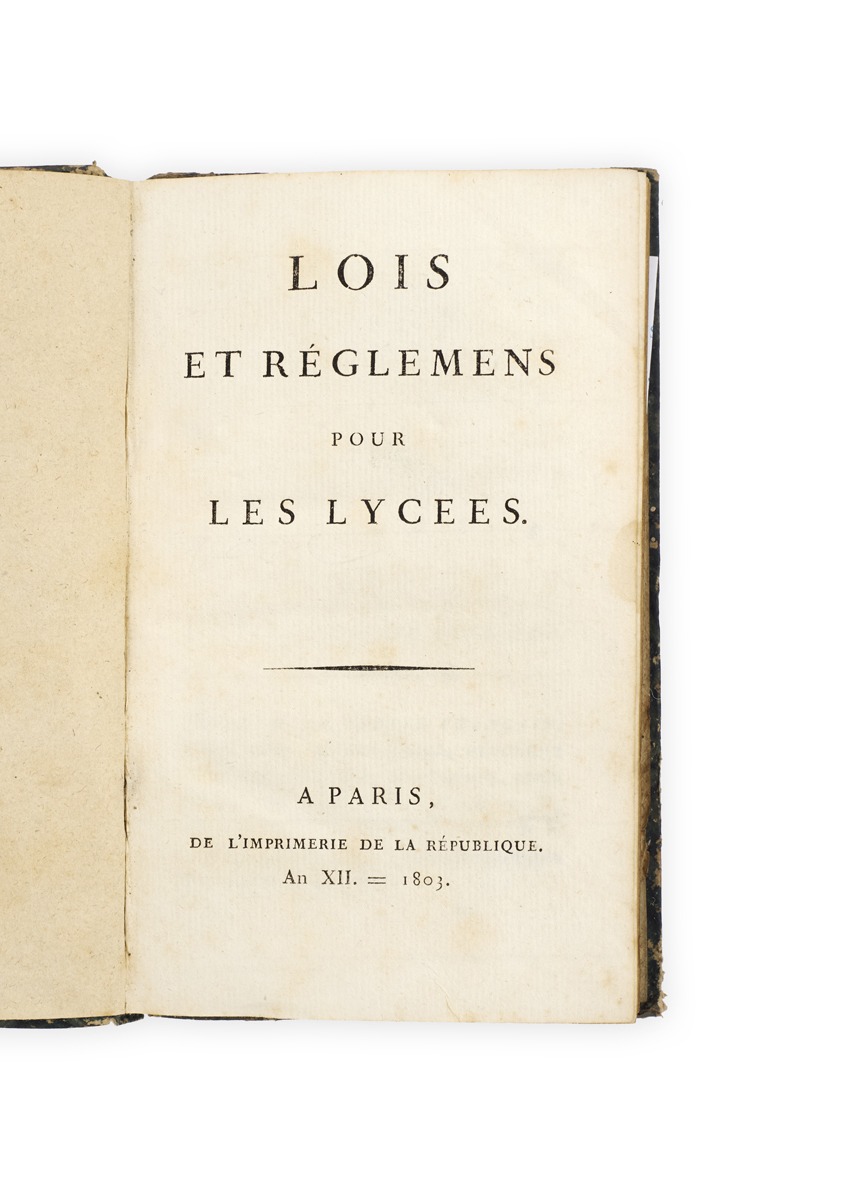 NAPOLEON REFORMS FRENCH EDUCATION [EDUCATION.]
Lois et réglemens pour les lycees.
Rare first edition of this extremely interesting collection of laws and regulations governing secondary education in France, reflecting the historic changes enacted between 1801 and 1803 by Napoleon as First Consul, in particular the establishment of lycées.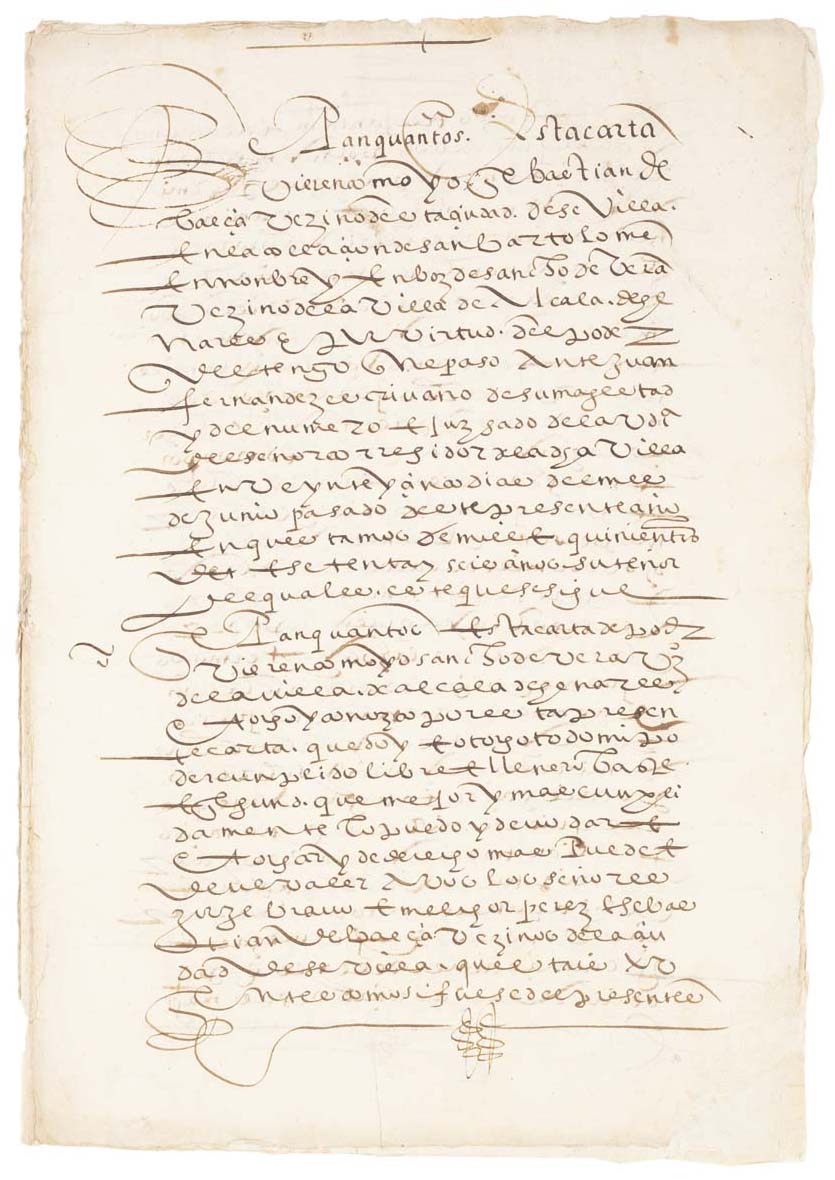 SPANISH TRADE WITH THE INDIES [SEVILLE.]
Mercantile contract between Sebastián de Baeza of Seville and Hernán López de Segovia, almost certainly relating to trade with the Indies.
A commercial document from the heyday of Seville's trade with the Indies. Drawn up for Sebastián de Baeza, a resident of the barrio of San Bartolomé in Seville, the document recapitulates a previous agreement of 25 June 1576 between, on the one hand, Hernán López de Segovia and, on the other, Sebastián de Baeza and two fellow Sevillians, Jorge Bravo and Melchor Pérez de Cervantes (these last apparently in the capacity of witnesses). It is endorsed in a contemporary hand 'la oblig[acion] hizo Sebastian de baeca a Segobia pasada', below which a different hand has written '= Negozios de yndias'.