MANUSCRIPT WITH JACOBITE CONNECTIONS
LAFFREY.
'Abregé de l'histoire ancienne avec des reflexions philosophiques & politiques par Mr. Laffrey.'
C. 1760s.
Manuscript on paper ('Pro Patria' watermark similar to Churchill 130), in French, 8vo (205 x 140 mm approx.), pp. [4 (title and dedication)], 120, [2 (table of contents)], [36 (blank)], title-page with engraved vignette, all pages with borders of type ornaments; neatly written in brown ink in a single hand, c. 20 lines per page; very good in contemporary green morocco, gilt border to covers, spine gilt in compartments with red morocco lettering-piece, gilt edges, marbled endpapers; extremities rubbed; engraved bookplate of 'Anw Lumisden' by R. Strange to upper pastedown, modern bookplate of Jacques Laget to front free endpaper.
£750

Approximately:
US $936
€886
Added to your basket:
'Abregé de l'histoire ancienne avec des reflexions philosophiques & politiques par Mr. Laffrey.'
A charming manuscript summary of ancient history, compiled for a young female member of the Bellew family, and once in the library of the eminent Scottish Jacobite Andrew Lumisden (1720–1801).

Composed by 'Mr Laffrey' and dedicated to 'Mademoiselle De Bellew', the Abregé covers the history of the ancient Egyptians (their kings, education, religion and priesthood, and customs), and of the Carthaginians (including their government, trade, arts and sciences, religion, conquests, Punic wars with Rome, Hannibal, Masinissa etc.). While the manuscript's authorship is uncertain, one candidate is the French writer Arnoux Laffrey (1735–1794), author of Vie privée de Louis XV. The dedicatee was likely related to the Irish peer John Bellew, fourth Baron of Duleek (1702–1770), whose first wife, Lady Anne Maxwell, served as maid of honour in Rome to Maria Clementina, wife of the Old Pretender James Francis Edward Stuart.

The handsome bookplate is that of Andrew Lumisden, whose place at the heart of the exiled Jacobite court must surely have brought him into contact with the Bellews. Lumisden served as secretary and treasurer to Charles Edward Stuart, Bonnie Prince Charlie, during the Jacobite rising of 1745, and was present at the battle of Culloden the following year. He spent months in the Scottish Highlands as a hunted fugitive before escaping to the continent, where he served as the Old Pretender's secretary in Rome. Lumisden was pardoned by the British government in 1778, largely for securing a collection of rare books in Paris for the future George IV, and became a founding member of the Royal Society of Edinburgh. His bookplate was engraved by his brother-in-law, the artist Sir Robert Strange (1721–1792), who served in Bonnie Prince Charlie's lifeguard at Culloden and designed Jacobite currency.
You may also be interested in...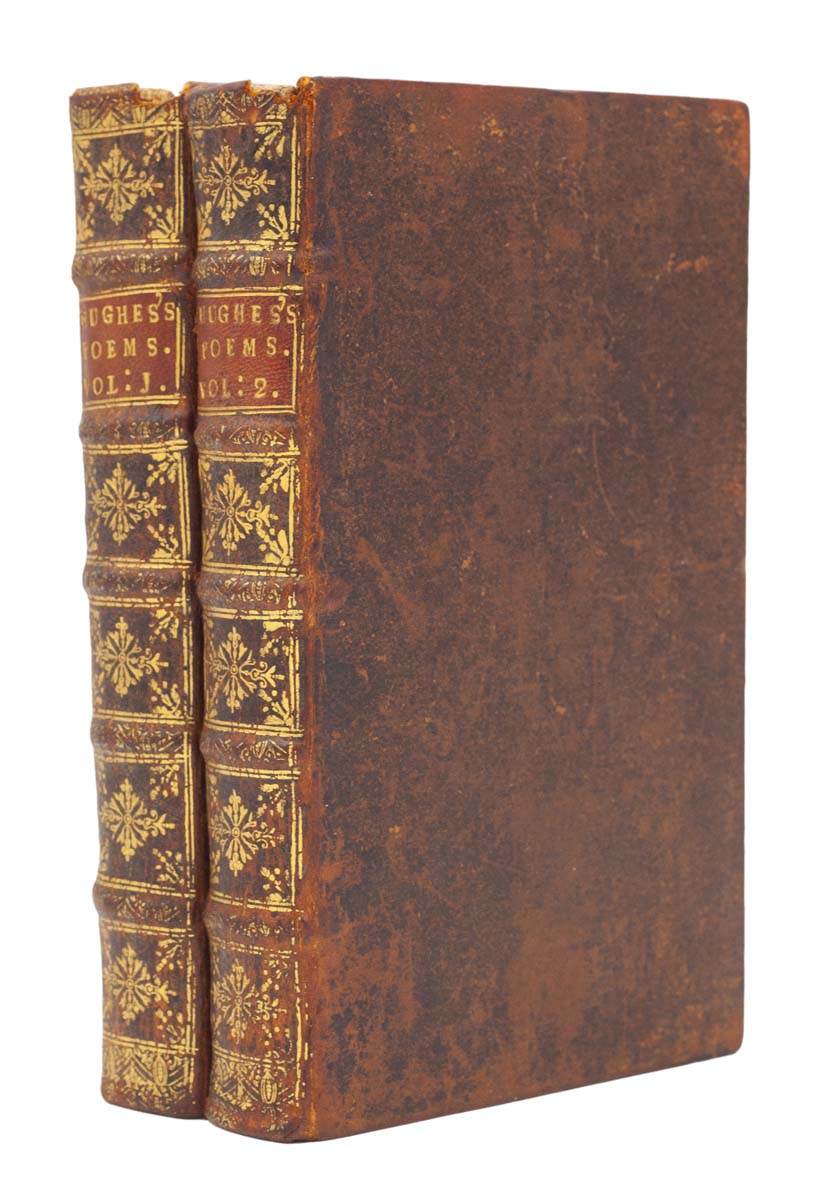 ON ROYAL PAPER
POPE AND SWIFT UNWITTING 'SUBSCRIBERS' HUGHES, John.
Poems on several Occasions. With some select Essays in Prose. In two Volumes …
First edition of the principal collection of the author's works, published posthumously and edited, with a long biographical preface, by his brother-in-law, William Duncombe. John Hughes (1677–1720) was educated at a dissenting academy where Isaac Watts was his contemporary. From an early age he devoted himself to poetry and letters, and was gradually drawn into the Addison–Steele circle where, as Samuel Johnson puts it, he was 'received as a wit among the wits'; he contributed at least three numbers to the Tatler, seventeen to the Spectator, and one to the Guardian. Hughes also had a passion for music, and was a talented violinist. He championed the use of English verse for operas and cantatas, and many of his lyrics were set to music by such contemporary composers as Dr Pepusch. In the year of his death, he wrote a tragedy called The Siege of Damascus, which proved highly successful and remained in the repertory for the rest of the century.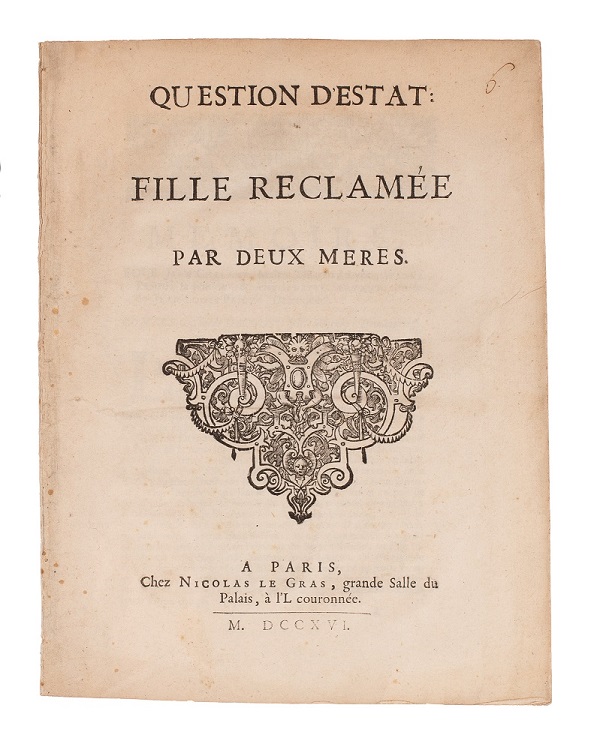 SWITCHED AT BIRTH GAYOT DE PITAVAL (Conseil).
Question d'estat: fille reclamée par deux meres.
First edition of this account by the famous advocate François Gayot de Pitaval (1673–1743) of a 1709 case, where a midwife had substituted a new-born girl who was then claimed both by the real mother and the woman to whom the baby had been given. Pitaval's account details the principles by which decisions are made about parenthood in lieu of proper evidence, and seeks to prove who the true parents are, with evidence from the midwife and others. Various objections, both factual and legal, are addressed, and the account closes with a statement of the damages awarded to the parents after the lengthy and public case.