'THE INSTRUMENT OF EDUCATINGONE HUNDRED AND TWENTY THOUSAND POOR CHILDREN'
LANCASTER, Joseph.
Autograph letter, signed at the end, to Hugh Fortescue, Viscount Ebrington.
22 Elliotts Row, Southwark, 4 December 1814.
3 pages, 4to on a bifolium; browned and slightly crumpled at edges, not affecting text though touching signature at end, else in good condition.
£650

Approximately:
US $909
€737
A desperate and personal appeal for funds from the educationist Joseph Lancaster, founder of the Lancasterian system of mutual education, to the abolitionist MP Hugh Fortescue, second Earl Fortescue.

Lancaster set up his first school in around 1798 at the age of 20, bringing great enthusiasm and a fluid tongue to his work; in 1801 he founded a 'free school' in Borough Road, Southwark, adopting a money-saving 'monitorial method', whereby the elder boys taught the younger ones, with a system of rewards and humiliating penalties. The school grew in size and reputation and in 1805 Lancaster was given an audience by George III. Fame, however, went to Lancaster's head, and he was often haunted by the spectre of financial ruin, first imprisoned for debt in 1806. In 1812 the failure of a boarding-school project at Tooting left him in debt once more and he was forced to accept the position of salaried superintendent in the newly founded 'Institution for Promoting the British System for the Education of the Labouring and Manufacturing Classes of Society of Every Religious Persuasion'.

'These arrangements soon came to an end, for in 1814 an unsavoury scandal made Lancaster's removal inevitable. According to Francis Place, who had joined the committee in 1812 … a youth named William Brown, who was still apprenticed to Lancaster, informed Corston that Lancaster "used to flog his apprentices for his own amusement" (BL, Add. MS 27823). On the evidence of an inquiry into Lancaster's conduct towards his apprentices … he was called before the committee but forestalled further action by resigning as superintendent' (Oxford DNB). It is to these circumstances that Lancaster alludes here, his distress well communicated by his tortured syntax:

My noble Friend

I am utterly unwilling to intrude on thy attention or thy bounty – but necessity as calamitous as painful impels a man who has been the instrument of educating one hundred and twenty thousand poor children and devoting his whole time and money to their welfare … [O]ur near and dear and tried and faithful friends as they call themselves are at the bottom of this and while professing public friendship have cried havock and let slip the Instruments of ruin upon us … For the present our income is sufficient. For the past it has been nothing and if possible less than nothing for months together … I intreat thy Kind aid and assistance to join those who mitigate our woes which would require a volume to unfold and which may one day be unfolded to the world to their surprize and astonishment the double dealing deceit and oppression which has existed even in quarters that would deceive an angel of light, or puzzle a soloman to unriddle …
You may also be interested in...
SMITH, Alan G.R., ed. with an introduction by.
The Last Years of Mary Queen of Scots. Documents from the Cecil Papers at Hatfield House.
This volume draws on the great collection of Cecil Papers at Hatfield House to present, in a sequence of some forty selected documents, a startlingly immediate narrative of the intrigue and drama that inform the last act of the Scots Queen's tragedy.  The documents have been edited by Dr Alan G. R. Smith of Glasgow University, who has contributed a substantial and informative introduction to the volume. Further interest is added by the inclusion of 'An Epitaph upon the death of … Marie' (1604), reproduced from the unique copy at Hatfield and accompanied by an authoritative note by Dr David Rogers.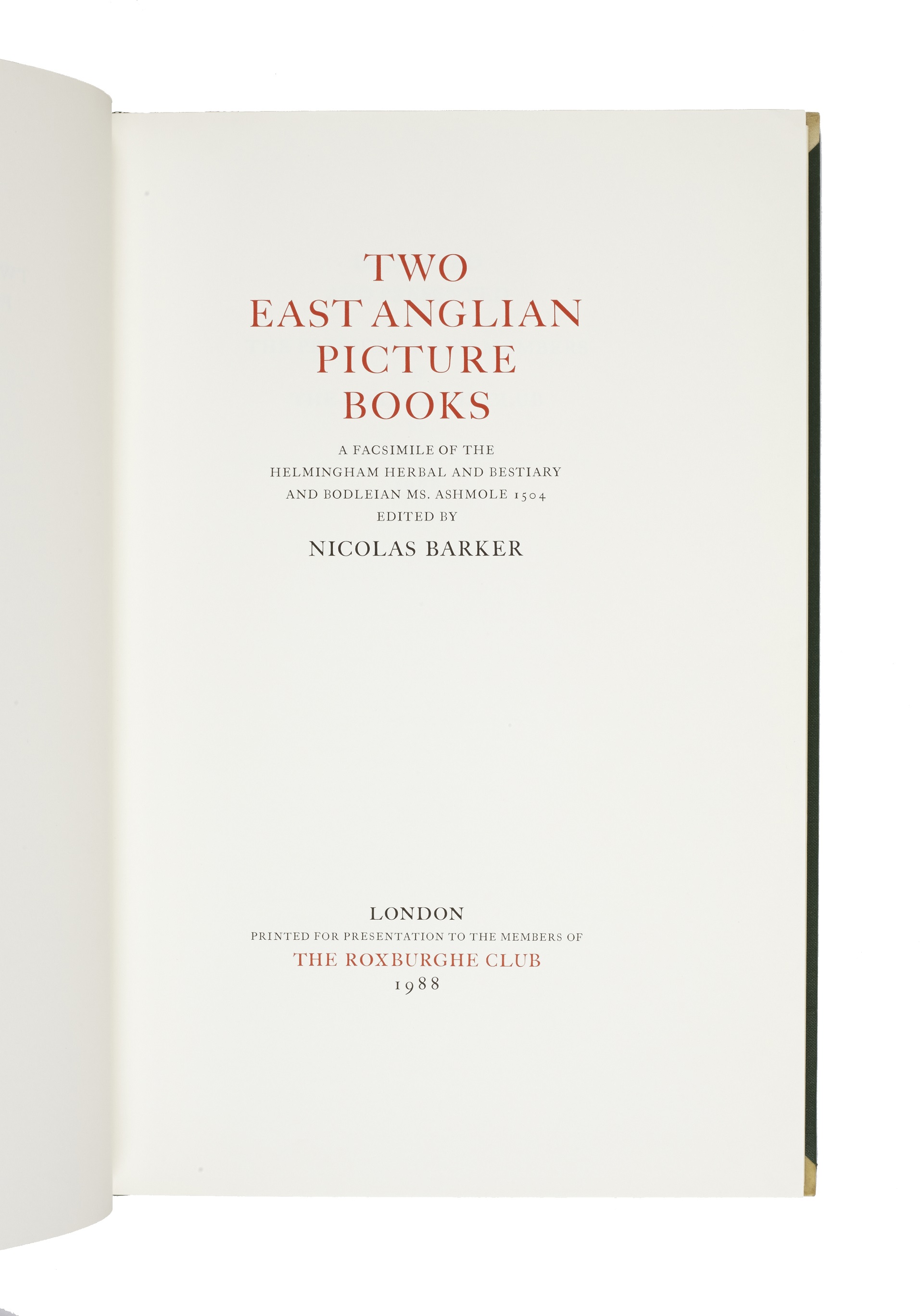 BARKER, Nicolas, ed.
Two East Anglian Picture Books. A facsimile of the Helmingham Herbal and Bestiary and Bodleian MS. Ashmole 1504.
Full-size colour facsimiles of two extraordinary, and almost identical, medieval picture books containing a total of 98 pictures of flowers and trees and 58 of birds and animals together with a variety of other material (ornamental alphabets, drawings of coats of arms, household gear, embroidery patterns, landscapes and grotesques) representing the full range of medieval ornament.