LETTERS FROM A MARQUISE, DICTATED TO A DOMINICAN NUN
LANGEAC, Charlotte-Christine-Antoinette de Lénoncourt, Marquise de.

A collection of letters relating to her business and personal affairs.
France, September 1783 - September 1784.
18 letters and 1 fragment, in French, 8vo and 4to, pp. [47] in total, together with 4 envelopes; neatly written in brown ink in several different hands, remains of several red and black wax seals; staining and dusting to a few letters, occasional chips from opening seals, light creases from folding; overall very good.
£1250 + VAT

Approximately:
US $1543
€1439
Added to your basket:
A collection of letters relating to her business and personal affairs.
A remarkable and revealing collection of letters providing a window onto the business and personal affairs of Charlotte-Christine-Antoinette de Lénoncourt, Marquise de Langeac, many dictated by her to a Dominican nun named Sister Eleonore.

Charlotte was the daughter of the Marquis de Lénoncourt and Blainville, and in 1765 married Antoine-Gilbert Allyre, Marquis de Langeac (1735–1790). She was a canoness at Remiremont Abbey in the east of France and at some point, so the story goes, was packed off by the French court to the Dominican convent in nearby Charmes, on the river Moselle, just to the south of Nancy.

The collection comprises nine letters from Charlotte – written on her behalf by the Dominican Sister Eleonore ('Sr Eleonore religieuse dominicaine') – sent from Charmes to her notary M. Bigelot in Nancy, three signed by Charlotte herself ('Lenoncourt Lenghac'); three letters sent to Charlotte to which Eleonore has added footnotes on her behalf for forwarding to Bigelot, together with another letter to her; one fragmentary letter in Eleonore's hand; and four other related letters to Bigelot with one draft reply in his hand.

The letters date from a troubling time for the Marquise, when her health was failing, and she was embroiled in particularly difficult business transactions. A letter from one François Lafrance of Bordeaux in June 1784, in addition to complaining of asthma, rages that the Marquise has broken a contract with the Comte de Fumal and promised 100,000 livres 'to establish a hospital', concluding that she must have been taken advantage of when sick. And indeed, perhaps she had: in a footnote to a letter from the Marquise sent in July 1784, Sister Eleonore writes, 'I am ever more alarmed by the health of Madame the Marquise, I wrote this letter yesterday evening at her bedside when she had fever ... one should not doubt my sorrow in seeing her suffer'. In August the Marquise is ruing her dealings with Fumal which had landed her in trouble with her husband, asking Bigelot to send 'a general and precise account of the state of my finances in order to dispel the fears and alarms of M. de Langhac on my economies and arrangements, giving him a clear statement of my fortune and affairs ... so that M. the Marquis sees that I do not rely on myself alone but proceed with good counsel'.

In other business matters Charlotte complains of the scandalous behaviour of one Godel and his girlfriend (who had clearly 'cast a spell on him'), pays off a troublesome gamekeeper called Charles who claimed to have lost faith in 'persons of distinction', fends off the 'ugly threats' of an unpaid doctor, and arranges for a bed to be sent to 'petite Toinette'.

The everyday details in the letters are just as interesting, as the Marquise requests wallpaper paste, a preventative against bedbugs, verdigris and white lead, and a good Bologna sausage, and thanks Bigelot for sending a hamper, although lamenting that the poultry, fruit, and saucisson had gone off, much to her annoyance, and that 'the saucisson was very badly received in our monastery'.

As revealing as the letters are about the Marquise, they also say much about Sister Eleonore, who bravely endeavours to capture Charlotte's fretful stream of consciousness, clearly from dictation. Her patience and kindness shine through, as she begs Bigalot to send thirty bottles of seltzer water for the Marquise's chest, with two bottles of purgative water, 'as quickly as possible', and speaks with feeling of her alarm at Charlotte's relapsed health.

The story goes that the Marquise fled from the convent at Charmes in 1791, before the Revolutionary axe fell, accompanied by a handful of Dominican sisters: was the kindly Eleonore perhaps among them?
You may also be interested in...
MUSIC TO LIFT THE SOUL [CONGREGATION OF THE ORATORY OF ST PHILIP NERI.]
A collection of seven componimenti sacri per musica for the Oratory of St Philip Neri of Venice.
A collection of seven libretti for sacred oratorios, to be performed in the Oratory of St Philip Neri in Venice.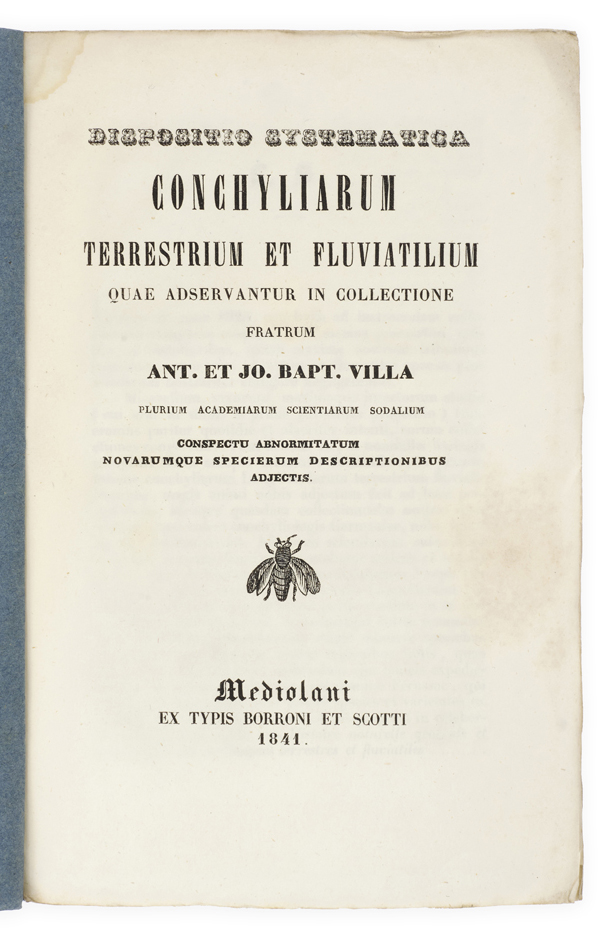 FRATERNAL MALACOLOGY VILLA, Antonio, and Giovanni Battista VILLA. 
Dispositio systematica conchyliarum terrestrium et fluviatilium quae adservantur in collectione fratrum Ant. et Jo. Bapt. Villa plurium academiarum scientiarum sodalium conspectu abnormitatum novarumque specierum descriptionibus adjectis. 
First edition of this catalogue of molluscs and shellfish in the collection of Antonio and Giovanni Battista Villa.